Easy Rhubarb Crisp (video)
This incredible crisp is made with a sweet and tart rhubarb filling and it's topped with a crunchy, buttery brown sugar oat streusel. It can be served warm or cold, and is great with a dollop of whipped cream or a scoop of vanilla ice cream for a summer treat!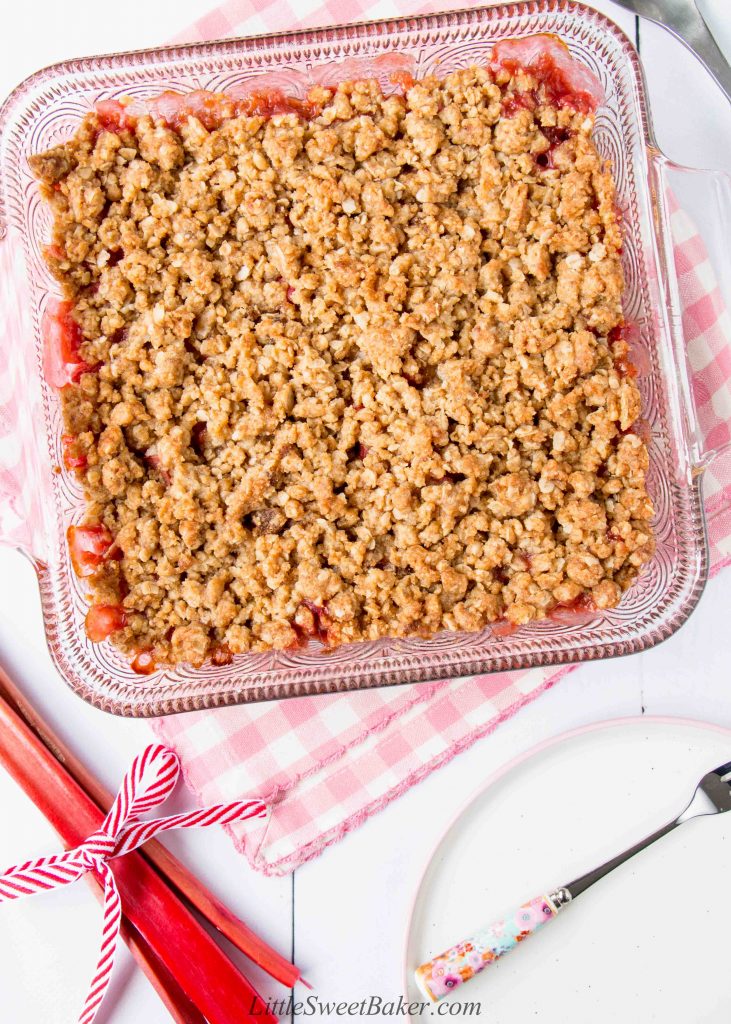 Why this recipe is so great:
It's a rhubarb lover's dream – This crisp is all about the rhubarb. There is nothing else for the rhubarb to share the spotlight with. It's full of tender and tangy rhubarb chunks baked under a rich, buttery crumble topping.
Easy foolproof recipe – Just 7 simple ingredients and completely made by hand, this recipe is absolutely foolproof. In less than an hour, you'll have a bubbling charming and rustic dessert in your hands, ready to serve.
Tastes great – The sweet and juicy tart rhubarb filling with a touch of cinnamon to bring out its natural flavor, topped with a rich and buttery crispy crumble topping, is a match made in heaven in one simple dish.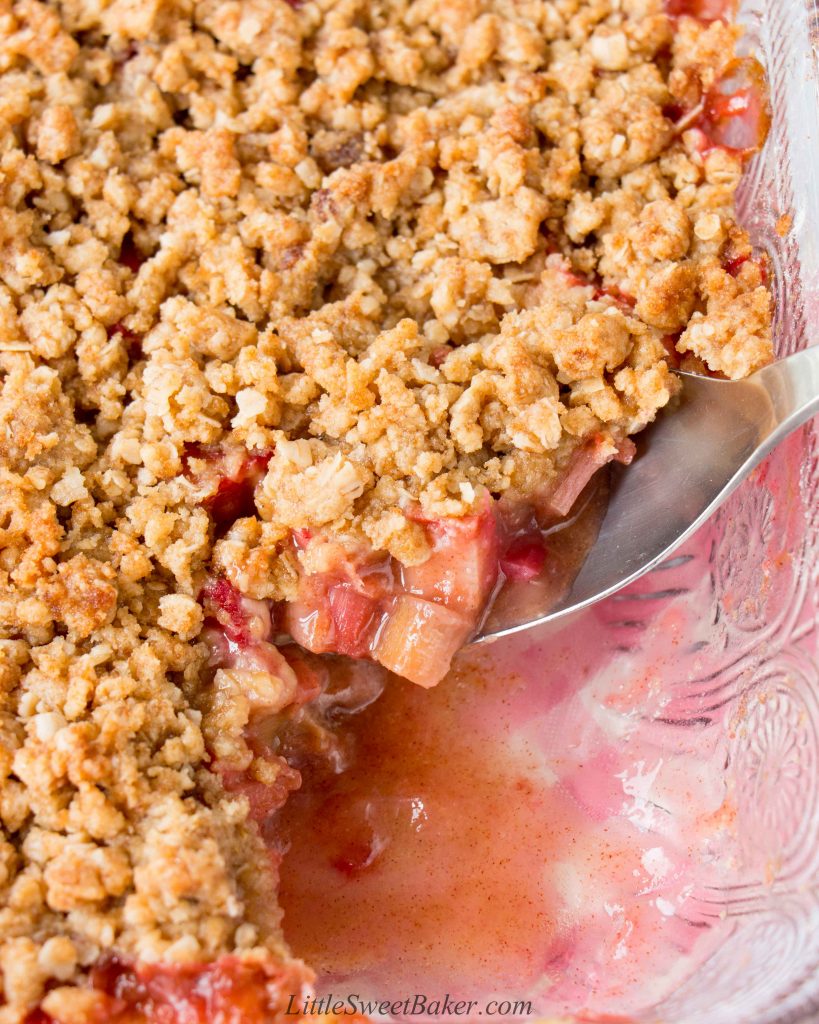 How to make rhubarb crisp:
Toss the chopped rhubarb in some granulated sugar, flour, and cinnamon in a large bowl. Transfer the mixture into an 8×8 baking dish.
Combine the flour, rolled oats, and brown sugar in a medium mixing bowl. Pour in some melted butter and mix together until everything is moistened.
Crumble the oat streusel into bite-size pieces evenly on top of the rhubarb. Bake at 350F for 40 minutes or until bubbling and golden brown on top.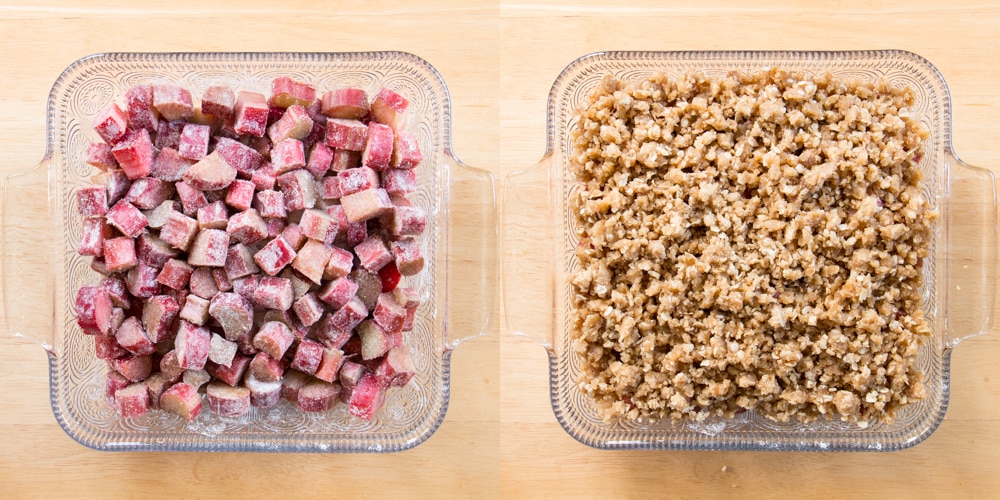 What to serve with rhubarb crisp:
You can serve this rhubarb crisp with a dollop of sweetened whipped cream or a scoop of vanilla ice cream. You can also serve it with a simple vanilla glaze or dusting of powdered sugar.
How to store:
Cover and store in the fridge for 3-4 days. Please note that the streusel will get soggy over time, so it's best consumed within a day or two.
How to freeze rhubarb crisp:
Unbaked – Prepare the crisp in a freezer-friendly and oven-safe pan. The aluminum foil pans that come with paper lids are perfect for this. Tightly cover and store in the freezer for up to 3 months. Thaw overnight in the fridge and bake as instructed.
Baked – Again, bake it in a freezer-friendly container like an aluminum foil pan with a lid. Let it cool completely, tightly cover, and store in the freezer for up to 3 months. Thaw overnight in the fridge and warm it up in the oven at 350F for 15-20 minutes.
FAQ:
What is rhubarb?
Rhubarb originated from Asia and was originally used for medicinal purposes before it became a culinary darling. It looks like big leafy celery and tastes like sour green apples. Rhubarb stalks come in a variety of colors ranging from green to pink to dark red. It is technically a vegetable because it does not produce seeds. However, most consider it a fruit because it's mainly used in desserts.
Is rhubarb poisonous?
Only the leaves are poisonous. They contain a toxin called oxalic acid which can cause health problems when eaten in high amounts. Cases of poisoning are rare because you would have to consume several pounds of the leaves in one sitting to reach the lethal dose of oxalic acid but it's still best to avoid the leaves. The stalks and roots are edible. The stalks are used for culinary purposes and the roots are used for medicinal purposes. (source: Healthline)
Should frozen rhubarb be thawed before baking?
It depends on the recipe. I normally do because baking from frozen takes much longer and it also releases more water.
Why is my rhubarb crisp runny?
Rhubarb contains a high level of water which can make the crisp runny. Add a touch more cornstarch or flour and that will help make it less runny.
How do you cut rhubarb for crisp?
Arrange the stalks parallel on a cutting board. Using a sharp knife, cut the stalks into ½- to 1-inch pieces, depending on the recipe.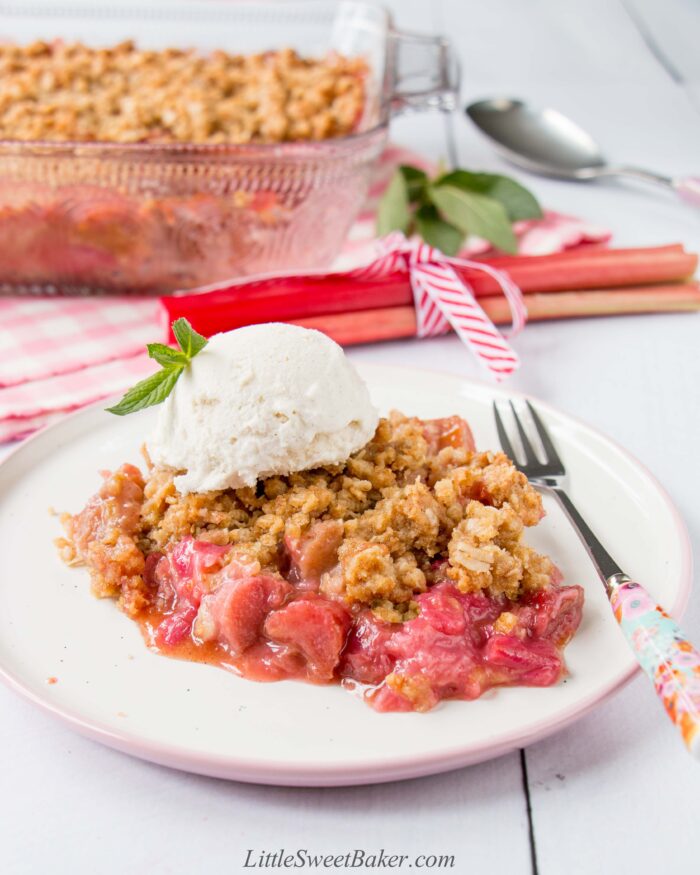 You might also like:
Did you make this recipe? Please kindly leave a comment with your star rating below.
Print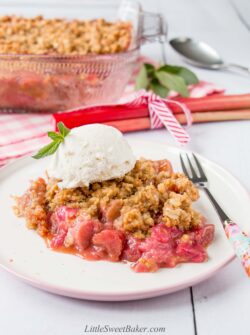 Best Rhubarb Crisp
Author: Lily Ernst
Prep Time: 15 min
Cook Time: 40 min
Total Time: 55 minutes
Yield: 6-8 1x
Category: dessert
Method: bake
Cuisine: American
---
Description
This incredible crisp is made with a sweet and tart rhubarb filling and it's topped with a crunchy oat and brown sugar streusel.
---
Filling
4 cups (500g) rhubarb, cut into 1/2″ chunks
3/4 cup (150g) granulated sugar
1/4 cup (30g) all-purpose flour
1 tsp cinnamon
Topping
1 cup (125g) all-purpose flour
1/2 cup (45g) rolled oats
1/2 cup (110g) packed brown sugar
1/2 cup (114g) unsalted butter, melted
---
Instructions
Preheat oven to 350F.
To prepare the filling: toss together the rhubarb, sugar, flour and cinnamon in a large bowl until all the rhubarb is thoroughly coated. Transfer into an 8×8″ baking dish.
To prepare the topping: mix together the flour, rolled oats and brown sugar. Pour in the melted butter and mix until all is moistened. Using your hands, break up the streusel into bite-size pieces and sprinkle evenly over top of the filling.
Bake for 40-45 minutes or until the top is lightly browned and the filling is bubbling.
Serve warm or cold with some sweetened whipped cream or vanilla ice cream if desired.
---
Keywords: rhubarb crisp, rhubarb recipe, rhubarb pie