Bakery Style Chocolate Chip Muffins (video)
A crispy, sky-high muffin top, full of chocolate chips, soft and buttery on the inside – a perfect way to start your morning!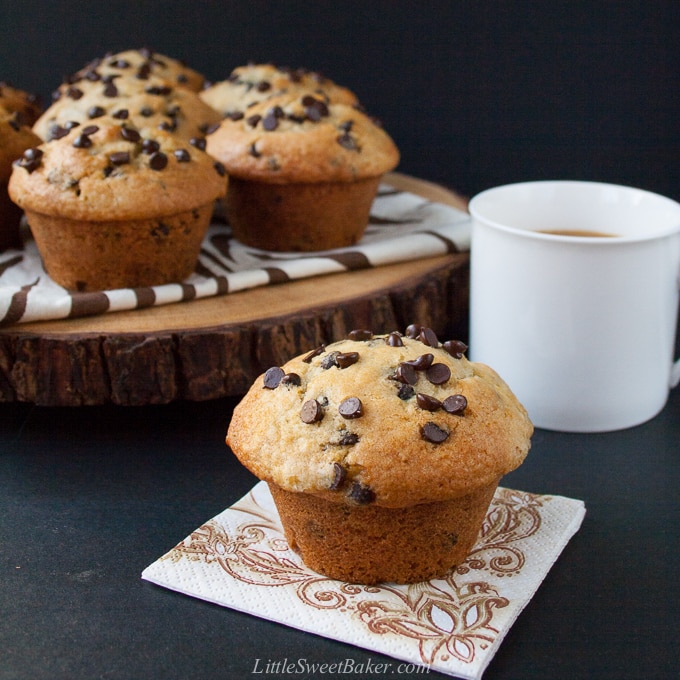 I love enjoying a good muffin with a nice, warm cup of coffee, especially now that the fall weather is setting in. My favorite part of a muffin is the muffin top, that's why I love bakery style muffins. Breaking off that large, crispy muffin top and taking that first bite is heaven to me. When I was a kid, I would only eat the tops of my muffins and it used to drive my mother crazy because she though it was so wasteful. But, the bottom just couldn't compare to the top. This reminds me of that Seinfeld episode back in the 90's where Elaine had the idea of a store just selling muffin tops. I know I totally dated myself with the last reference, but I hope some of you know what I'm talking about or else I'm just going to feel old and geeky.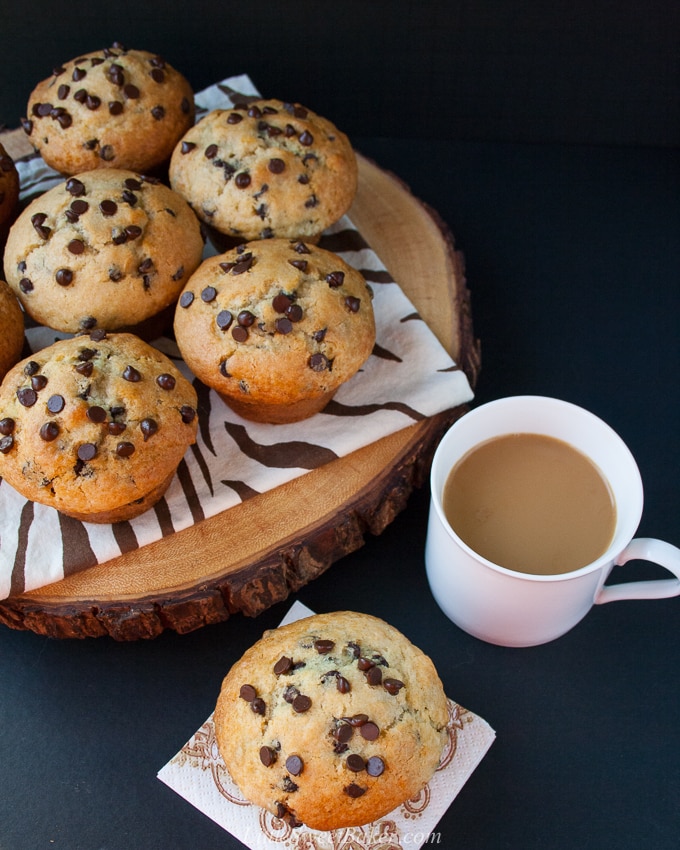 Anyway, let's talk baking science. The key to the perfect bakery style muffin is to have just enough leavening agents (baking soda and baking powder) to create that puffy dome when baking, but not so much that you can taste it. Baking at an initial high temperature will cause the air bubbles in the batter to expand even further. This will help give the muffin a soft and fluffy texture and also create the high rise. Using enough fats and liquids like butter, eggs, and milk, will make the muffins moist and rich. You also need enough volume of batter to fill the tins to the top. Lastly, and this is a tip in general for making soft and tender muffins, mix the wet with the dry ingredients until JUST combined. Over mixing will result in hockey pucks and you don't want that. Everything else is a matter of preference in taste.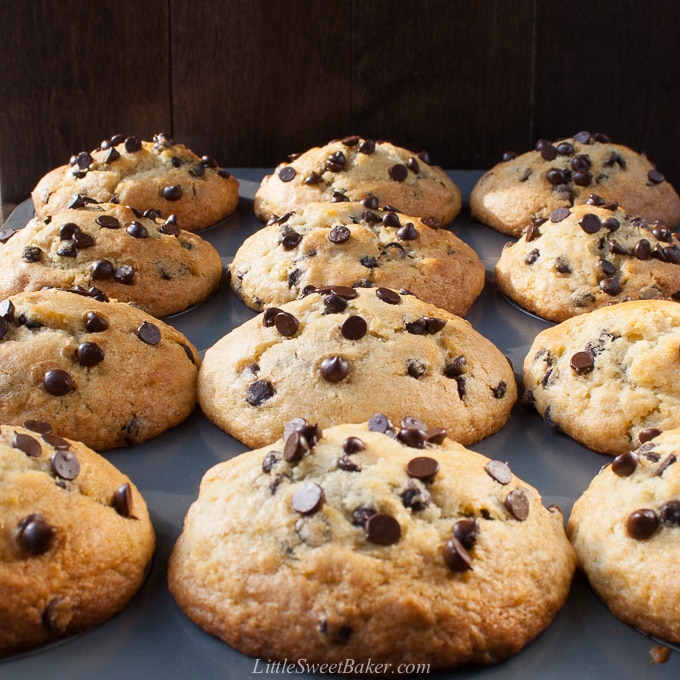 I used mini chocolate chips for this recipe because they disperse more evenly throughout, but you can use regular chocolate chips or chocolate chunks if you prefer. I also added some salt to enhance all the flavors. I used to shy away from salt, but I learned from watching Master Chef that it's useful for more than just adding a savory taste, it also potentiates all the other flavors. I added 1 tablespoon of vanilla because I like vanilla in all my baked goods. It's just one of those flavors that goes well with most things, and of course you need some sugar. I only used 1 cup of sugar for this recipe because the chocolate chips are already sweet. So, in a nutshell, that's pretty much how I came up with the recipe.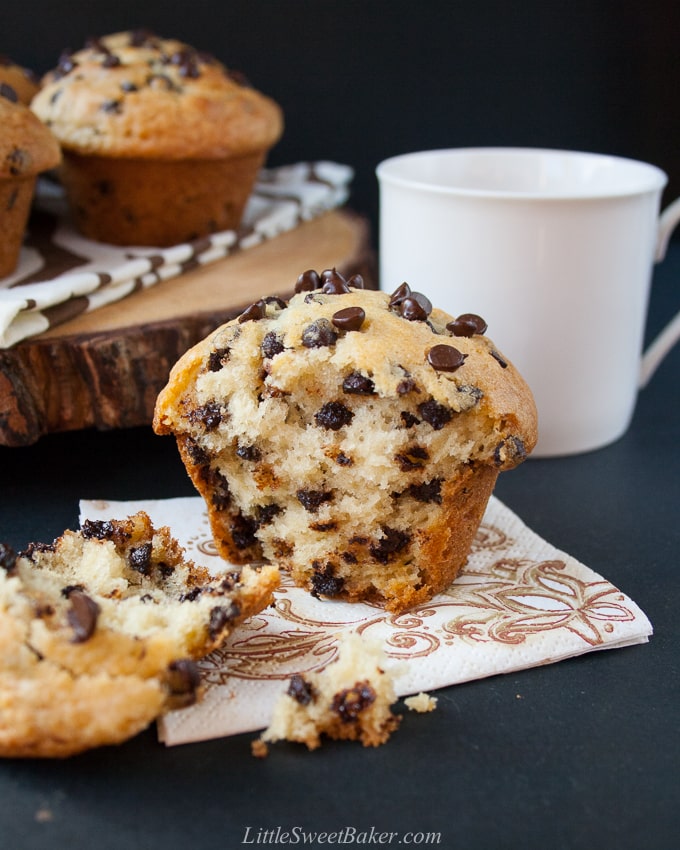 Enjoy these fabulous muffins with your morning coffee and/or as an afternoon snack. They're moist, fluffy, rich in flavor, loaded with sweet chocolate chips, and they're so delicious, I promise you'll want to devour the whole thing, not just the tops.

Print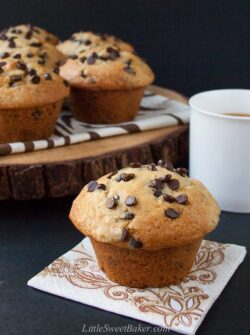 Bakery Style Chocolate Chip Muffins
Author: Little Sweet Baker
Prep Time: 10 min
Cook Time: 20 min
Total Time: 30 minutes
Yield: 12
Category: breakfast, snack
Method: bake
Cuisine: American
---
Description
The BEST chocolate chip muffin recipe – soft, moist, fluffy, loaded with chocolate chips, and a perfect crispy sky-high muffin top!
---
2 & ½ cups (315g) all-purpose flour
1 tbsp (13g) baking powder
1 tsp (5g) baking soda
½ tsp (2.5g) salt
½ cup (114g) unsalted butter, melted and cooled
1 cup (200g) granulated sugar
2 large eggs
1 cup (250ml) buttermilk (see notes for substitutions*)
1 tbsp (15ml) vanilla extract
1 & ½ cups (275g) semi-sweet chocolate chips
---
Instructions
Preheat oven to 425°F. Spray a 12 cup muffin tray with non-stick cooking spray or line with paper liners.
In a large bowl, toss together the flour, baking powder, baking soda, salt and chocolate chips. Set aside.
In a medium bowl, whisk together the melted butter, sugar, eggs, milk and vanilla. Slowly add to the dry ingredients. Gently fold together until JUST combined.
Divide the batter into the 12 muffin cups and bake at 425°F for 5 minutes. Then reduce the oven temperature to 375°F and continue to bake for another 12-15 minutes or until a toothpick inserted into the center comes out clean. Do not overbake or the muffins will be dry. Let cool for about 5-10 minutes and enjoy warm.
---
Notes
*You can substitute the buttermilk with any kind of milk. Even non-dairy milk like almond or rice milk works. Simply mix it with 1 tablespoon of white vinegar or lemon juice to make 1 cup.
Muffins taste best the day of, but can be stored in an airtight container at room temperature for up to 5 days.
For mini muffins; bake for 10-12 minutes at 375F only.
Keywords: chocolate chip muffin recipe, easy chocolate chip muffins, best chocolate chip muffins
You might also like my Bakery Style Blueberry Streusel Muffins, Bakery Style Banana Nut Muffins, and Double Chocolate Muffins. Click here to see all muffin recipes.