A cross between sweet and savoury, these apple tartlets are wrapped in a flaky puff pastry, and filled with soft baked local apples, creamy Brie and crunchy walnuts.
This is a sponsored post. I had the wonderful opportunity to work with the Ontario Apple Growers to create this recipe for you. Though monetary compensation was received, all opinions are my own.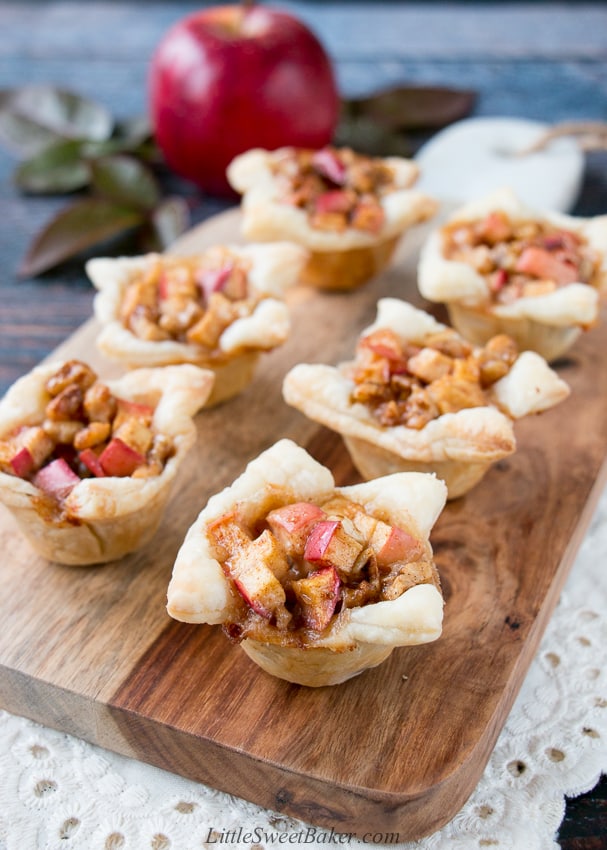 Now that the Canadian Thanksgiving is over. It's time to celebrate Friendsgiving, which is a gathering of friends over a Thanksgiving feast. These apple and Brie tartlets serve as a great appetizer to start your celebration. They're also a great way to enjoy local apples.
Buying locally grown apples is not only good for the environment and your own economy, it's also better for your health. Why? Because local apples are fresher and more nutritious. There is much less travel time from farm to table, than having to cross a border. Local farms can allow their fruits to ripen longer or even fully ripen, which also adds to nutrition.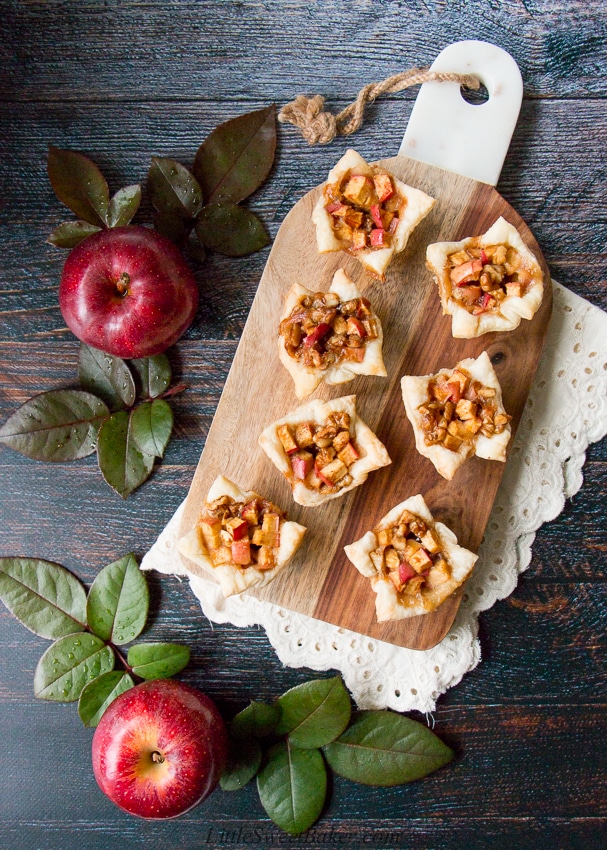 This recipe starts with tossing some chopped apples and walnuts with a bit of brown sugar and cinnamon. Then you roll out your puff pastry sheet, and cut a dozen 3×3″ squares. Fit the pastry squares into a mini muffin pan.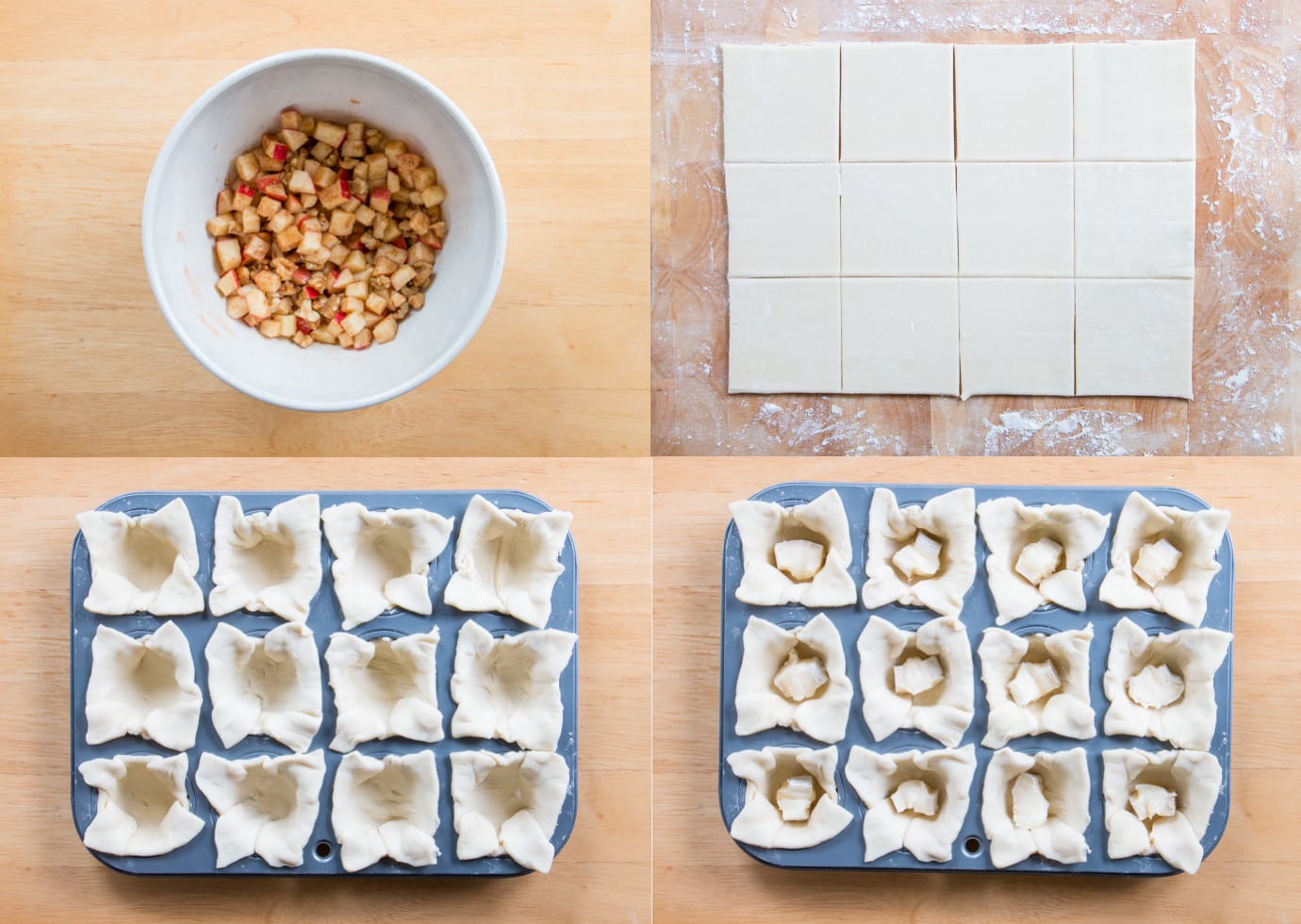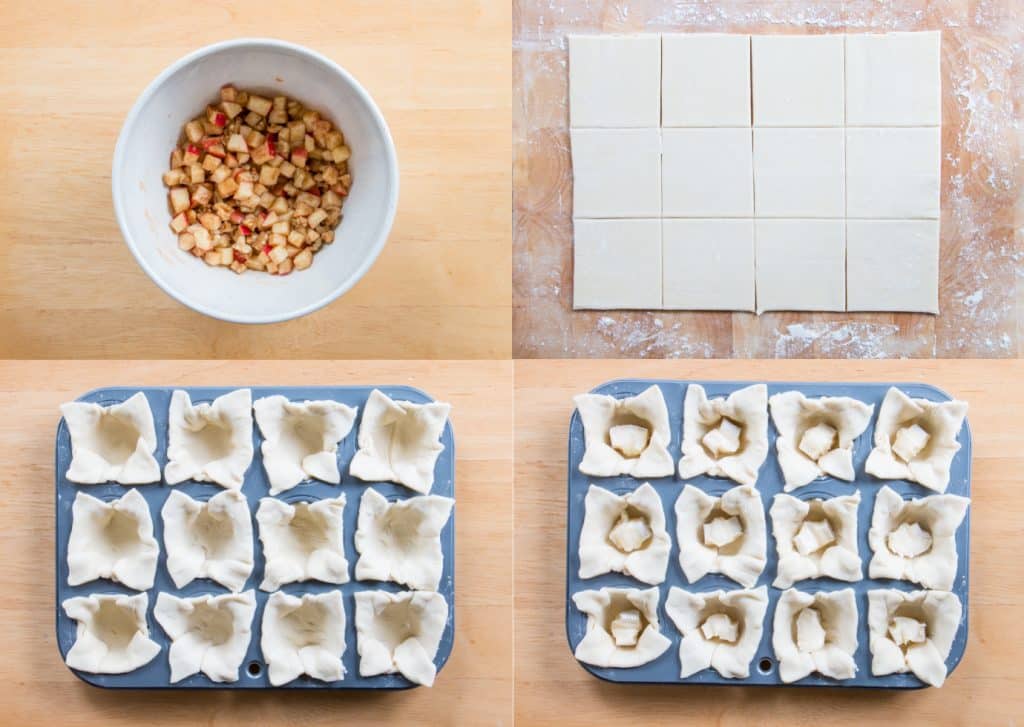 Drop a cube of Brie cheese in each little cup, and top with the apple filling.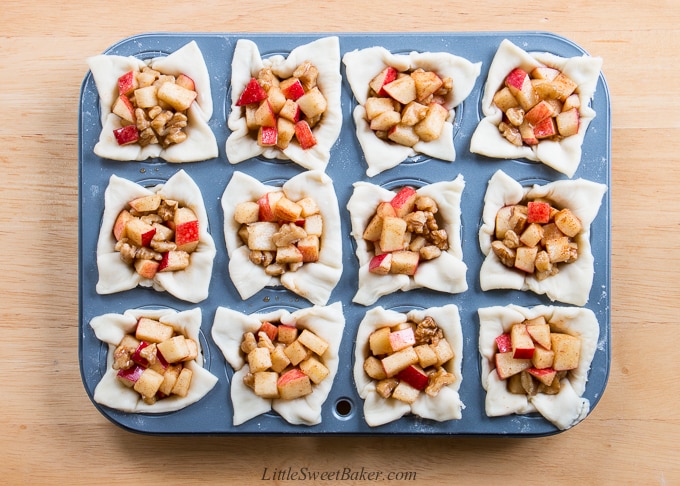 Place in the oven, and bake for 20 minutes. While these tartlets are baking, the Brie melts and blends into the apple-walnut filling. The chopped apple pieces soften, and the brown sugar caramelizes. The aroma of the cinnamon spice shines through, and the puff pastry bakes up nice and golden.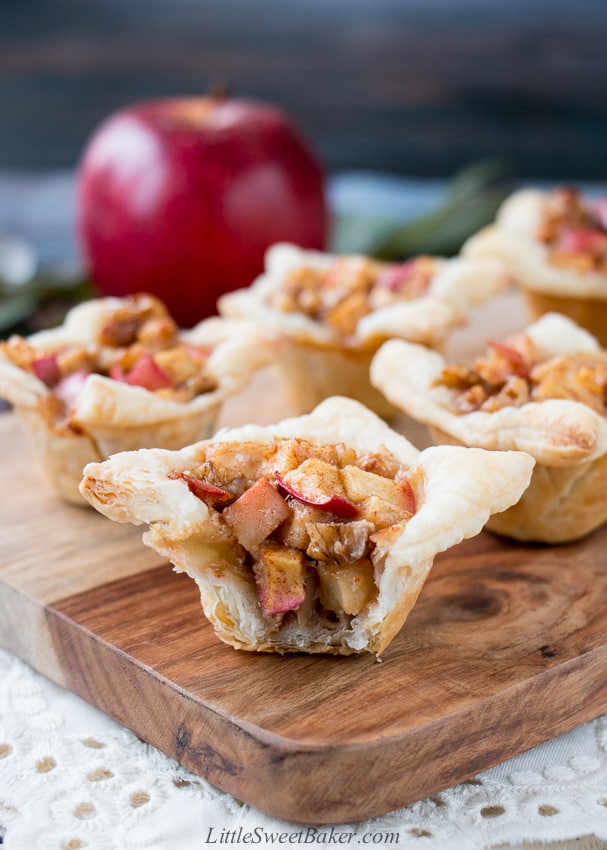 These tartlets smell like an apple pie. The taste is slightly sweet from the apples and slightly salty from the cheese. When you first bite into these tartlets, the apple and buttery puff pastry flavour comes through first. Then it's followed by a nuttiness from the walnuts. It's finished with the earthy and creamy taste of Brie. The outer texture is crispy, while the centre is soft and crunchy.
These apple and brie tartlets are wonderful served as a party appetizer or everyday snack.
Print
Apple and Brie Tartlets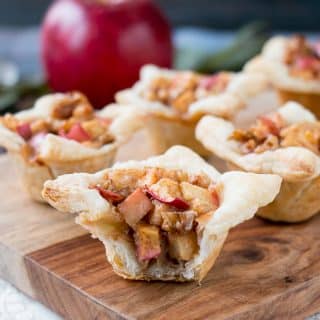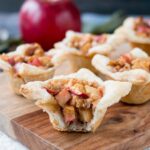 A cross between sweet and savoury, these apple tartlets are wrapped in a flaky puff pastry, and filled with soft baked local apples, creamy Brie and crunchy walnuts.
Author: Lily Ernst
Prep Time:

15 min

Cook Time:

20 min

Total Time:

35 minutes

Yield:

12

Category:

appetizer, snack

Method:

bake

Cuisine:

American
Ingredients
1

sheet puff pastry, thawed as instructed on the package

1 cup

(125g) local apples, diced small (I used Royal Gala, but any local variety that holds its shape when baked works)

1/3 cup

(40g) walnuts, chopped small

2 tbsp

(20g) brown sugar

1/4 tsp

ground cinnamon

2 oz

Brie cheese, cut into

12

pieces
flour for dusting and rolling
Instructions
Preheat oven to 375F and position a rack in the lower third of oven. Set aside a mini muffin pan.
In a small bowl, mix together the apples, walnuts, brown sugar and cinnamon. Set aside.
Lightly flour your work surface and roll out the puff pastry sheet to just over 9×12″. Trim the edges and cut out 12 – 3×3″ squares. Fit the squares into the muffin pan.
Drop a piece of Brie cheese in each pastry cup. Divide the apple filling into the 12 cups.
Bake for 15-20 minutes or until bubbling and golden brown. Let cool for 5-10 minutes and serve warm.
Notes
Leftovers stored in an airtight container at room temperature for a day or in the fridge for up to 3 days. Reheat in a toaster oven at 350F for 3-5 minutes or until warm and crispy.
Keywords: apple tartlet recipe, savory apple recipe, apple and cheese mini pie