Irish Soda Bread (video)
This bakery-quality Irish soda bread has a soft, moist, and chewy center with a wonderfully crusty exterior. The best part about this no-fuss recipe is that you can have freshly baked bread in under an hour.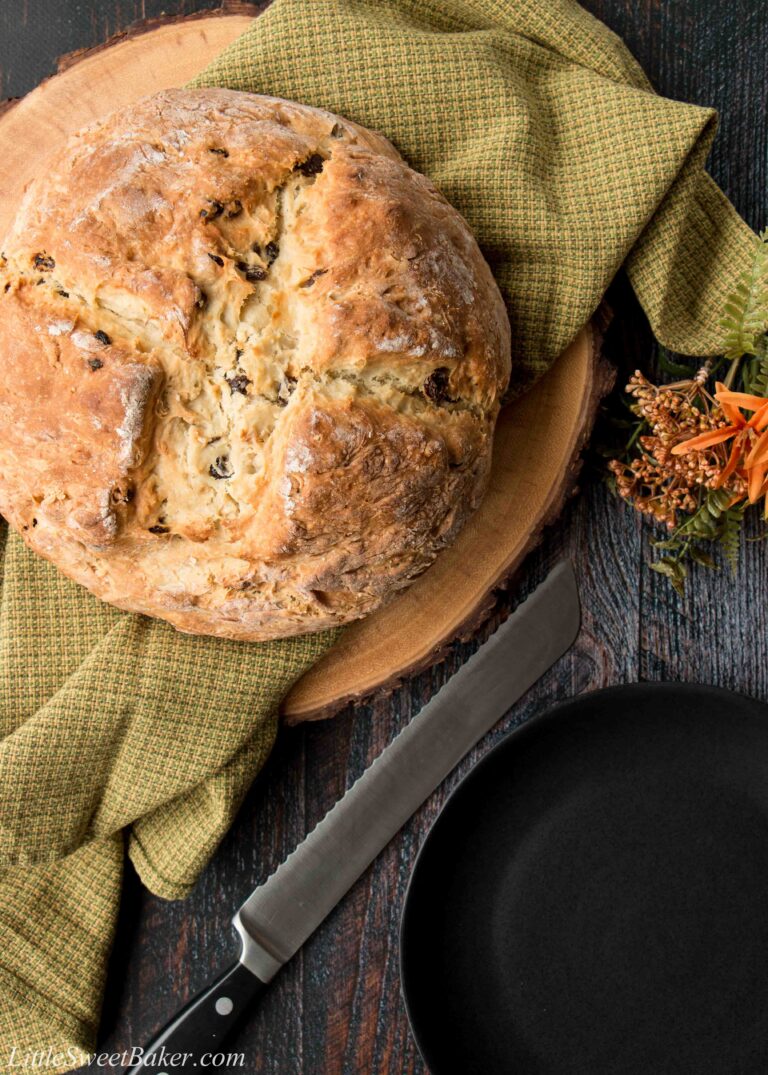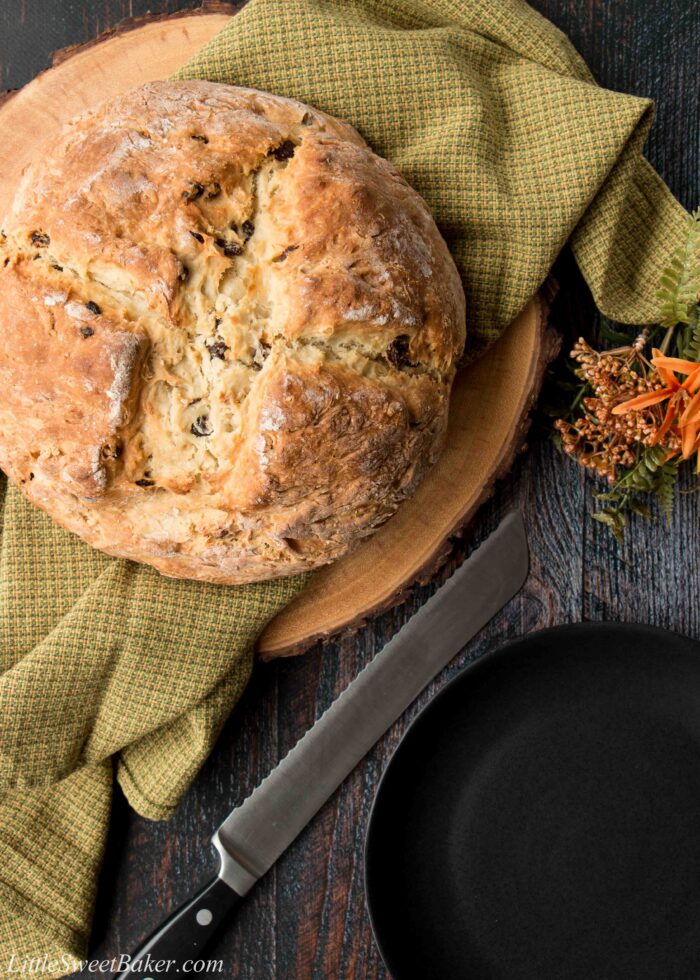 What is Irish soda bread?
Irish soda bread is a type of quick bread that is popularly known to have originated in Ireland. It's typically made with just flour, baking soda, salt, and buttermilk. Traditional Irish soda bread does not include yeast, as the baking soda reacts with the acidic buttermilk to create the necessary rise. Variations include additional ingredients such as butter, eggs, raisins, currants, or caraway seeds.
Why this recipe is so great:
Incredibly easy to make – This Irish soda bread recipe is all prepared in one bowl. There is no yeast, which means there is no kneading and waiting, then kneading and waiting again. You just mix everything in a bowl, knead once, and bake.
Delicious – This recipe makes the perfect Irish soda bread, with a crusty exterior and super soft crumb. The tangy flavor and dense texture make it a hearty and satisfying bread that suits any occasion.
Versatile – This soda bread can be served with a wide range of foods, from savory dishes like stews and soups to sweet toppings like jam and honey.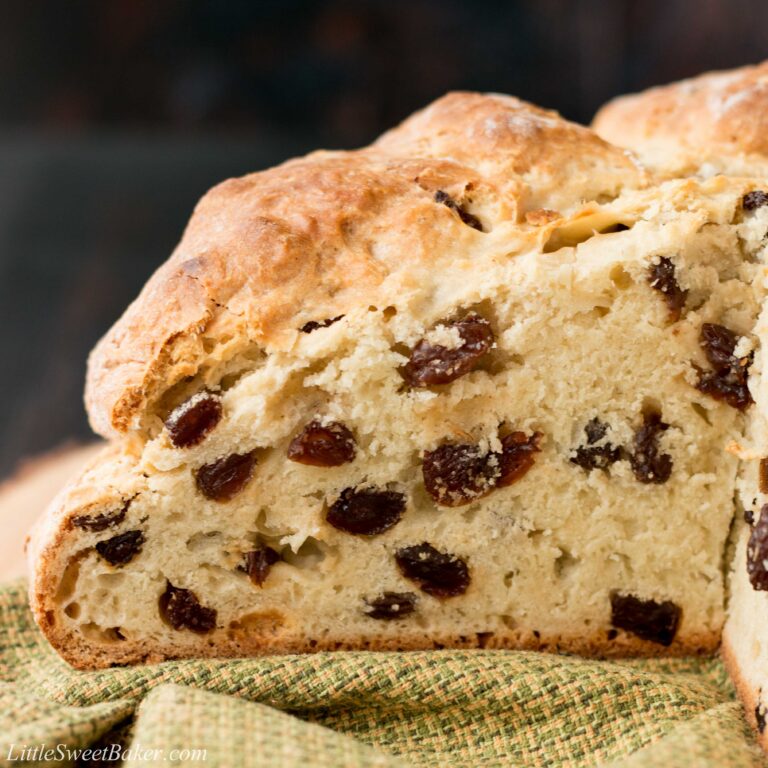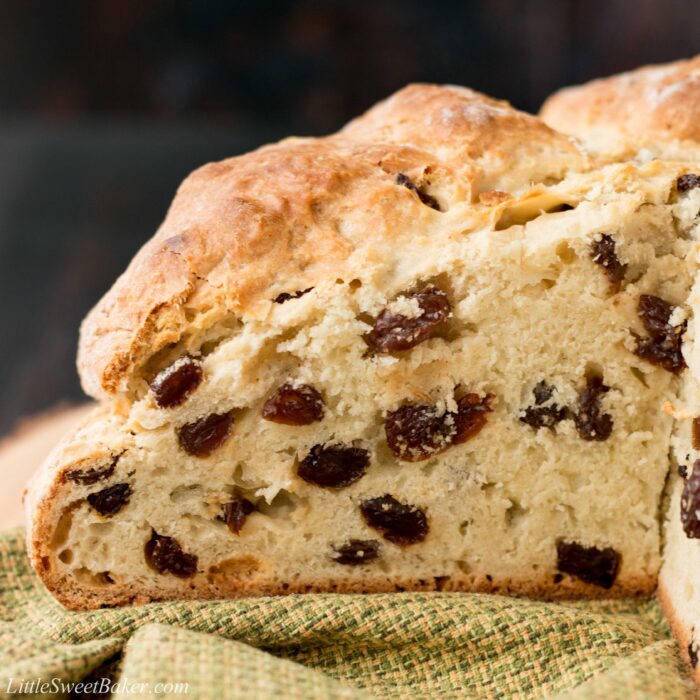 Ingredients you'll need:
all-purpose flour
baking soda & salt
butter & egg
buttermilk
optional: raisins & granulated sugar
How to make Irish soda bread:
(the ingredient amounts are listed in the printable recipe card further below)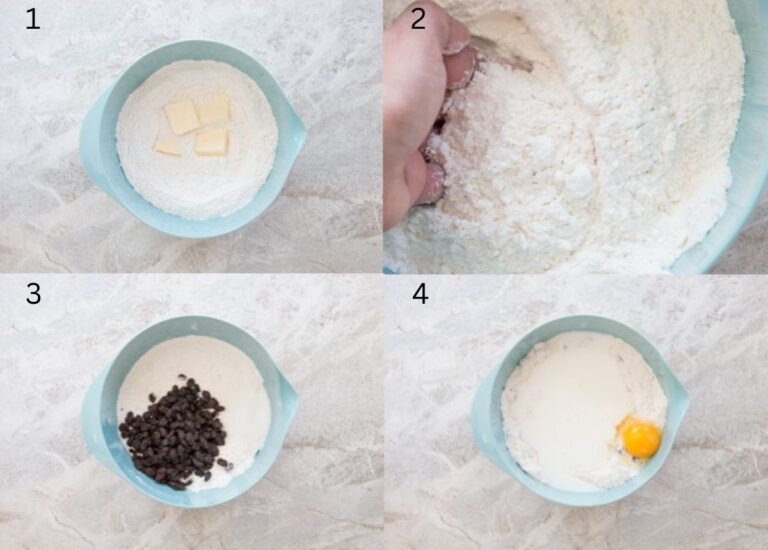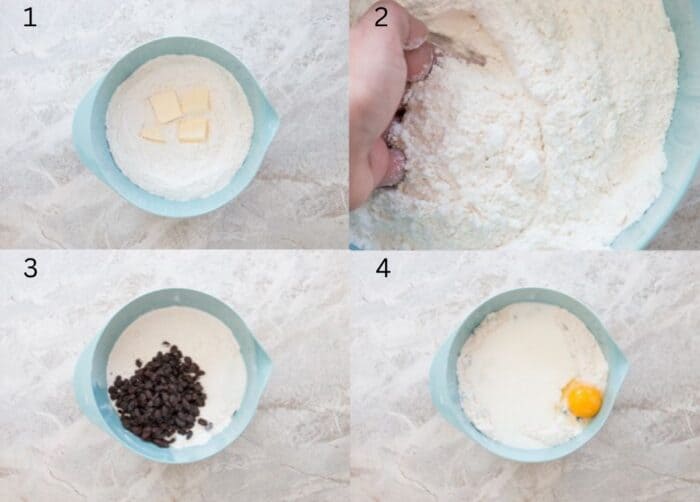 Start by working the butter into the flour mixture with your hands until it resembles coarse meal (images 1&2).
Then toss in the raisins and sugar if using, add in the buttermilk and egg, and stir until the dough forms (images 3-5).
Turn the dough out onto a floured work surface and knead just a few times to gather the dough into a round circle (images 6&7).
Transfer the dough to a lightly greased and floured 9″ round baking pan. Score a deep X into the dough with a sharp serrated knife and bake at 425F for about 35 minutes or until golden brown.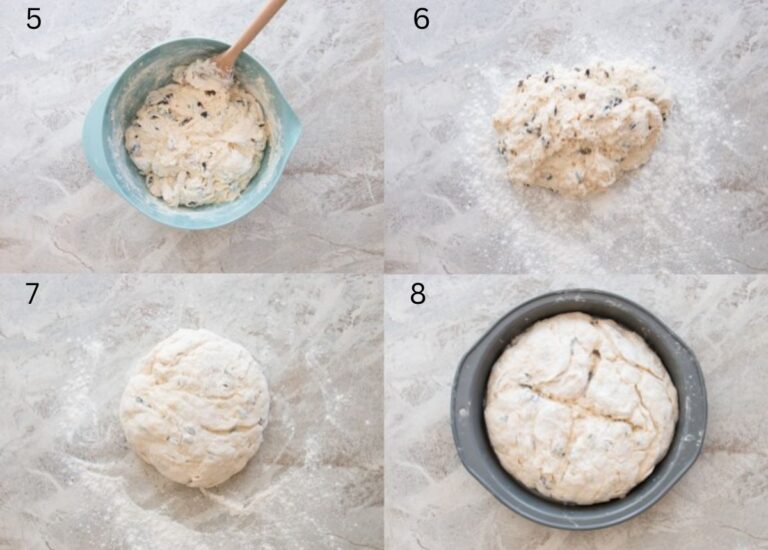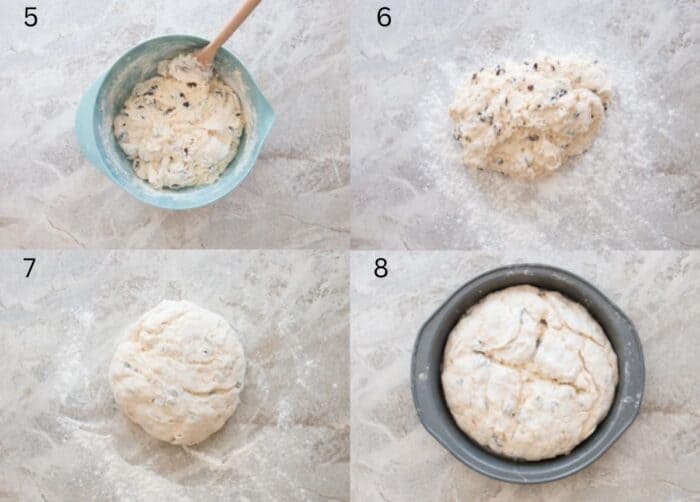 FAQ:
How to eat Irish soda bread:
You can eat it plain or with butter or jam, toasted or you can use it as sandwich bread. You can enjoy it like you would any loaf of crusty bread.
How to serve Irish soda bread:
Irish soda bread is best served warm and fresh out of the oven. You can serve it for breakfast, lunch, as a snack, or as a side dish. It's also great served on a charcuterie board with cured meats and cheese.
What does Irish soda bread taste like?
The taste can be described as mildly sweet, with a slight tanginess from the buttermilk and a hint of saltiness. It's similar to sourdough bread but more dense.
Why is it called Irish soda bread?
It's called Irish soda bread because it's most commonly attributed to Ireland and because of the use of baking soda as the leavening agent instead of yeast.
Fun fact: While soda bread is most famously attributed to Ireland, it was actually first created by Native Americans. They were the first to be documented using pearl ash, a natural form of soda formed from the ashes of wood, to leaven their bread without yeast. However, it wasn't until this process was later discovered and replicated by the Irish that it earned a reputation worldwide. (source: The Real World)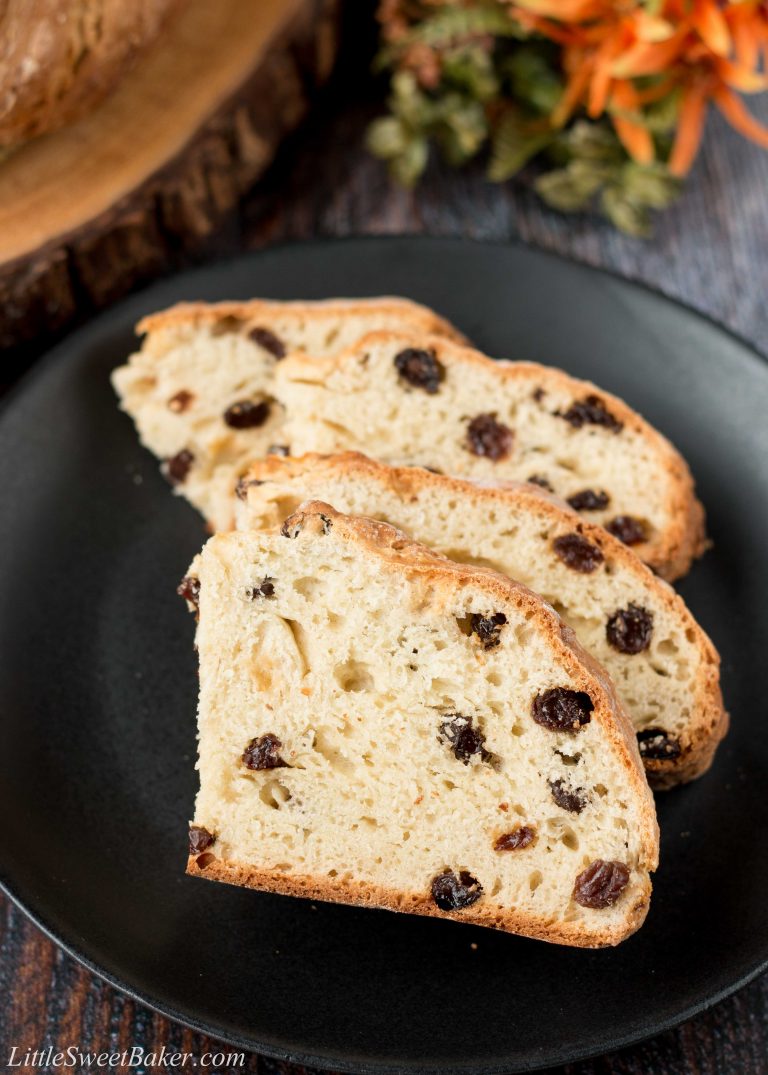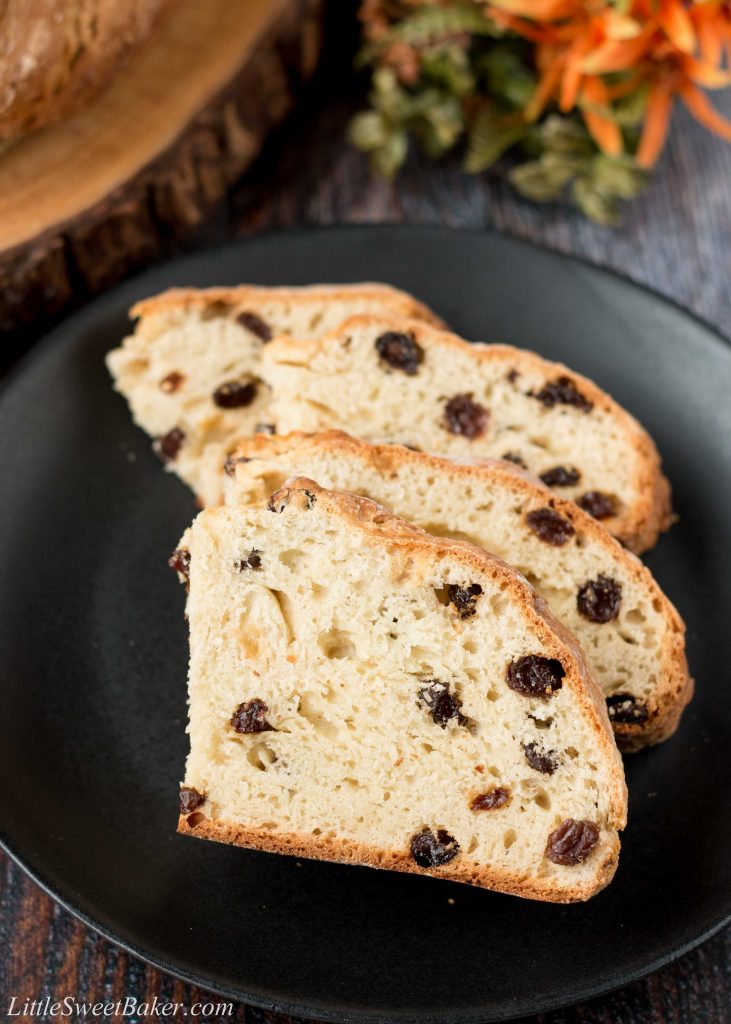 You might also like:
This Irish soda bread is fragrant with a light buttery scent, and there is a subtle richness from the egg. It also has a light toasty smell from the crust. The center is soft and the taste can be made sweet or savory.
Did you make this recipe? Please kindly leave a comment with your star rating below.
Print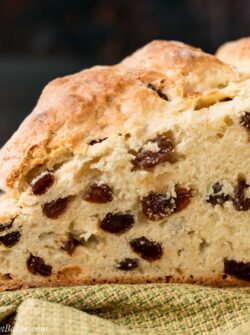 Irish Soda Bread
Author: Little Sweet Baker
Prep Time: 15 min
Cook Time: 40 min
Total Time: 55 minutes
Yield: 1 - 9" loaf
Category: bread
Method: bake
Cuisine: Irish
---
Description
This bakery quality Irish soda bread has a soft, moist and chewy center with a wonderfully crusty exterior.
---
4 cups (500g) all-purpose flour
1 tsp salt
1 tsp baking soda
4 tbsp (57g) butter
1 large egg, lightly beaten
1 3/4 cups (438ml) buttermilk
Optional
1 cup (160g) raisins
1 tbsp granulated sugar
---
Instructions
Preheat oven to 425F. Lightly grease and flour a 9″ round baking pan. Set aside.
In a large bowl, whisk together the flour, salt, and baking soda.
Work the butter into the flour mixture using your fingers until it resembles coarse meal. Toss in the raisins and sugar if using.
Make a well in the center of the flour mixture. Add beaten egg and buttermilk and mix in with a wooden spoon until dough comes together. Add a little more flour (2-4 tbsp) if the dough seems too wet.
Turn dough onto a floured surface and gently knead to form into shape of a loaf. Note that the dough will be a little sticky, and quite shaggy. You want to work it just enough so that the flour is just moistened and the dough just barely comes together. Shaggy is good. If you over-knead, the bread will end up tough.
Transfers the dough onto the prepared baking pan. Using a sharp knife, cut an X along the top of the dough about 1″ deep.
Bake for 35-45 minutes or until a thin skewer inserted into the center comes out clean.
Cool in pan for 5-10 minutes, then transfer to cooling rack. Best served warm and just baked.
---
Notes
Leftovers can be stored in an airtight container at room temperature for up to 2-3 days.
To freeze – tightly wrap in plastic wrap or aluminum foil, then place it in a freezer-safe container or bag. Label and date the container or bag. When ready to eat, remove it from the freezer and let it thaw at room temperature for a few hours. Slice and toast or warm up the whole loaf in the oven at 350F for 10-15 minutes.
Keywords: Irish soda bread recipe, easy Irish soda bread, Irish soda bread with raisins
Recipe slightly adapted from Simply Recipes.