Quick Molasses Brown Bread
This quick molasses brown bread is loaded with wholesome goodness and only takes 10 minutes to prepare. It's crusty on the outside and moist on the inside with a rich tantalizing nutty flavour.
This is a sponsored post. I had the wonderful opportunity to work with Crosby's, Canada's oldest molasses company, to create this recipe for you. Though monetary compensation was received, all opinions are my own.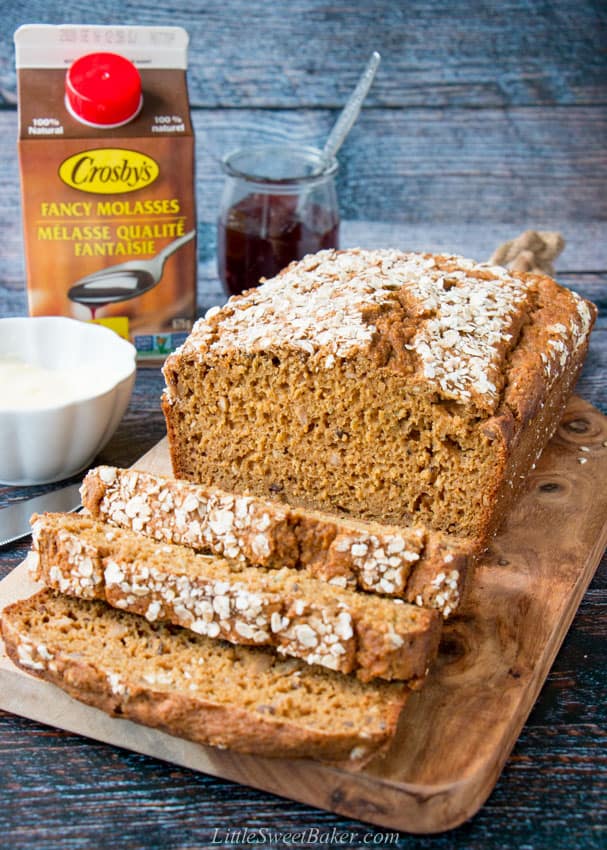 I love making homemade bread for my family. Whether it's a simple quick bread or made with a bread machine, nothing beats the smell and taste of homemade bread.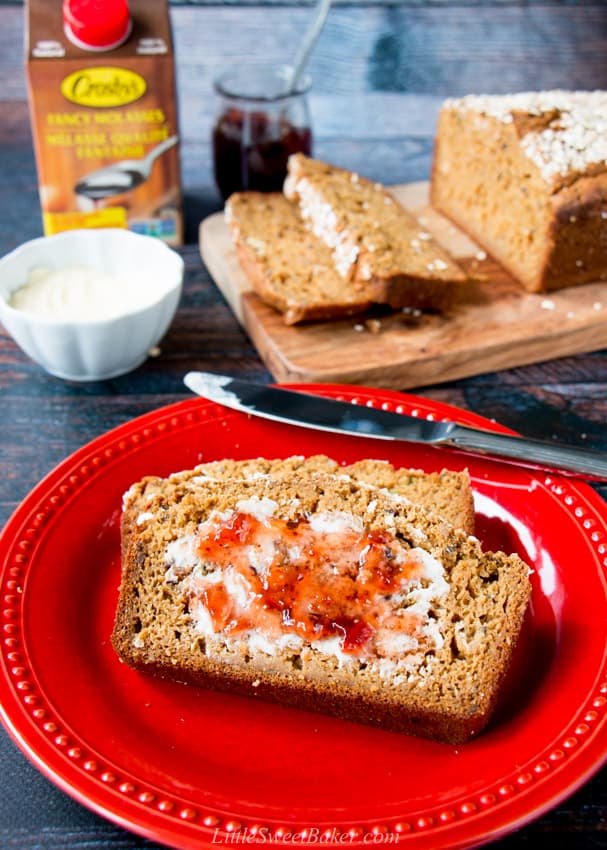 This recipe is from Crosby's Everyday Favourites Recipe E-book and what appealed to me about this recipe is how versatile it is and how easy it is to make. This quick molasses brown bread is great for breakfast or as a snack with a spread of butter and/or jam. It's great for dunking in soups and even makes for a great sandwich bread! And it's all made by hand with two bowls and a whisk. I added some roasted sunflower seeds, flax seeds, hemp seed, and a sprinkle of oats to make it a little more hearty like a multigrain bread.
Crosby's Molasses is based in New Brunswick and they have been importing molasses for 140 years. This fifth-generation family-owned company continues to import fancy and blackstrap molasses that are as pure today as they were back in 1879 when the company was founded.  Once the primary sweetener along the Eastern seaboard and throughout Quebec, fancy molasses is a heritage ingredient that gives traditional recipes that old-fashioned flavour. Think baked beans, molasses cookies, bran muffins, and gingerbread. But because molasses adds a distinct flavour, it lets cooks inject a little old-fashioned authenticity into contemporary dishes too, like Asian-inspired dishes and all things barbecue. Crosby's fancy molasses is verified non-GMO, unsulfured, and contains no additives or preservatives. There is nothing in Crosby's molasses but pure sugarcane juice.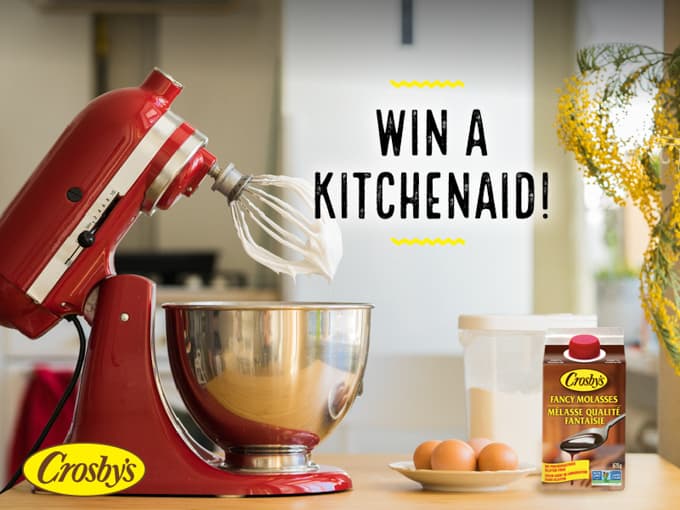 Because Crosby's is all about making it easier for you to prepare wholesome food that's healthy and tastes good, they're giving away a KitchenAid Artisan Mini Stand Mixer. Simply subscribe to their recipe emails and you'll be entered in the draw. It's that easy. Click on the sign-up link here>>> Win A KitchenAid! Contest closes October 6, 2019.
How to make quick brown bread:
(the ingredient amounts are listed in the printable recipe card further below)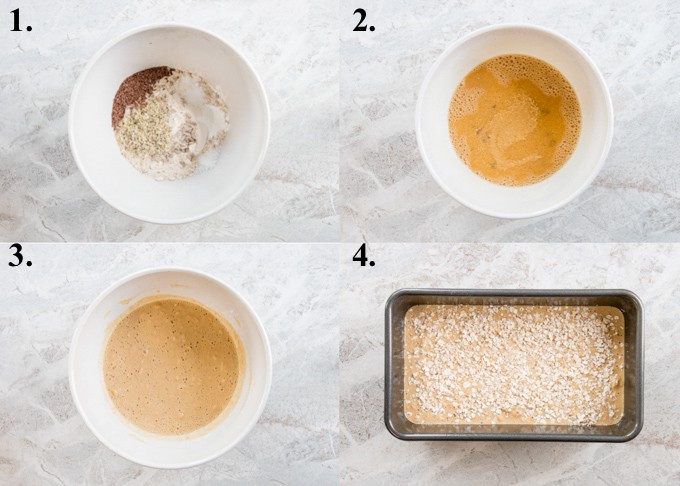 First, you toss all your dry ingredients together in a medium bowl. So your whole wheat flour, sunflower seeds, flax seeds, hemp seeds, baking powder, baking soda, and salt. Set aside.
Then you whisk all your wet ingredients together in a large bowl. So your buttermilk, molasses, egg, and melted butter.
Stir the flour mixture into the wet ingredients.
Pour the batter into a greased 9×5″ pan. Sprinkle a handful of rolled oats on top and bake for about 1 hour.
Expert tip:
Before measuring your molasses, grease your measuring cup or spoon with oil, butter or non-stick cooking spray and the molasses will come out with ease. For this recipe, I measured my butter first, then using the same spoon, I measured my molasses.
What is molasses?
Molasses is made from the juice extracted from mature sugar cane. It is then clarified and evaporated to the consistency of a syrup, possessing a rich colour and a sweet-tart taste. The molasses is then fine-filtered and pasteurized, resulting in a pure, sweet product.
You might also like: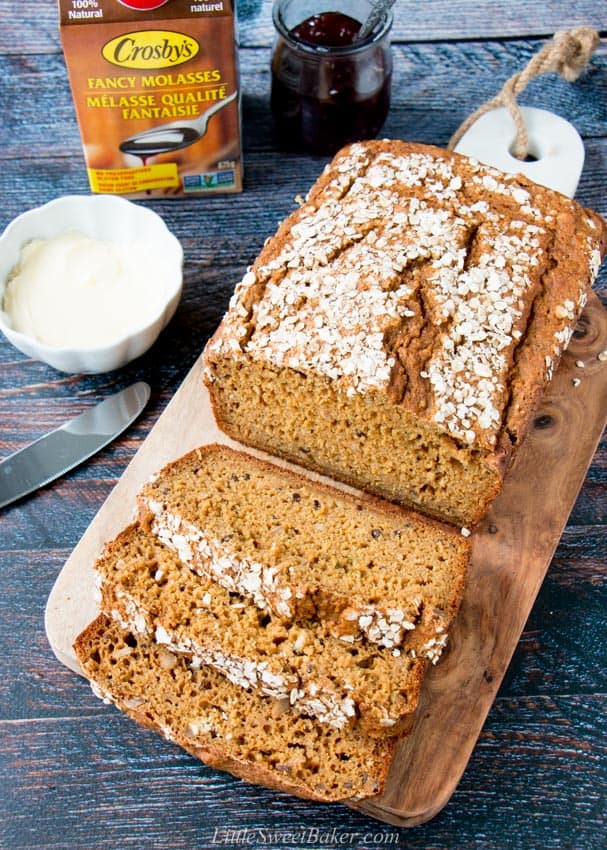 You can download the original recipe e-book here and view hundreds of other fabulous recipes using Crosby's molasses here.
Did you make this recipe? Please kindly leave a comment with your star rating below.
Print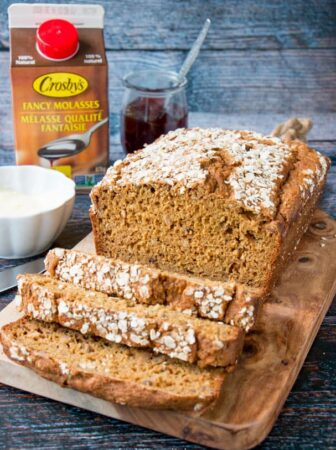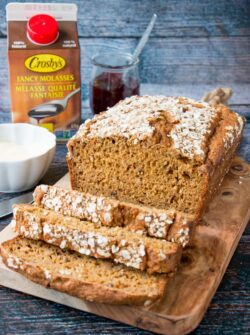 Quick Molasses Brown Bread
Author: Lily Ernst
Prep Time: 10 min
Cook Time: 50 min
Total Time: 1 hour
Yield: one 9x5" loaf 1x
Category: breakfast, snack
Method: bake
Cuisine: American
---
Description
This quick molasses brown bread is loaded with wholesome goodness and only takes 10 minutes to prepare. It's crusty on the outside and moist on the inside with a rich tantalizing nutty flavour.
---
2 cups (260g) whole wheat flour
2 tbsp roasted sunflower seeds
2 tbsp flax seeds
2 tbsp hemp seeds
1 tsp baking powder
1 tsp baking soda
1 tsp salt
1 large egg
2 cups (500ml) buttermilk or sour milk*
3 tbsp Crosby's Fancy Molasses
1 1/2 tbsp butter, melted
2 tbsp rolled oats
---
Instructions
Preheat oven to 400F and grease a 9×5″ loaf pan.
In a medium bowl, toss together the flour, sunflower seeds, flax seed, hemp seeds, baking powder, baking soda, and salt. Set aside.
In a large bowl, whisk together the egg, buttermilk, molasses, and melted butter.
Add in 1/4 of the flour mixture at a time, whisking in between to prevent lumps. The batter will be thin.
Pour into the prepared pan and sprinkle the rolled oats on top.
Bake for 50-60 minutes or until well browned and a toothpick inserted into the center comes out clean. Let cool in pan on a wire rack.
---
Notes
Leftovers can be stored in an airtight container or tightly wrapped in saran wrap for 2-3 days at room temperature or in the fridge for up to 5 days.
*To make sour milk, add 1 tsp of white vinegar to each cup of milk or replace 1/4 of milk with yogurt.
Keywords: quick brown bread, molasses brown bread