Soft Gingerbread Cookies
These easy-to-make gingerbread cookies hold their shape beautifully in the oven and there is no chilling required. They are soft and chewy, full of spice, and the recipe is great for making gingerbread men.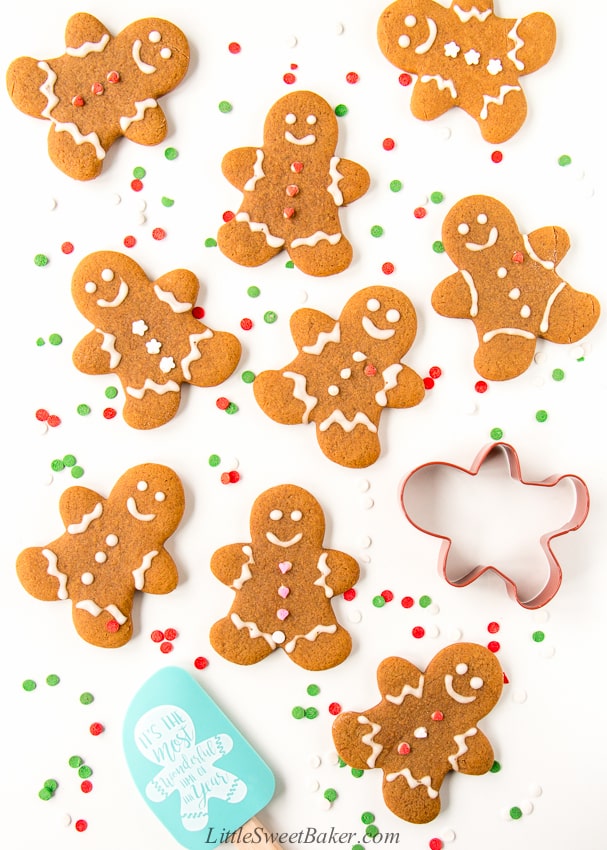 A fun holiday activity in our house is to make and decorate gingerbread cookies. One of the reasons I designed this recipe to require no chilling, and one of the reasons I did that is: try explaining to a five-year-old he has to wait for 3 hours or until the next day before he can decorate and eat the cookies he just helped prepare. It doesn't go over so well in my house. So this is a make-and-bake kind of recipe. My oldest loves gingerbread cookies. He can finish a whole plate on his own, while my youngest is more into decorating them. I have an eater and an artist, so this recipe serves them both.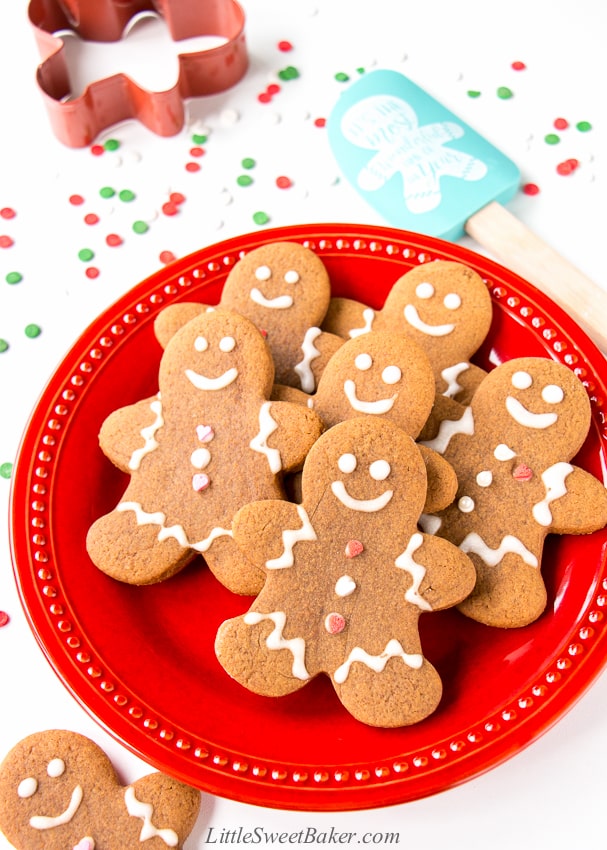 This recipe begins with creaming butter and sugar together. I see a lot recipes use shortening, but I prefer butter for taste. Then you mix in the molasses. After that you mix in an egg and some vanilla. Add in your dry ingredients which include ginger, cinnamon, nutmeg and clove, so there is a whole lot of spice in these cookies because I like my gingerbread with a bit of a kick. However, you can tone down the spice if you prefer a lighter flavor.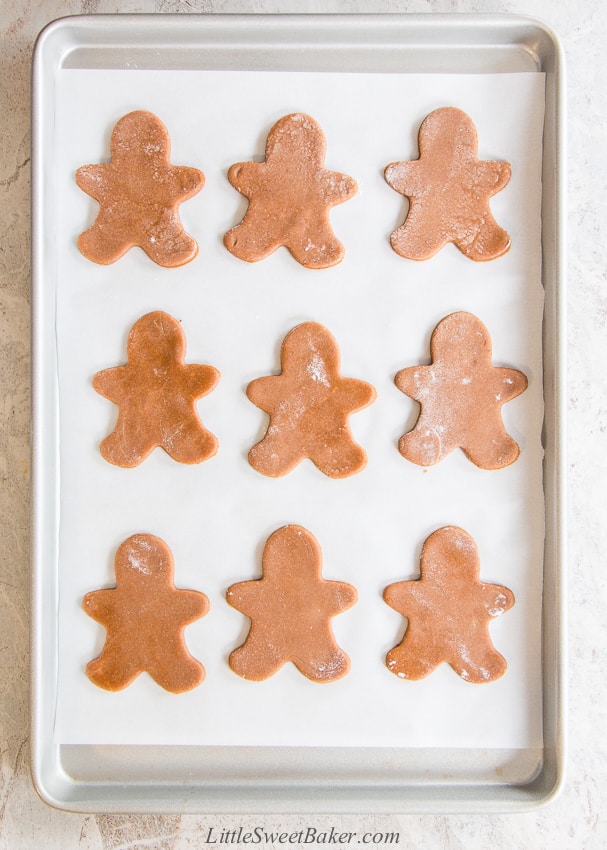 The batter will be sticky so you'll have to generously flour your work surface, hands, rolling pin and surface of the dough to prevent it from sticking. I learned this after I was unable to remove my cutouts from the counter, so then I had to scrape the dough and re-roll it. But even though the dough is soft, it holds its shape during baking and yields a soft and tender cookie. I baked my cookies for only six minutes because I like my cookies nice and chewy. If you prefer them firmer on the outside, but still soft on the inside, bake them for eight minutes to get those crispy edges.
The frosting is as simple as can be. It's made with just powdered sugar, a touch of vanilla and some milk. It's also very forgiving. Just add more powdered sugar or milk until it's just right for you.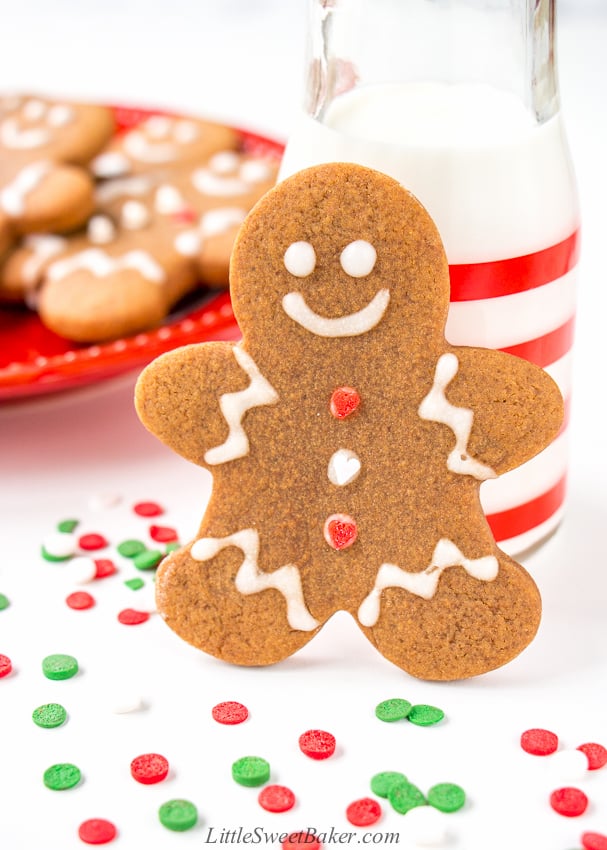 These gingerbread cookies are soft and chewy, yet sturdy enough to decorate and easily handle. The taste is sweet and spicy with warm notes of molasses, ginger and cinnamon. They make for a fun and delicious family activity!
Print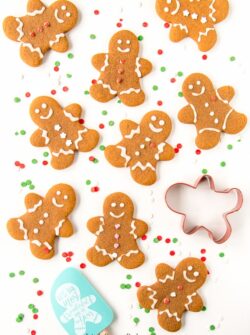 Soft Gingerbread Cookies
Author: Lily Ernst
Prep Time: 20 min
Cook Time: 6 min
Total Time: 26 minutes
Yield: about 2 dozen cookies 1x
Category: dessert, snack
Method: bake
Cuisine: American
---
Description
These easy to make gingerbread cookies hold their shape beautifully in the oven and there is no chilling required. They are soft and chewy, and loaded with delicious spices!
---
Cookies
3 cups (375g) all-purpose flour
3/4 tsp baking soda
1/2 tsp salt
2 tsp ground ginger
2 tsp ground cinnamon
1/2 tsp ground nutmeg
1/2 tsp ground cloves
1/2 cup (114g) unsalted butter, softened
1/2 cup (100g) brown sugar, lightly packed
1/2 cup (125ml) molasses
1 large egg
1 tsp vanilla extract
Frosting
1 cup (125g) powdered sugar, sifted
1/4 tsp vanilla extract
1–2 tbsp milk
---
Instructions
Preheat oven to 350F and line 3 baking sheets with parchment paper.
In a medium bowl, toss together the flour, baking soda, salt, ginger, cinnamon, nutmeg and cloves. Set aside.
In a large bowl, cream together the butter and sugar using an electric mixer. Mix in the molasses until smooth. Beat in the egg and vanilla. The batter might look curdled, but that's ok, it will come together when you add the dry ingredients.
Add in the flour mixture, one third at a time, mixing in between. The dough will be sticky.
Turn the dough out onto a generously floured work surface. Flour your hands and top of the dough. Knead it a few times to gather into a round ball. Roll your dough to 1/4″ thick. Cut into desired shapes using cookie cutters. Re-roll the scraps if you want to get a few more cookies.
Transfer the cookies onto the prepared baking sheets. Bake for 6-8 minutes or until the cookies puff up and bottoms just start to brown. Let cool completely on baking sheets before frosting.
To prepare the frosting: Add the vanilla to the powdered sugar. Whisk in the milk a little at a time until you reach a thick but pourable consistency. Adjust with more powdered sugar or milk if needed. Decorate as desired.
---
Keywords: soft gingerbread cookies, gingerbread men cookies
I'll be sharing this at Fiesta Friday #254 hosted by Angie, and co-hosted by Antonia @ Zoale.com and Kat @ Kat's 9 Lives.