Jam Thumbprint Cookies
This classic holiday cookie is buttery and chewy with a delicious pocket filled with jam. You can easily create a variety of delicious treats for your cookie tray by mixing it up with your favorite kinds of fillings.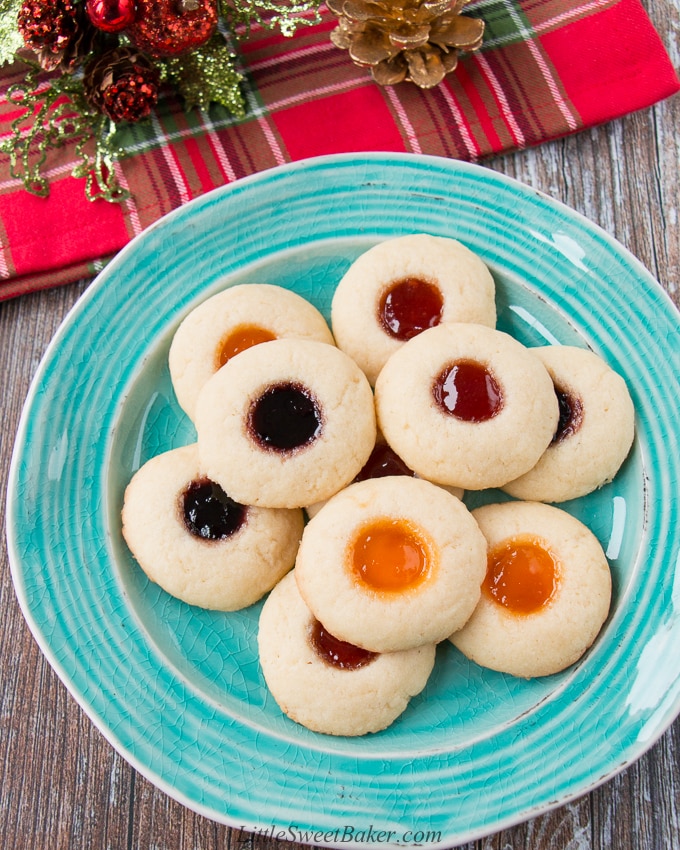 Well, I've already gained a couple of pounds this month and it ain't even Christmas yet, lol. I'm guessing it's from all the cookies I've consumed with my children. Though they don't look any different, maybe just a little more hyper. But that's okay because I have all of January to get back into shape. With all the memories I'm making with my kids and seeing the smiles on their little faces, the extra few pounds are worth it. Not to mention how happy my tastebuds are!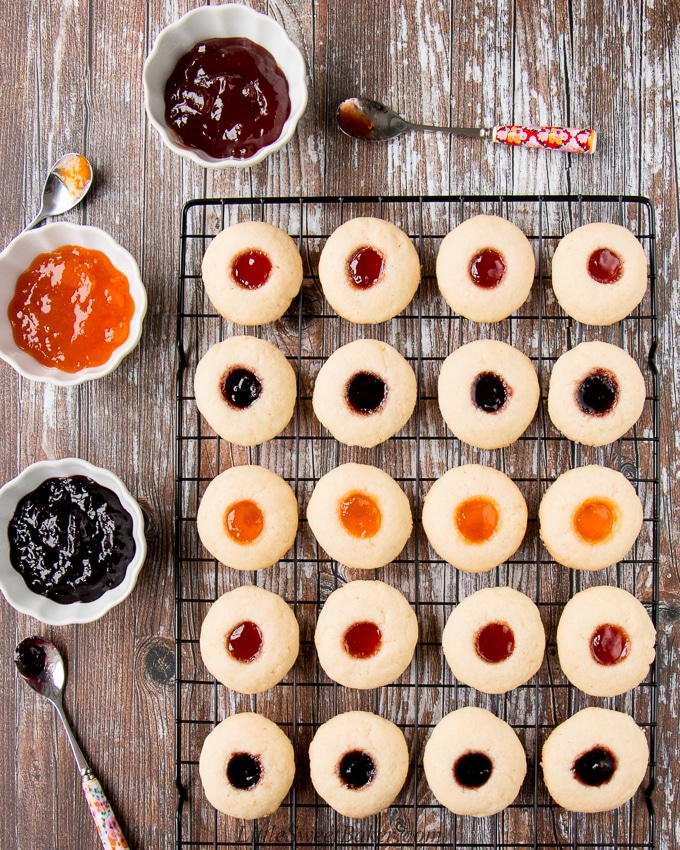 This recipe begins with creaming butter and sugar together. Next you add in your egg and extracts. Then you mix in your dry ingredients. Now comes the fun part: rolling the dough into little balls and making an indentation in them for the jam. You can use the back of a small measuring spoon or your thumbs to make the indent or, as I like to do, use the end of a wooden spoon. It makes a perfect round indent for the filling. Fill the hole with your favorite kind of jam(s). I always like to use strawberry, apricot and blueberry. Fill as much as you can because as the cookies spread in the oven, the jam will flatten out. So you want the filling to be rounded over top of the cookie rather than flat.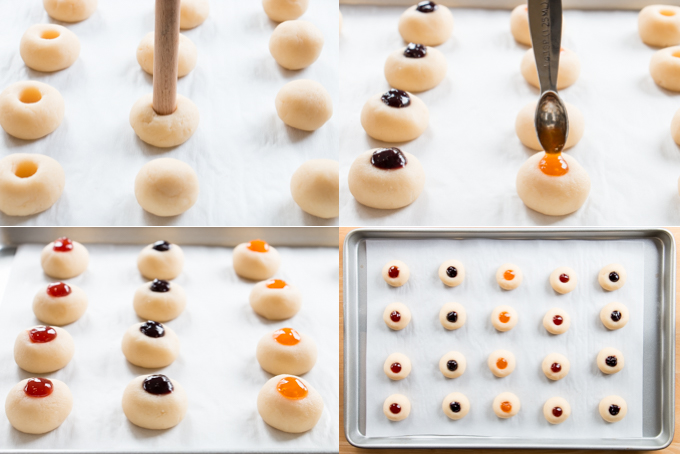 These jam thumbprint cookies are rich and buttery with a chewy texture similar to a sugar cookie. The taste is sweet with bursts of fruity jam and a hint of vanilla.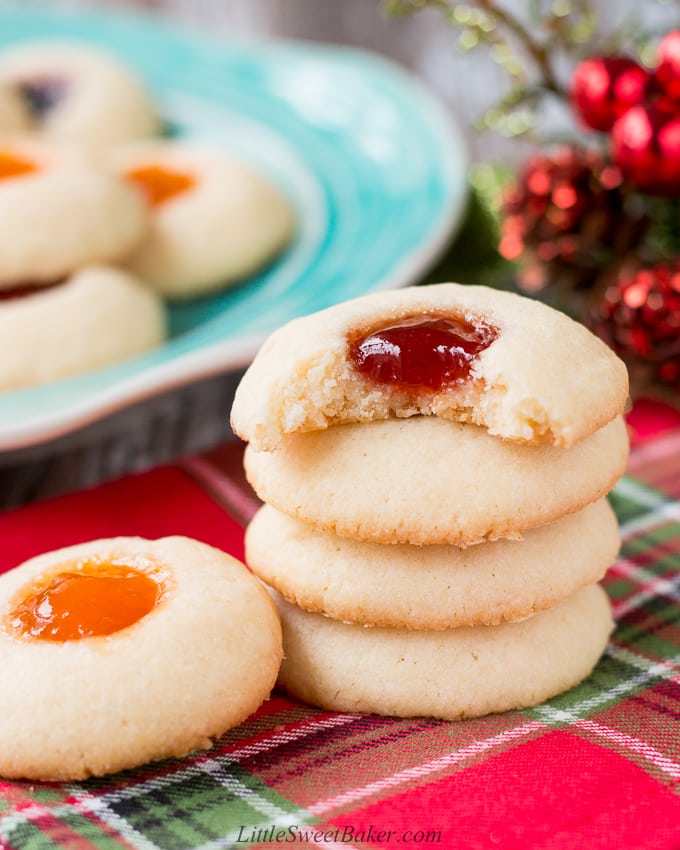 Print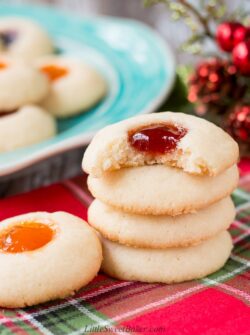 Jam Thumbprint Cookies
Author: Lily Ernst
Prep Time: 20 min
Cook Time: 20 min
Total Time: 40 minutes
Yield: about 40 cookies 1x
Category: dessert, snack
Method: bake
Cuisine: American
---
Description
This classic holiday cookie is buttery and chewy with a delicious pocket filled with jam.
---
2 & 1/2 cups (315g) all-purpose flour
1/2 tsp baking powder
1/2 tsp salt
1 cup (227g) unsalted butter, room temperature
1 cup (200g) white sugar
1 large egg
2 tsp vanilla extract
1/4 tsp almond extract (optional)
about 1 cup of jam (I used strawberry, apricot, and blueberry)
---
Instructions
Preheat oven to 325F and line two cookie sheets with parchment paper.
In a medium bowl, toss together the flour, baking powder and salt. Set aside.
In the bowl of a stand mixer fitted with a paddle attachment, beat the butter and sugar together on medium speed until light and fluffy, about 3 or 4 minutes. Scrape down the sides of the bowl and mix in the egg, vanilla and almond extract (if using) until incorporated.
With the mixer on low, stir in half flour until just combined. Repeat with the remaining flour.
Roll the dough into 1″ balls and place about 1″ apart onto the prepared baking sheets. Using the end of a wooden spoon dipped in flour, 1/4 tsp measuring spoon, or your thumb, make an indent halfway down each cookie.
Fill each indentation with the jam of your choice. Slightly overfill so that's it's rounded on top because the jam will flatten out as the cookies bake.
Bake for 15-20 minutes or until the edges just start to brown. Let cookies cool enough to touch before transferring to wire rack.
---
Notes
Leftover cookies can be stored in an airtight container at room temperature for 3-5 days.
Keywords: thumbprint cookie recipe, jam thumb print cookies
Recipe adapted from Wanna Come With.