Homemade Strawberry Shortcake (video)
This homemade strawberry shortcake recipe consists of a golden flaky biscuit piled high with macerated strawberries and sweetened whipped cream. This charming little treat is so simple to make, yet elegant to serve, which makes it a perfect finish to any meal.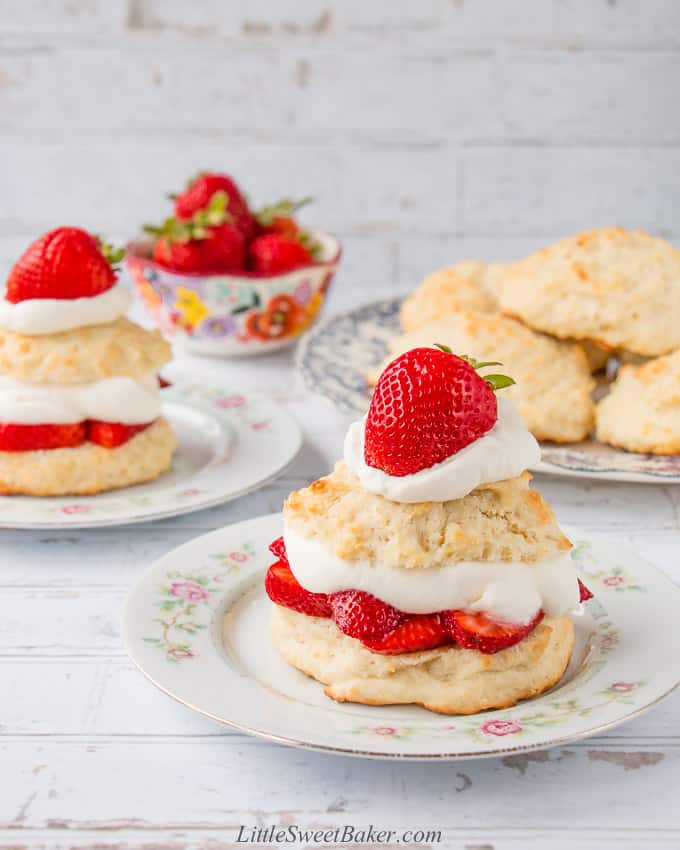 With Mother's Day coming up, the first thing that comes to my mind is classic strawberry shortcake. It's perfectly suited for brunch or served with your afternoon tea. It's also feminine and pretty, just like mom.
Why this recipe is so great:
It's incredibly easy to make. The biscuits are made in one bowl and then you just drop the batter by spoonfuls onto your baking sheet. There is no rolling or cutting the dough.
The taste is vibrant and fresh. There is lemon zest added to the biscuits which brightens up the flavor of the pastry. The fresh strawberries are made sweeter and juicier by marinating them in sugar for 30 minutes. The sweetened whipped cream adds a cool and creamy touch to the overall dessert.
It's simple to assemble and beautiful to serve. You simply layer the biscuits with strawberries and whipped cream. It only takes seconds to assemble yet it's so gorgeous to present and serve.
Here are some reviews:
"These were SUPER good! I make Strawberry Shortcake a lot, but always with Bisquick. I ran out so I chose this recipe because it looked simple. Love it…and it is very simple. Will definitely make this from now on….thank you!" – Pam
"Perfection! The biscuit exterior was crispy and the inside soft and airy. It wasn't overly sweet which made it the perfect canvas for the strawberries & cream. I've been struggling to find a good recipe that didn't use a lot of butter, heavy cream or eggs and I'm so happy I came across this! Thank you, thank you!" – Julie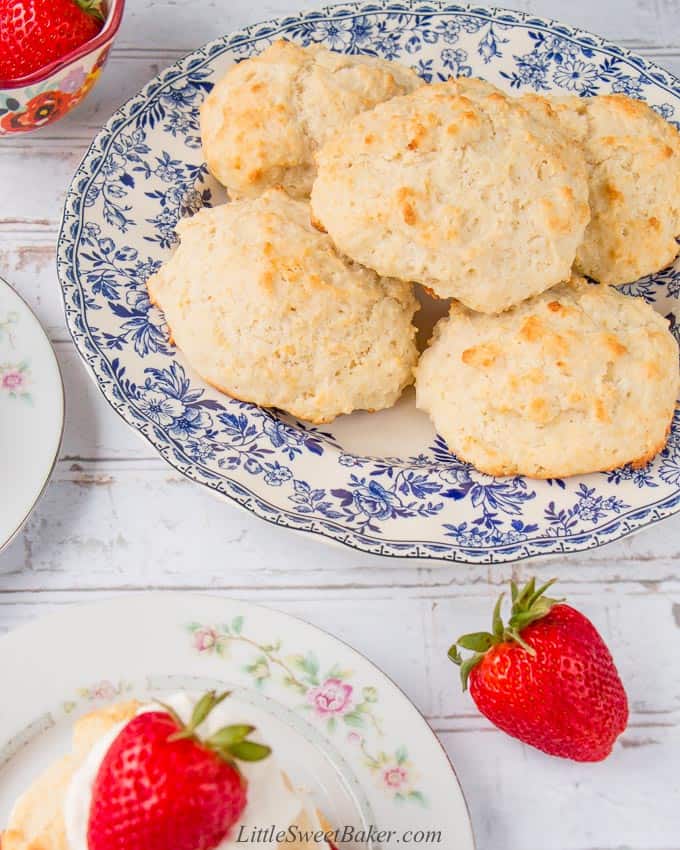 How to make strawberry shortcake:
(the ingredient amounts are listed in the printable recipe card further below)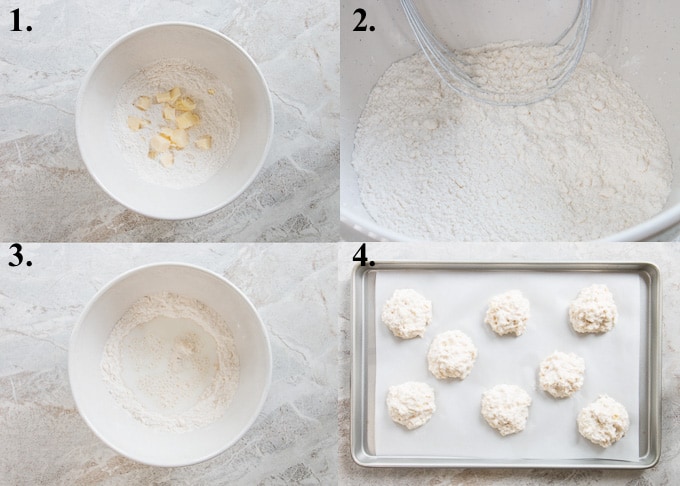 You start by tossing the flour, sugar and baking powder together.
Then cut in the butter until it resembles coarse crumbs.
Whisk in the lemon zest and stir in the milk.
Drop the batter into 8 equal mounds onto a lined baking sheet. Bake at 425F for 15 minutes.
Meanwhile, toss the sliced strawberries with sugar and let stand for 30 minutes.
Whip up some heavy cream, sugar, and a splash of vanilla, and there you have it! Everything you need to put together this easy, yet extraordinary treat!

Expert tips:
Use cold butter. Cold butter creates steam as it melts in a hot oven. The steam from the melting butter expands between the layers of dough. This creates pockets of air, yielding a soft and fluffy biscuit.
Use salted butter to save the extra step of having to add salt to this recipe.
Use cold milk to help keep the butter solid in the batter.
Combine the wet and dry ingredients together quickly. As soon as you add the milk, the baking powder starts to activate, so stir the batter together gently but quickly and bake right away.
FAQ:
Can you make strawberry shortcake in advance? You can, but not too much in advance. The biscuits can be made the day before. The strawberries and whipped cream can be prepared the day of. Under-whip the heavy cream slightly and give it a final quick whip just before serving.
Can strawberry shortcake be frozen? Yes and no. The biscuits can be frozen for up to a month. Thaw and reheat in the oven to freshen up before you plan to serve. The strawberries and whipped cream should be prepared the day-of for best results.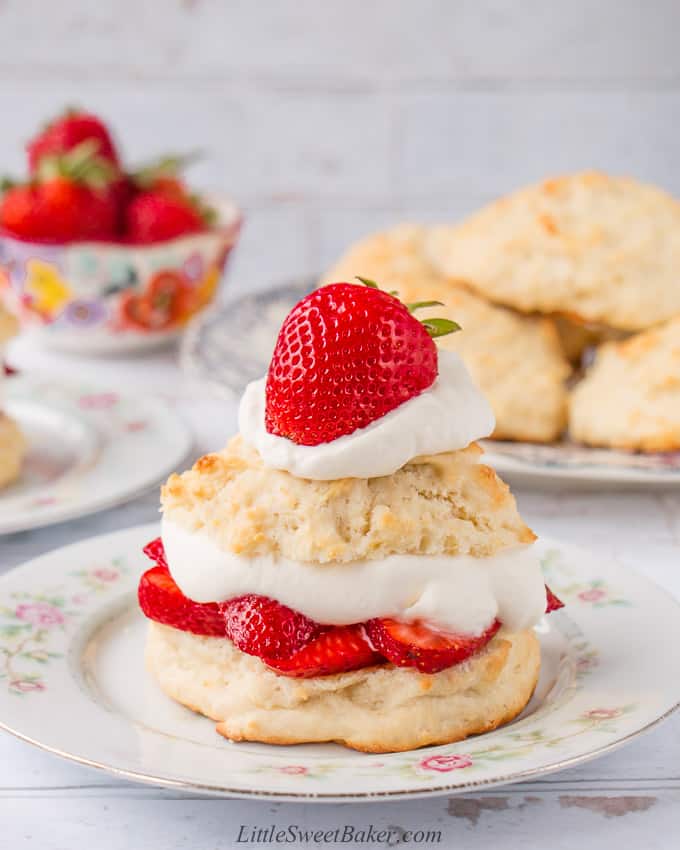 You might also like:
The biscuits are nice and crispy on the outside, and warm and soft on the inside. There is a little lemon zest added for depth and a fresh vibrant taste. The strawberries are sweet and juicy, and the flavor is enhanced by macerating them to bring out their natural juices. The whipped cream is soft, rich and sweet. Put all that together and each mouthful is satisfying and scrumptious.
Did you make this recipe? Please kindly leave a comment with your star rating below.
Print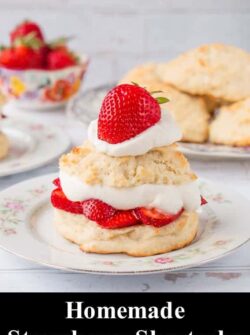 BEST Homemade Strawberry Shortcake
Author: Lily Ernst
Prep Time: 20 min
Cook Time: 15 min
Total Time: 35 minutes
Yield: 8
Category: dessert
Method: bake
Cuisine: American
---
Description
This homemade strawberry shortcake recipe consists of a golden flaky biscuit piled high with macerated strawberries and sweetened whipped cream.
---
For the biscuits:
2 cups (250g) all-purpose flour
3 tbsp (38g) granulated sugar
1 tbsp (15g) baking powder
1/4 cup (57g) cold salted butter, cubed
1 cup (250ml) cold milk
1 tsp lemon zest
For the macerated strawberries:
1 pint (454g) strawberries, sliced
2 tbsp (25g) granulated sugar
For the sweetened whipped cream:
1 cup (250ml) heavy cream
1/4 cup (50g) sugar
1/2 tsp (2.5 ml) vanilla extract
---
Instructions
Preheat oven to 425F and line a baking sheet with parchment paper or silicone baking mat.
In a large bowl, combine flour, sugar and baking powder. Cut in butter until mixture resembles coarse crumbs. Whisk in the lemon zest. Add in the milk and stir until just combined.
Drop the dough by heaping tablespoonfuls into eight mounds onto the prepared baking sheet. Bake at 425° for 12-15 minutes or until lightly browned.
While the biscuits are in the oven, stir together strawberries and sugar in a medium bowl. Let stand at room temperature until juices are released, at least 30 minutes.
Using an electric mixer, beat the cream, sugar, and vanilla until soft peaks form.
Split biscuits in half horizontally. Spoon on some strawberries, a dollop of whipped cream, top with the other biscuit half. Garnish with more whipped cream and a strawberry if desired.
---
Notes
Leftover biscuits can be stored in an airtight container at room temperature for 3 days. The macerated strawberries and whipped cream can be stored covered up in the fridge for 2 days. Beat the whipped cream again for a few seconds before serving.
Keywords: strawberry shortcake recipe, easy strawberry shortcake, homemade strawberry shortcake
Recipe adapted from Taste of Home.