How To Make A Cheesecake
CHEESECAKE 101: Everything you need to know about how to make a simple and delicious cheesecake, and how to create your own variations.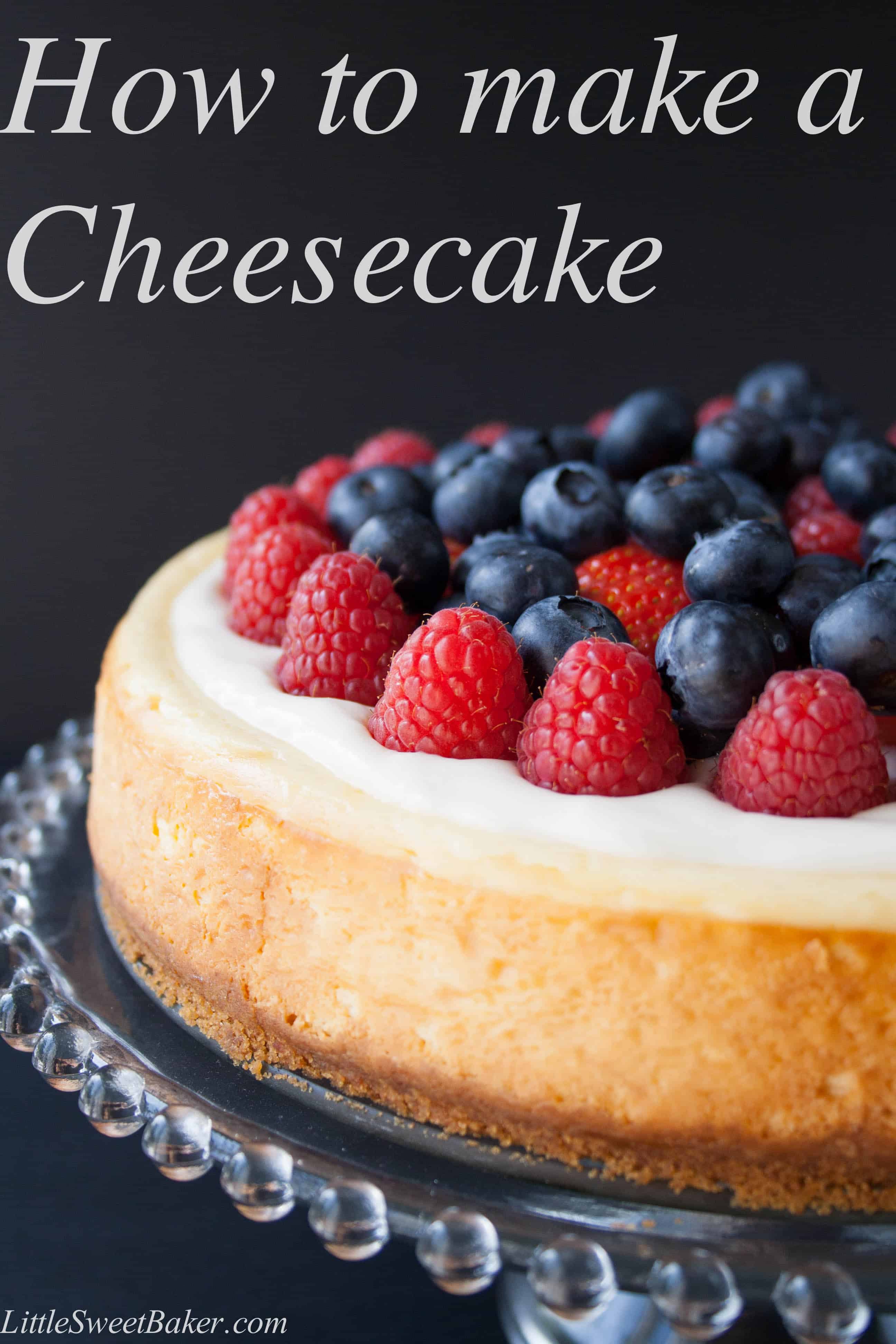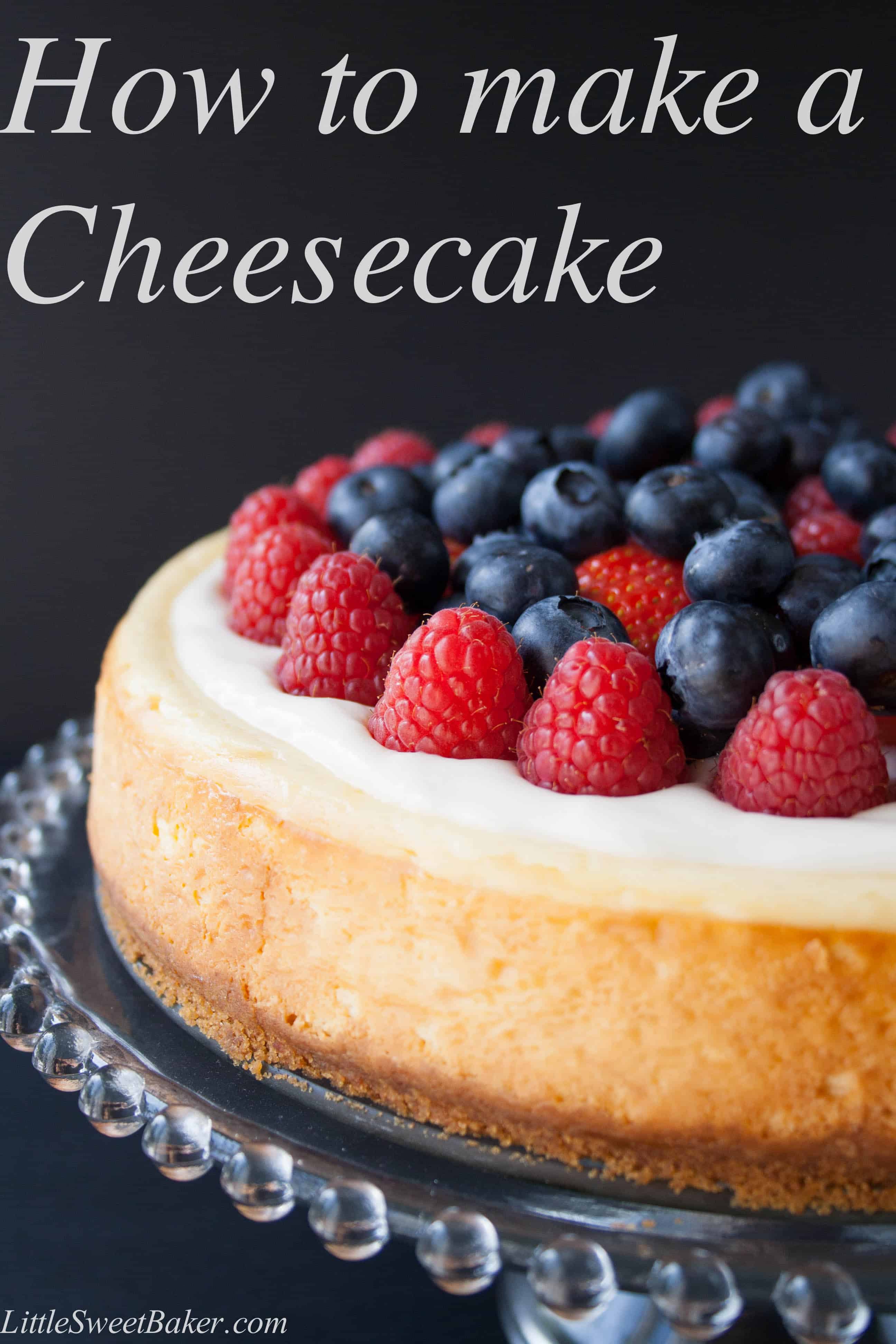 Cheesecake is one of the most beloved dessert around the world. With so many variations to suit your taste buds, I can certainly see why this heavenly dessert is so popular. This is my first recipe and tutorial post, so something new for me. My goal is to show you how easy it is to create your own cheesecake recipe by first demonstrating how to make a simple cheesecake and then how to create your own variations.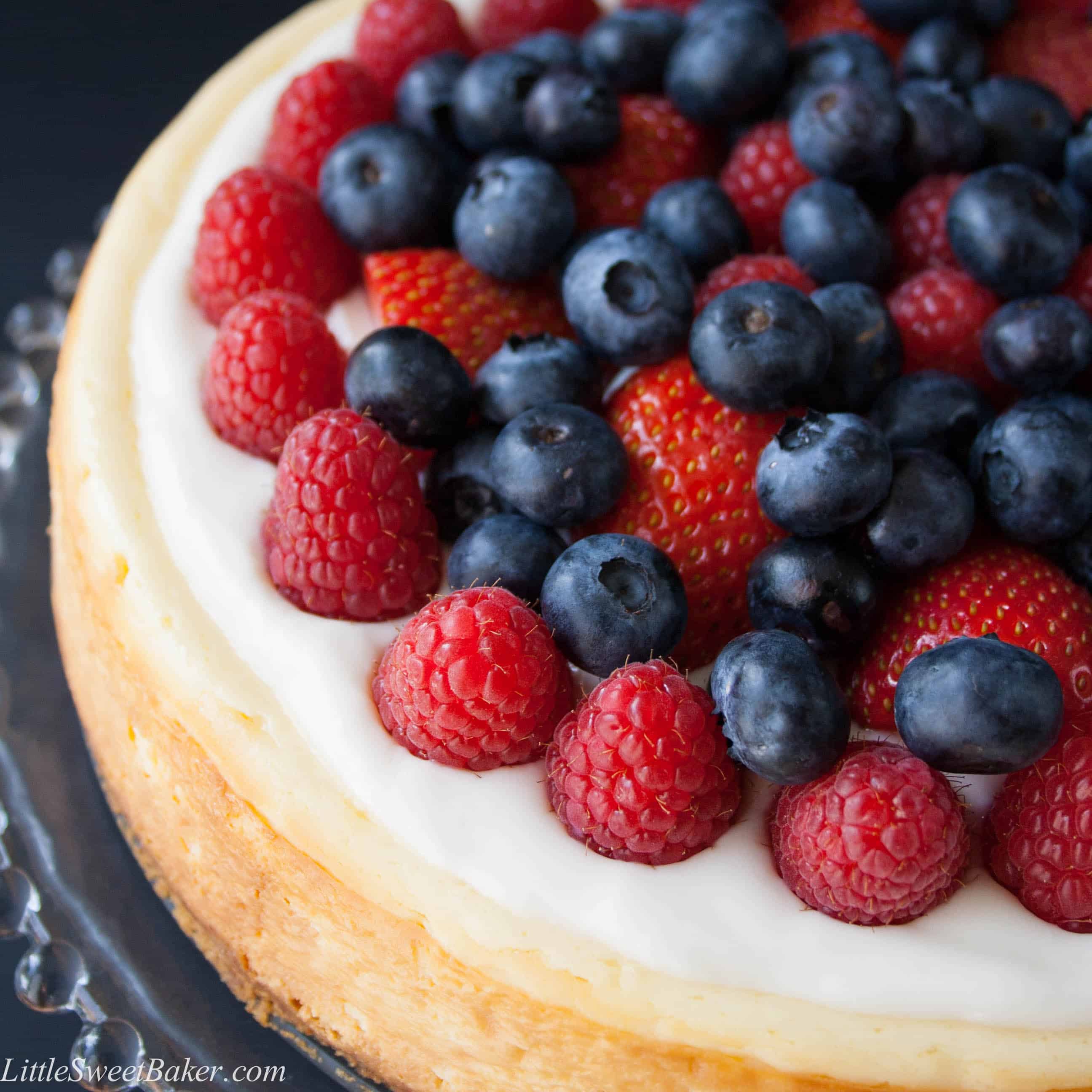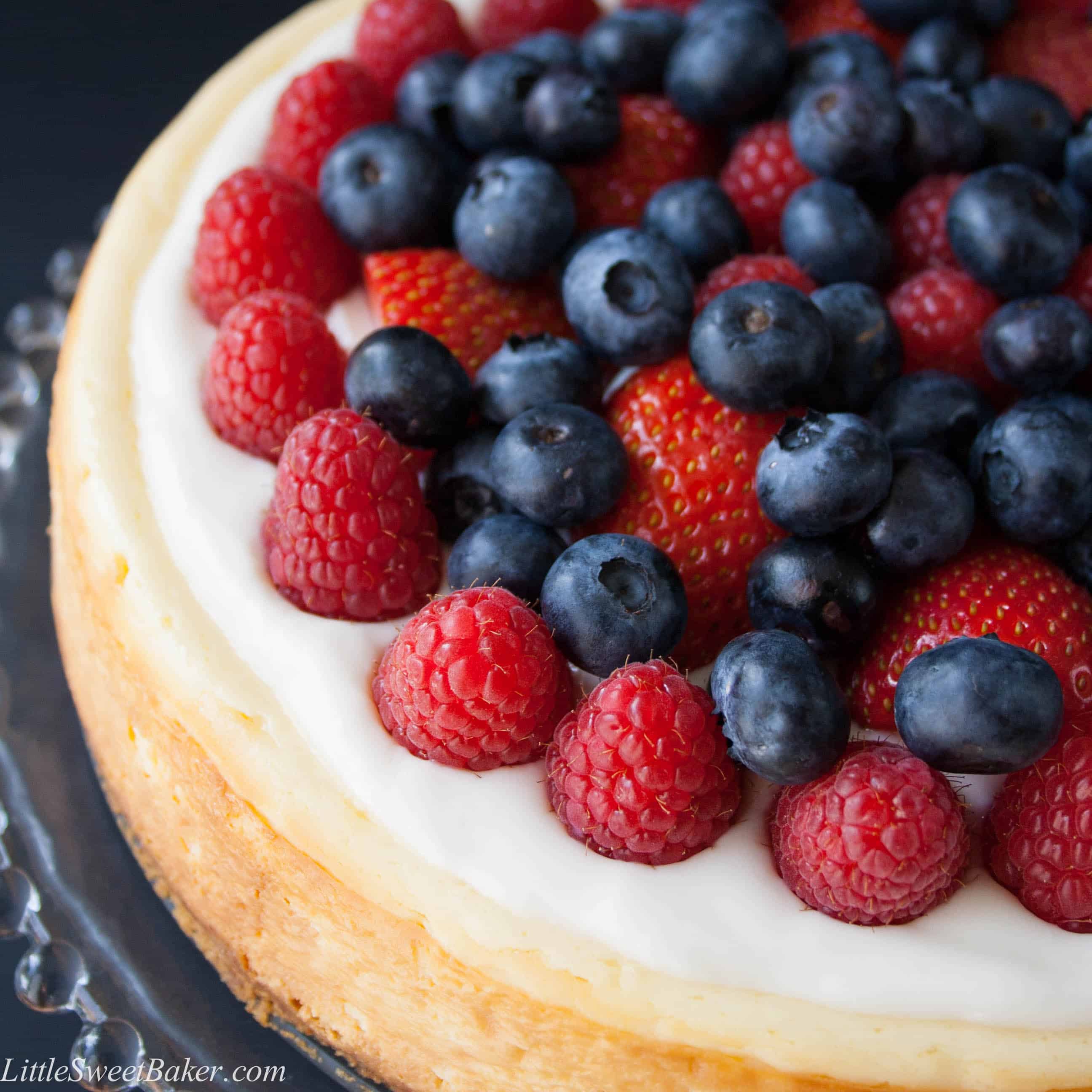 The basic recipe I'll be sharing is a simple cream cheese based recipe with sour cream. It has a smooth, velvety texture and creamy vanilla taste with the perfect balance of sweetness. I don't fuss with twice-baking and I don't fuss with a water bath, I just keep it simple and amazingly delicious. If you're just interested in the recipe for the cheesecake you see in the photos, please scroll to the end of this post.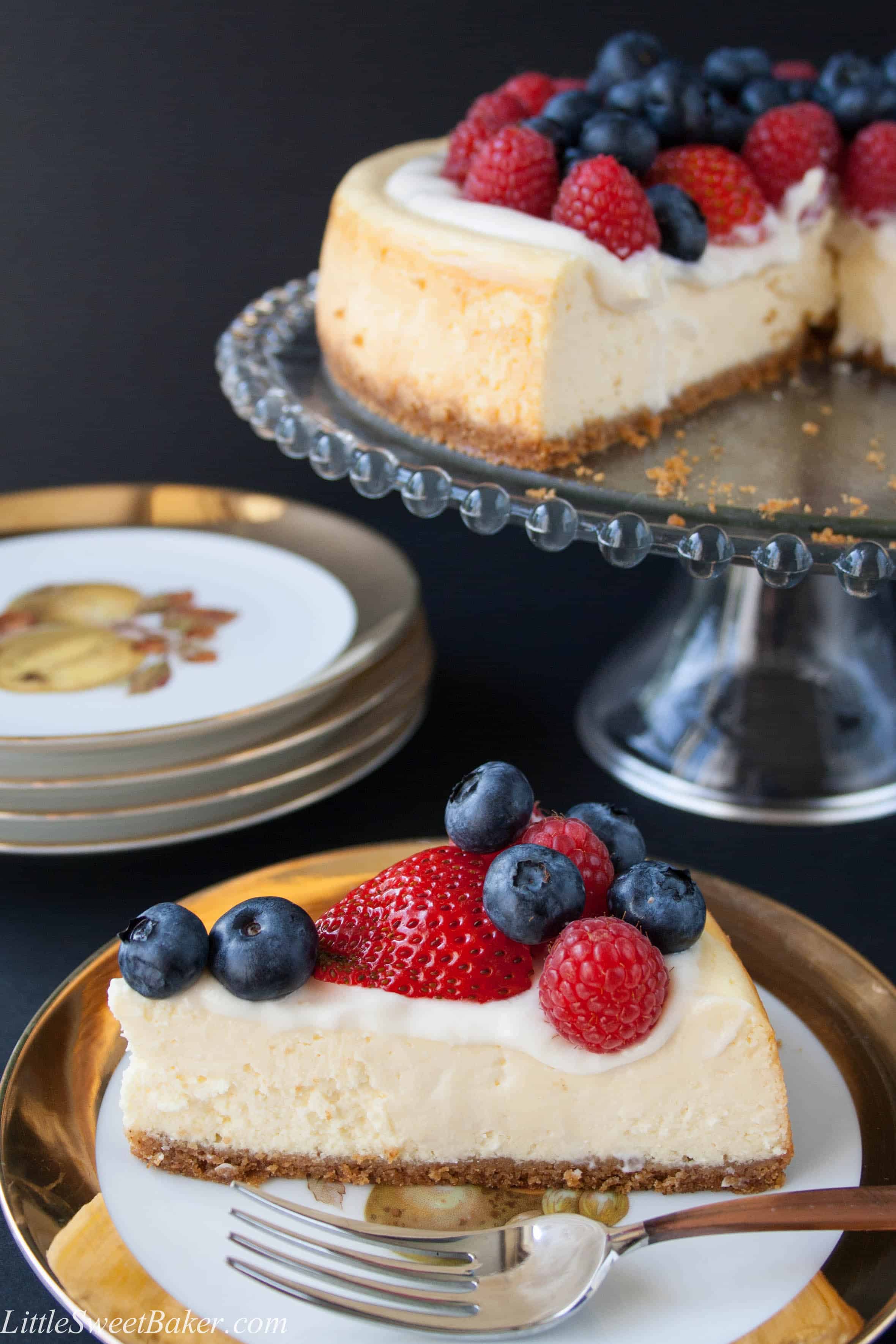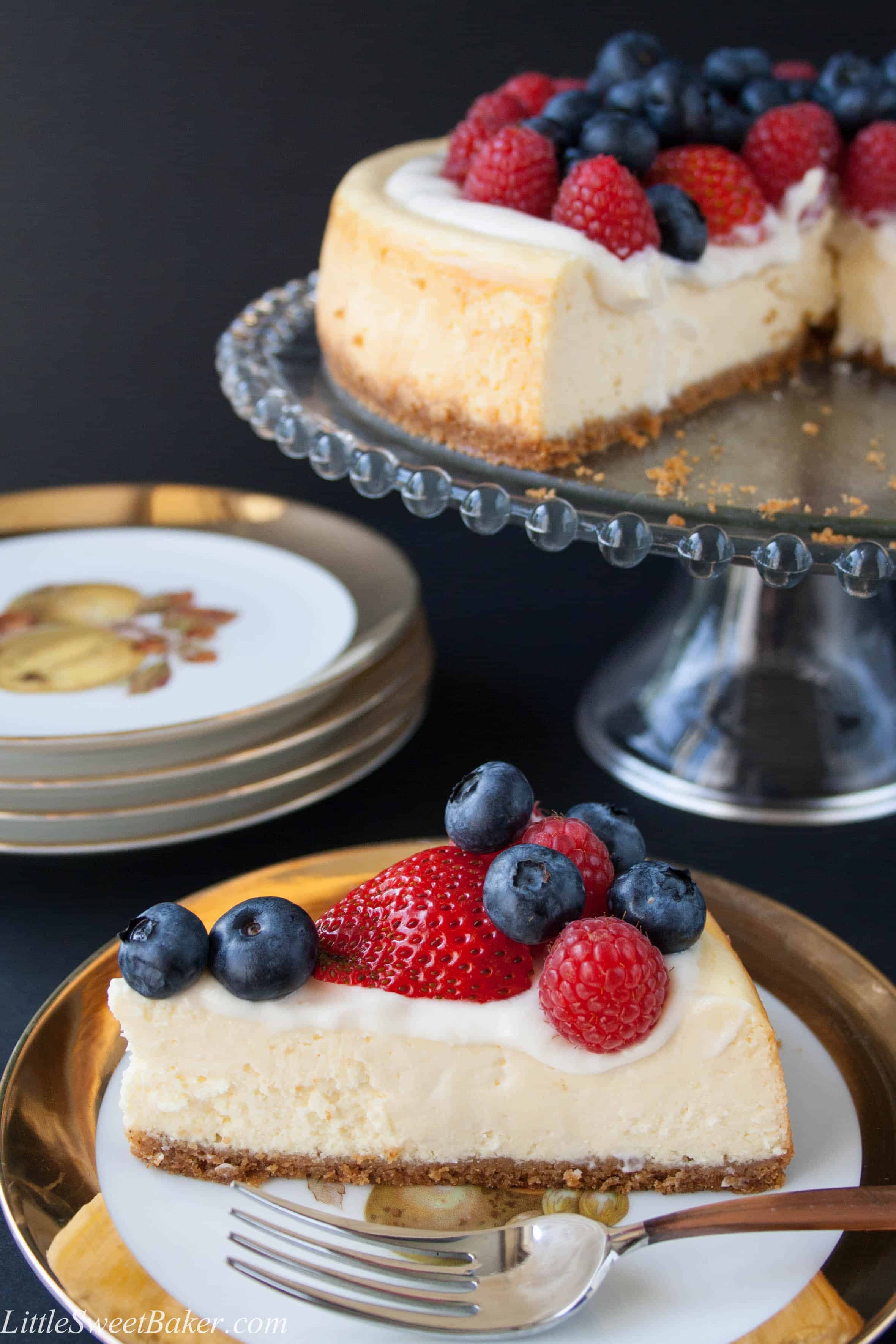 So, let's start with the baking temperature. The general rule is 325°F for a dark non-stick springform pan, and 350°F for a silver springform pan. I prefer to bake at 325°F. It takes a bit longer, but I find it bakes more evenly. My recipe is also based on a 9″ springform pan because it's the most common size.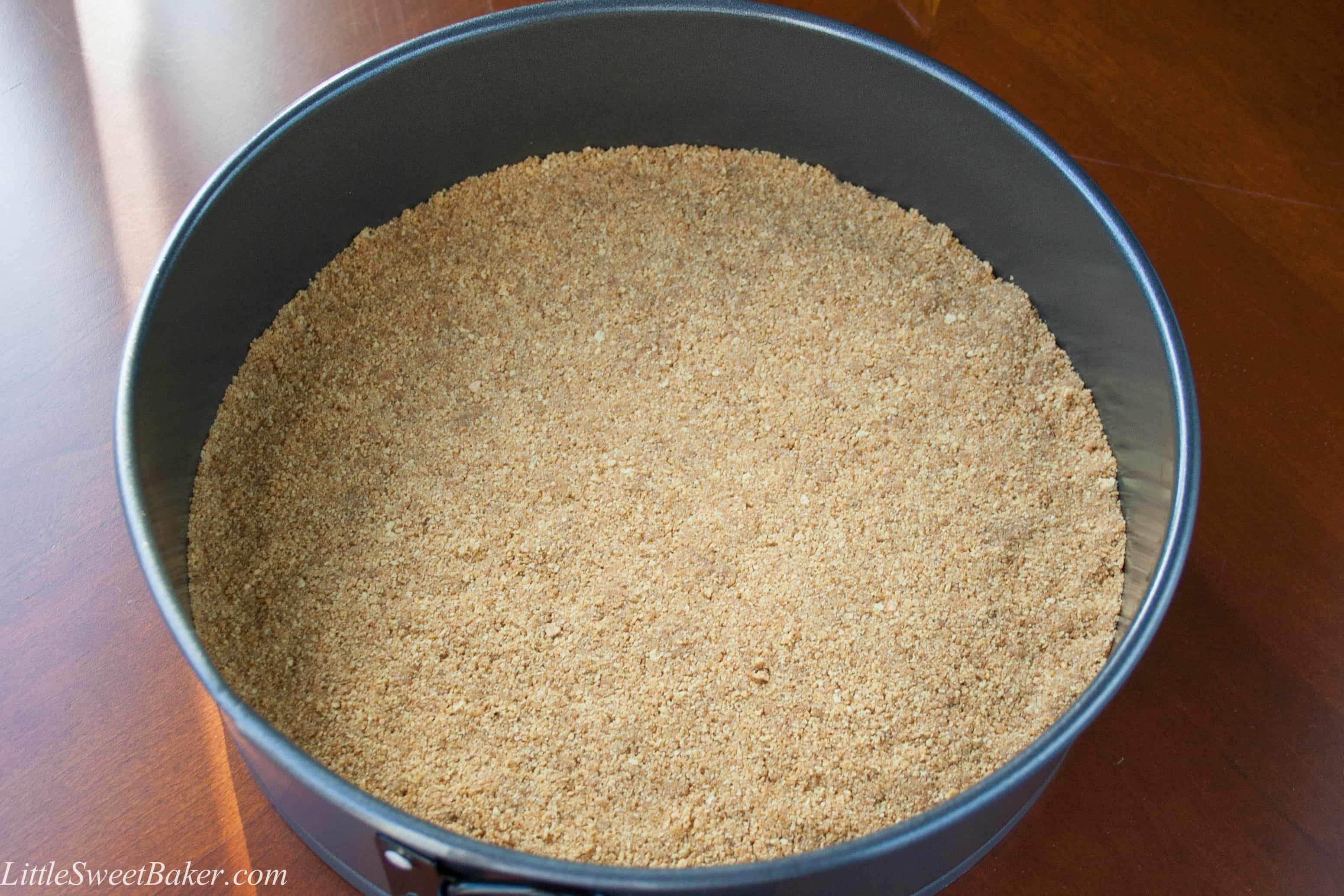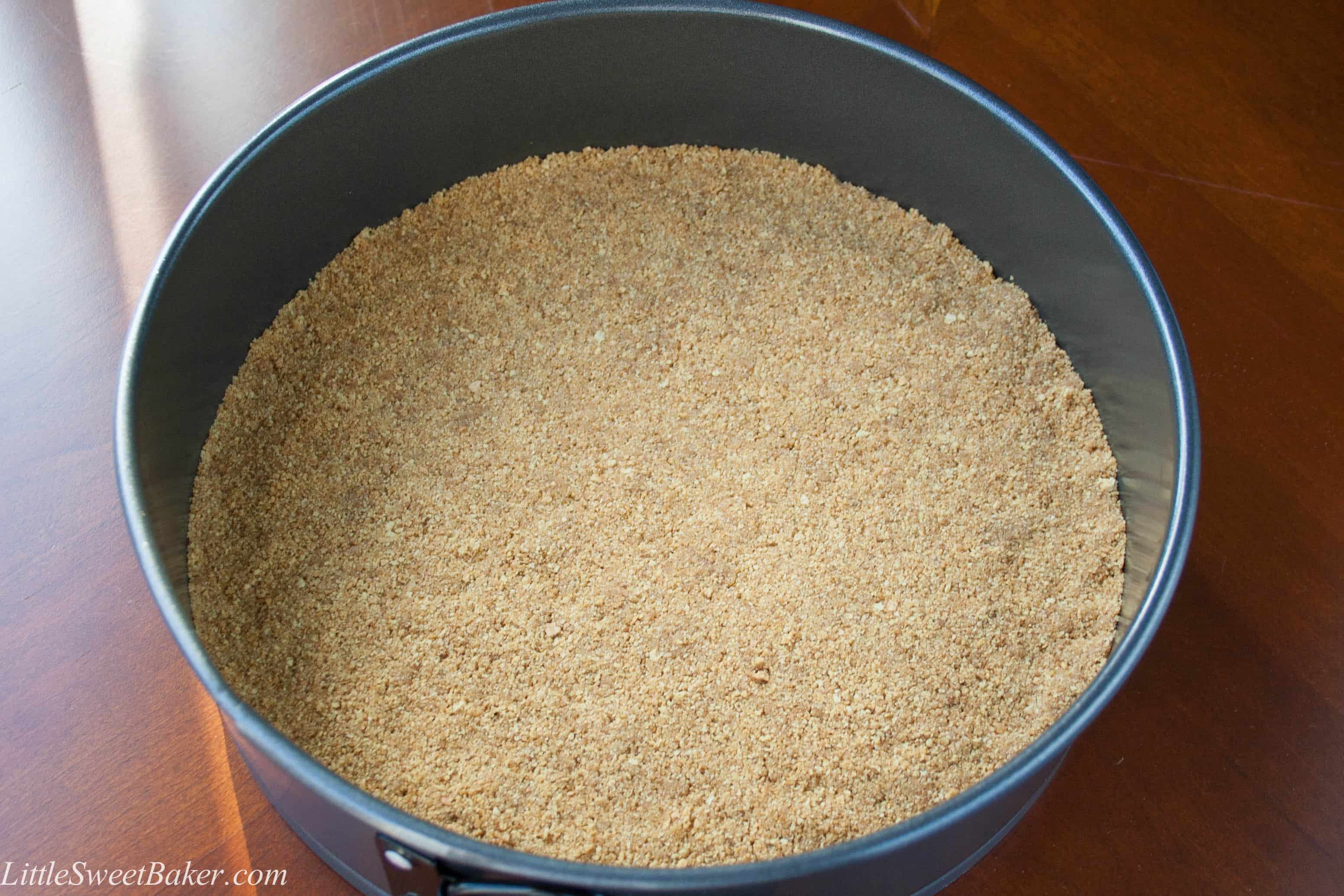 To make the crust, mix 1 to 1&1/2 cups of graham cracker crumbs with 3-4 tbsp of melted butter, depending on how thick you want it to be.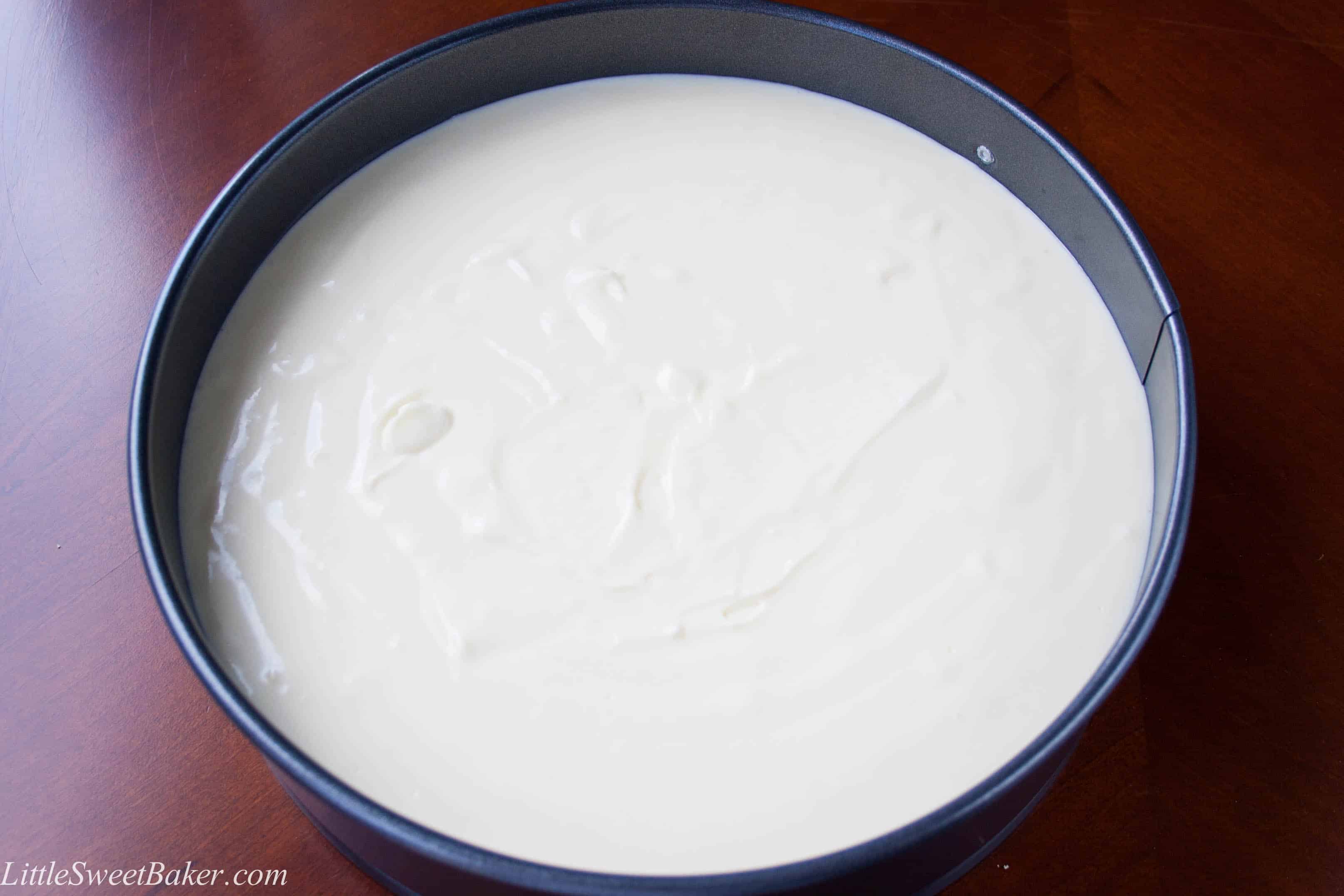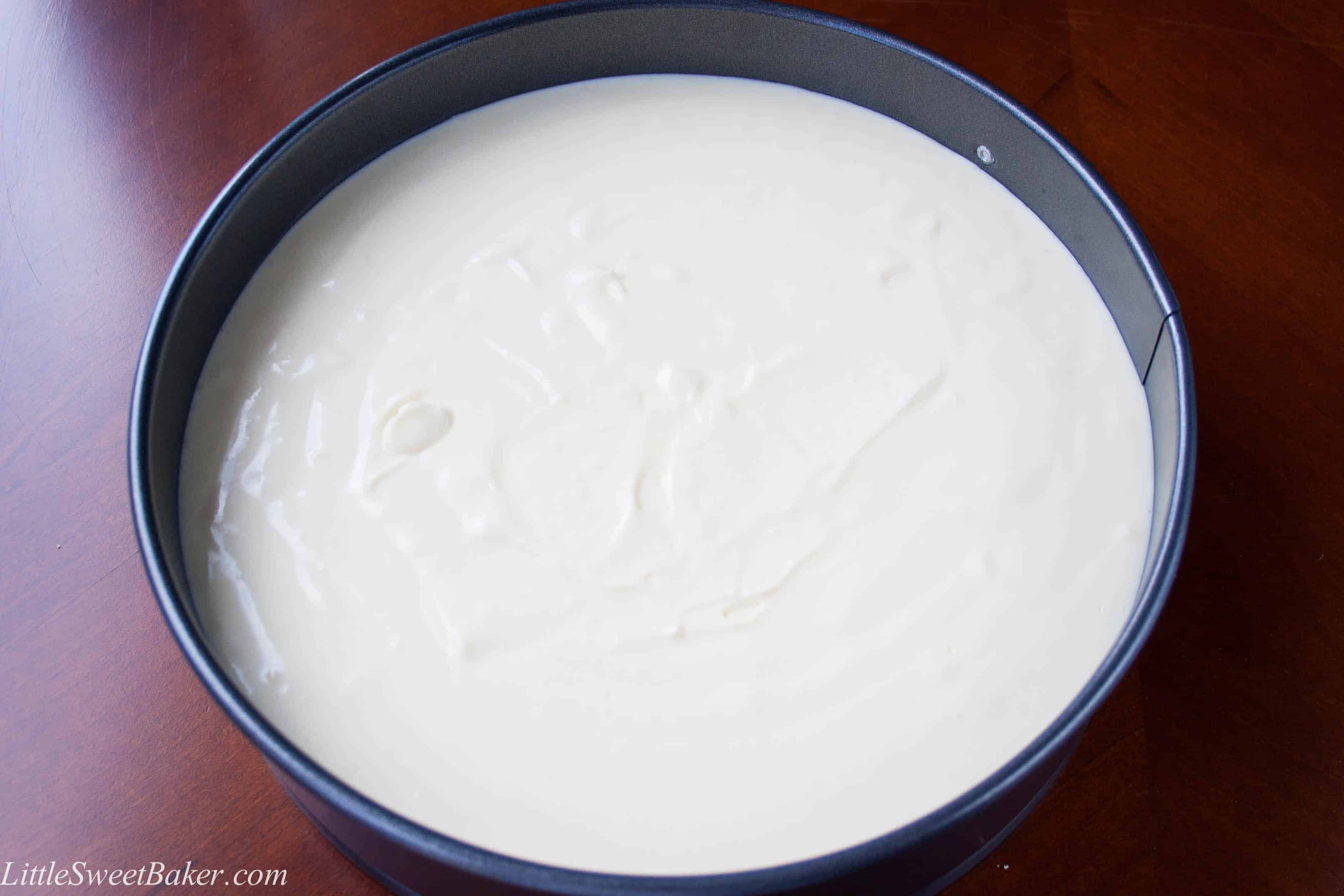 My recipe ratio is 1 pkg (250g/8oz) of cream cheese to 1 large egg to 1/4 cup sugar to 1/4 cup sour cream.
So, for a small/thin cheesecake, I would use 2 pkgs of cream cheese, 2 eggs, 1/2 cup sugar, and 1/2 cup sour cream.
For a medium size, which is what I made in the pictures, I used 3 pkgs of cream cheese, 3 eggs, 3/4 cup sugar, and 3/4 cup sour cream.
For a large size, use 4 pkgs of cream cheese, 4 eggs, 1 cup sugar, and 1 cup sour cream
For an extra large/thick cheesecake, use 5 pkgs of cream cheese, 5 eggs, 1&1/4 cups sugar, and 1&1/4 cups sour cream. Easy math right?
All ingredients should be at room temperature. Start by mixing the cream cheese and sugar until combined, add eggs, one at a time, then add the sour cream and mix until smooth.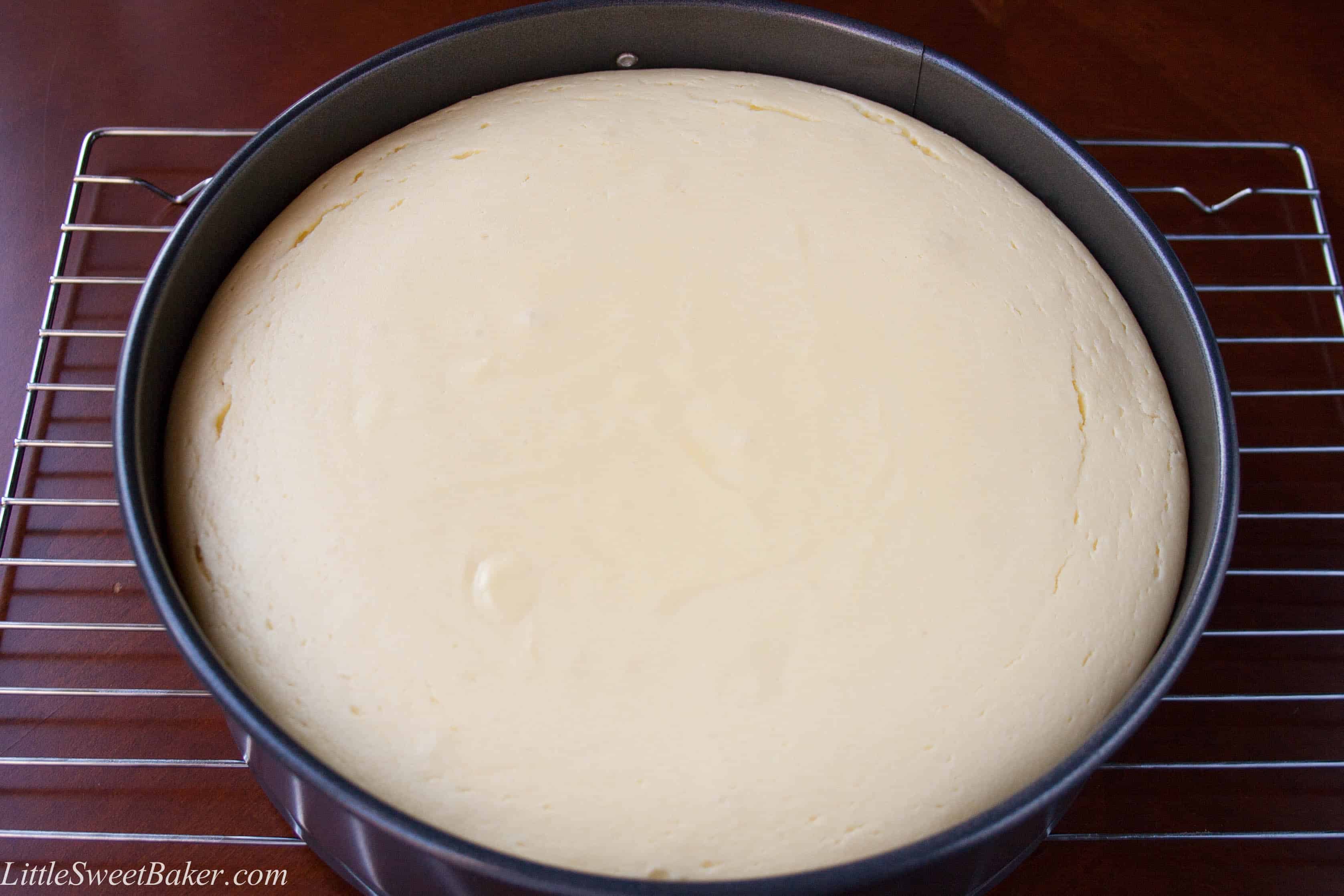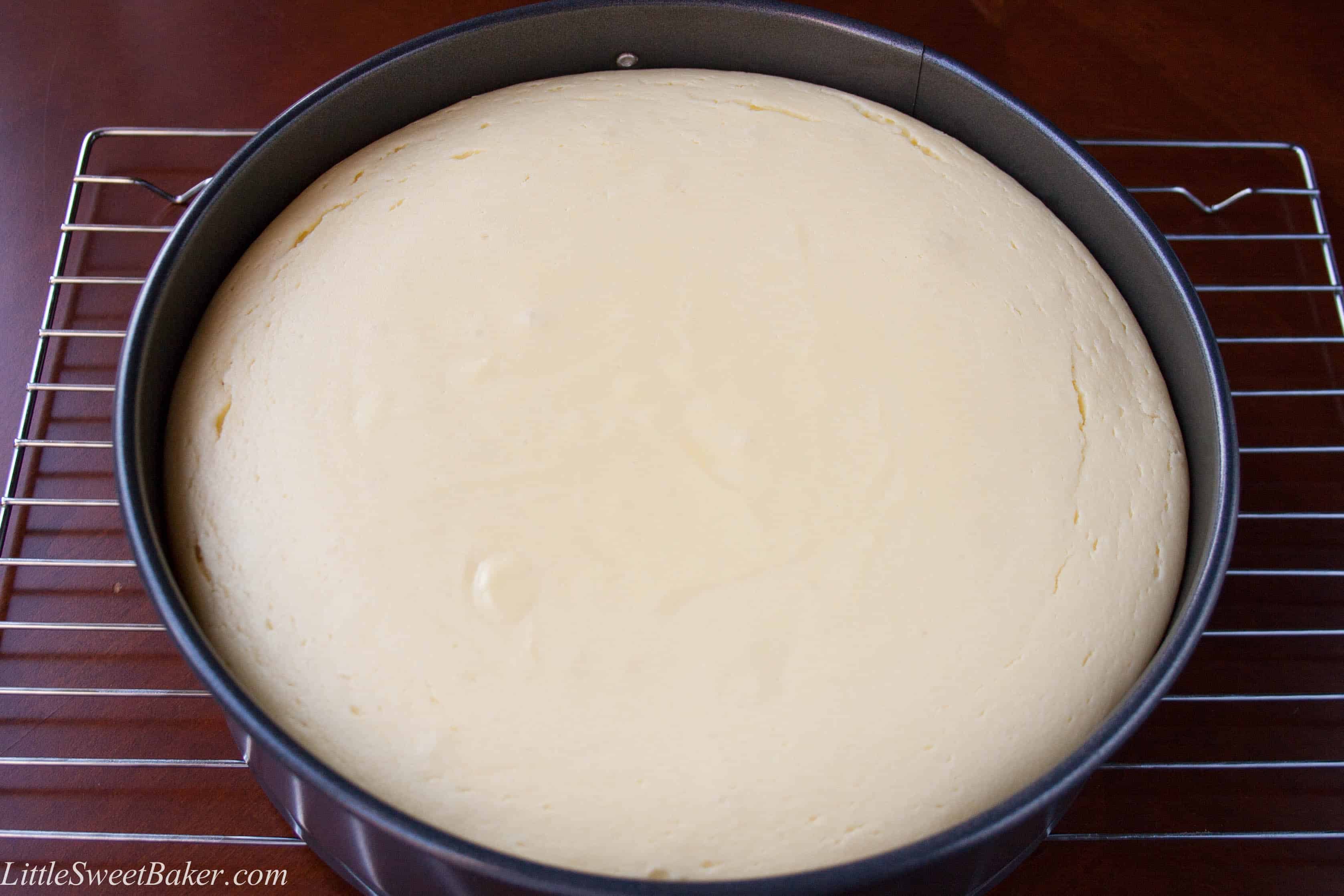 Baking time is generally 40-50 minutes for a small, 50-60 minutes for a medium, 1 hour – 1hour & 10 minutes for a large, and 1hour & 10 minutes – 1hour & 20 minutes for an extra large/thick cheesecake. Approximately 10 minutes extra per pkg of cream cheese.
The cheesecake is done when the center is almost set. I usually take my cheesecake out when the outer edges looks dull and there is about 2-3 inches of the center that still looks wet. Because a cheesecake is so dense, the centre will continue to cook while cooling. There's a very fine line between a perfectly baked cheesecake and an overbaked one, but I never stress over this. If, for some reason I get distracted (by my kids or my blog) and I overbake my cheesecake to the point where it cracks when cooling, well, I just throw on some toppings and no one will ever know. 🙂
Now, let's get creative and go through some ideas on how-to customize your cheesecake.
Crust: You can use any kind of cookie or cracker crumbs. My favorites are Oreos, honey graham crackers and gingersnap cookies. Add some lemon zest, or spices for more flavor. Add some finely chopped nuts for some crunch.
Filling: Melt some semi-sweet chocolate or white chocolate into the batter (about 2 oz per pkg of cream cheese). Add some citrus zest, flavored liquor, vanilla extract, spices or extract of any flavor. Swirl some jam into the batter. You can also omit the sour cream if you want a firmer cheesecake or replace it with ricotta cheese, coconut cream, or canned pumpkin if you like.
Topping: I always top my cheesecake because I think it makes it look prettier and adds flavor. My favorite is what you see in the pictures, sweetened sour cream and beautiful fresh fruit. You can top your cheesecake with anything you like or have on hand. Some ideas are whipped cream, jam, chocolate ganache, caramel sauce, pie filling, chopped up candy bars etc. You get the idea.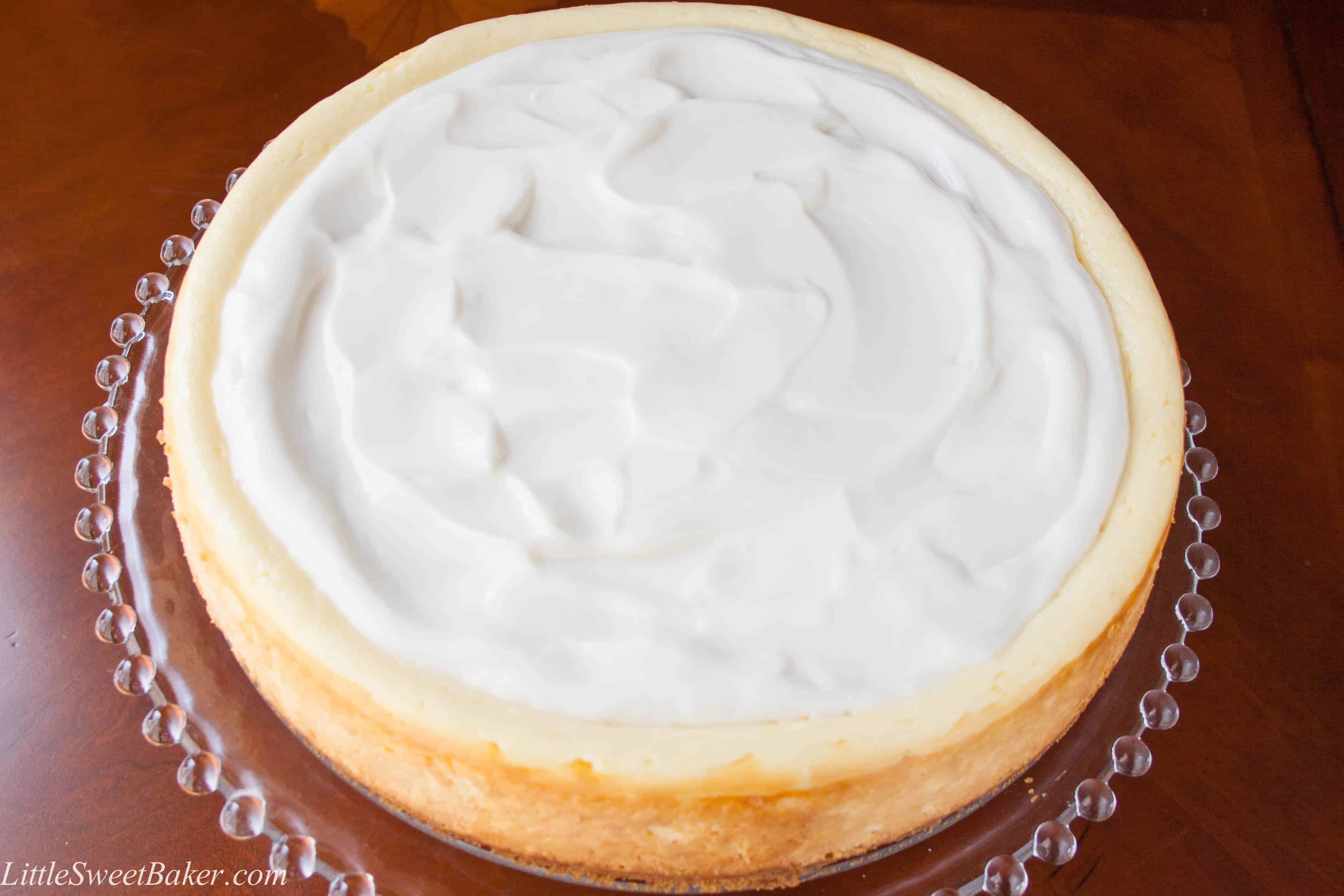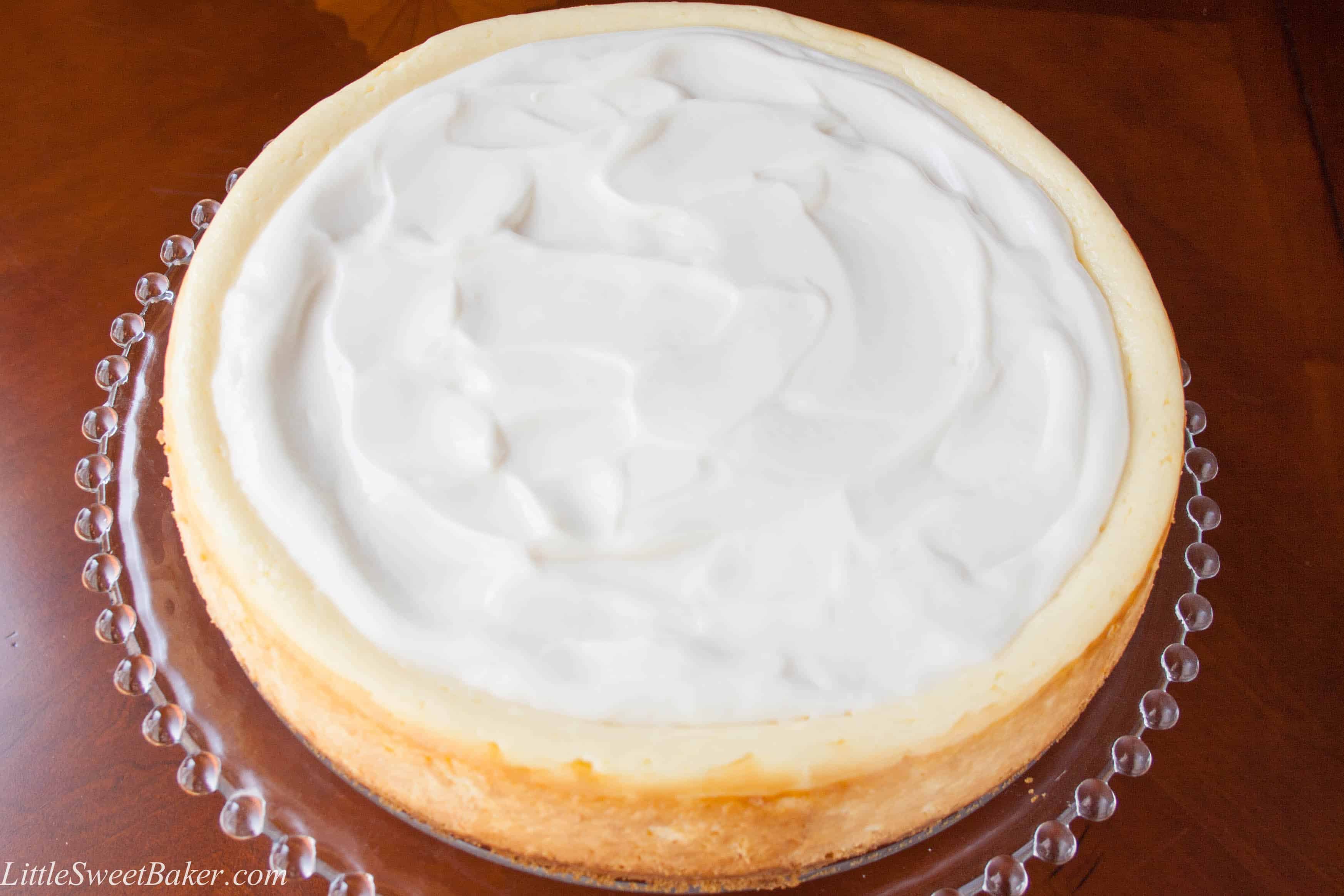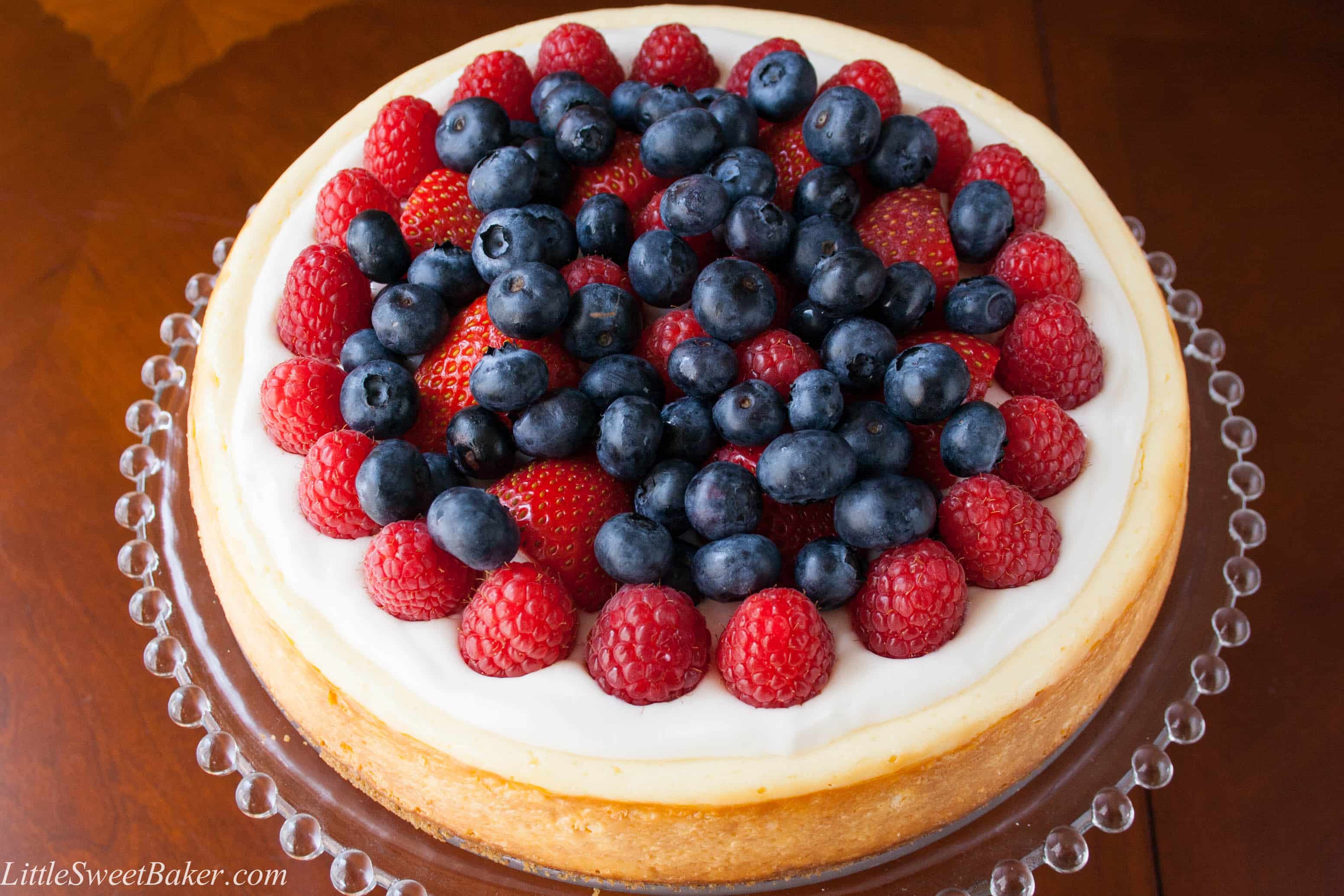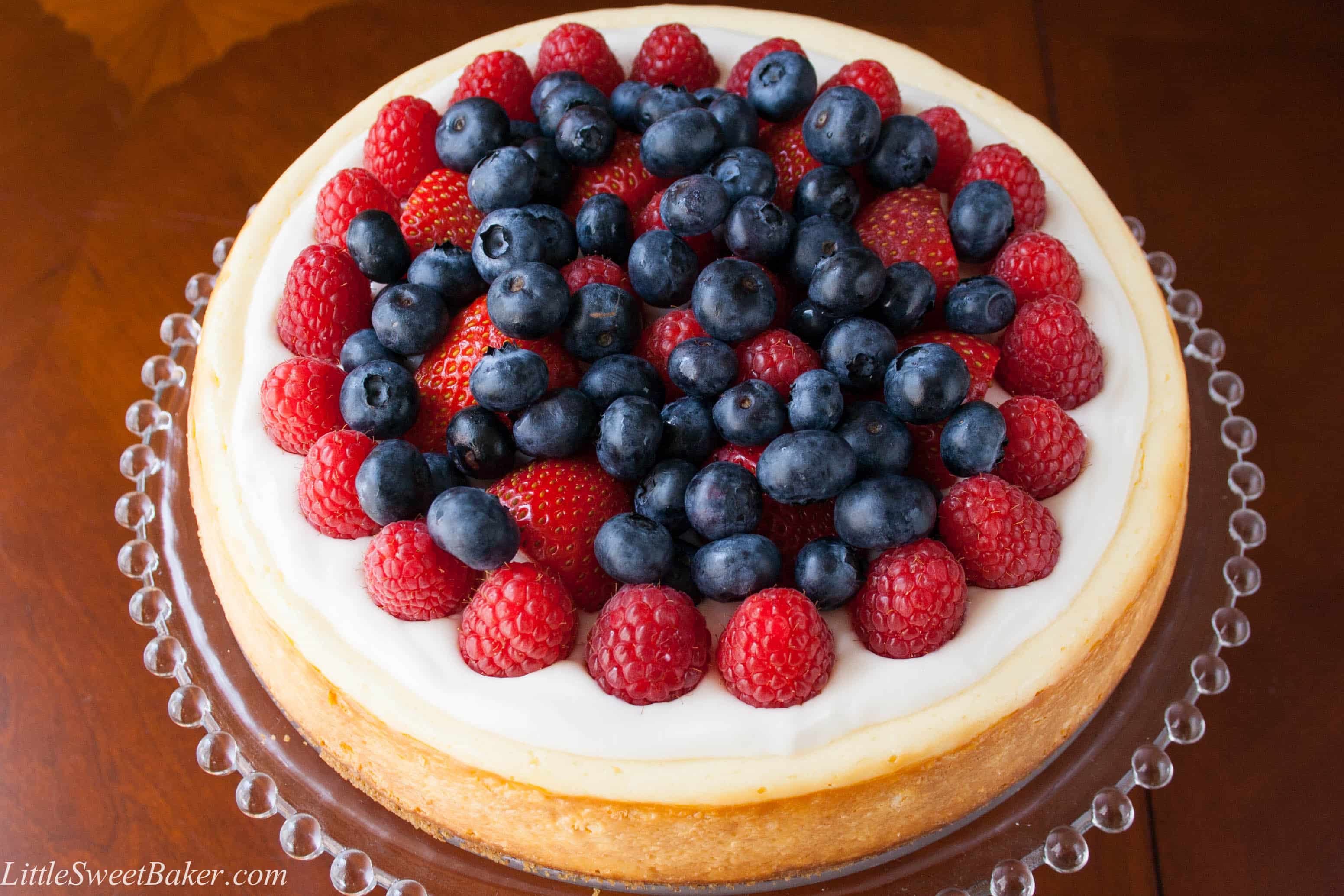 So, I hope you found this post helpful. Let me know what kind of recipe you come up with and email me some pictures. I can't wait to see what you create!
Print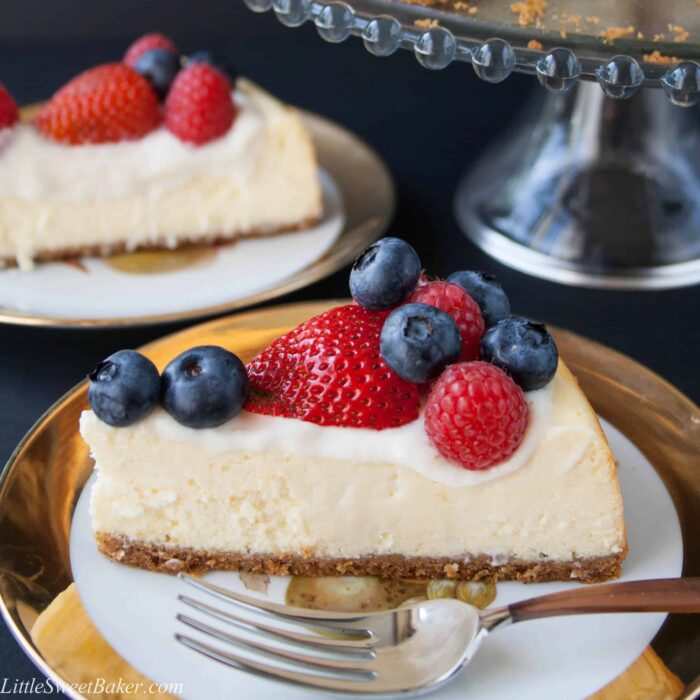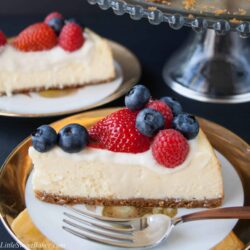 Sour Cream & Fruit Topped Cheesecake
---
Author:

Lily Ernst

Prep Time:

15 min

Cook Time:

50 min

Total Time:

1 hour 5 minutes

Yield:

10-12
Description
This is an easy basic cheesecake recipe that you can adapt any way you like.
---
1

&1/4 cup graham cracker crumbs

4 tbsp

melted butter

3

pkgs of cream cheese, room temperature

3/4 cup

sugar

3

large eggs

3/4 cup

sour cream
For Topping

3/4 cup

sour cream

1/4 cup

powdered sugar

1/2 tsp

vanilla extract

3 cups

fresh fruit
---
Instructions
Preheat oven to 325°F. Mix the graham cracker crumbs together with the melted butter and press onto the bottom of a 9″ springform pan.
Using a handheld mixer, blend cream cheese and sugar until combined. Add eggs, one at a time, mixing in between. Then add sour cream and blend until smooth.
Pour over crust and bake for 50-60 minutes or until edges are lightly brown and center is almost set.
Run a thin knife around the edges and let cool completely before topping or refrigerating.
Whisk sour cream with powdered sugar and vanilla until smooth. Spread on top of cheesecake and decorate with fresh fruit before serving.
Notes
Cheesecake is best when chilled for at least 4 hours or overnight.
Category:

dessert

Method:

bake

Cuisine:

American
Keywords: easy cheesecake recipe, New York style cheesecake, fruit topped cheesecake recipe