Bacardi Rum Cake (video)
Popular since the 1970s for its taste and texture, this Bacardi rum cake is soft, fluffy, and supremely moist. It's bursting with rum and yellow cake flavor, easy to prepare, and perfect for any special occasion.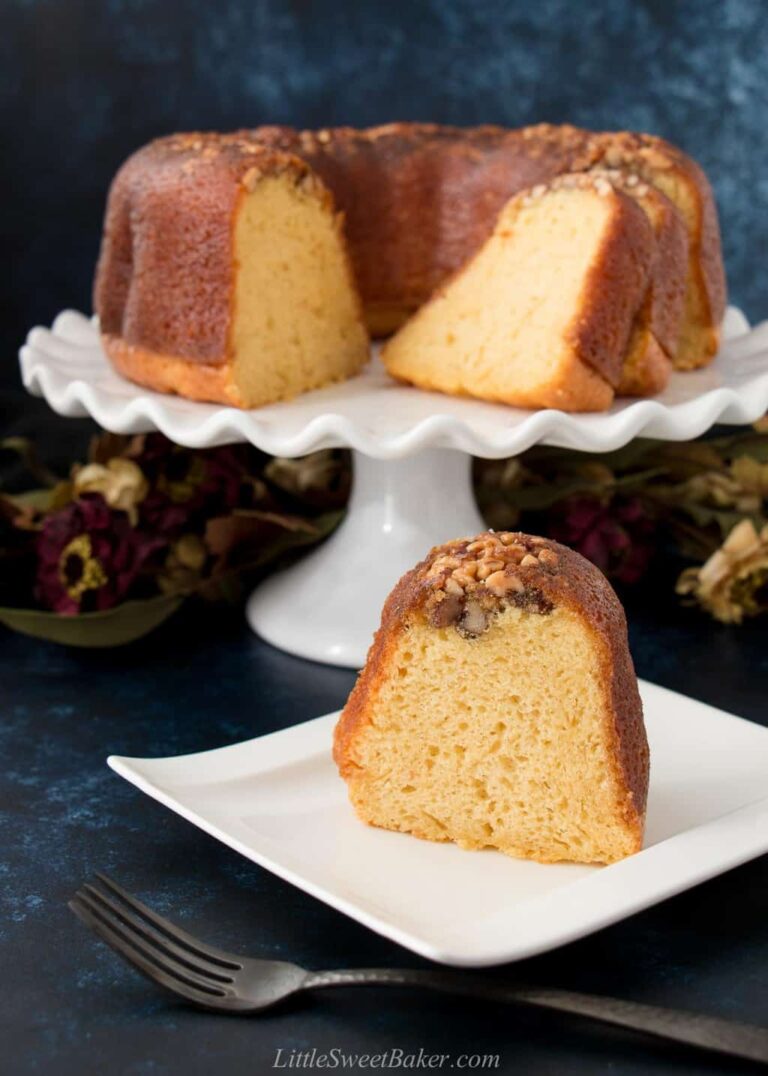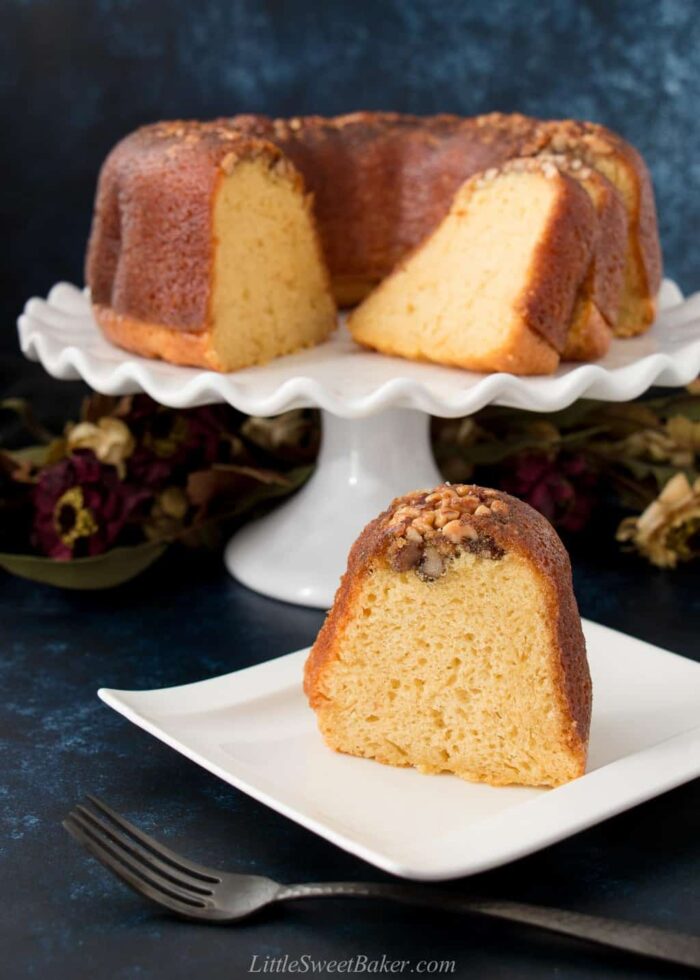 I've been dreaming about rum cakes ever since I went on a cruise and had a taste of Tortuga Rum Cake for the first time. Having never heard of it before, I was amazed at how moist it was for a packaged cake, and how lovely the rum flavor was without being overpowering. I did some research and came across this recipe from The Bacardi Party Book circa 1973. The result is exactly the same as the cake I had from the cruise, and I don't have to pay $30 for it.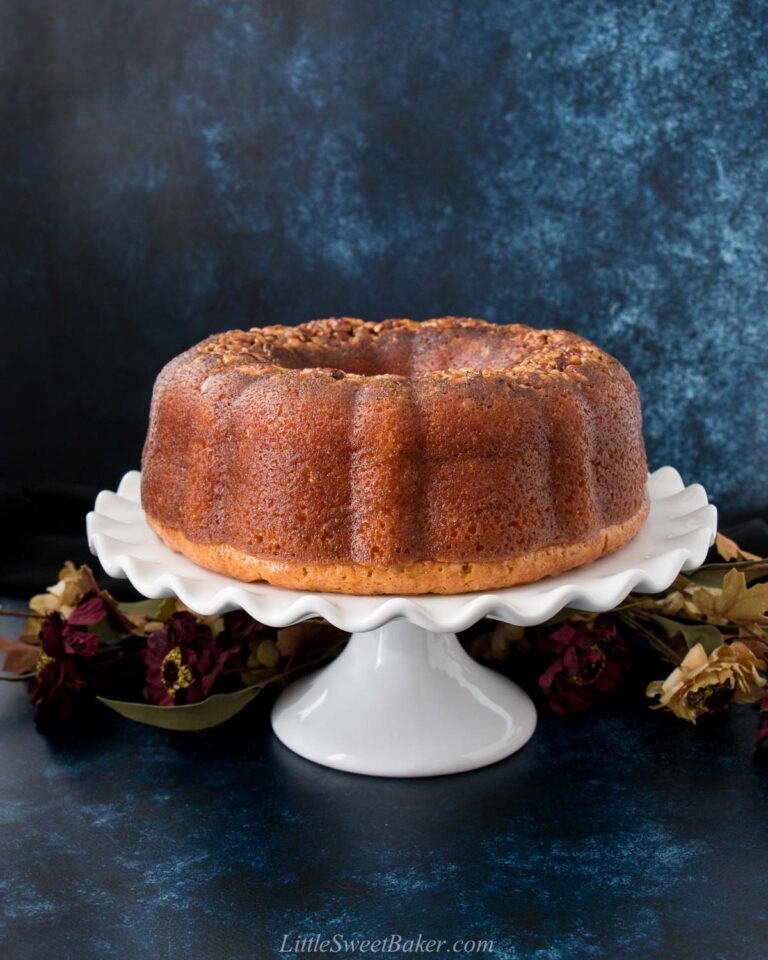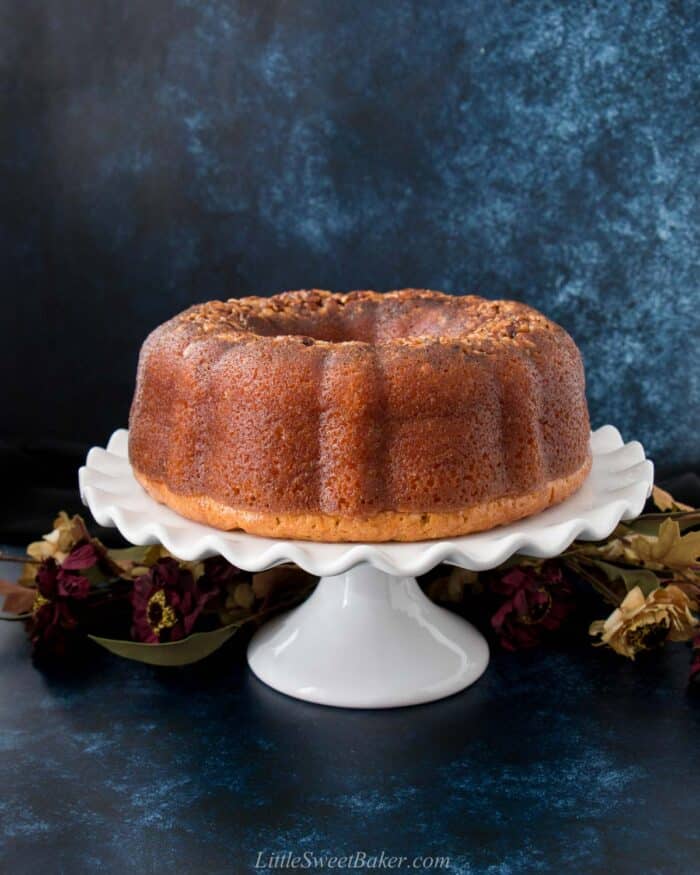 How to make rum cake:
(Full instructions and quantities are in the recipe card further below)
This recipe starts with a cup of walnuts sprinkled over the bottom of a bundt pan. Then you mix a package of yellow cake mix, vanilla pudding mix, eggs, water, oil, and half a cup of rum until combined. Pour the batter into the pan and bake for one hour. Once the cake is done, you prepare a simple butter-rum sauce made of butter, sugar, water, and rum. Brush the hot sauce all over the warm cake. Let it sit to soak in all that butter-rum goodness and serve.


The original recipe calls for brushing all of the rum sauce on the cake, but I like to only brush half of the sauce on the cake, and reserve the rest for drizzling over the cake when serving. This actual cake was used to celebrate the 50th birthday of one of my husband's work friends. Everyone in his office loved the extra rum sauce on the side.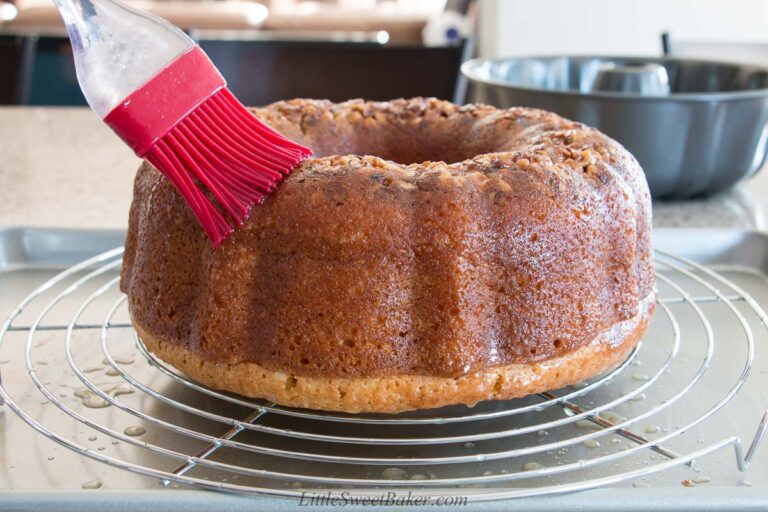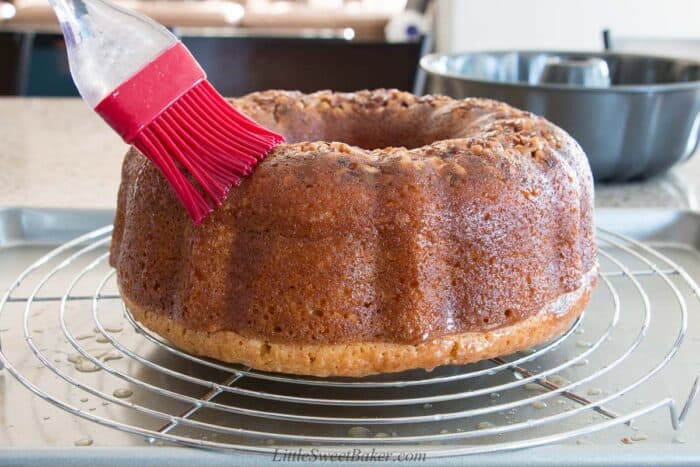 The taste of this cake is rich and buttery. It starts with a delightful rum flavor and finishes with a vanilla custard flavor. There is a little nuttiness and crunch from the walnuts. The texture is soft and fluffy, and it's the moistest cake ever. Drizzle with a little extra sauce for even more sweet butter rum taste!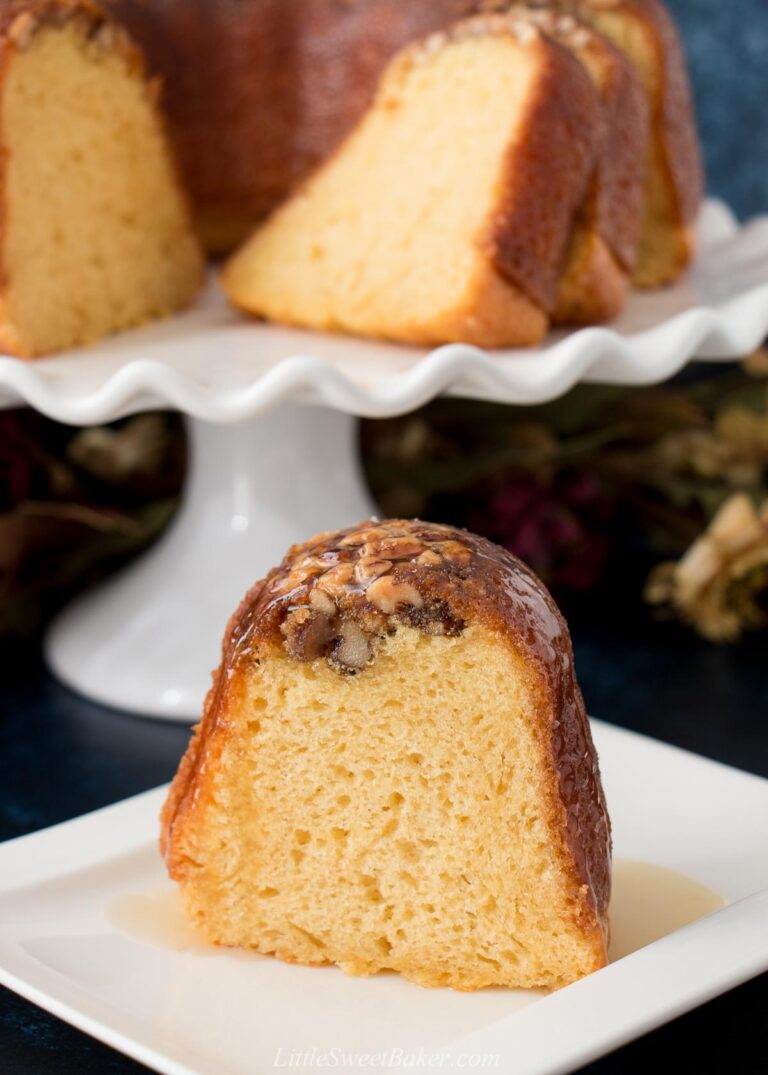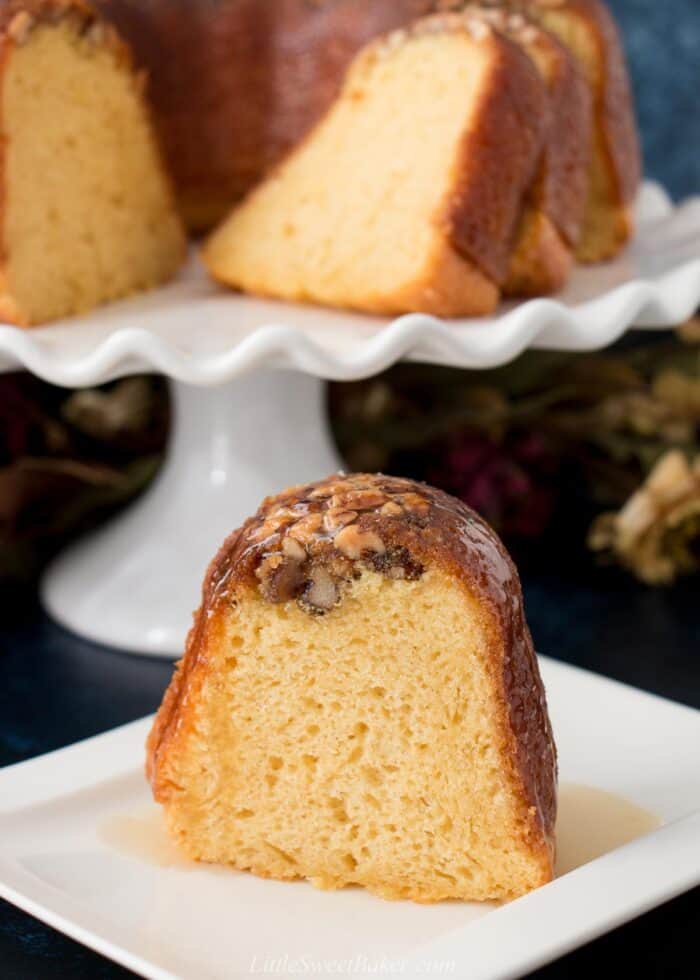 Other boozy treats you might like:
Music in the video: Vacaciones by Mike Leite
Did you make this recipe? Please kindly leave a comment with your star rating below.
Print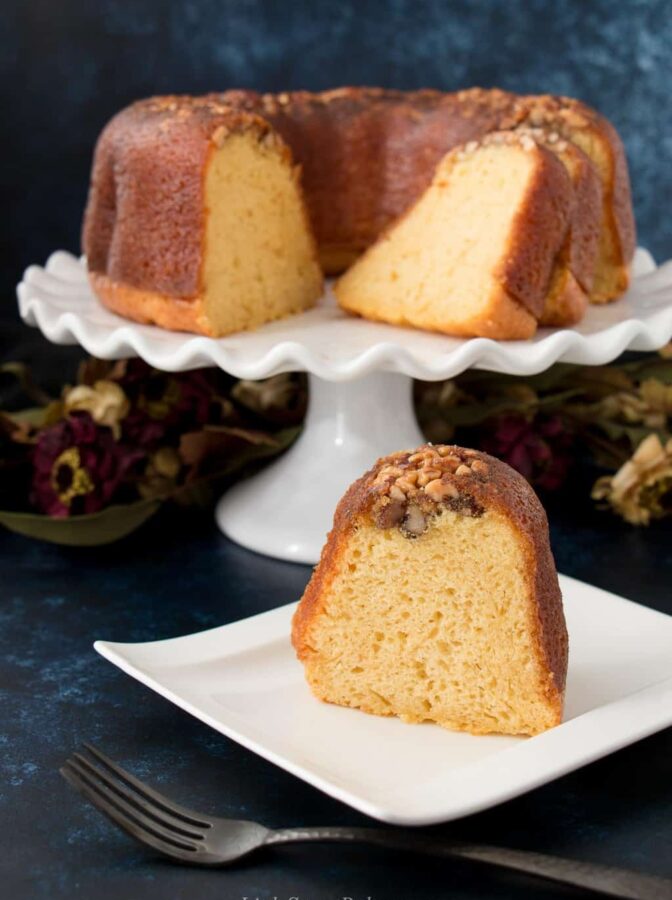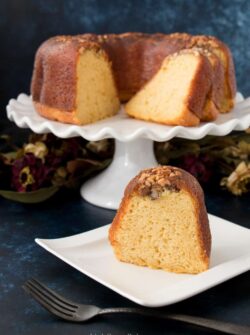 Bacardi Rum Cake
Author: Lily Ernst
Prep Time: 30 min
Cook Time: 60 min
Total Time: 1 hour 30 minutes
Yield: 12-16 1x
Category: dessert
Method: bake
Cuisine: Caribbean
---
Description
This famous Bacardi rum cake is super moist and bursting with rum and buttery-vanilla flavor.
---
Cake
1 cup (125g) chopped walnuts
1 box yellow cake mix (like Duncan Hines or Betty Crocker brand)
1 package (3.75oz) instant vanilla pudding mix
4 large eggs
1/2 cup (125ml) water
1/2 cup (125ml) vegetable oil
1/2 cup (125ml) Bacardi dark rum
Glaze
1/2 cup (114g) butter
1/4 cup (63ml) water
1 cup (200g) granulated sugar
1/2 cup (125ml) Bacardi dark rum
---
Instructions
Preheat oven to 325F. Generously grease and flour a 10″ bundt pan. Sprinkle chopped walnuts evenly over the bottom of the pan.
Mix together the rest of the cake ingredients in a large bowl using an electric mixer until well combined. The batter might be lumpy, but that's ok. Pour the batter into the pan evenly over the nuts.
Bake for 50-60 minutes, or until a toothpick inserted into the center comes out clean. Let stand for 10 minutes in the pan.
Meanwhile, make the glaze: In a small saucepan, combine butter, water, and sugar. Bring to a boil over medium heat and continue to boil for 5 minutes, stirring constantly. Remove from heat. Carefully and slowly whisk in the rum (it will bubble).
Invert the cake onto a serving plate. Brush the hot glaze all over the warm cake. Repeat until all the glaze is used up, or reserve half of the glaze for serving. Let stand for 15 minutes to absorb.
---
Notes
Leftovers can be stored tightly covered at room temperature for up to 4 days or in the fridge for up to a week.
Keywords: old-fashioned rum cake, Bacardi rum cake, Tortuga rum cake recipe