Strawberry Chocolate Chip Bread
This is a delicious quick bread that is bursting with strawberry flavor and studded with chocolate chips. This recipe is made with a simple fresh strawberry preserve which gives it a soft, delicate texture and fabulous strawberry taste in every bite!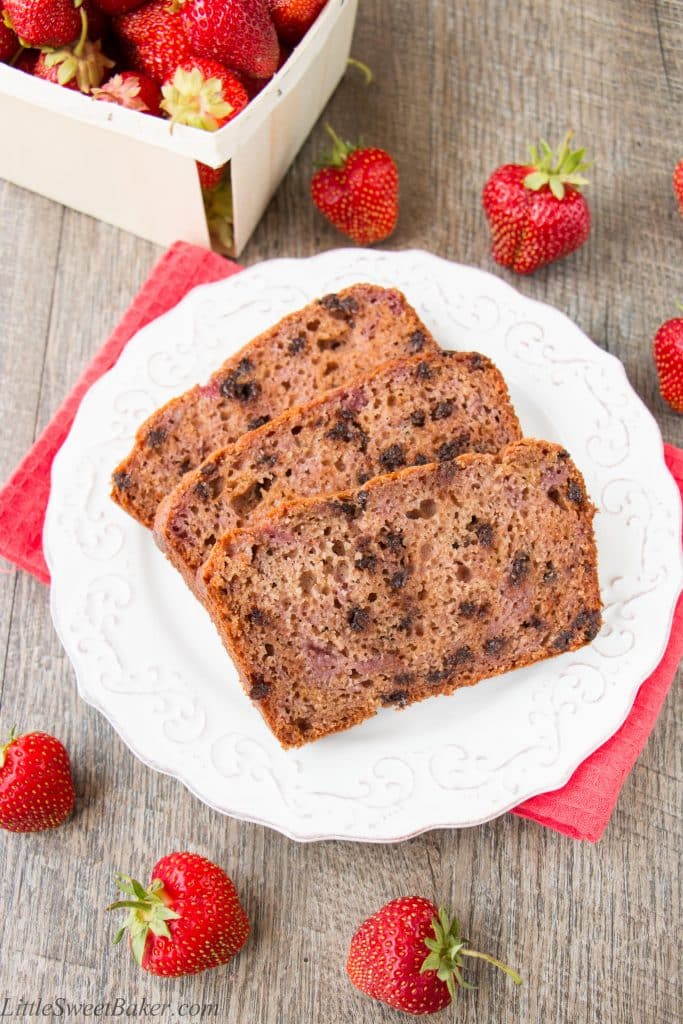 This past Wednesday was Canada Day and for some family fun, we decided to go strawberry picking. Nothing beats fresh local Ontario strawberries, am I right? This was a first for my boys. My 4-year-old was very hard at work, picking all the fresh red berries he could, while my little one was more interested in eating all the strawberries straight from the baskets. Ethan was very proud that he found the biggest berry in the patch and my baby Charlie was covered in juice and smelled like sweet strawberries for the rest of the day. I loved it. It was definitely good times.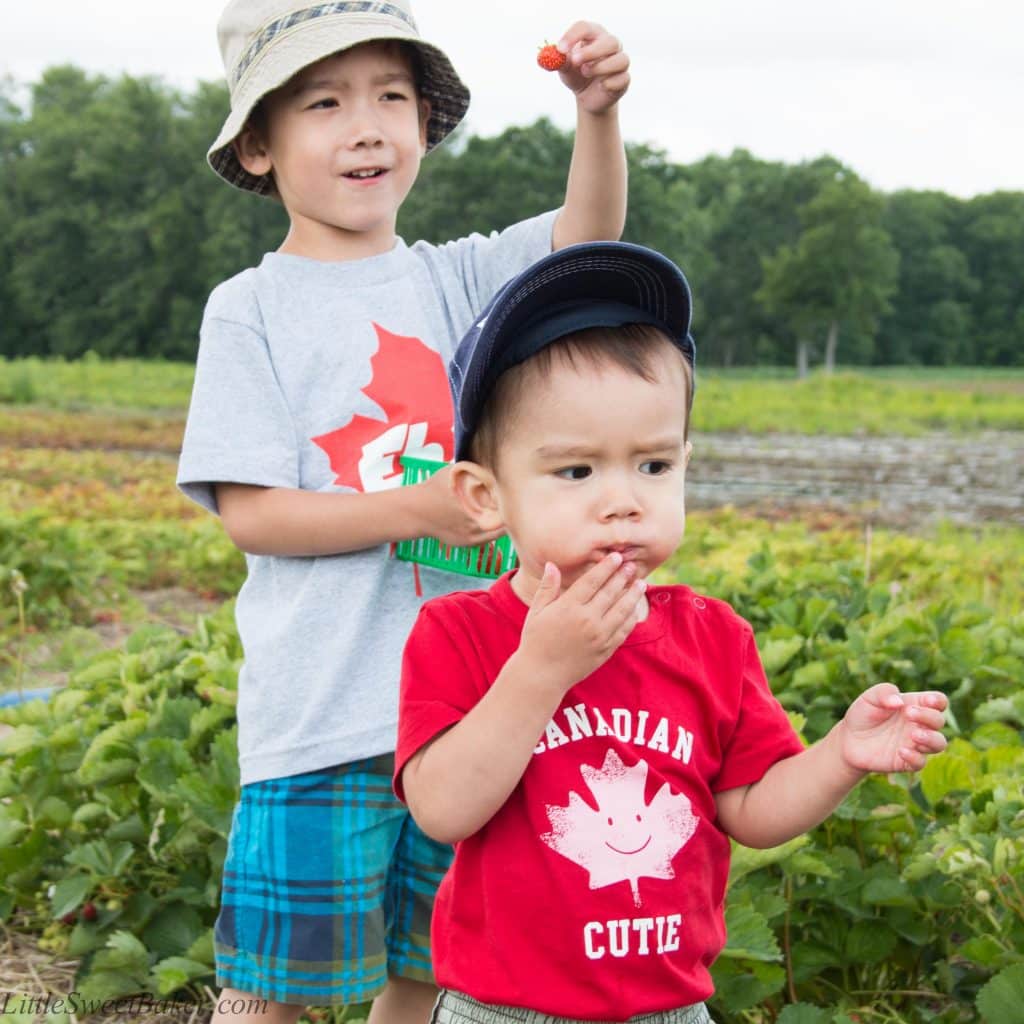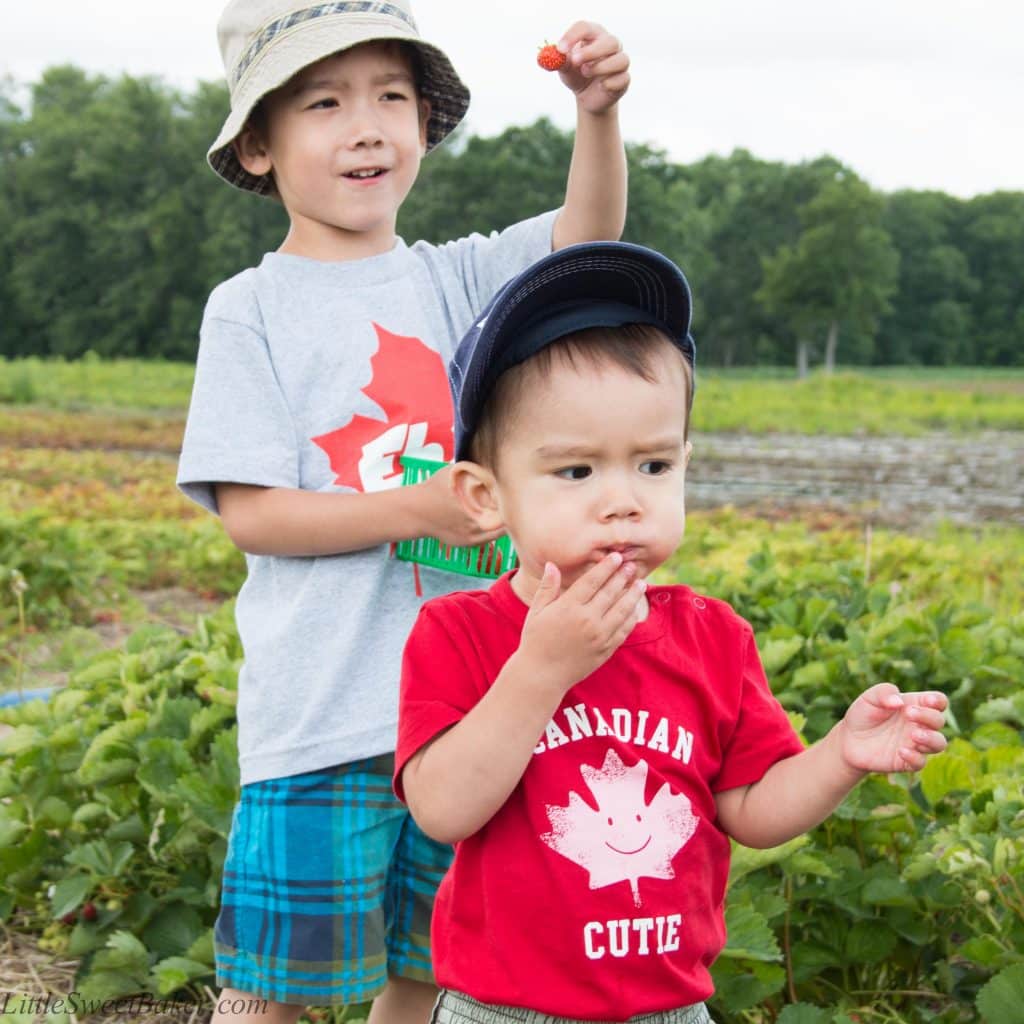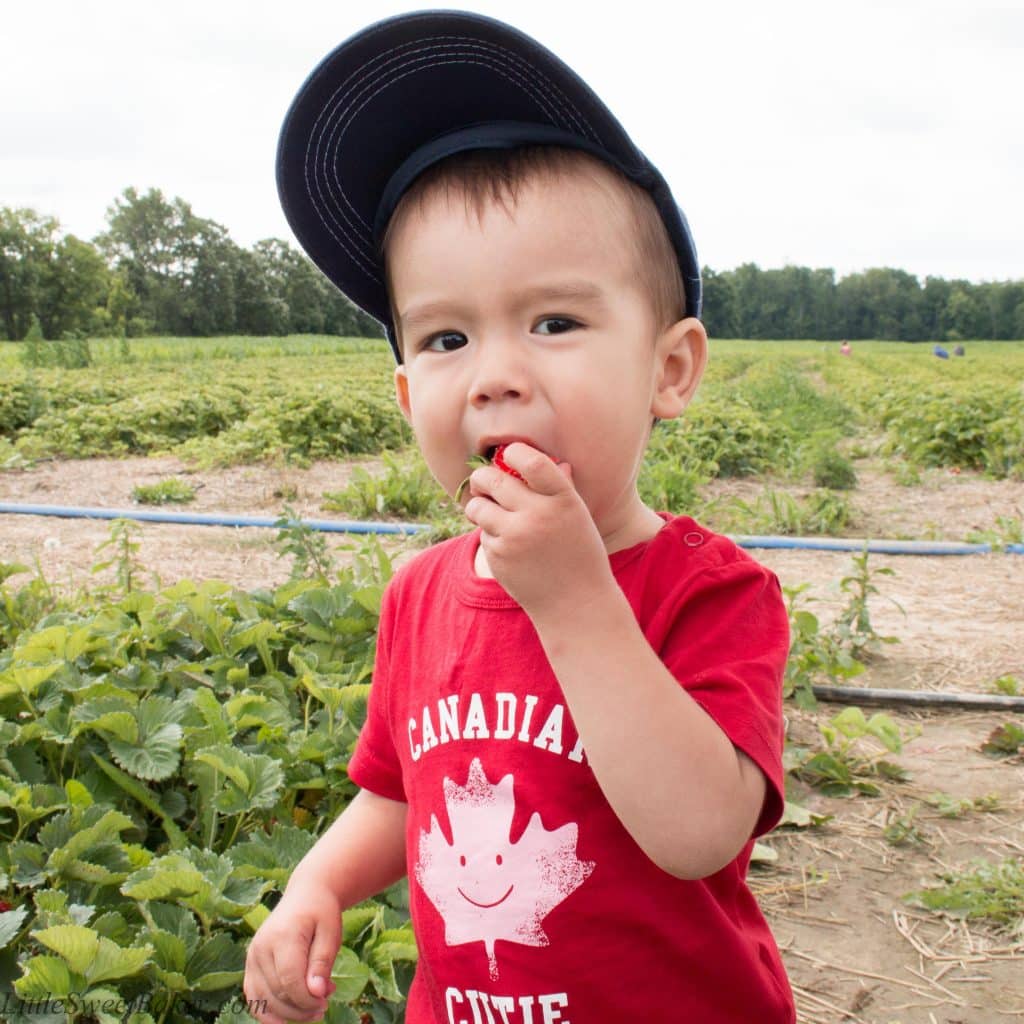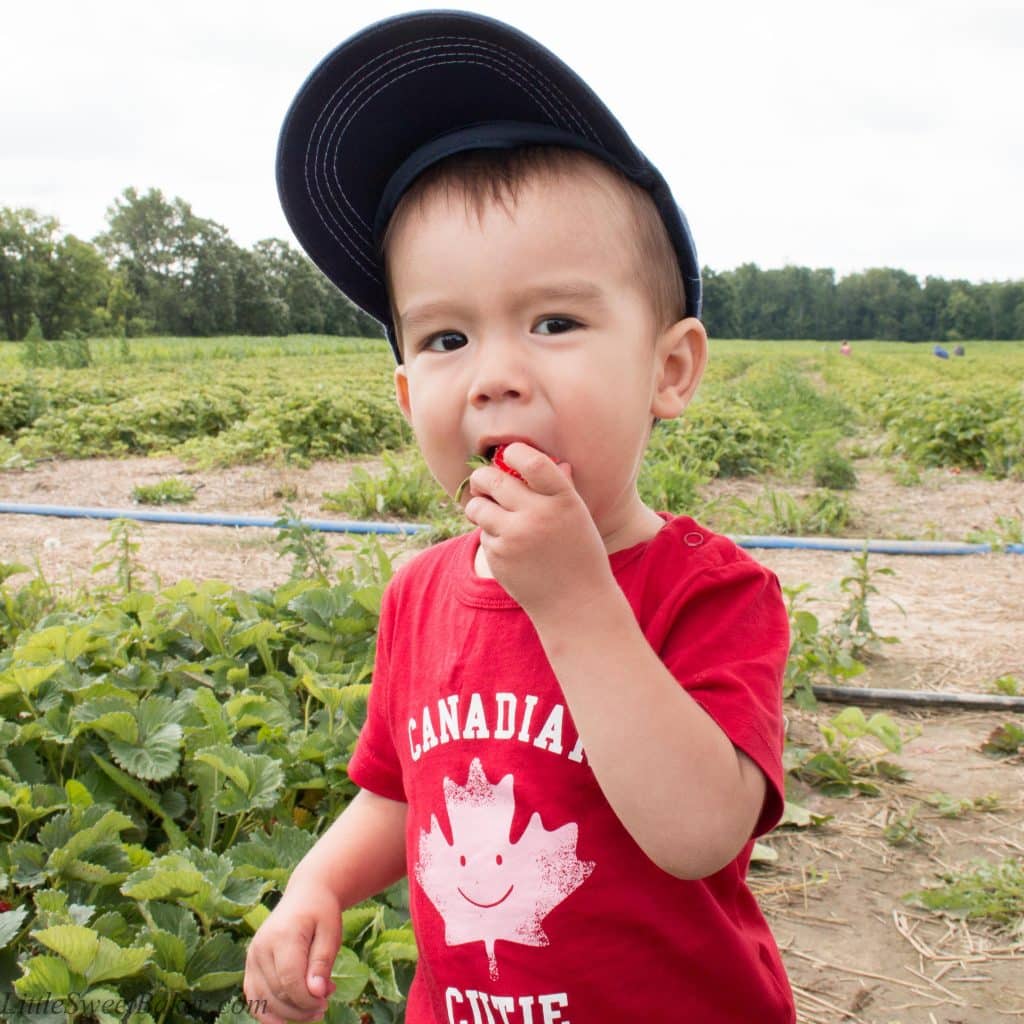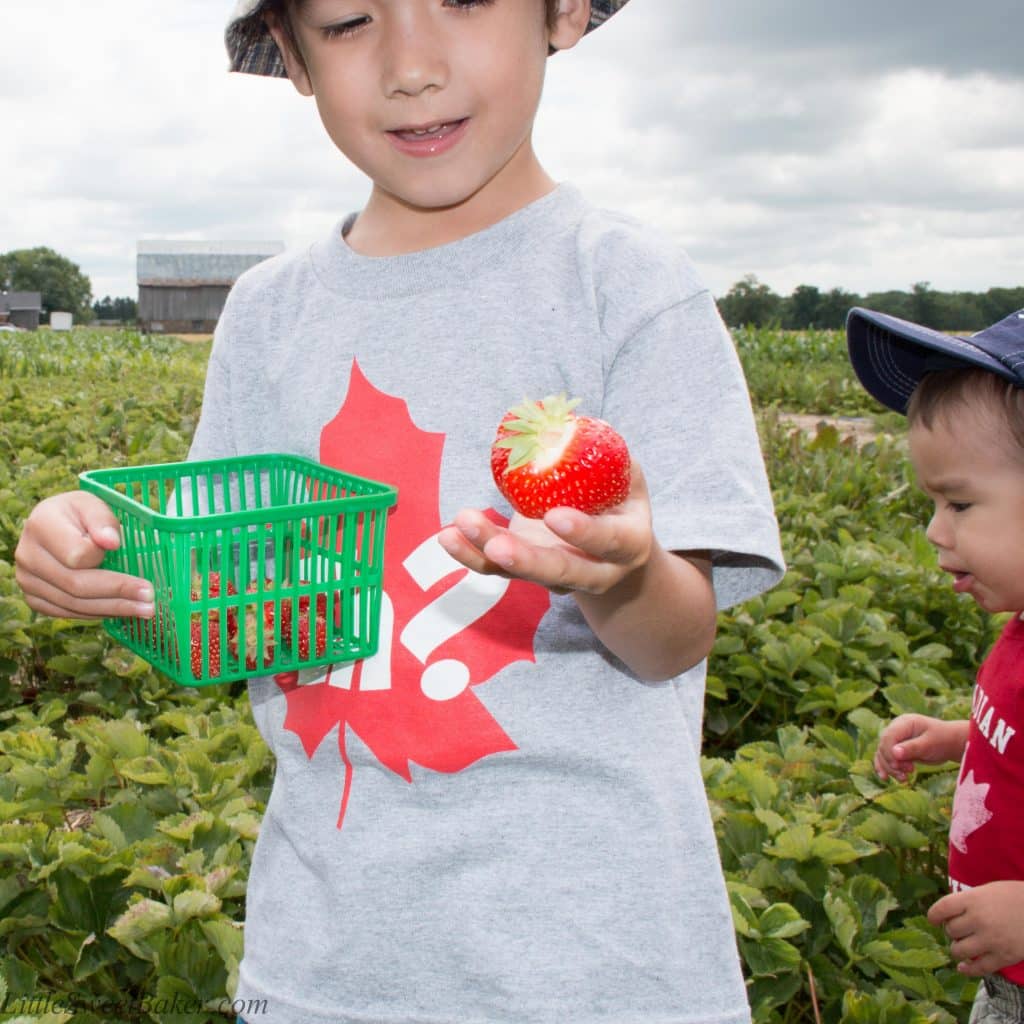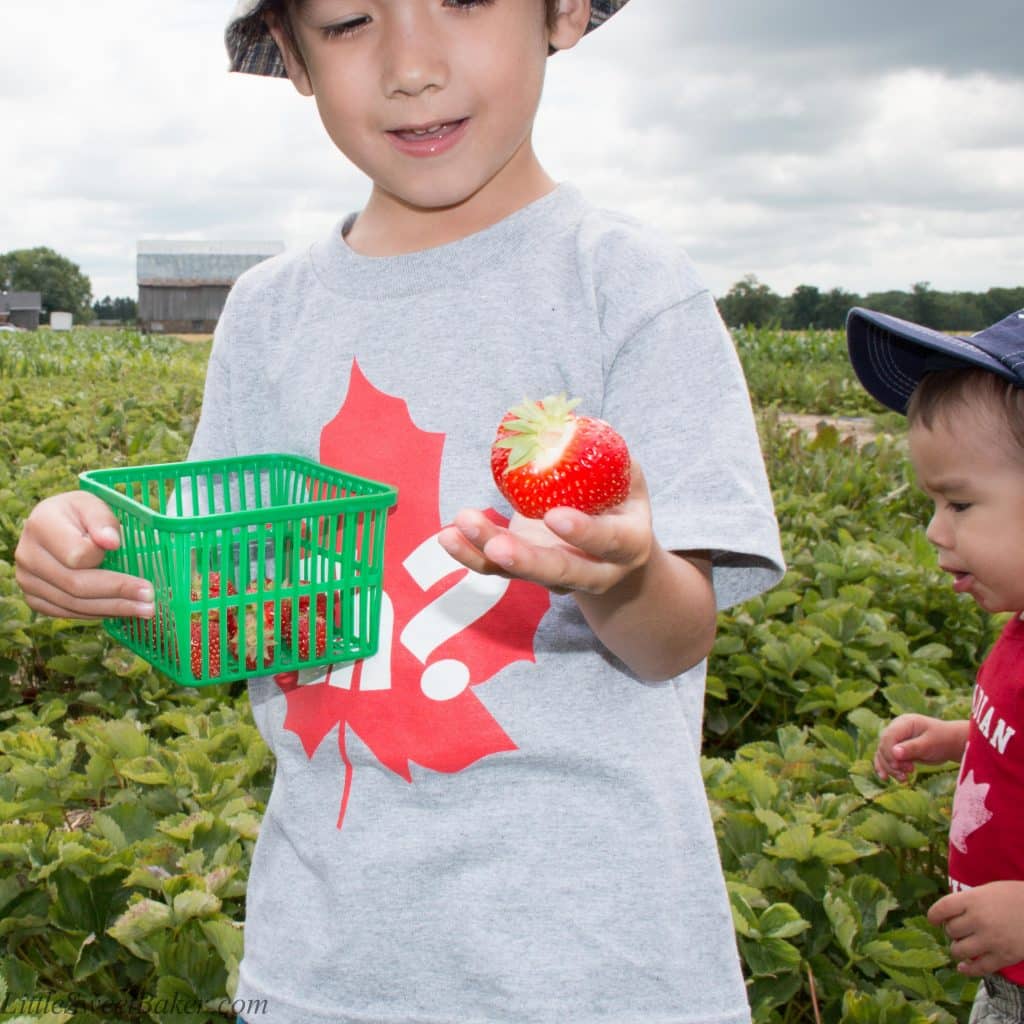 My original intention was to make a strawberry sauce to use for a cheesecake or ice cream topping. Though as I was making the sauce, I noticed it had the consistency of mashed bananas, so I thought to myself "I wonder what this would be like baked into a bread?" It was one of those impromptu moments and it became the best thing I have ever made. I took the concept of a banana bread, substituted the mashed bananas with the strawberry preserve, added some chocolate chips for fun, and voila! A super moist and super flavorful strawberry bread was created. It has become a huge hit and is constantly requested.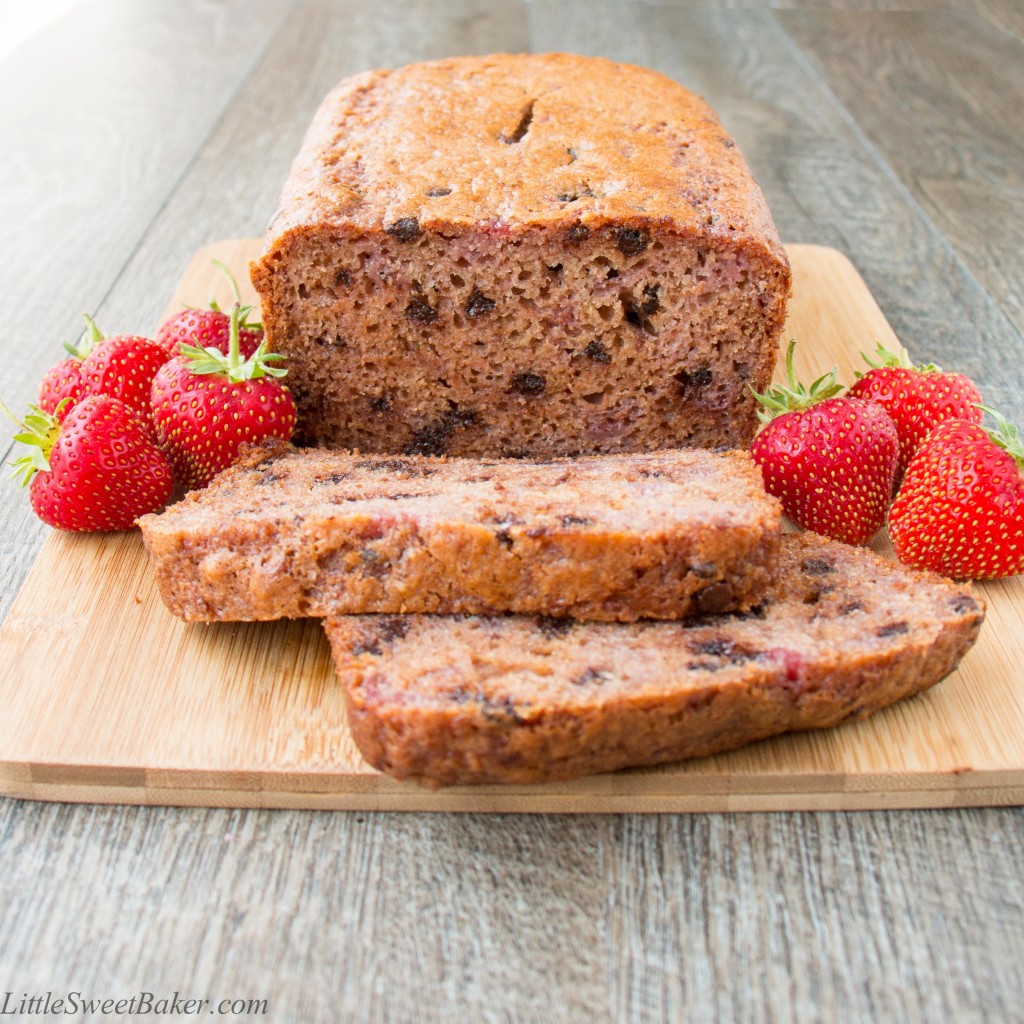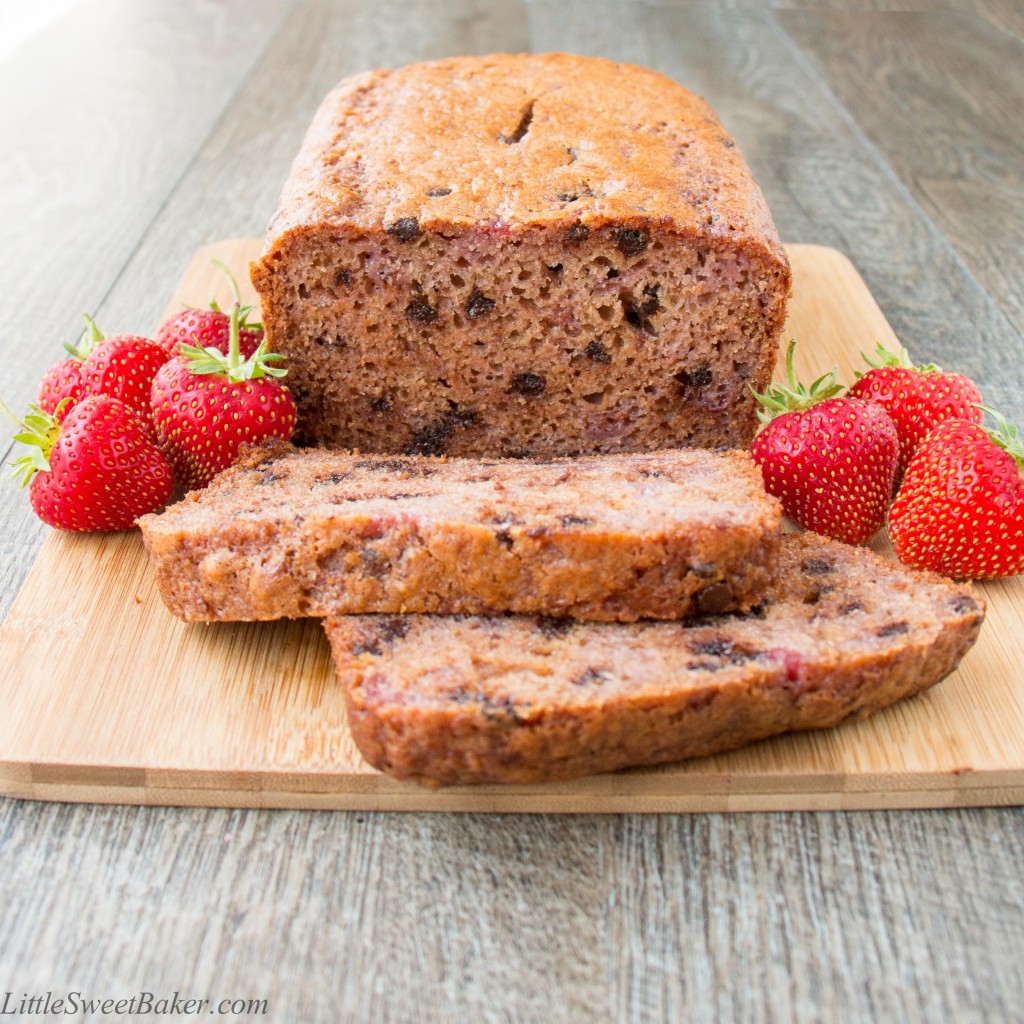 The recipe starts with a simple preserve and when I say simple, I mean just fruit and sugar cooked together until thickened. It doesn't get any easier than that. Though this recipe does require a little bit of patience, it is well worth it. You begin with a pound of strawberries, mash it with 1/2 cup of sugar, simmer until it thickens and it reduces to about 1 & 1/4 to 1 & 1/2 cups. A little bit of variance is okay with this recipe. It's like in most banana bread recipes when it states 3 bananas – well that could vary from 1 to 1 & 1/2 cups depending on the size of your bananas. Now, I have made this quite a few times and it yielded exactly 1 & 1/2 cups each time.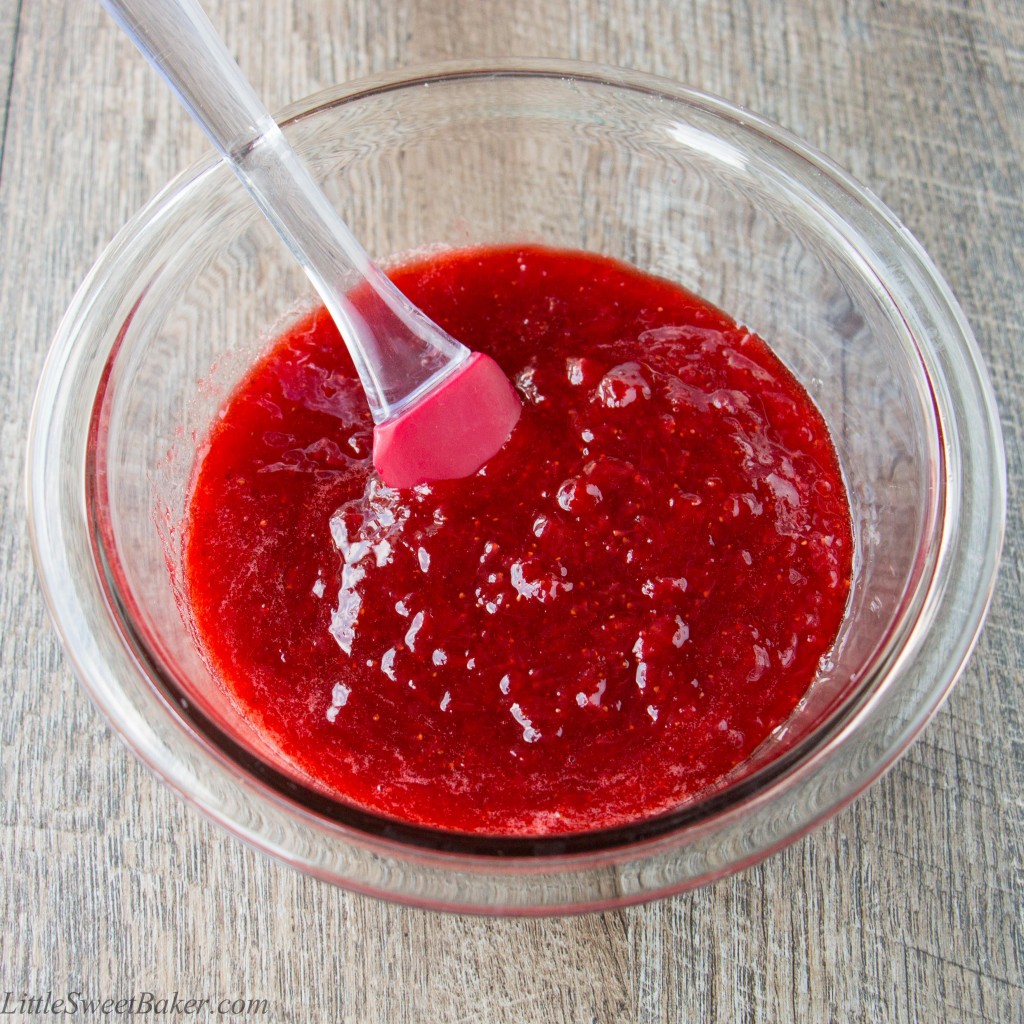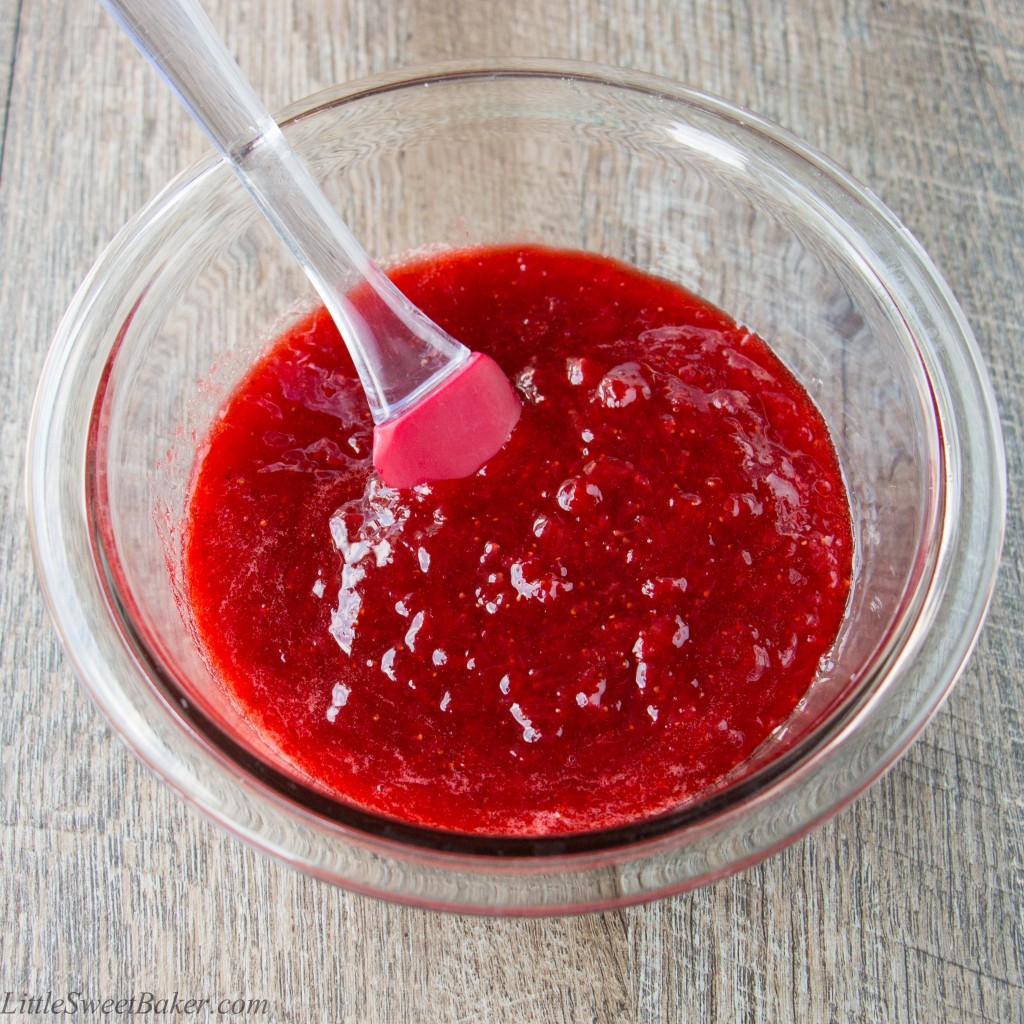 Once the strawberry reduction sauce is done, let it cool to room temperature and mix it in with your wet ingredients, again like you would in a banana bread recipe. The batter will be a pretty pink color, dotted with mini chocolate chips and bits of bright red strawberry pieces. Place it in the oven and bake for about 1 hour.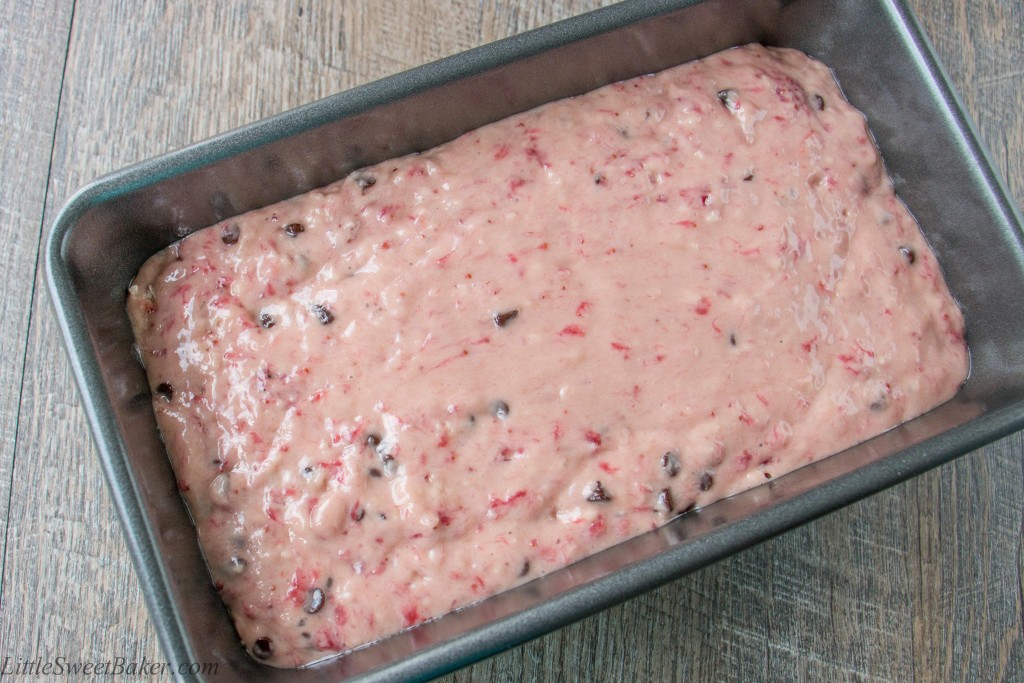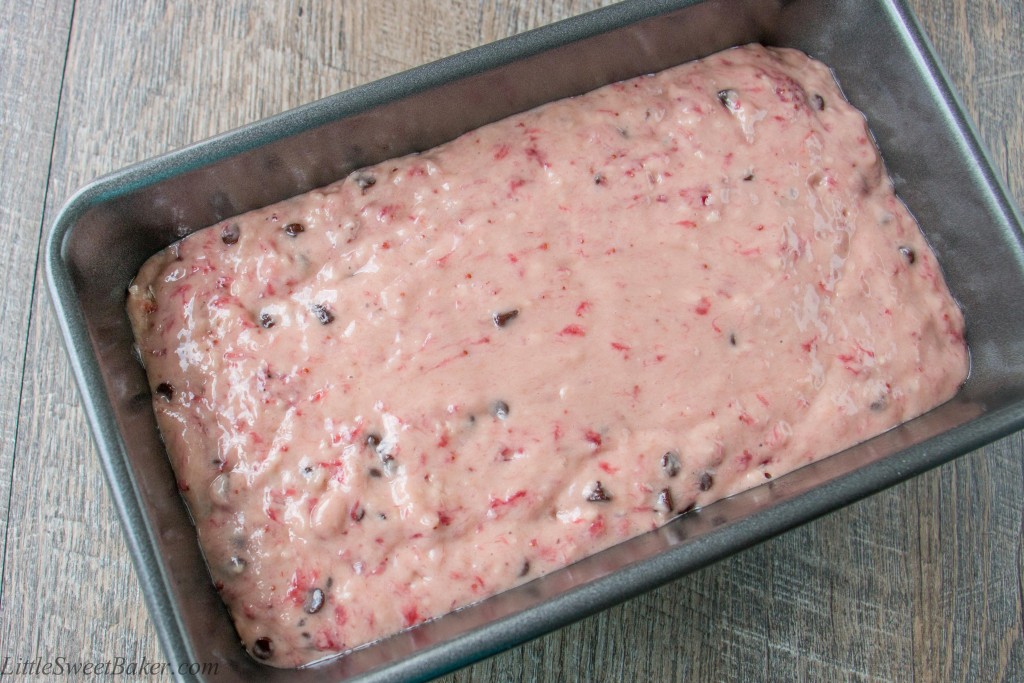 This strawberry chocolate chip bread has become a favorite with friends, family and co-workers. Some of the feedback has been:
"What a great flavor combination" "I can't believe how soft and moist this bread is" "I don't usually like sweet stuff, but this is amazing"
And if you want to take this to the next level, add some fresh sliced strawberries, drizzle some extra chocolate over top and you've got one gorgeous looking dessert.
Whether you think you would enjoy this strawberry chocolate chip bread as is or with a little extra pizazz, you've got to make it ASAP! Your taste buds will thank you:)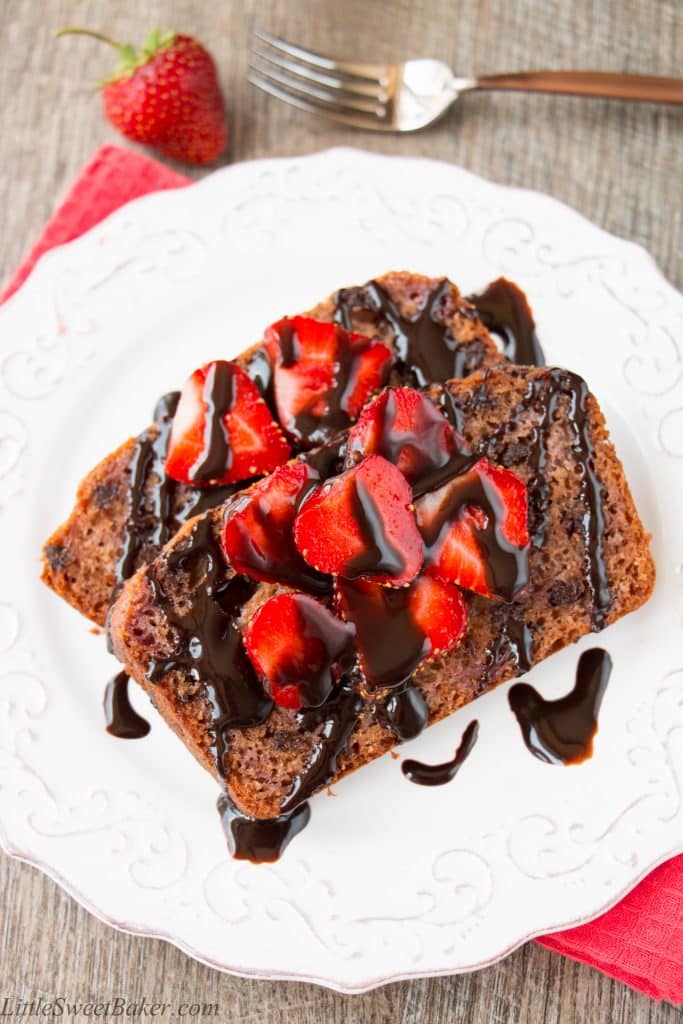 I will be sharing this at Fiesta Friday and Happy Independence Day everyone.
Print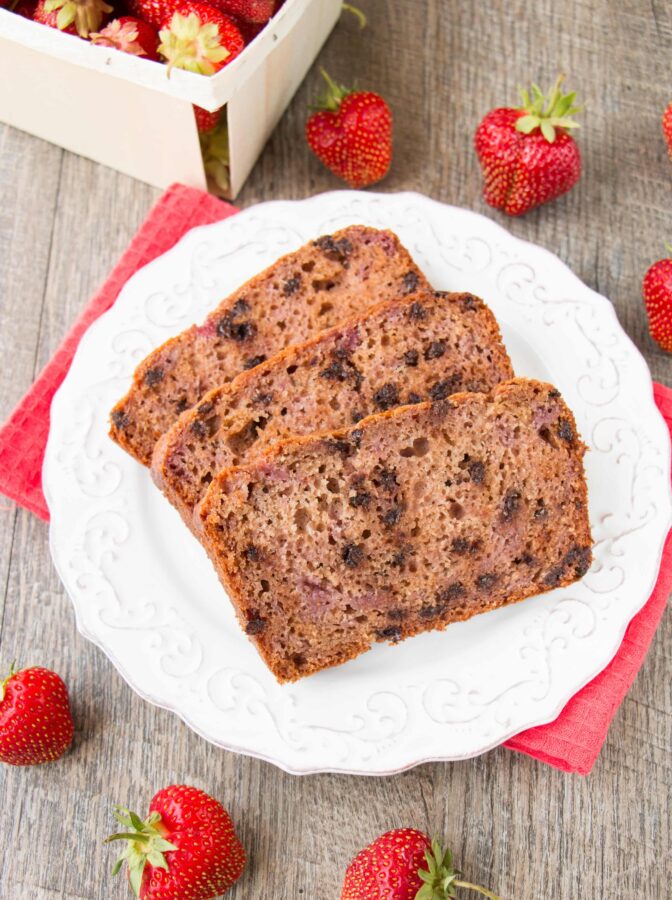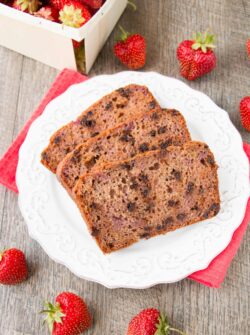 Strawberry Chocolate Chip Bread
Author: Lily Ernst
Prep Time: 40 min
Cook Time: 60 min
Total Time: 1 hour 40 minutes
Yield: 1 - 9x5" loaf 1x
Category: dessert, breakfast, snack
Method: bake
Cuisine: American
---
Description
This is a delicious quick bread that is bursting with strawberry flavor and studded with chocolate chips.
---
For the preserve
1 lb of chopped strawberries
1/2 cup sugar
For the bread
1 & ¾ cups all-purpose flour
1/2 cup sugar
1 tsp baking soda
½ tsp salt
1/2 cup mini chocolate chips
2 large eggs
1 & ½ cups strawberry preserve
½ cup vegetable oil
¼ cup milk
1 tsp vanilla
---
Instructions
To make the preserve
In a medium sauce pan, slightly mash the strawberries to release some of the juices. Stir in the 1/2 cup of sugar and bring to a simmer. Reduce the heat to medium.
Constantly stirring, continue to cook until the strawberries soften. Mash again thoroughly and cook until the sauce thickens and reduces to about 1 & 1/4 to 1 & 1/2 cups. Let cool to room temperature.
To make the quick bread
Preheat oven to 325F and grease a 9×5″ pan.
In a large bowl, whisk together the flour, sugar, baking soda, salt and chocolate chips
In another bowl, mix together the eggs, strawberry preserve, oil, milk and vanilla. Slowly add to the dry ingredients and mix until just combined.
Bake for 60-65 minutes or until a toothpick inserted into the center comes out clean.
---
Keywords: strawberry bread recipe, strawberry chocolate chip bread