Peaches and Cream Coffee Cake
This is a delicious sour cream coffee cake, topped with a velvety cream cheese mousse and sweet fragrant peaches.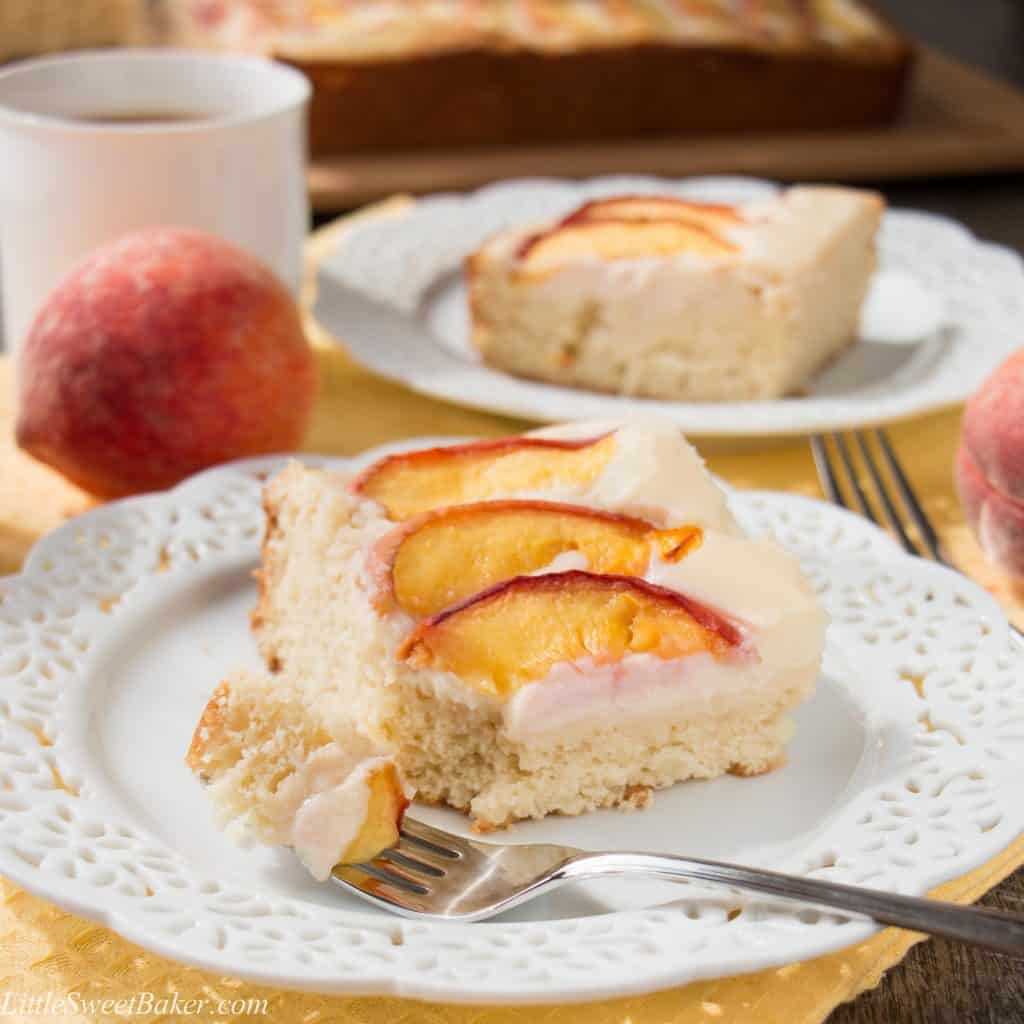 Peaches are plentiful this time of year and I love enjoying local fruits when they are in season. Nothing beats fresh tree-ripened fruits. The flavor and natural sweetness is just heavenly.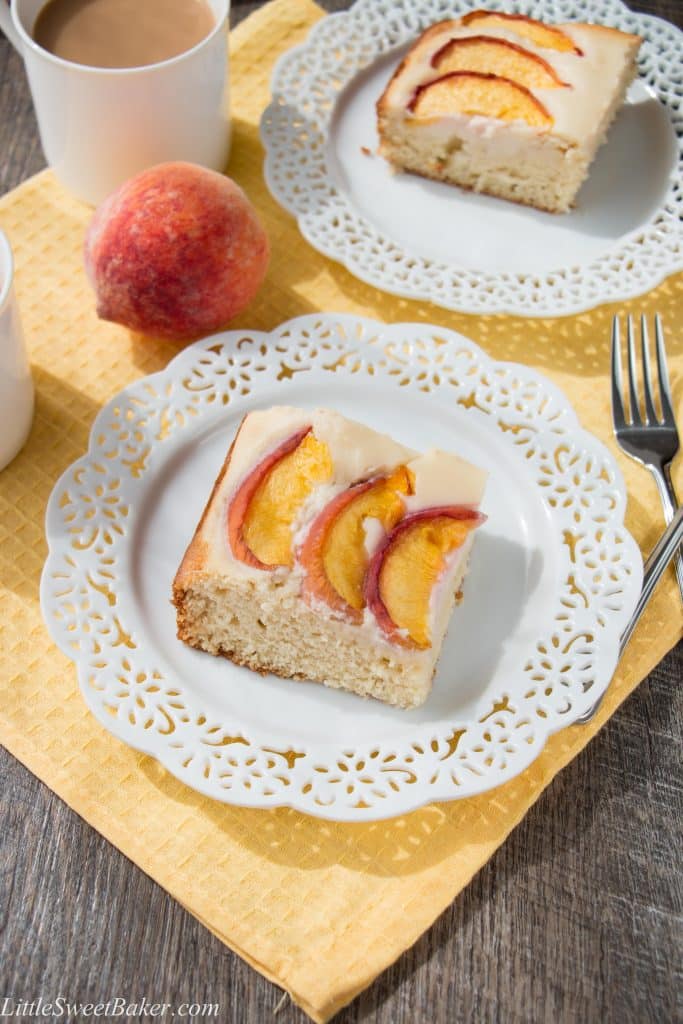 Peaches and cream naturally go together, especially in this recipe. I took a traditional sour cream coffee cake, topped it with a silky smooth and tangy cream cheese mousse, and baked it with some fresh sliced peaches on top. The aroma of this cake is of vanilla and fresh peaches. It's almost like perfume when it comes out of the oven.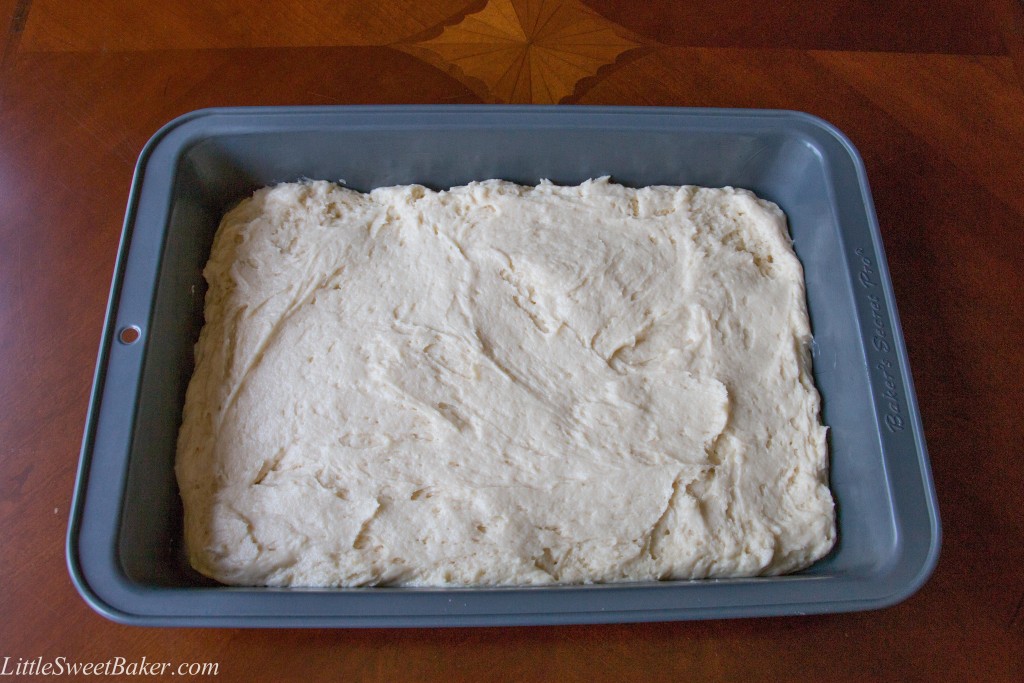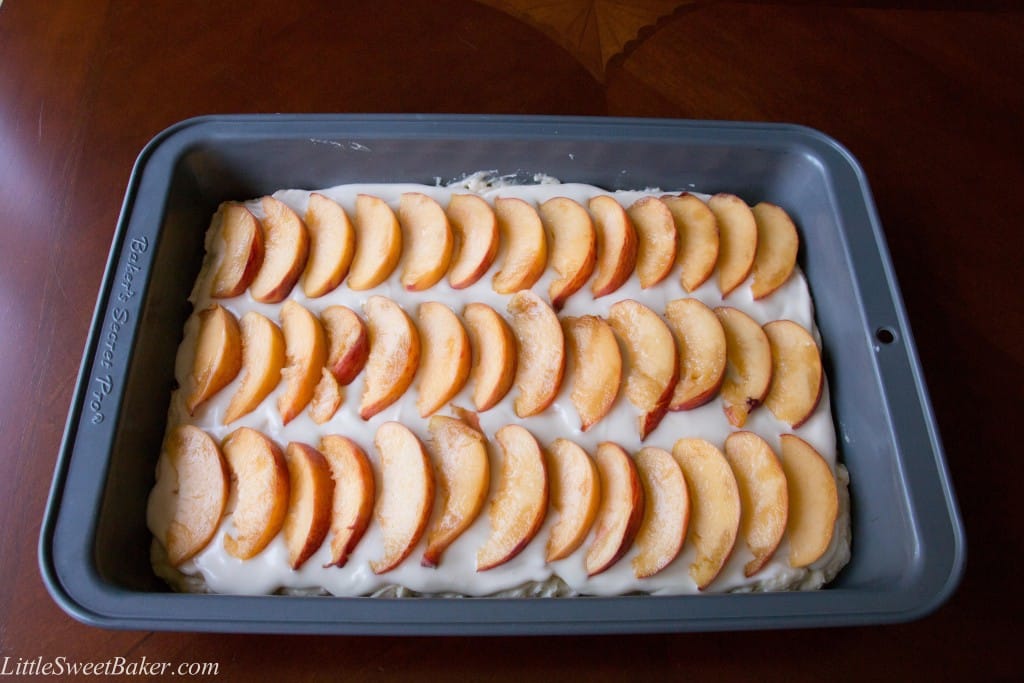 The cake is soft and moist, but firm enough to hold the cream and fruit on top. It is wonderful served with coffee or tea. It can be enjoyed for breakfast, brunch or for an after-dinner dessert. It's easy to make and easy to serve, which makes it excellent for a large gatherings. The taste of this dessert is rich, creamy and bursting with fruit flavor. Be sure to make this recipe very soon while peaches are at their best!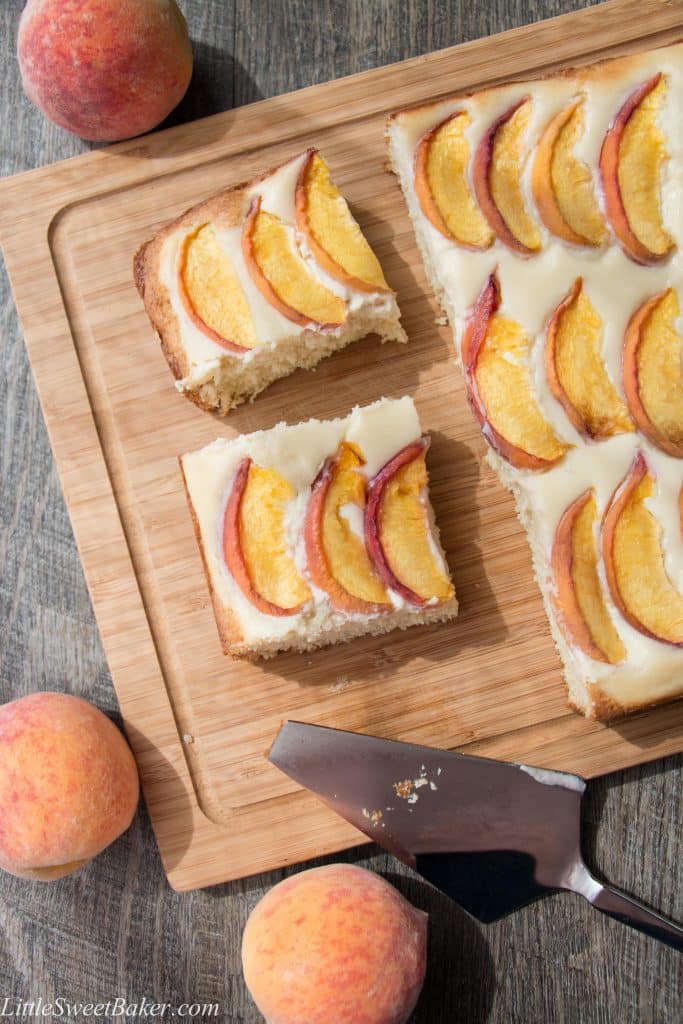 Print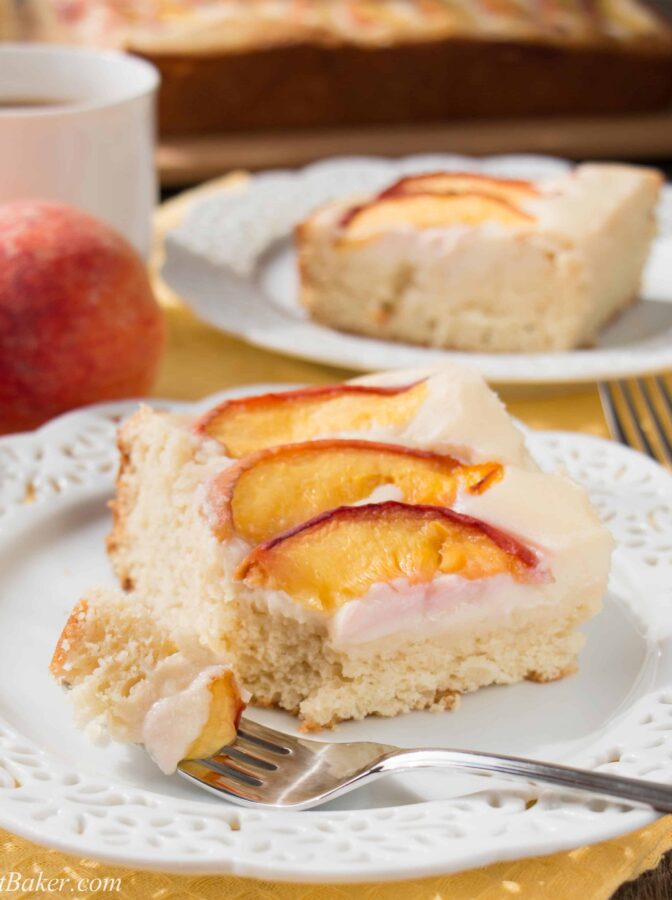 Peaches and Cream Coffee Cake
Author: Little Sweet Baker
Prep Time: 30 min
Cook Time: 30 min
Total Time: 1 hour
Yield: 12-24 1x
Category: dessert, breakfast, snack
Method: bake
Cuisine: American
---
Description
This is a delicious sour cream coffee cake, topped with a velvety cream cheese mousse and sweet fragrant peaches.
---
Coffee Cake
2 cups all-purpose flour
1 tsp baking powder
1 tsp baking soda
1/4 tsp salt
1/2 cup unsalted butter, softened
1 cup sugar
1 large egg
1 cup sour cream
2 tsp vanilla extract
Topping
250g cream cheese, softened
1/2 cup sugar
1 tsp vanilla extract
1 large egg white
3 peaches, thinly sliced
---
Instructions
Preheat the oven to 350F and grease a 9×13″ baking pan.
In a medium bowl, whisk together the flour, baking powder, baking soda and salt. Set aside.
Using a stand mixer with the paddle attachment, cream the butter and sugar until light and fluffy.
Mix in the egg, then sour cream and vanilla until smooth.
Blend in half of the flour mixture until somewhat incorporated.
Add in the rest of the flour mixture, blend and scrap down the sides as needed until just combined. Batter will be super thick.
Spoon onto prepared baking pan and spread out as evenly as possible. Set aside.
To prepare the topping. Clean the mixing bowl and switch to the whisk attachment.
Mix the cream cheese and sugar until blended. Whisk in the egg white and vanilla until smooth.
Spread over cake batter and place sliced peaches on top.
Bake for 30 minutes or until edges are nice and brown. Let cool to room temperature and serve.
---
Notes
Cake can be stored in the refrigerator for 3-4 days. Bring to room temperature before serving.
You can also substitute the peaches for strawberries if you prefer strawberries and cream. Enjoy!
Keywords: peach coffee cake recipe, peaches and cream cake, sour cream coffee cake