Vanilla Panna Cotta
This beautiful and luxurious vanilla panna cotta is made with just four simple ingredients. It's ultra smooth and rich with a creamy vanilla taste.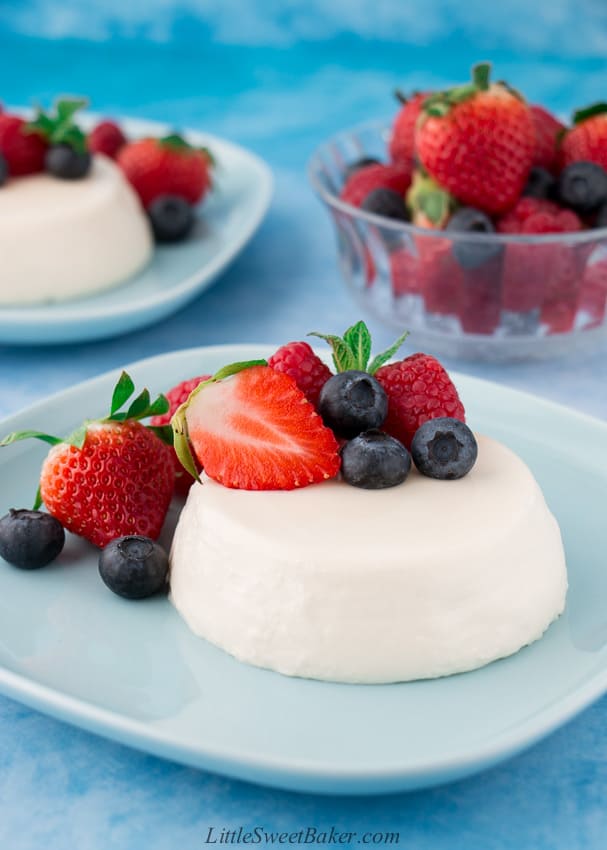 I can't believe it's March already. My kids are all excited for March break next week. and it looks like the weather will be finally warming up. And by warming up, I mean above zero degrees celsius this weekend. My mind is already thinking about sandals, and cool and refreshing desserts like this panna cotta.
What is panna cotta?
Panna cotta is an Italian dessert meaning "cooked cream". It's a sweetened cream dessert thickened with gelatin. I think of it as cream jello, and it tastes like vanilla ice cream according to my kids.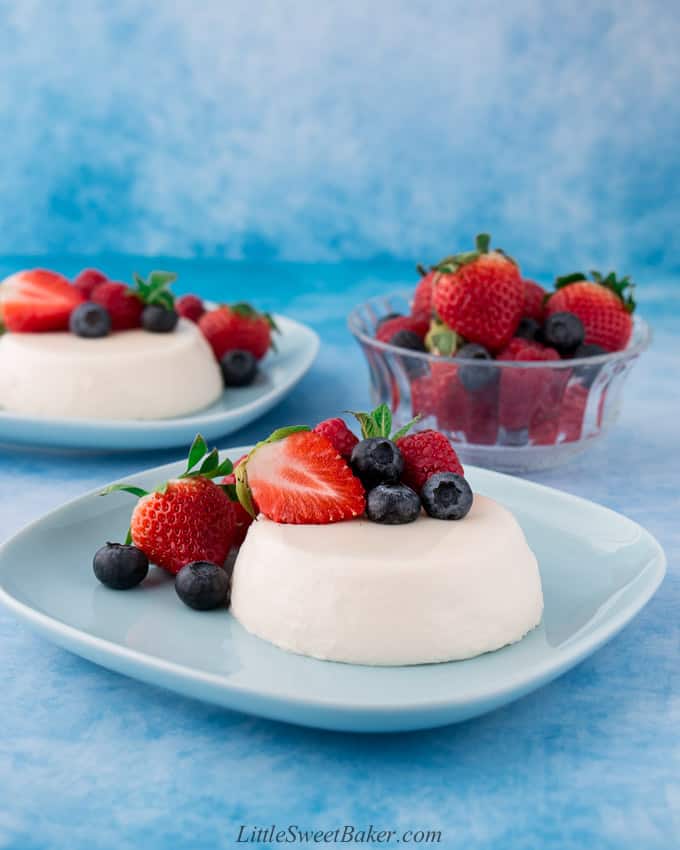 What I love about this recipe from Pretty. Simple. Sweet is that it's so easy. As I mentioned, it's just four ingredients: cream, gelatin, sugar, and vanilla. You start by soaking the gelatin in some water. Meanwhile, you heat the cream with the sugar until dissolved. Then you stir in the bloomed gelatin and vanilla, pour into ramekins, and chill until set – that's it! It's a great make-ahead dessert because you can prepare it the morning of or the day before you plan to serve. You can keep things simple and just enjoy it straight out of the ramekin or if you want to get a little fancier, you can unmold the panna cotta onto a serving plate.
How to unmold the panna cotta:
Dip the ramekin into a bowl of hot water, then run a thin knife along the edges. Invert the ramekin onto a plate, give it a little shake to loosen, and it should fall nicely onto the plate.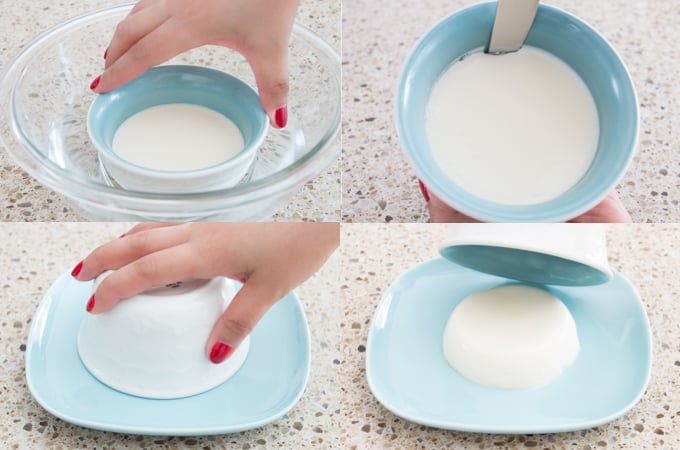 Why this recipe works:
A common problem when making panna cotta is separation of the milk and cream into lighter and heavier fat layers. By using just cream in this recipe, not only does it make it richer and more flavorful, it lowers the risk of that happening. Another common problem is the panna cotta not setting because the gelatin did not completely dissolve or was boiled thereby destroying it thickening ability. With this recipe, you soften the gelatin in water first, making it easier to dissolve in the warm cream. You also don't heat the gelatin, so you don't run the risk of boiling it. (technical source: The Kitchn)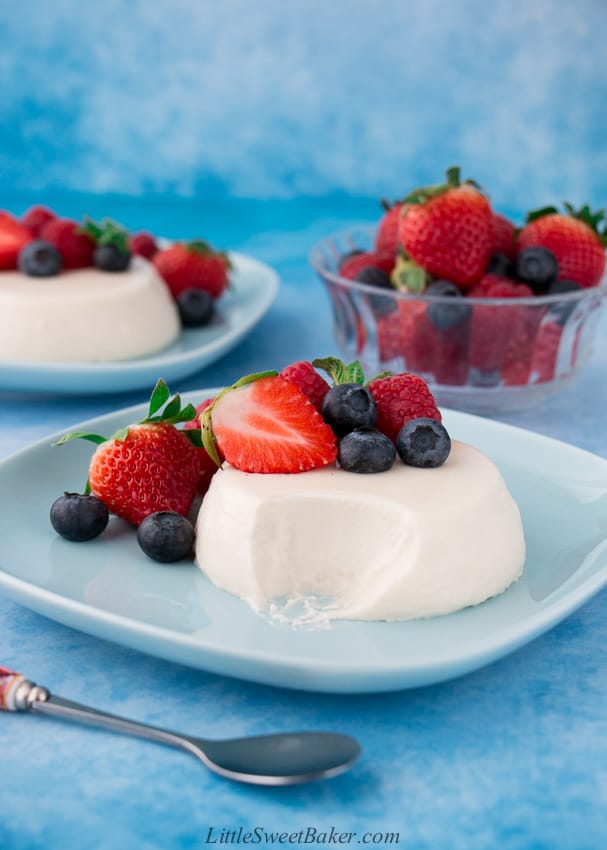 This panna cotta has a silky melt-in-your-mouth texture. The taste is lightly sweet with a fresh vanilla cream finish. So if you are looking for an easy elegant dessert that you can make ahead of time, this is it! Not only is this panna cotta creamy-dreamy good, but it looks just as beautiful as it tastes.
Print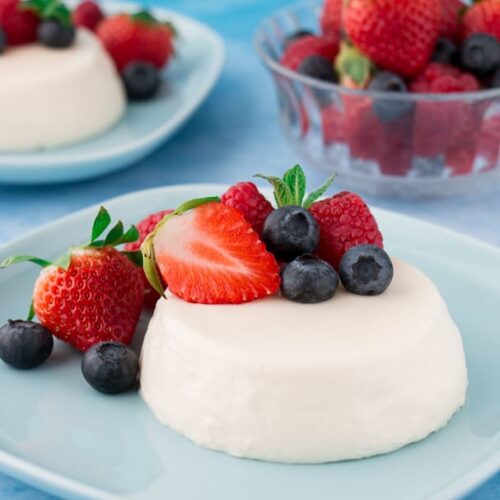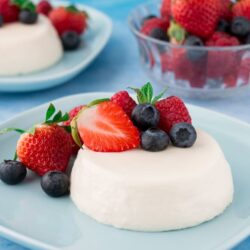 Vanilla Panna Cotta
---
Author:

Lily Ernst

Prep Time:

5 min

Cook Time:

15 min

Total Time:

20 min

Yield:

serves 4
Description
This beautiful and luxurious vanilla panna cotta is made with just four simple ingredients. It's ultra smooth and rich with a creamy vanilla taste.
---
2

& 1/4 tsp (7g) unflavored powdered gelatin

1/4 cup

(60ml) cold water

2 cups

(480ml) heavy cream

1/4 cup

(50g) granulated sugar

1 tsp

(5ml) vanilla extract
---
Instructions
Spray 4 ramekins with non-stick cooking spray. Then use a paper towel to wipe most of the oil, leaving only a light residue.

Place the gelatin in a small bowl. Pour the water over top and let stand for 5-10 minutes to soften.

Meanwhile, in a medium saucepan, heat the cream and sugar over medium heat, whisking frequently to dissolve the sugar. As soon as you see tiny bubbles appear around the edge and steam coming off the surface, remove from heat.

Quickly whisk in the gelatin until completely dissolved (rub a bit of the cream between your fingers to make sure it's smooth). Then str in the vanilla.

Pour the cream mixture into the 4 prepared ramekins. Refrigerate for at least 4 hours, or until completely set.

When ready to serve, dip each ramekin, 1 at a time, into a bowl of hot water for 5 seconds. Run a thin knife around the sides of the ramekin to separate the top edge of the panna cotta. Invert it onto the center of a small plate and shake it gently to help release it. If it does not come out, repeat the water bath for 3 seconds. You can also serve it straight out of the ramekins if you want to keep it simple.
Serve with fresh fruit or fruit preserve if desired.
Notes
Panna cotta can be covered and stored in the refrigerator for up to 3 days.
Category:

dessert

Method:

stovetop

Cuisine:

Italian
Keywords: panna cotta recipe, vanilla panna cotta