Homemade Boston Cream Pie
This Boston cream pie has two layers of moist and tender vanilla sponge cake filled with a silky pastry cream, and it's finished with a dark chocolate ganache on top. This recipe is completely made from scratch and it's the best combination of cake, cream and chocolate all in one dessert.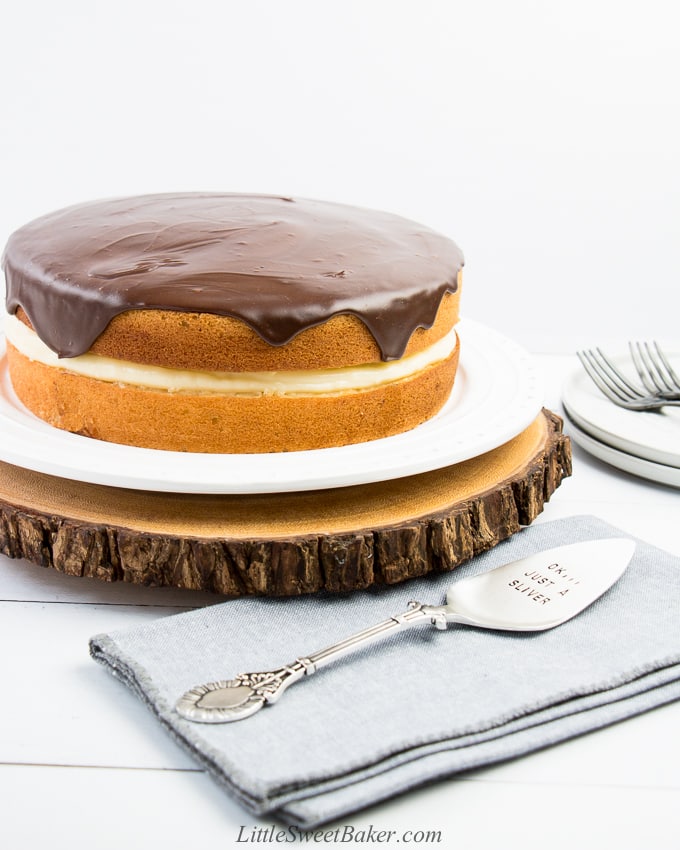 Do you ever wonder why a Boston cream pie is called a pie when it's clearly a cake? Well, apparently back in the mid-nineteenth century, cakes were commonly baked in pie tins. This chocolate cream pie was made famous by the Parker House Hotel in Boston, and was named "Boston cream pie" on the hotel's menu, hence the other part of the name. (source: What's Cooking America)
Whatever the reason it's called what it's called, this pie-cake is absolutely irresistible none-the-less with its perfect ratio of soft and fluffy cake, creamy custard and chocolate glaze in every bite.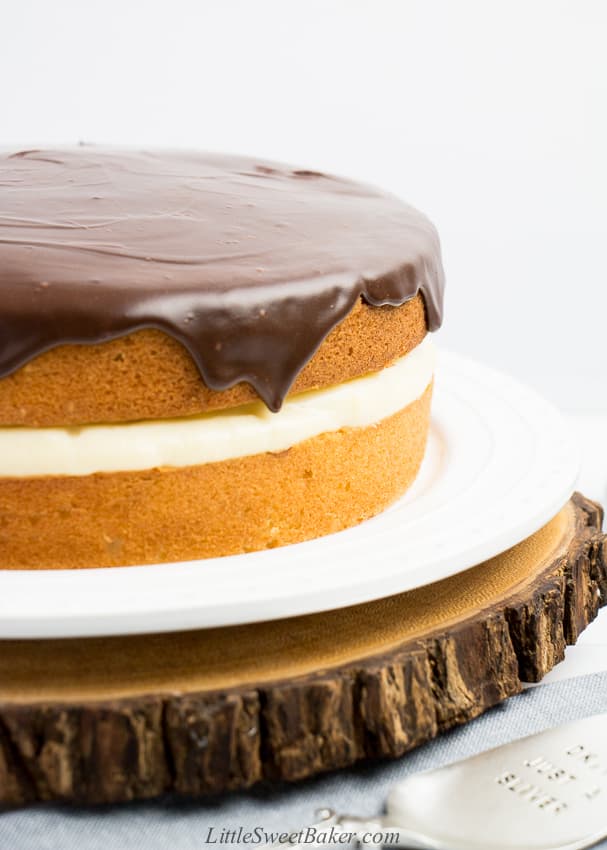 This recipe does take some time to prepare because of its three components, but it's well worth it. I always like to prepare and assemble the day before so the cake can set overnight, making it much easier to slice and serve. I start by making the pastry cream because it takes about four hours to completely chill in the fridge. This pastry cream recipe only requires 3 eggs instead of 5 eggs like in most recipes, so less calories but still all the flavor. Then I make the cake layers and let cool. Lastly I make the ganache. Let that cool and thicken at room temperature for 30 minutes before assembling everything. This way you get a nice thick layer of chocolate on top.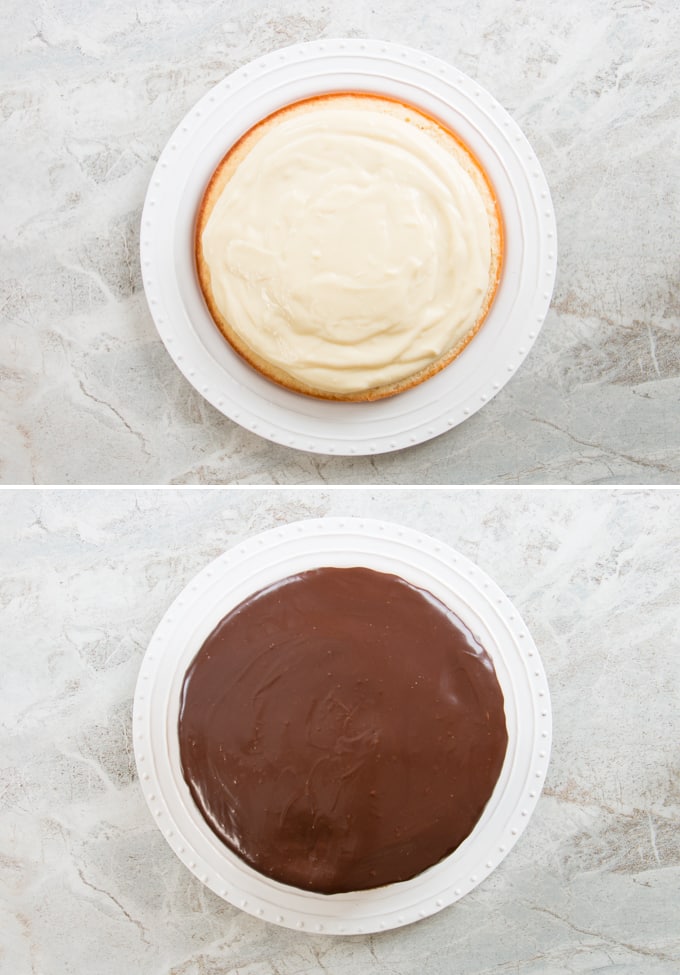 The texture of the cake is soft and fluffy. The taste is rich and buttery. The pastry cream is velvety-smooth and tastes like vanilla pudding. The ganache adds a nice bold chocolate finish to the overall dessert.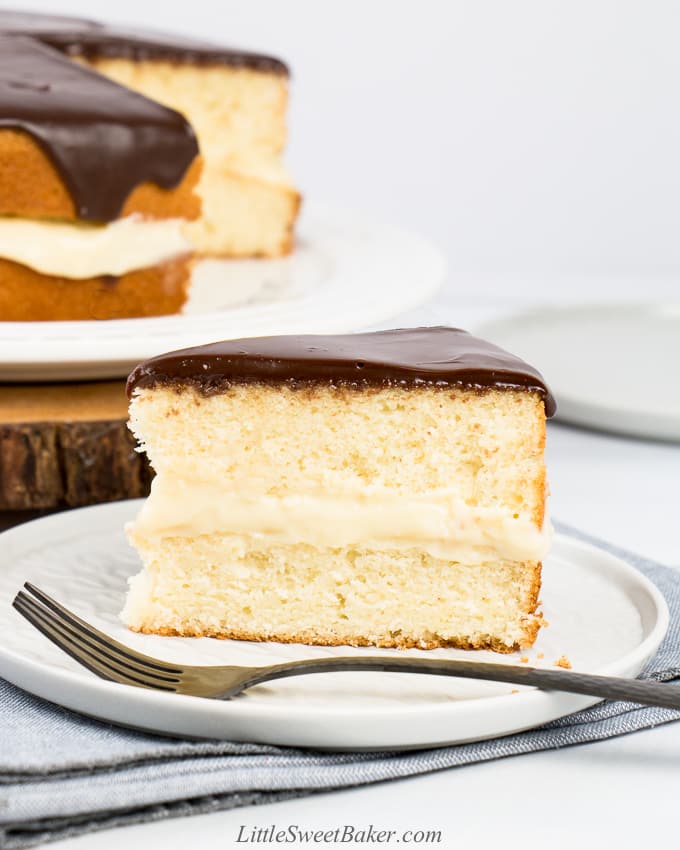 Print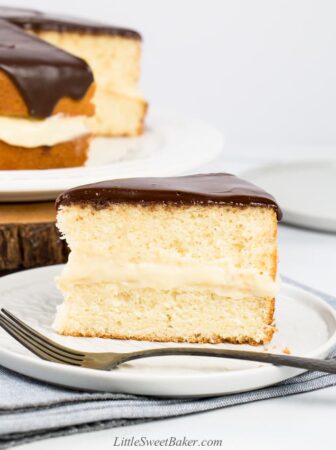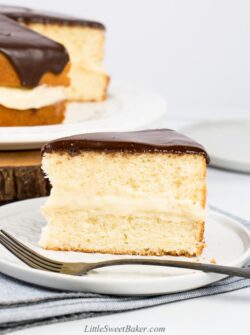 Homemade Boston Cream Pie
Author: Lily Ernst
Prep Time: 30 min
Cook Time: 30 min
Total Time: 1 hour
Yield: 12 1x
Category: dessert
Method: stovetop & bake
Cuisine: American
---
Description
This Boston cream pie has two layers of moist and tender vanilla sponge cake filled with a silky pastry cream, and it's finished with a dark chocolate ganache on top.
---
Pastry Cream
2 cups (500ml) whole milk
1/4 cup (50g) + 1/3 cup (65g) granulated sugar, divided
1 large whole egg
2 large egg yolks
1/4 cup (30g) cornstarch
2 tbsp (28g) unsalted butter
1 tsp (5ml) vanilla extract
Cake
1/2 cup (114g) unsalted butter, softened
1/2 cup (125ml) vegetable oil
1 1/2 cups (300g) granulated sugar
1 1/2 cups (375ml) buttermilk, room temperature
3 large eggs, room temperature
1 tbsp (15ml) vanilla extract
3½ cups (440g) all-purpose flour
4 tsp of baking powder
½ tsp salt
Ganache
1/2 cup (125ml) heavy cream
4 oz semi-sweet chocolate chips
---
Instructions
Pastry Cream
In a medium sauce pan, stir together the milk and 1/4 cup sugar. Bring to a simmer on the stovetop over medium heat. In a separate mixing bowl, whisk together egg, egg yolks, cornstarch, and 1/3 cup sugar.

Once the milk has reached a simmer, carefully pour half of the hot milk in a steady stream into the egg mixture, whisking constantly to avoid curdling the eggs. Immediately whisk the egg mixture back into the saucepan.

Return to stovetop and continuing to cook over medium heat while whisk constantly until mixture thickens.

Remove from heat once thickened and stir in butter and vanilla until melted. Pour into a clean mixing bowl and press a sheet of saran wrap directly on top of the surface of the pastry cream to prevent a skin from developing. Cool completely in the refrigerator for at least 4 hours.
Cake
Preheat oven to 350F. Grease two 9″ pans and line the bottom with parchment paper.

In a large mixing bowl, use a hand mixer to cream the butter, vegetable oil, and sugar together until light and fluffy. Add in buttermilk, eggs, and vanilla and beat until combined. The mixture will look curdled, but that's okay. It will come together when you add in the dry ingredients.

Add in flour, baking powder, and salt, and mix until just combined. Divide the batter among the two prepared baking pans.

Bake for 25 – 30 minutes or until a toothpick inserted into the center comes out clean.

Let cool completely before assembling.
Ganache
In a small sauce pan, bring the heavy cream to a simmer over medium heat. Place your chopped chocolate into a small mixing bowl. Pour hot cream over chocolate and let stand 1 – 2 minutes. Stir with a rubber spatula until smooth. Let stand for 15-30 minutes to thicken the ganache before pouring on top of cake.
Assembling
Trim cake domes if necessary. Place one of the cakes on a serving plate.

Spread the pastry cream on top. Place the second cake layer on.

Slowly pour the ganache on top, letting it drip down the sides a little.

Chill in the fridge for 1 hour to let the chocolate set, or cover and refrigerate overnight.
---
Notes
You can prepare and assemble this cake a day in advance. Cover and store it in the fridge overnight to let it firm up. This makes it much easier to slice and serve.
Keywords: Boston cream pie, American pudding cake
Recipe from The Stay At Home Chef.