Chocolate Birthday Cake
A decadent, 3-layer chocolate cake surrounded with the most luxurious, rich chocolate frosting.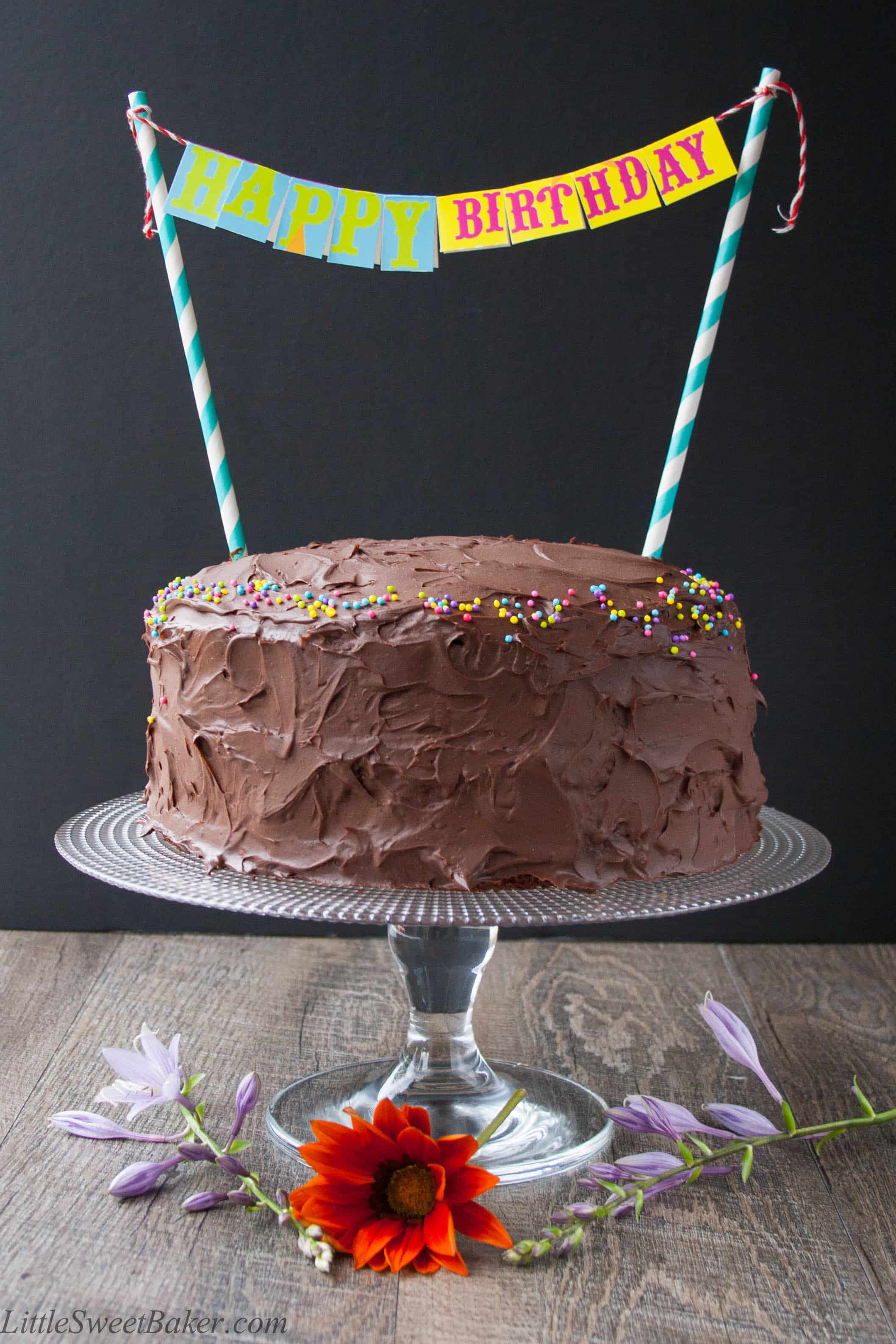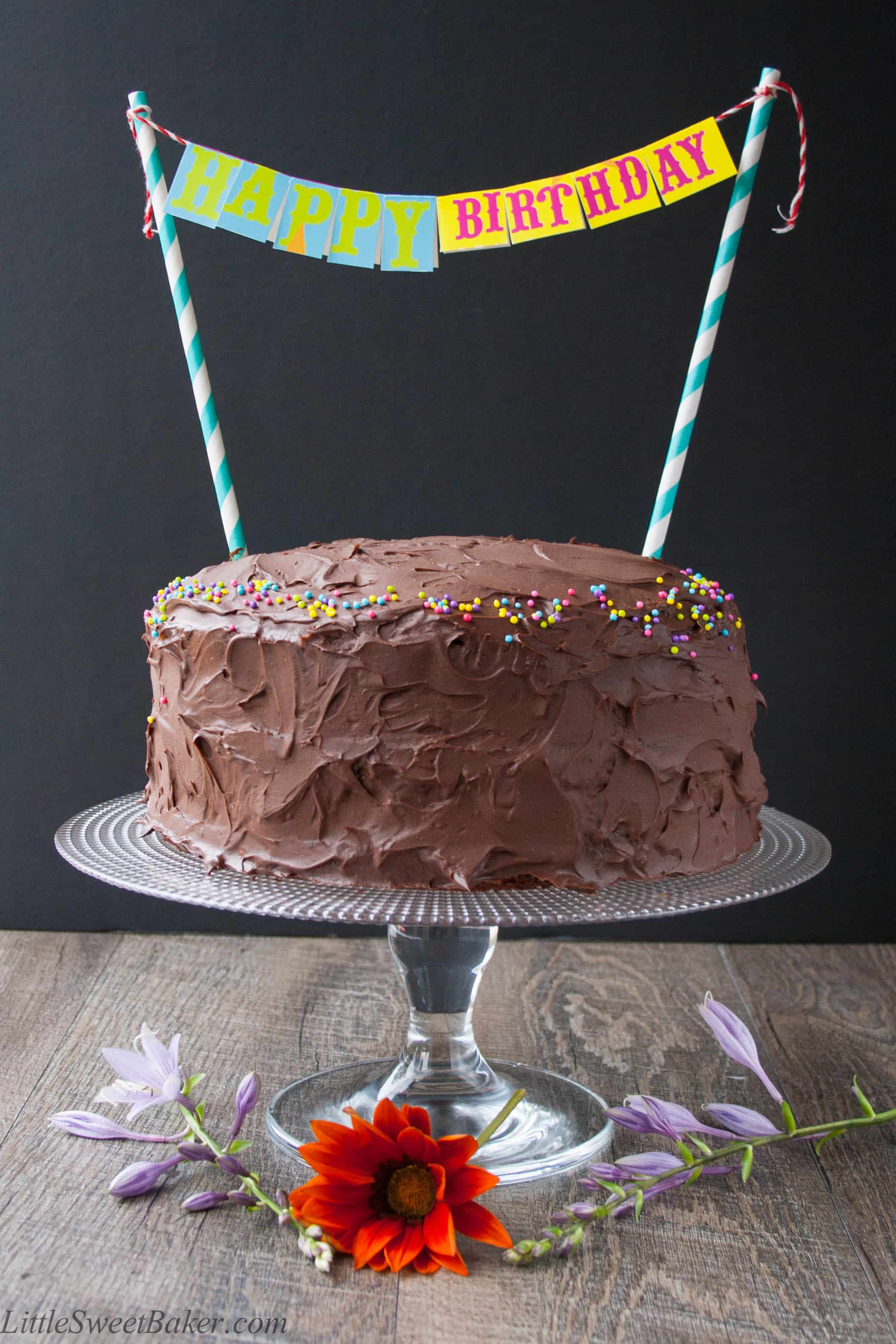 This week was very emotional for me as a mother. My baby turned one, my toddler started school, and it was my last week of maternity leave as I'm back to work on Monday. As I reflect back on the last 12 months, I have to say it's been quite interesting. My transition from being a mother of one child, to being a mother of 2 children, was difficult. Maybe it's because I thought it would be easier the second time around. I mean, I've raised a baby before and I was having another boy, should be the same experience right? Nope, not at all. I ended up with a completely different baby I was not prepared for.
My first son would only cry when he wasn't feeling well, my second was colicky. My first would smile back at anyone who smiled at him, my second would stare at new people with a serious look or cry, which would scare them away. My first started sleeping through the night on his own at 4 months, my second still is waking up multiple times at night. So, I haven't slept well in over a year, which equals grumpy mommy.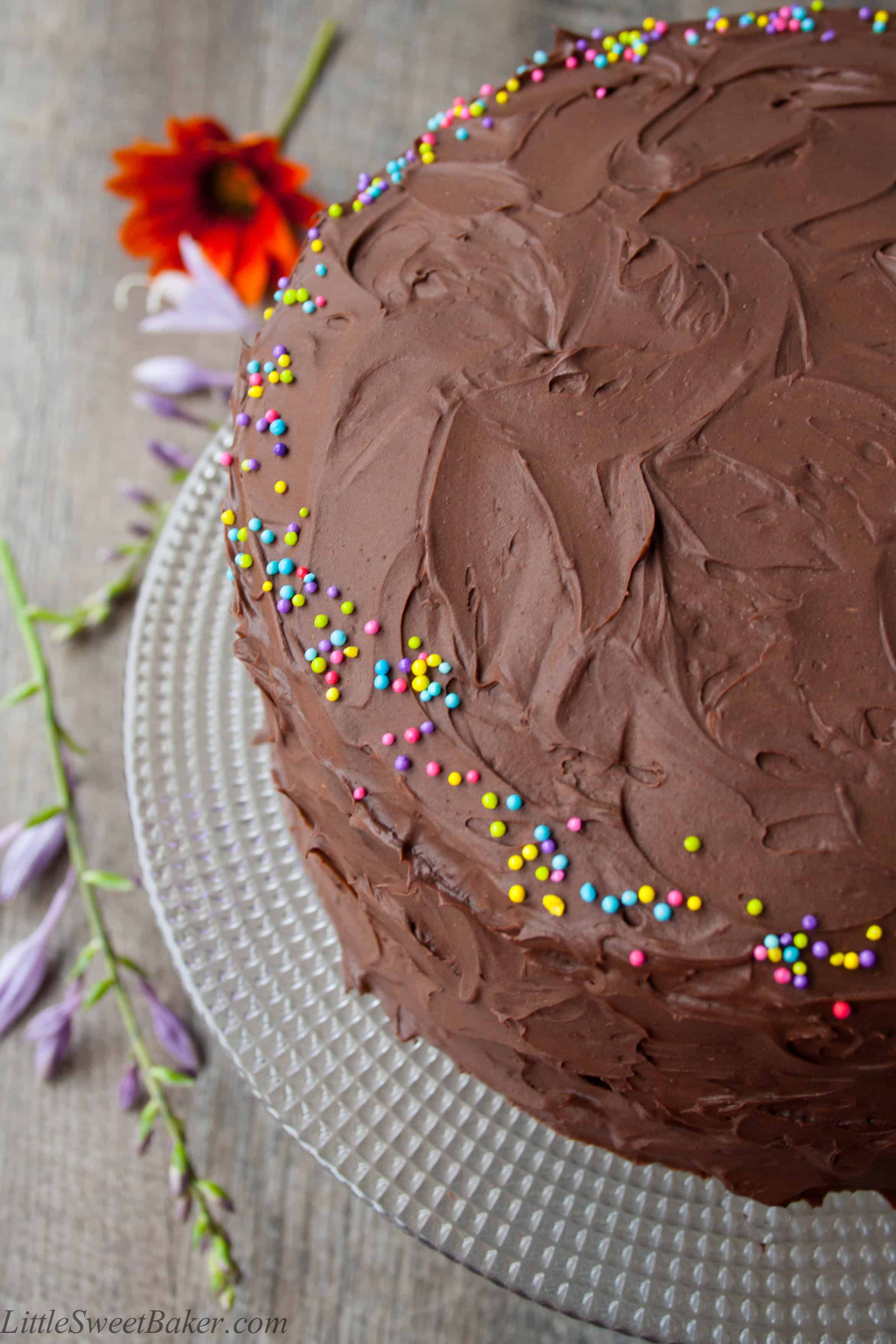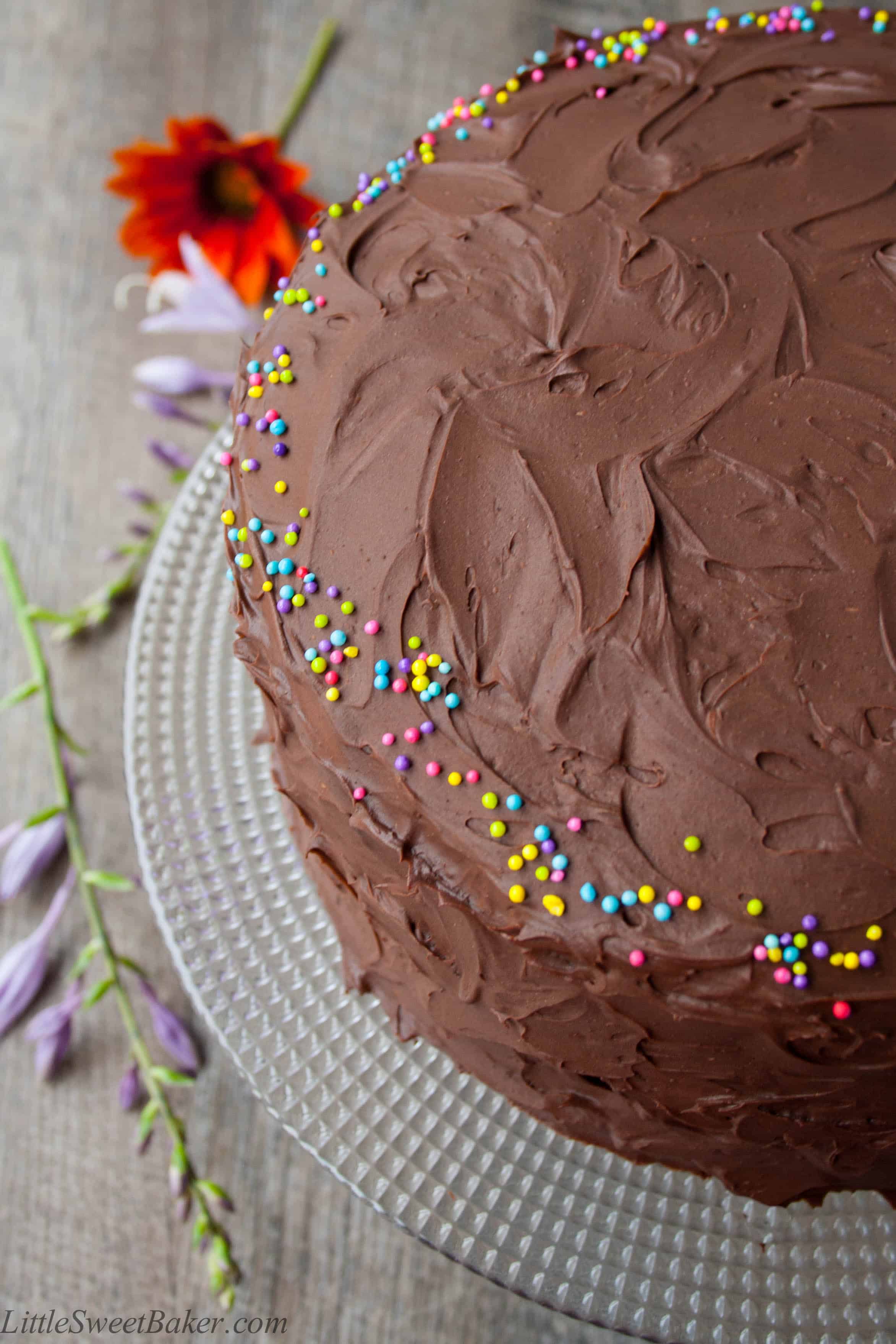 But all in all, life is good. My family is complete, I have 2 beautiful boys and a very patient and loving husband. There are moments when my baby won't stop crying, my toddler is whining over something ridiculous, and I just want to run away. But, when my baby smiles at me and my toddler tells me he loves me in the cutest little voice, it makes it all worth it. xoxo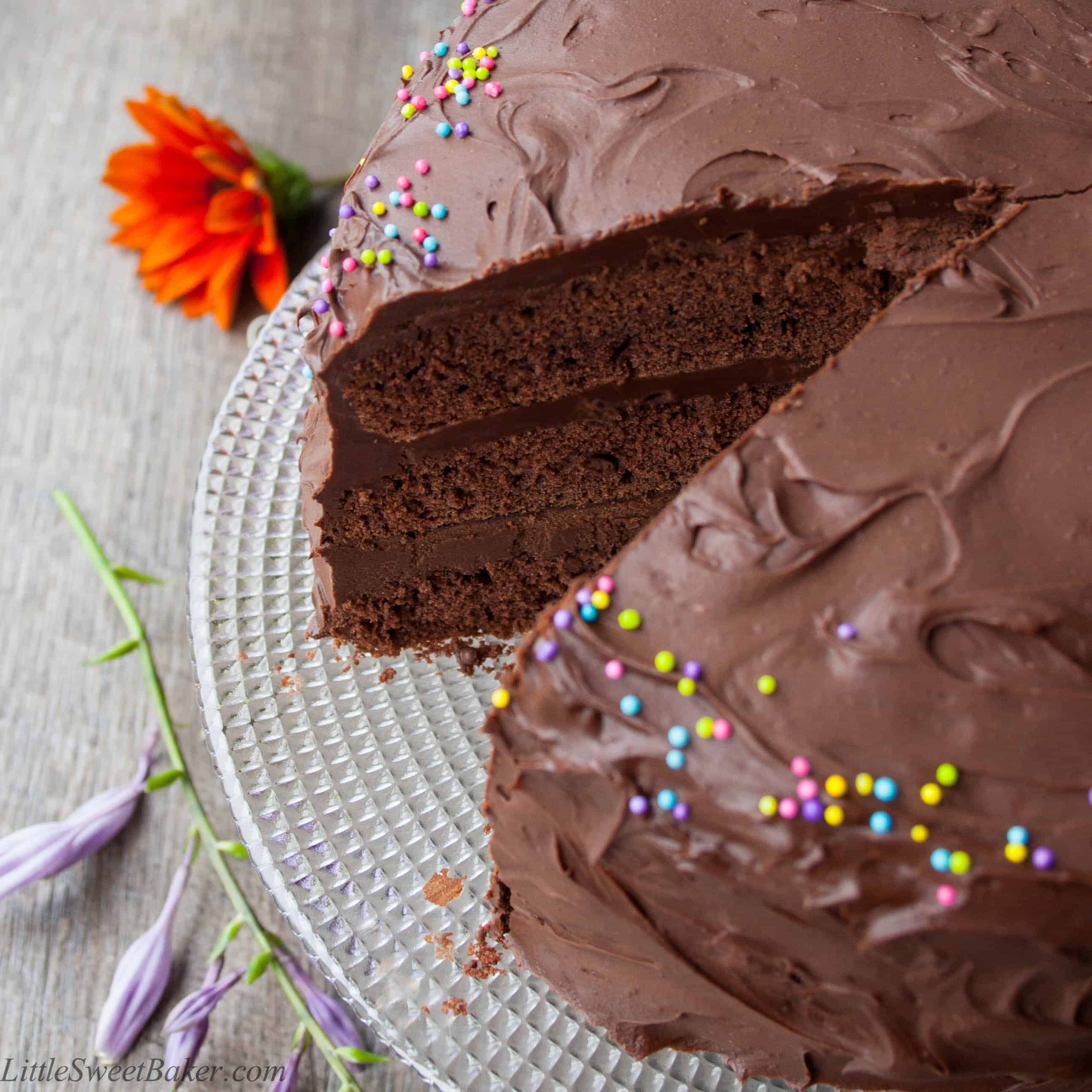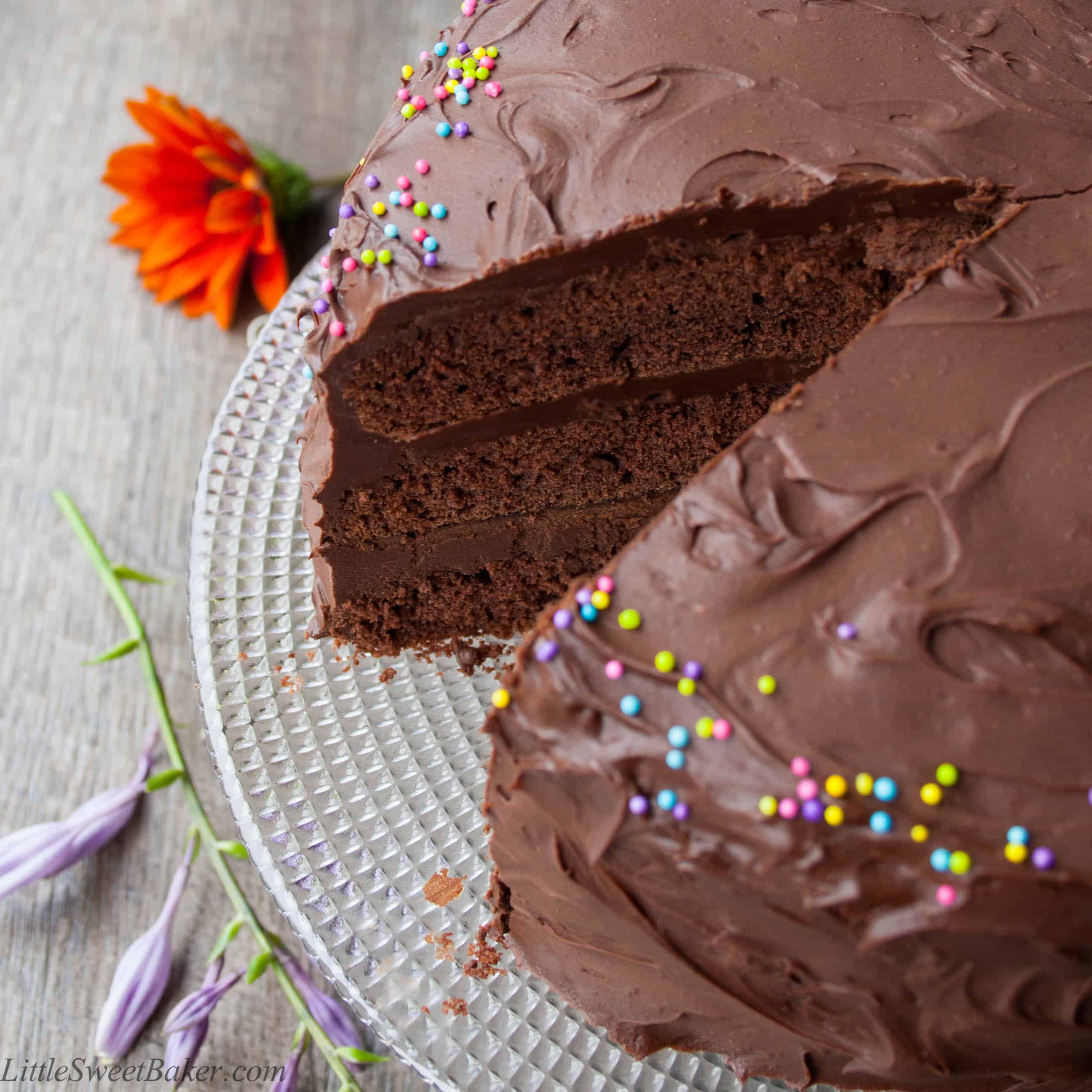 Both my boys love chocolate, they get that from my husband and I. So, that's why I decided to make the chocolate truffle cake from the cover of Martha Stewart's Cakes cookbook. I have to warn you, this cake is for chocoholics only. It has layers upon layers of chocolate cake surrounded by a deep, rich chocolate frosting. I used 1 & 1/2 pounds of chocolate and over a cup of dark cocoa for this cake, so it's not for the faint of heart, but it is for chocolate lovers.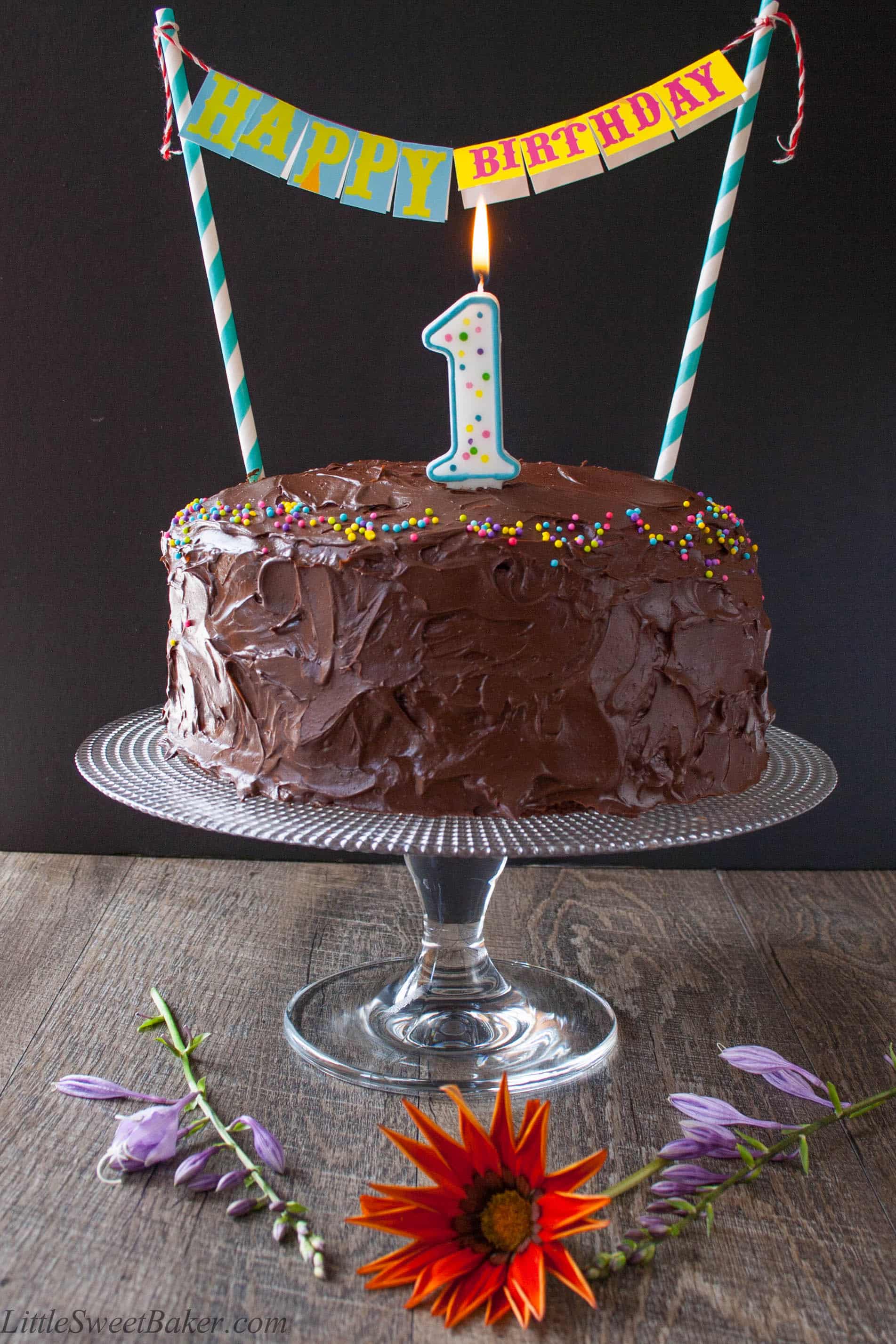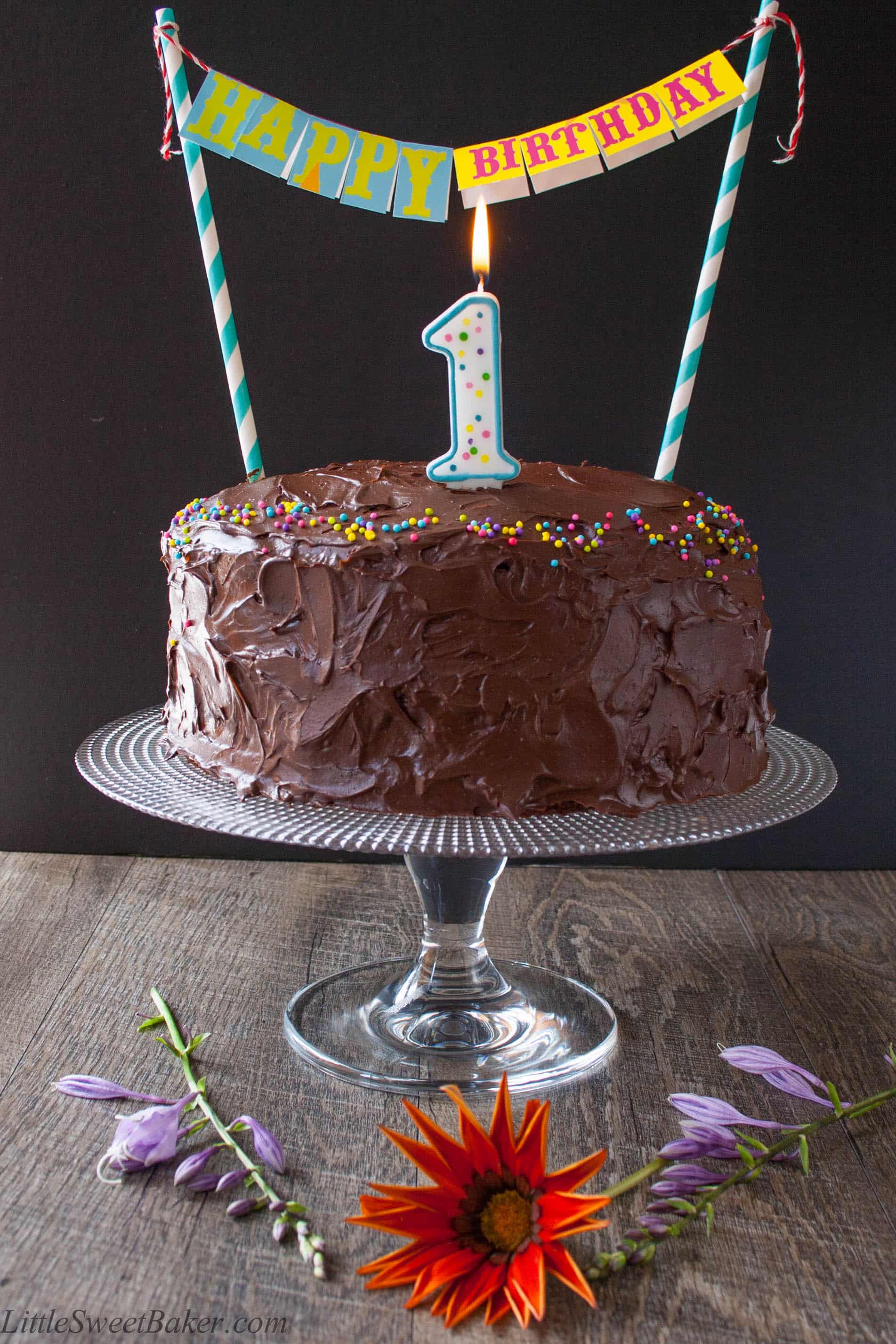 Recipe from Martha Stewart's Cakes cookbook
Print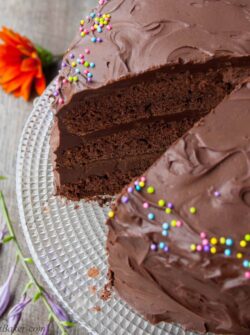 Chocolate Birthday Cake
Author: Lily Ernst
Prep Time: 20 mins
Cook Time: 20 mins
Total Time: 40 mins
Yield: 16
Category: dessert
Method: bake
Cuisine: American
---
Description
A decadent, 3-layer chocolate cake surrounded with the most luxurious, rich chocolate frosting.
---
Ingredients for cake:
1 cup unsalted butter, softened
1/2 cup plus 1 tbsp unsweetened cocoa
1/4 cup plus 2 tbsp boiling water
3/4 cup warm milk
2 & 1/4 cups sifted cake flour
3/4 tsp baking soda
1/2 tsp salt
1 & 3/4 cup sugar
2 tsp vanilla
3 large eggs, lightly beaten
Ingredients for buttercream:
1/2 cup plus 1 tbsp unsweetened cocoa
1/2 cup plus 1 tbsp warm water
1 & 1/2 cups unsalted butter, softened
3/4 cup powdered sugar
1 tsp salt
1 & 1/2 pounds (about 4 & 1/2 cups) semi-sweet chocolate chips, melted and cooled
---
Instructions
Preheat oven to 350°F. Butter and line three 9″ round cake pans.
Sift cocoa into a medium bowl. Stir in the boiling water and half of the milk, gently whisk until smooth and add remaining milk. Set aside to cool.
In another bowl, whisk together cake flour, baking soda and salt, set aside.
Using an electric mixer, beat butter for 3-5 minutes until light and fluffy, gradually beat in sugar and vanilla. Then mix in eggs, one third at a time.
With the mixer on low, add the flour and cocoa mixture a little at a time in alternating batches, starting and ending with the flour. Beat until just combined.
Divide batter among the 3 prepared pans, smooth tops with an offset spatula and bake for about 20 minutes or until a toothpick inserted into the centre comes out clean. Be careful not to over bake. Sit pans on wire racks to cool for 15 minutes, then turn out cakes onto the wire racks to cool completely. Trim tops of cake layers to level before frosting.
For the frosting:
In a small bowl, whisk together the cocoa powder and warm water until all of the cocoa is dissolved.Using an electric mixer, beat butter, sugar and salt until pale and fluffy.
Slowly beat in melted chocolate and then cocoa solution until smooth and what you'll get is a lovely dark, glossy and rich chocolate frosting. It will be hard not to put your face in the bowl.
Spread about 1/3 of frosting between each layer and spread the remainder of the frosting on top and sides of cake.
---
Notes
I had made my cake the day before and refrigerated it overnight, so the frosting had hardened and lightened up as you can see in the initial pictures. I took the cake out just before my guests started to arrive and by the time the it was ready to be served after dinner, the frosting softened back to its original dark and glossy form.
Keywords: chocolate cake recipe, chocolate layer cake, chocolate frosting recipe