Old-Fashioned Chess Pie
This classic Southern chess pie is irresistibly buttery and sweet. It's made with a rich and thick custard filling that's baked in a flaky pie crust until golden brown on top. This easy-breezy recipe only takes 10 minutes to prepare and is sure to please!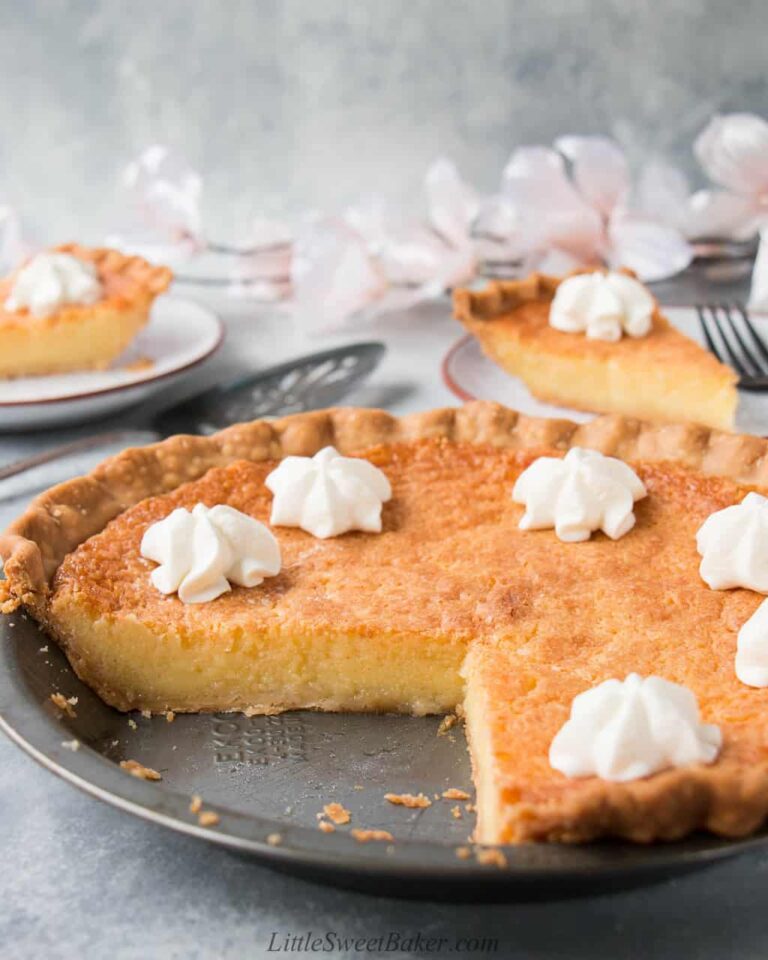 What is chess pie?
Chess pie is a custard pie made mostly with butter, sugar, eggs, vinegar, and cornmeal. It originated from England back in the 1700s and became very popular in the Southern United States in the 1800s. As to why it's called chess pie, well there are many theories. One of them is that the pies were originally kept unrefrigerated in a chest. Another is that perhaps chestnut meal was used in the olden days instead of cornmeal. My favorite theory is the old story of wives telling their husband and kids in a Southern twang "it's chess (just) pie" wherever they were serving this delicious treat. (source: What's Cooking America and The Washington Post)
Chess pie vs buttermilk pie:
Chess pie contains cornmeal and vinegar while buttermilk pie contains mostly buttermilk and has no vinegar or cornmeal in it. Chess pie is also much sweeter and has a thicker, more gooey texture to it. It has a deeper yellow color and a thin golden crust on top from the cornmeal. Buttermilk pie is less sweet, with its signature tang from the buttermilk, and has a softer custard consistency.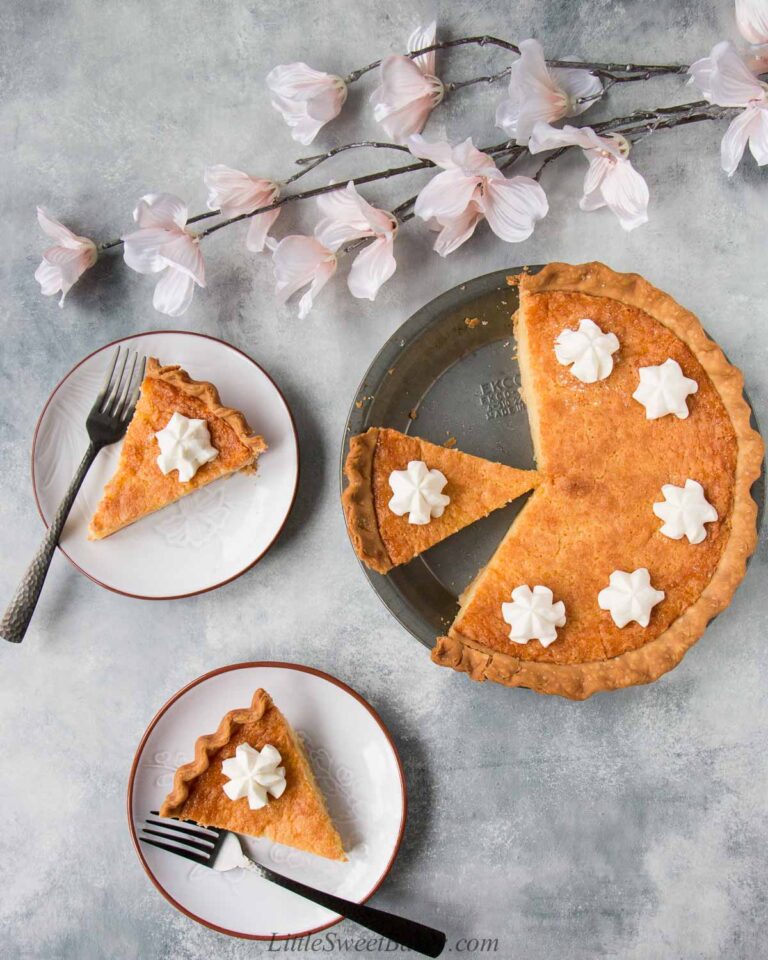 Why this recipe is so great:
One bowl and less than 10 ingredients – The filling is made in one bowl and with simple everyday ingredients. And if you are using a store-bought pie crust, then the recipe is less than 10 ingredients.
No need to pre-bake the crust – Instead of having to blind-bake the crust to ensure it's crispy all around, all you have to do with this recipe is to bake the pie in the lower third of your oven. This way, the bottom of the pie is done at the same time as the top.
Great make-ahead dessert – This pie keeps really well, so you can make it up to 2 days in advance, cover, and store in a cool, dry place.
How to make chess pie:
(the ingredient amounts are listed in the printable recipe card further below)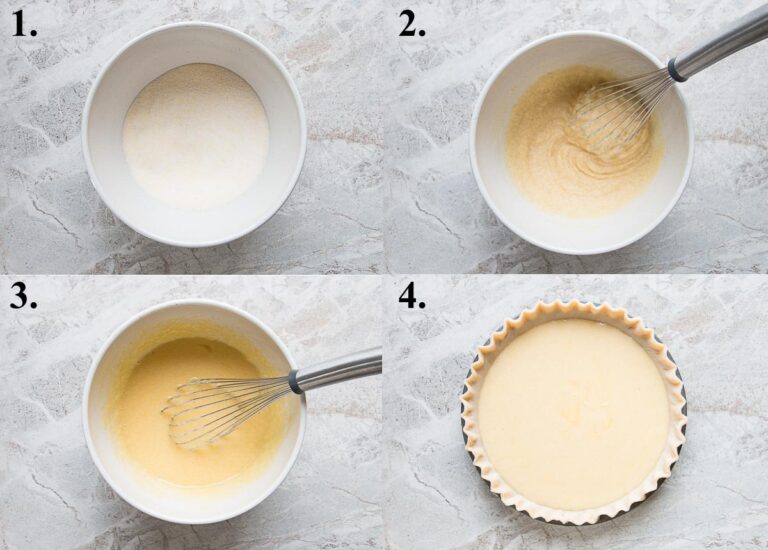 In a large bowl, whisk together the sugar and cornmeal.
Then whisk in the melted butter, milk, white vinegar, and vanilla extract.
Lastly, whisk in the eggs.
Pour the filling into a 9″ pie pan lined with an unbaked pie shell. Bake at 350F for 45 – 50 minutes. Let cool on a wire rack.
How to serve chess pie:
It's best served at room temperature, but you can enjoy it straight from the fridge. It's excellent on its own or with a dusting of powder sugar or dollop of whipped cream.
Variations:
Lemon Chess Pie – Use lemon juice instead of vinegar and add 1 tablespoon of lemon zest.
Chocolate Chess Pie – Replace the cornmeal with 2 tablespoons of flour and 4 tablespoons of unsweetened cocoa powder.
Coconut Chess Pie – Stir in 1 cup of unsweetened shredded coconut after the eggs.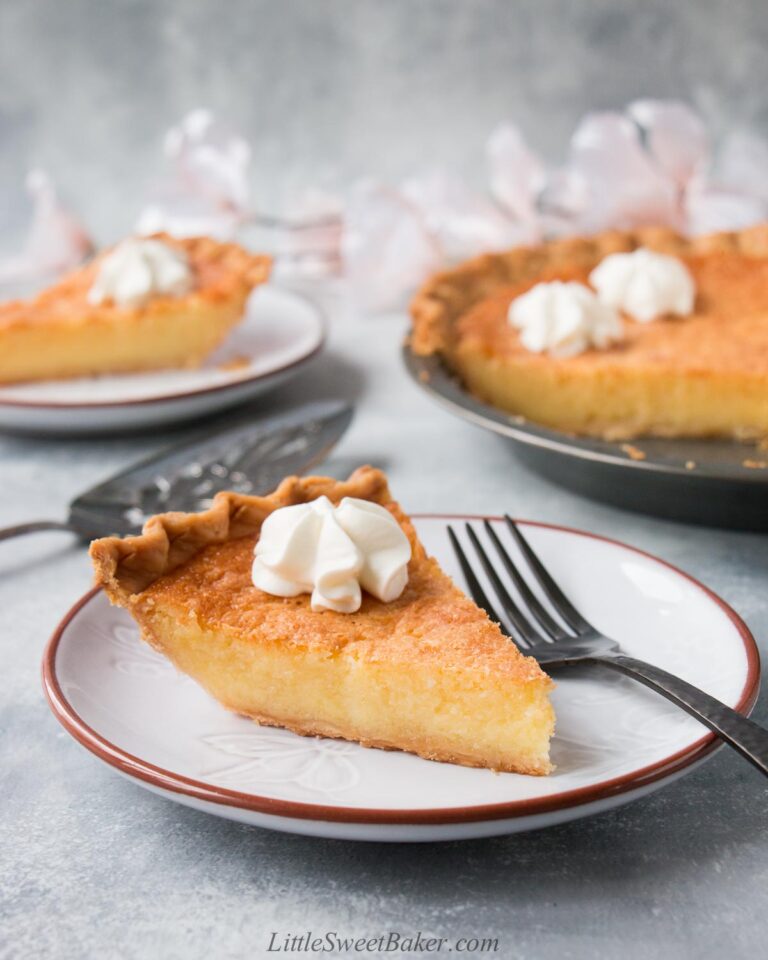 You might also like:
Did you make this recipe? Please kindly leave a comment with your star rating below.
Print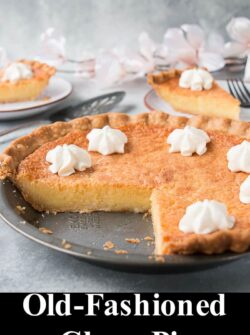 Chess Pie
Author: Lily Ernst
Prep Time: 10 min
Cook Time: 45 min
Total Time: 55 minutes
Yield: 8-10
Category: dessert
Method: bake
Cuisine: American
---
Description
This classic Southern chess pie is irresistibly buttery and sweet. It's made with a rich and thick custard filling that's baked in a flaky pie crust until golden brown on top.
---
1 single pie crust (store-bought or homemade)
1 & 1/2 cups (300g) granulated sugar
3 tbsp cornmeal
1/2 cup (114g) salted butter, melted
1/4 cup (60ml) milk
zest of half a lemon (optional)
1 tbsp white vinegar
1 tsp vanilla extract
4 large eggs
---
Instructions
Preheat oven to 350F and place a rack on the lower third of oven. Fit pie crust into a 9″ pie pan. Set aside.
In a large bowl, toss together the sugar and cornmeal. Whisk in the butter, milk, lemon zest (optional), vinegar, and vanilla until smooth.
Then whisk in the eggs until combined. Pour the filling into the prepared pie pan.
Bake on the lower third rack for 45-50 minutes until the filling is set and golden on top. Shield the edges with aluminum foil if it starts to brown too quickly. I covered mine after 30 minutes.
Let cool completely on a wire rack. Serve with a dusting of powdered sugar or some whipped cream if desired.
---
Notes
Leftovers can be covered and stored at room temperature for up to 3 days or in the fridge for up to 5 days.
Substitutions
Cornmeal – All-purpose flour
Butter – Margarine
Milk – Buttermilk or sour cream
Vinegar – Lemon or lime juice
Keywords: chess pie recipe, easy chess pie
Adapted from Southern Living.