Turkey Tetrazzini
This turkey tetrazzini is creamy-cheesy good. It's filled with succulent chunks of turkey, silky mushrooms slices, onions, and spaghettini pasta baked in a creamy, flavorful white sauce.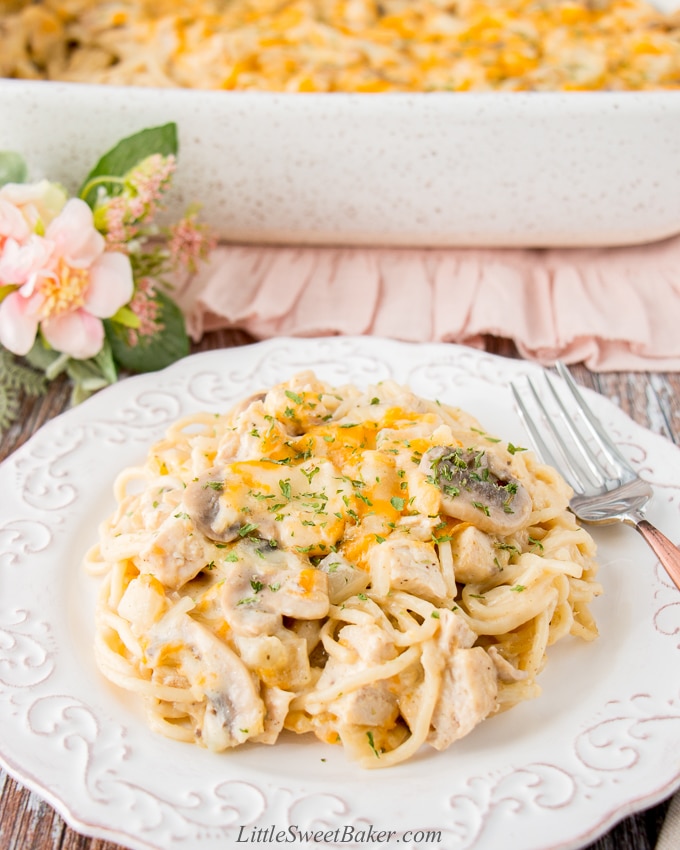 I hope all my American friends had a fabulous Thanksgiving. I saw so many scrumptious-looking pies and delicious food on Instagram yesterday as everyone was preparing their meals. I kind of wished I was on the other side of the border celebrating with all of you.
So now that you're all wondering what to do with your leftover turkey, here's a great recipe for you – turkey tetrazzini! It's easy to prepare and a great way to use leftover turkey (or even chicken). It's also a wonderful comforting meal to sit down and enjoy as a family again.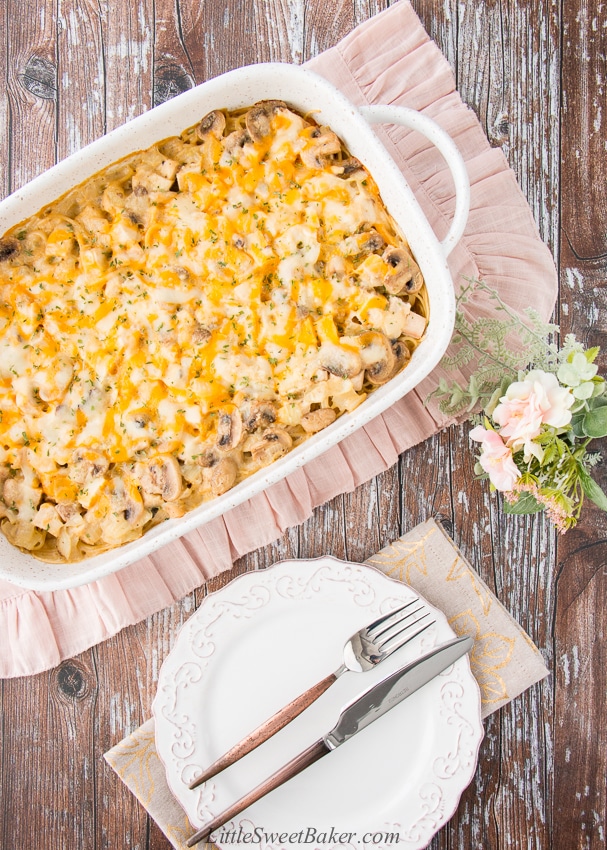 This recipe starts with cooked turkey layered over cooked pasta. Then you sauté some onions and mushrooms until tender. Add in a can of cream of mushroom soup, milk, mustard, poultry seasoning, and cheese. The poultry seasoning is a light touch, but adds so much flavor. The recipe calls for cheddar and mozzarella cheese. I used a blend of cheddar, Monterey Jack, and mozzarella cheese. It's totally up to you. You cook the sauce until the cheese has melted. Pour the sauce over the pasta and turkey. Sprinkle more cheese, bake for 30 minutes, and you have a meal.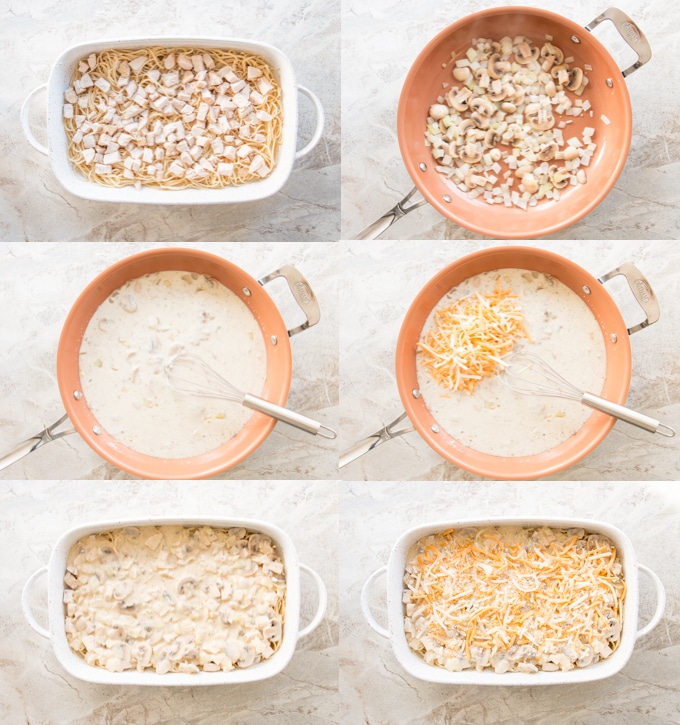 This casserole will be a regular rotation on your dinner table. It's that good and easy to make. It's also freezer-friendly.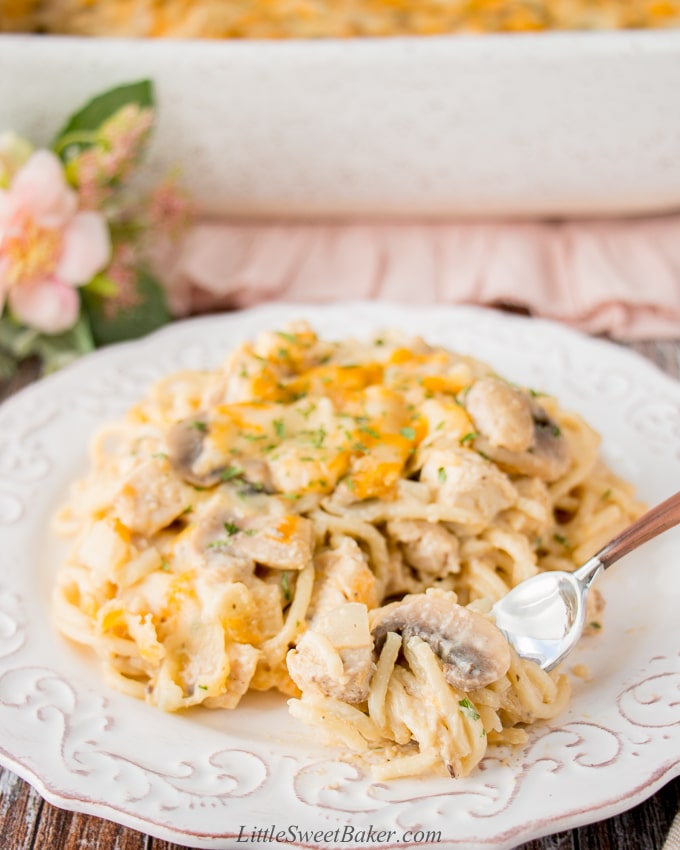 Chunks of turkey, mushrooms, onions and pasta smothered in a creamy cheese sauce baked until bubbling and tender makes this casserole so satisfying and easy to enjoy.
Print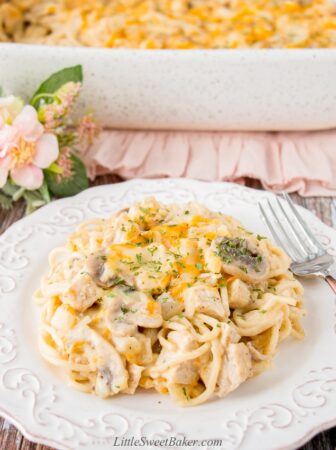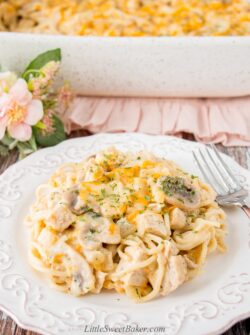 Turkey Tetrazzini
Author: Lily Ernst
Prep Time: 25 min
Cook Time: 25 min
Total Time: 50 minutes
Yield: 4-6 1x
Category: main course
Method: stovetop, bake
Cuisine: American
---
Description
This turkey tetrazzini is creamy-cheesy good. It's filled with succulent chunks of turkey, silky mushrooms slices, onions, and spaghettini pasta baked in a creamy flavorful white sauce.
---
7 oz spaghettini (thin spaghetti) broken in half
2 cups cubed cooked turkey
1 cup sliced mushrooms
1 small onion, chopped
3 tbsp salted butter
1 can (10-3/4 ounces) condensed cream of mushroom soup, undiluted
1 cup whole milk
1/2 tsp poultry seasoning
1/8 tsp ground mustard
1 cup shredded cheddar cheese
1 cup shredded mozzarella cheese
1 tbsp shredded Parmesan cheese
fresh or dried parsley to top
---
Instructions
Cook spaghettini according to package directions (I cooked my al dente). Drain and place in a greased 11×7″ or slightly larger baking dish. Top with turkey. Set aside and preheat oven to 350F.
In a large skillet, sauté the mushrooms and onion in butter until tender. Whisk in the soup, milk, poultry seasoning and mustard until blended. Add in the cheddar cheese.
Cook and stir over medium heat until melted. Pour over turkey and pasta. Sprinkle with mozzarella and Parmesan cheeses (dish will be full).
Bake uncovered at a 350F for 25-30 minutes or until heated through and bubbling. Sprinkle with parsley. Serve immediately.
---
Notes
To make ahead and freeze: prepare everything in a freezer and oven safe dish or container with lid (or double saran wrap). I find the large rectangular foil containers with the board lids are best for this. Bake at 350F for 1 hour or until heated through and bubbling.
Keywords: turkey tetrazzini, leftover turkey recipe
I'll be sharing this at Fiesta Friday #251 hosted by Angie, co-hosted by Mollie @ Frugal Hausfrau and Monika @ Everyday Healthy Recipes.