Mini Pumpkin Pies
These individual mini pumpkin pies are creamy and perfectly flavored with pumpkin and spices. They are super easy to make and even easier to serve.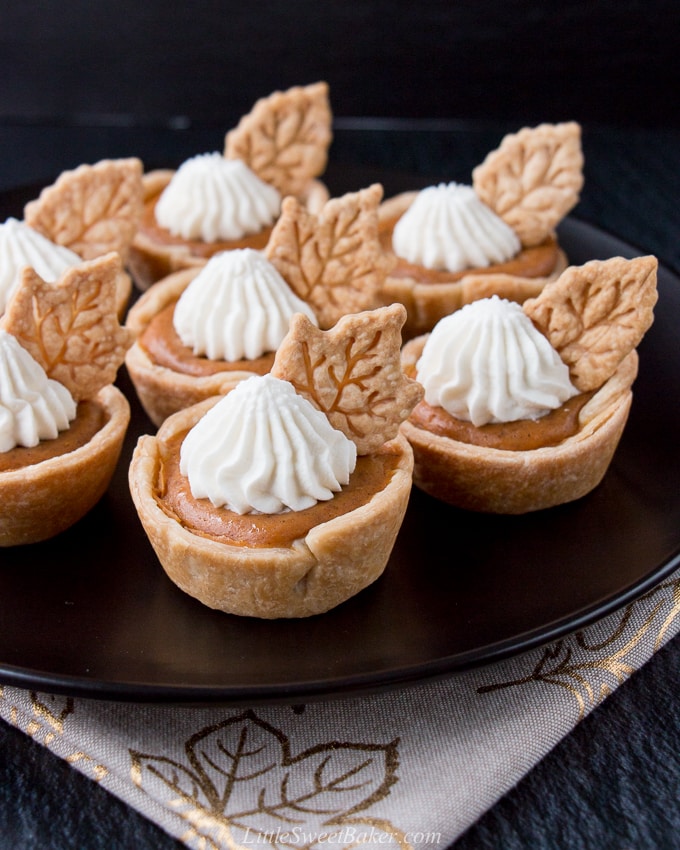 Who is in love with all the fall colors right now? I live below the escarpment, so my drive around town is surrounded by beautiful colors. These leaves came from my neighbor's maple tree. During the fall her tree looks like fire with its stunning shades of red, orange and yellow. I'm still in fall harvest mode even though retail stores are in full fledged Christmas spirit already. So one more pumpkin recipe before I start my cookie-palooza.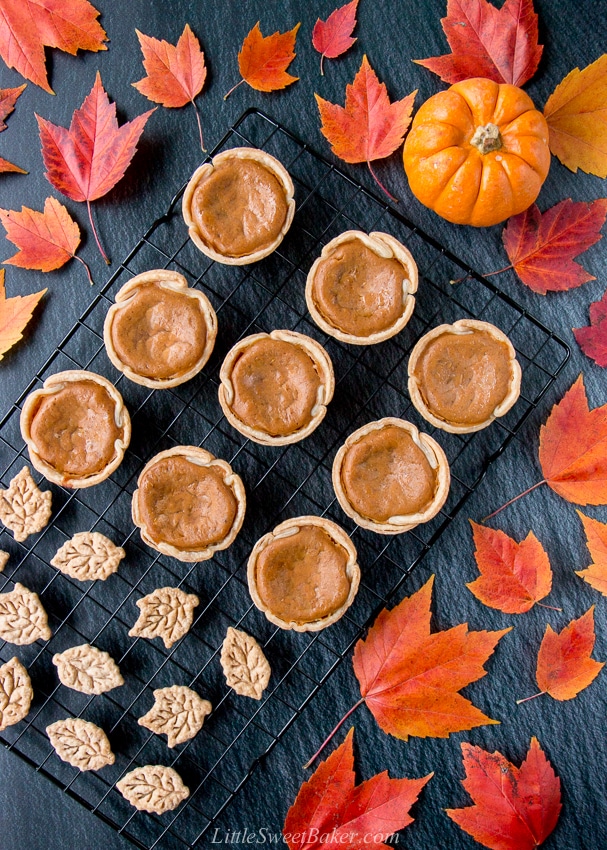 This shortcut recipe starts with a can of pumpkin puree, a can of sweetened condensed milk, two eggs and some pumpkin spice. The sweetened condensed milk gives the pies it's creaminess and sweetness. Then you roll out a package of store-bought pie crust. You can use your favorite homemade pastry crust recipe if you prefer, but why not save yourself some time in the kitchen. You can get 14 mini pies out of a box of store-bought pie crust plus use the scraps to cut out some seasonal shapes to decorate the pies with if desired. If you don't have two muffin pans, you can bake the extra two pies in little ramekins like I did, so nothing goes to waste.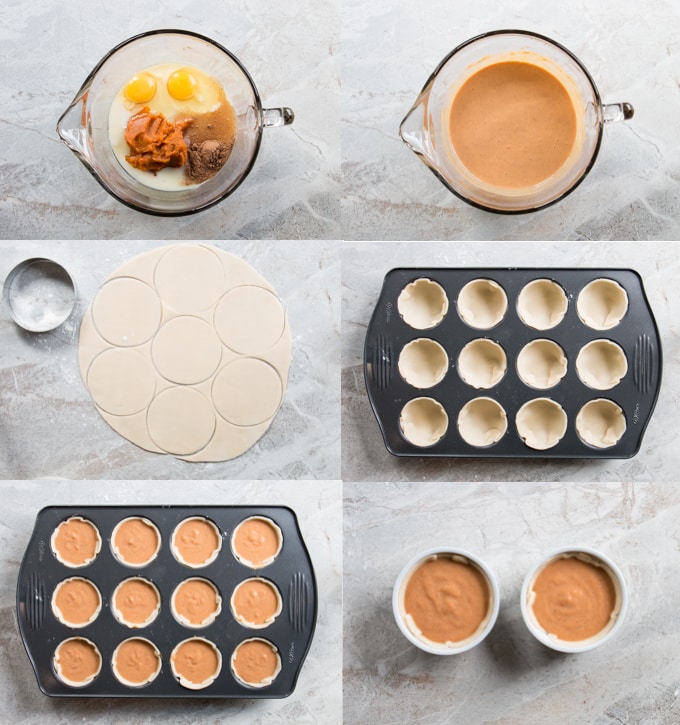 These adorable mini pumpkin pies come in a crispy and flaky pastry crust. There is just the right amount of filling-to-pie-crust ratio in every bite. The filling is smooth and heavily spiced to balance the light tasting flavor of pumpkin. The whipped cream on top not only looks pretty, it adds a whole other layer of rich, creamy-vanilla taste. So take the pressure off of holiday entertaining with these mini pumpkin pies. They are a great self-serve dessert and your guests can enjoy as much or as little as they'd like depending on their appetite.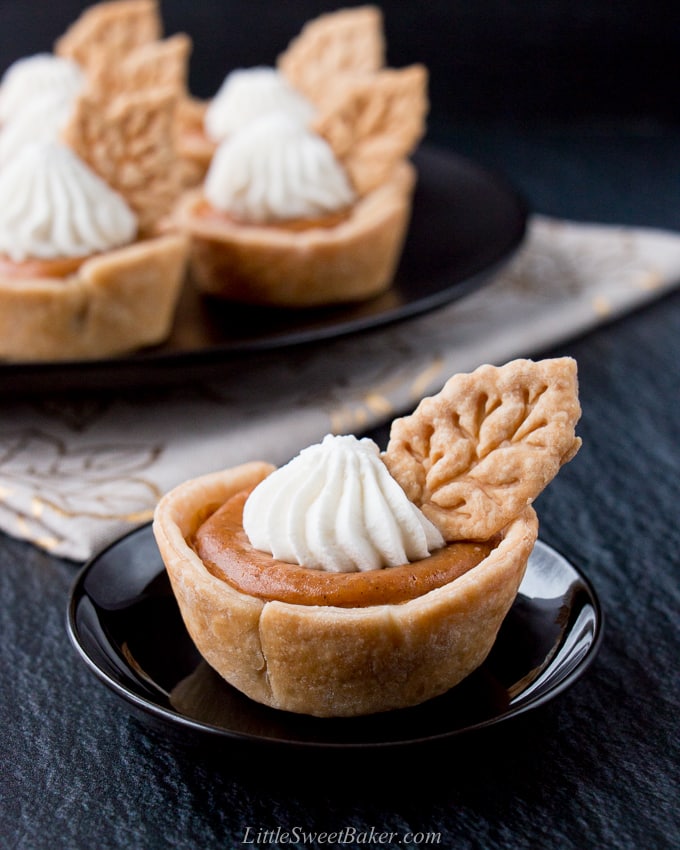 Print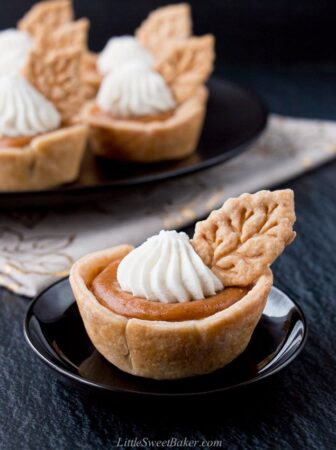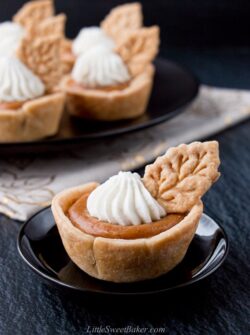 Mini Pumpkin Pies
Author: Lily Ernst
Prep Time: 30 min
Cook Time: 30 min
Total Time: 1 hour
Yield: 14 1x
Category: dessert
Method: bake
Cuisine: American
---
Description
These individual mini pumpkin pies are creamy and perfectly flavored with pumpkin and spices. They are super easy to make and even easier to serve.
---
1 box store-bought double pie crust
1–15oz can pumpkin puree
1–14oz can sweetened condensed milk
2 large eggs
2 tsp pumpkin spice (or 1 tsp cinnamon, 1/2 tsp nutmeg, 1/2 tsp ginger)
1/2 cup whipping cream
1 tbsp granulated sugar
1/2 tsp vanilla extract
---
Instructions
Preheat oven to 425F and set aside two muffin pans.
In a medium bowl, whisk together the pumpkin puree, sweetened condensed milk, eggs and pumpkin spice until smooth. Set aside.
On a lightly floured work surface, roll the pastry crust to 12″ in diameter. Cut out seven 4″ circles. Fit the pastry circles into the muffin cups. Repeat with the second pastry crust. Reserve the scraps to make pie crust cookies if desired.
Fill each pastry cup almost to the top with the pumpkin mixture.
Bake for 15 minutes at 425F. Reduce the oven temperature to 350F and continue to bake for another 15 minutes or until a thin knife inserted into the center comes out clean. The filling will puff up during baking and settle back down once cooled.
While the mini pies are baking, re-roll the scraps and cut out some holiday shapes for decoration.
Once the mini pies are done. Let cool completely in pan. See notes on how to best remove from pan.
Bake the cookies at 400F for about 10 minutes or until golden.
To make the whipped cream: Beat the whipping cream, sugar and vanilla until soft-medium peaks.
When ready to serve, top each pie with some whipped cream and a cut-out cookie.
---
Notes
The best way to remove the mini pies from the pan is to place a cooling rack (upside down) on top and flip the pan over. Then individually flip each pie right side up.
Keywords: mini pumpkin pies, pumpkin tartlets