Japanese Cheesecake
This Japanese cheesecake is light and fluffy with a tangy creamy taste. It's like sponge cake meets cheesecake in one incredible dessert!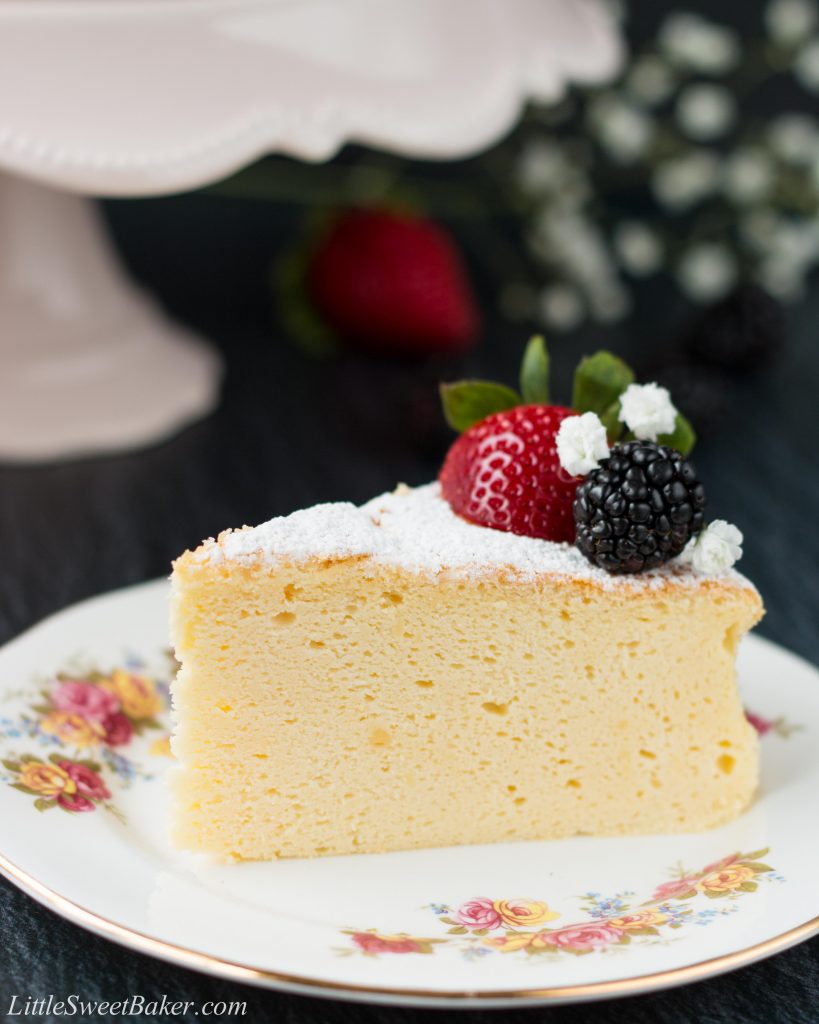 I was recovering from an action-packed weekend this week. You know you're old when it takes you a couple of days to feel like yourself again after a night of partying and dancing. It was also an extended weekend with the kids with our Family Day holiday here in Ontario. We spent most of the day watching We Bare Bears as a family. And I attended a food bloggers potluck hosted by the gracious Rita from Kitchen Fairy. I had a blast hanging out with fellow food bloggers over great food and great conversations. Then came Tuesday and it was time to catch up on everything that didn't get done on the weekend, so I knew it was not going to be a productive week with the late start.
The one thing I did accomplish this week was this cheesecake. I've been meaning to make a Japanese cheesecake like FOREVER. I feel a bit behind the trend, but better late than never. I remember when Uncle Tetsu's Japanese bakery first opened up in Toronto, people were lined up for two hours for cheesecake.
What makes a Japanese cheesecake worth lining up for? Well, it's light and airy, almost like a chiffon or sponge cake, yet it tastes rich and creamy like a cheesecake. It's very different from an American cheesecake which is more like a thick and heavy custard. American cheesecake is made with mainly cream cheese while a Japanese cheesecake is made with mostly eggs. The egg whites are beaten separately in a Japanese cheesecake then folded into the batter to give it volume and create that light and fluffy texture.
This recipe is quite simple, but it does take time. Each step takes a little patience, but it's well worth it.
This Japanese cheesecake is pillowy soft and just melts in your mouth like velvet. The taste is mellow, yet rich and buttery with a little bit of tang. It's not too sweet, with highlighted notes of vanilla and cream.
Print
Japanese Cheesecake
---
Description
This Japanese cheesecake is light and fluffy with a tangy creamy taste. It's like sponge cake meets cheesecake in one incredible dessert!
---
1

package (250g) cream cheese

1/4 cup

(

50g

) unsalted butter

1/3 cup

(83ml) milk

1/2 cup

(

63g

) all-purpose flour

2 tbsp

(

16g

) cornstarch

2 tsp

vanilla

5

large eggs, room temperature

1/2 cup

(

100g

) granulated sugar
powdered sugar for dusting
---
Instructions
Melt the cream cheese, unsalted butter, and milk in a double boiler until completely melted and smooth. Let cool to room temperature.
Meanwhile, preheat oven to 325F and position a rack on the lowest level. Spray an 8″ springform pan with non-stick cooking spray and wrap with two sheets of heavy duty foil. Place the pan in a 9×13″ baking dish. Set aside.
Separate the egg yolks from the egg whites. Once the cream cheese mixture is at room temperature, whisk in the egg yolks one at a time. Then whisk in the vanilla.
Sift in the flour and cornstarch. Mix until just combined.
Beat the egg whites using an electric mixer while slowly adding in the granulated sugar. Continue to beat the egg whites until it forms soft to stiff peaks. Gently fold 1/3 of the meringue into the cream cheese mixture at a time using a rubber spatula.
Pour the batter into the prepared springform pan. Carefully add hot water into the larger baking dish to about 1″ deep. Bake on the lowest rack for about 45-60 minutes or until a toothpick inserted into the center comes out with a few moist crumbs. Turn off oven and let cool in the oven with the door ajar for 1 hour. Then bring to room temperature and chill in the fridge for 4 hours or overnight. Dust with powdered sugar before serving.
Prep Time:

30 min

Cook Time:

60 min

Category:

dessert

Method:

bake

Cuisine:

Japanese
Keywords: Japanese cheesecake recipe, cotton cheesecake, fluffy cheesecake
Recipe adapted from Couple Eats Food.
SaveSave