Banana Cream Cheese Muffins
Deliciously moist and fluffy banana muffins with a cream cheese mousse baked on top.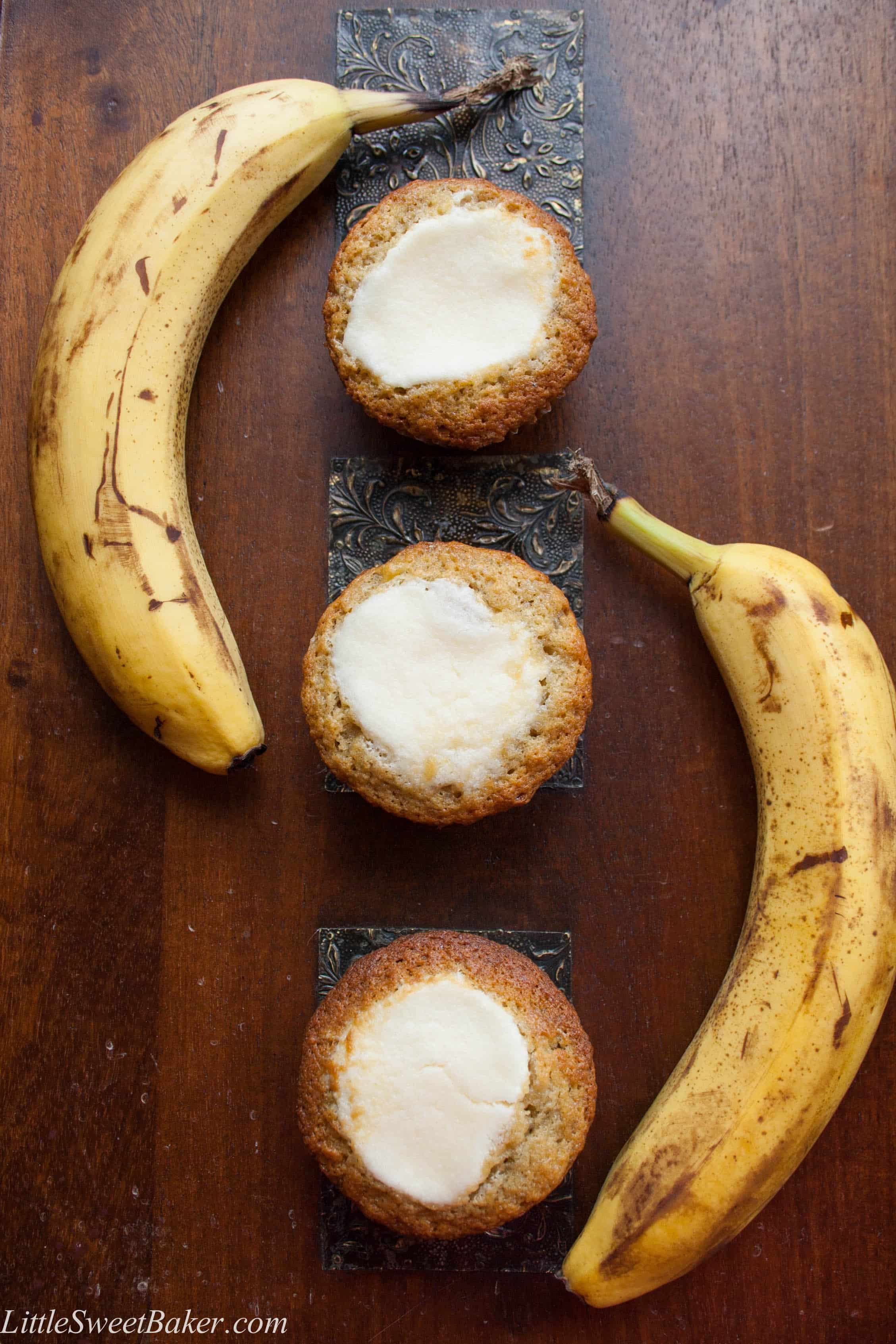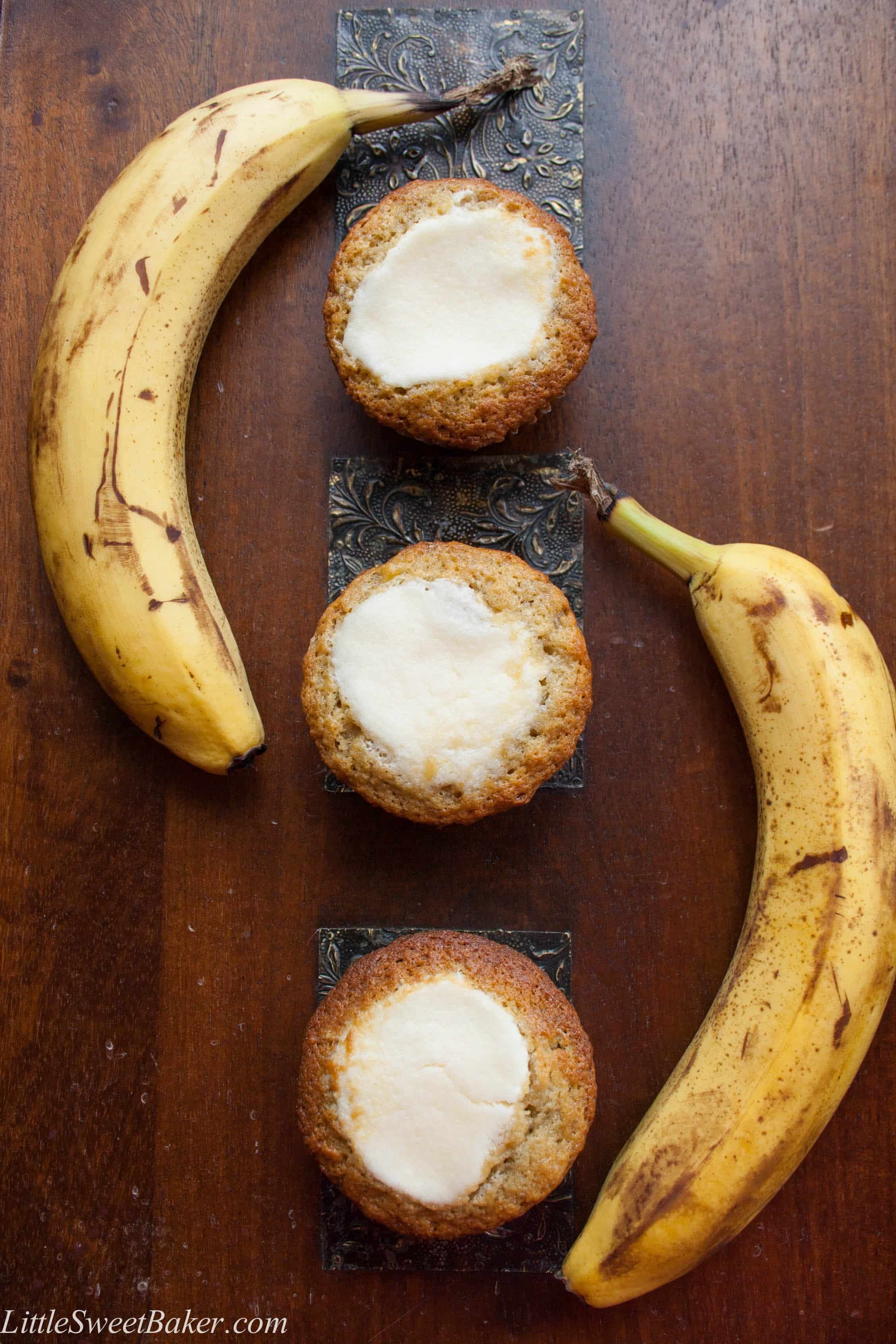 These banana muffins were made indulgently famous by Restaurant Gary Danko in San Francisco. The recipe was shared by the Food Network Magazine and when I came across the appetizing looking photo, I had to give it a try. From that moment on, it's been my ultimate favorite banana baked good recipe. So, that's why I'm sharing it with you. 🙂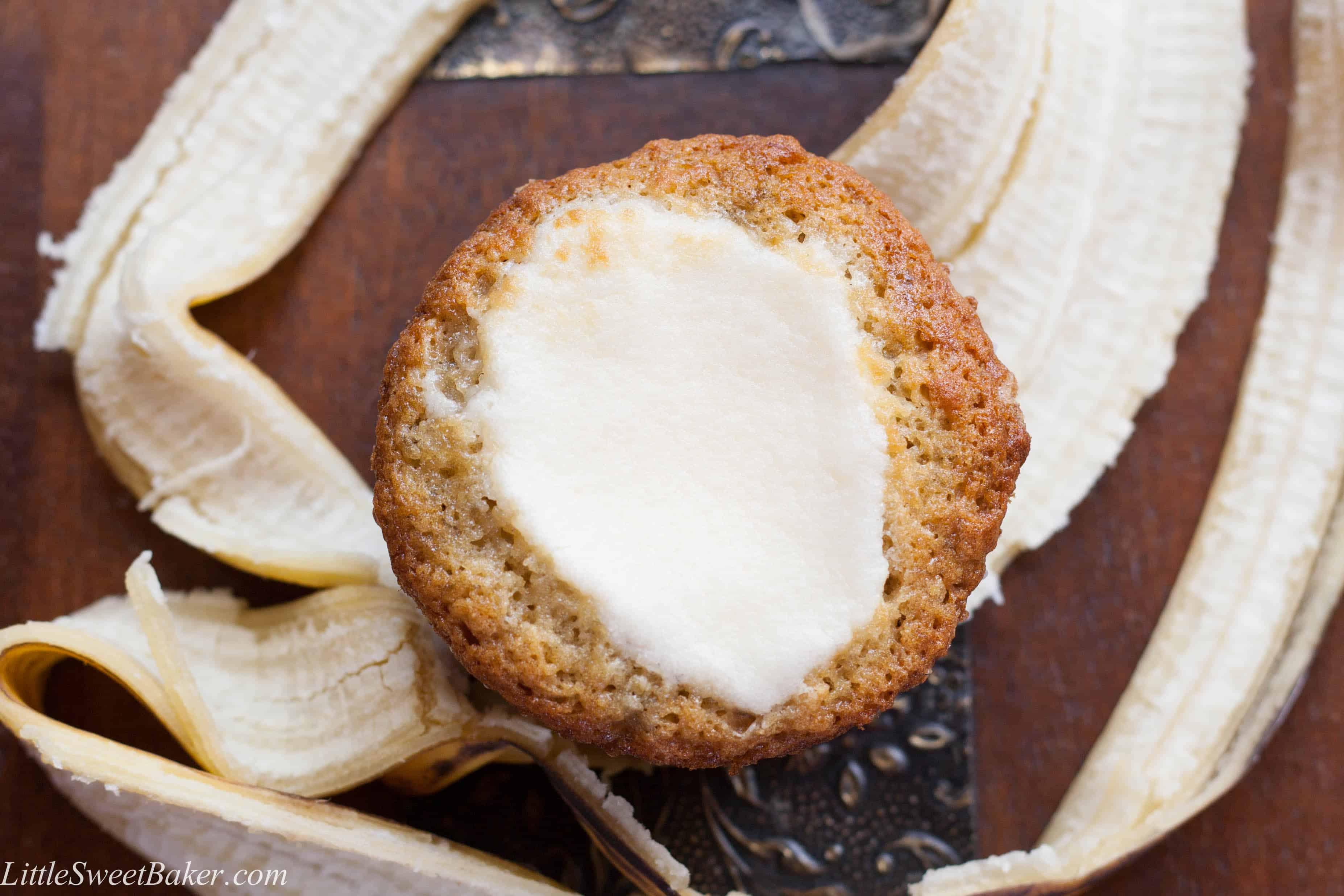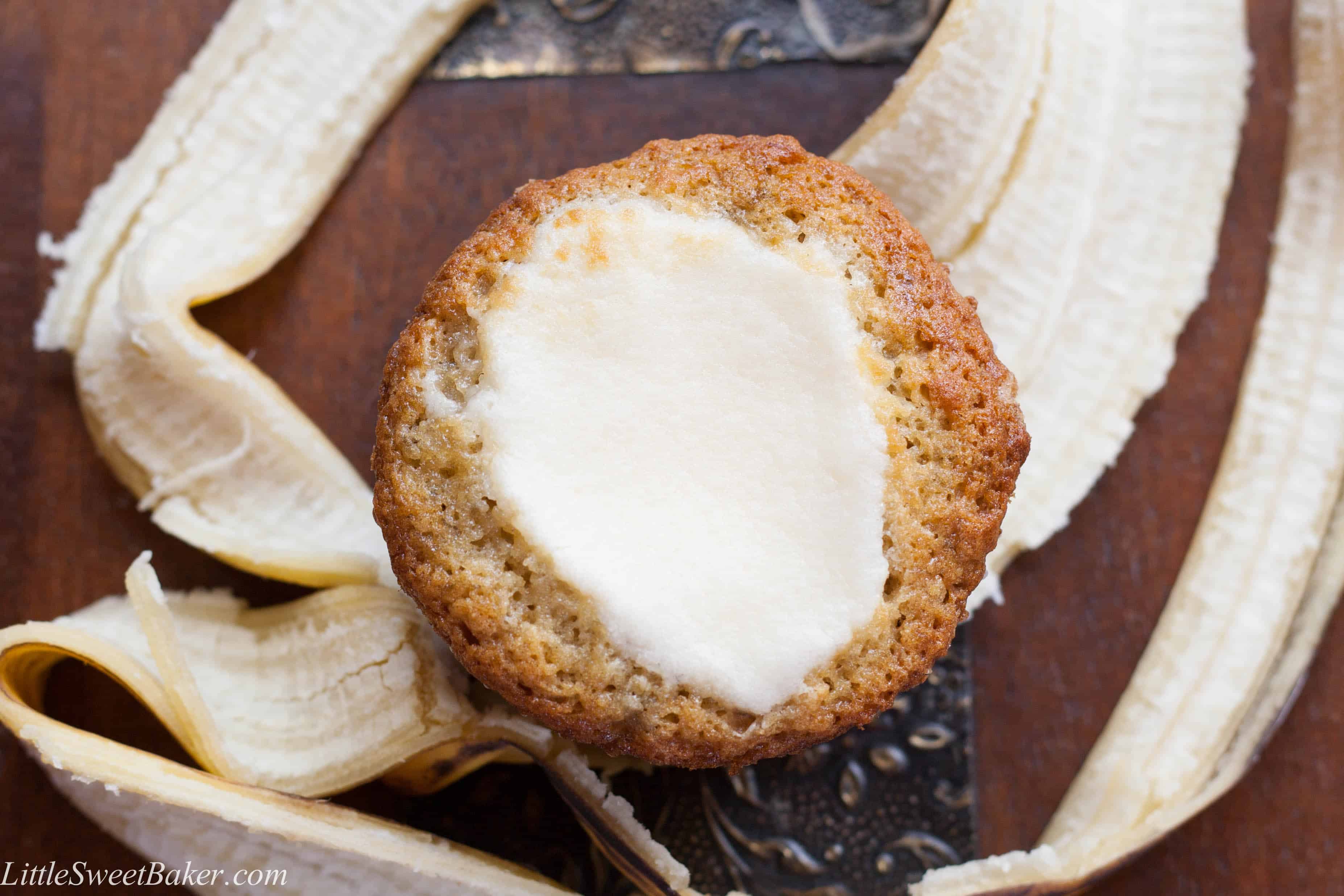 The original recipe is called Banana Cream Cheese Breakfast Cakes. But, to me, they're mini cakes disguised as muffins, so I decided to call them muffins instead. They look and act like a muffin because they're made for breakfast, but they're made with cake flour and have the light airy texture of a cake. So cake or muffin, I'm not sure, but what I can promise you is that they taste amazing!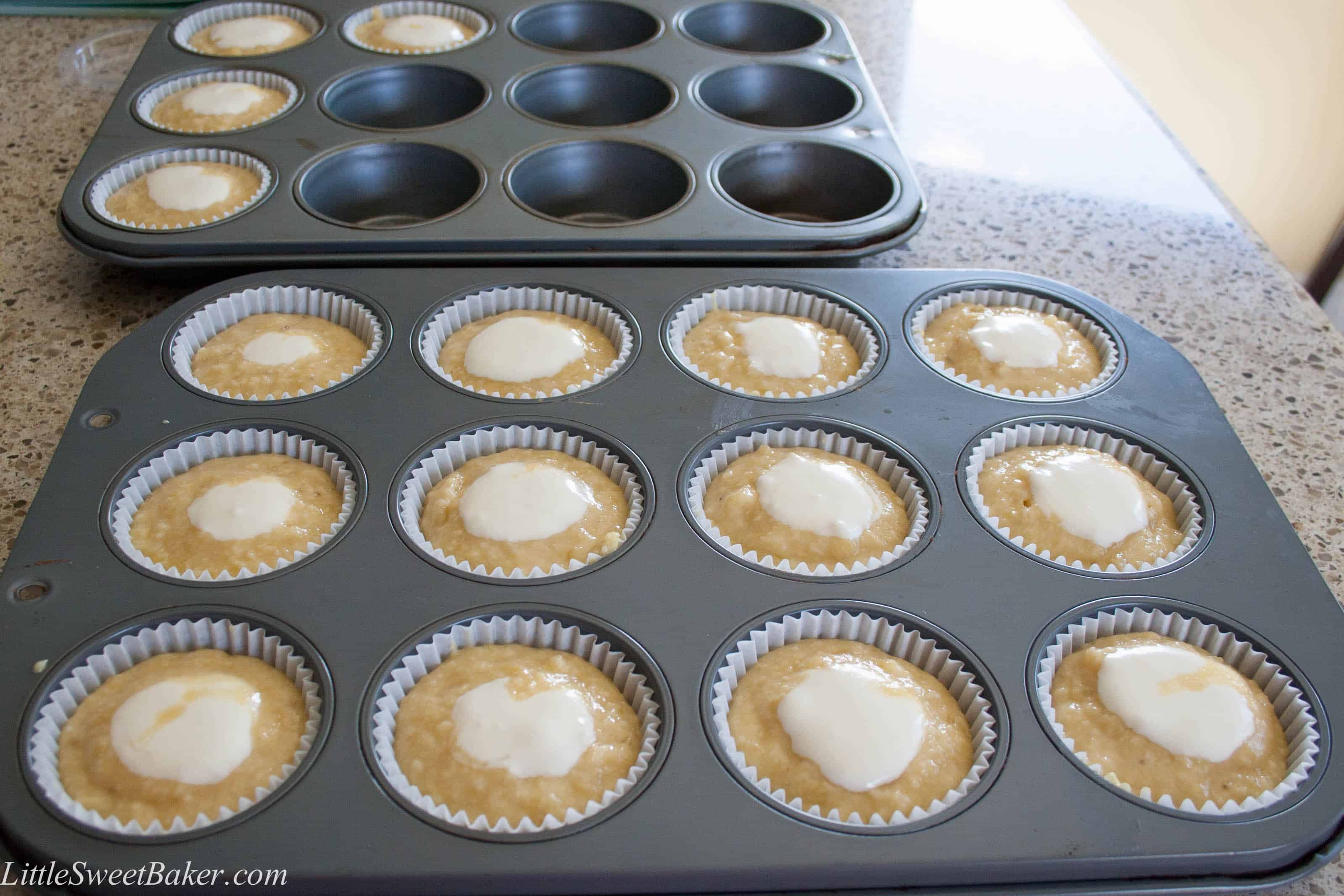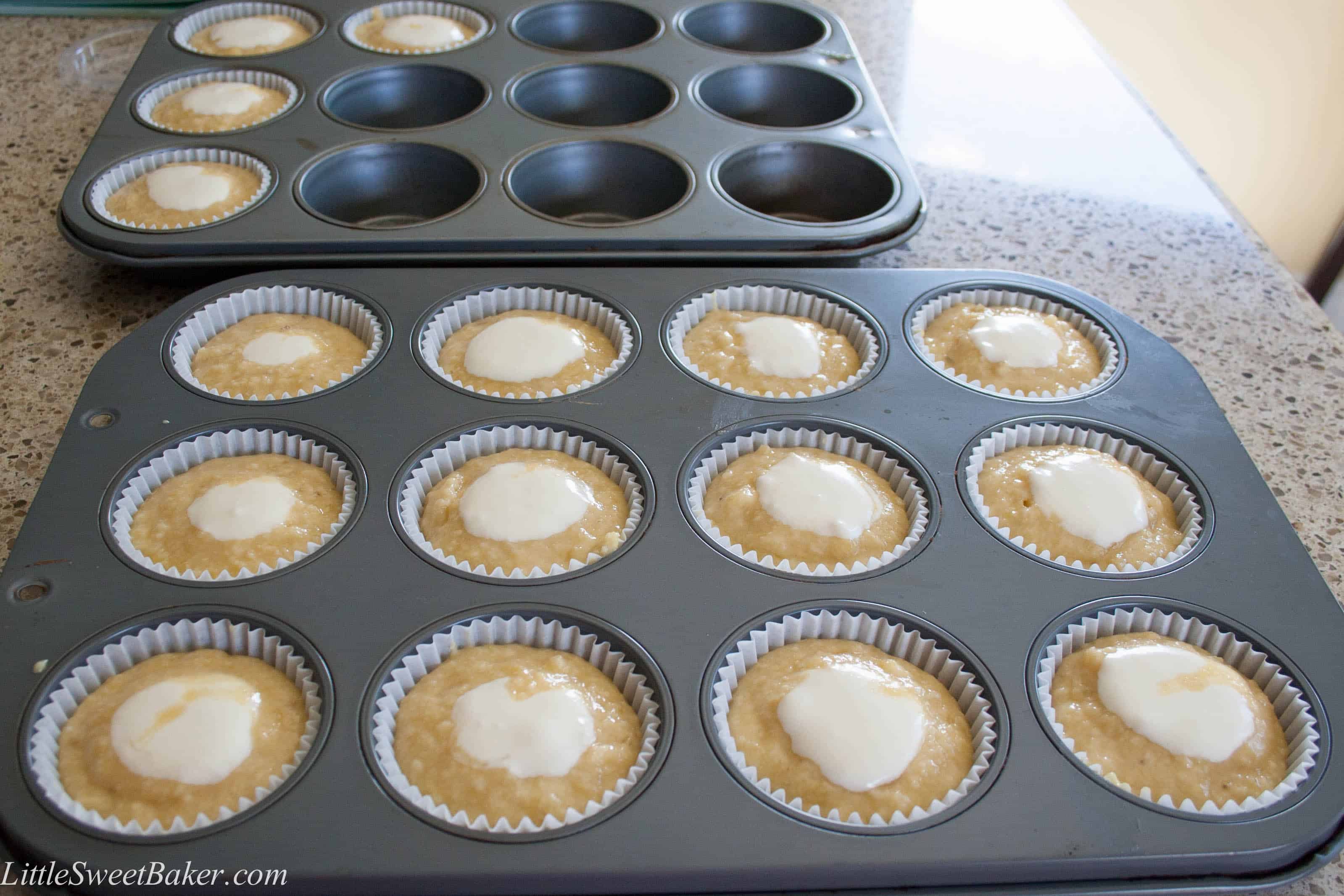 Now, this recipe requires a little patience. I thought I'd be honest and upfront so that you're not cursing me halfway through. There's an extra step involved for making the cream cheese mousse, and there will be a few extra bowls and utensils to clean, but it will be all worth it as you take your first bite into these scrumptious, heavenly muffins.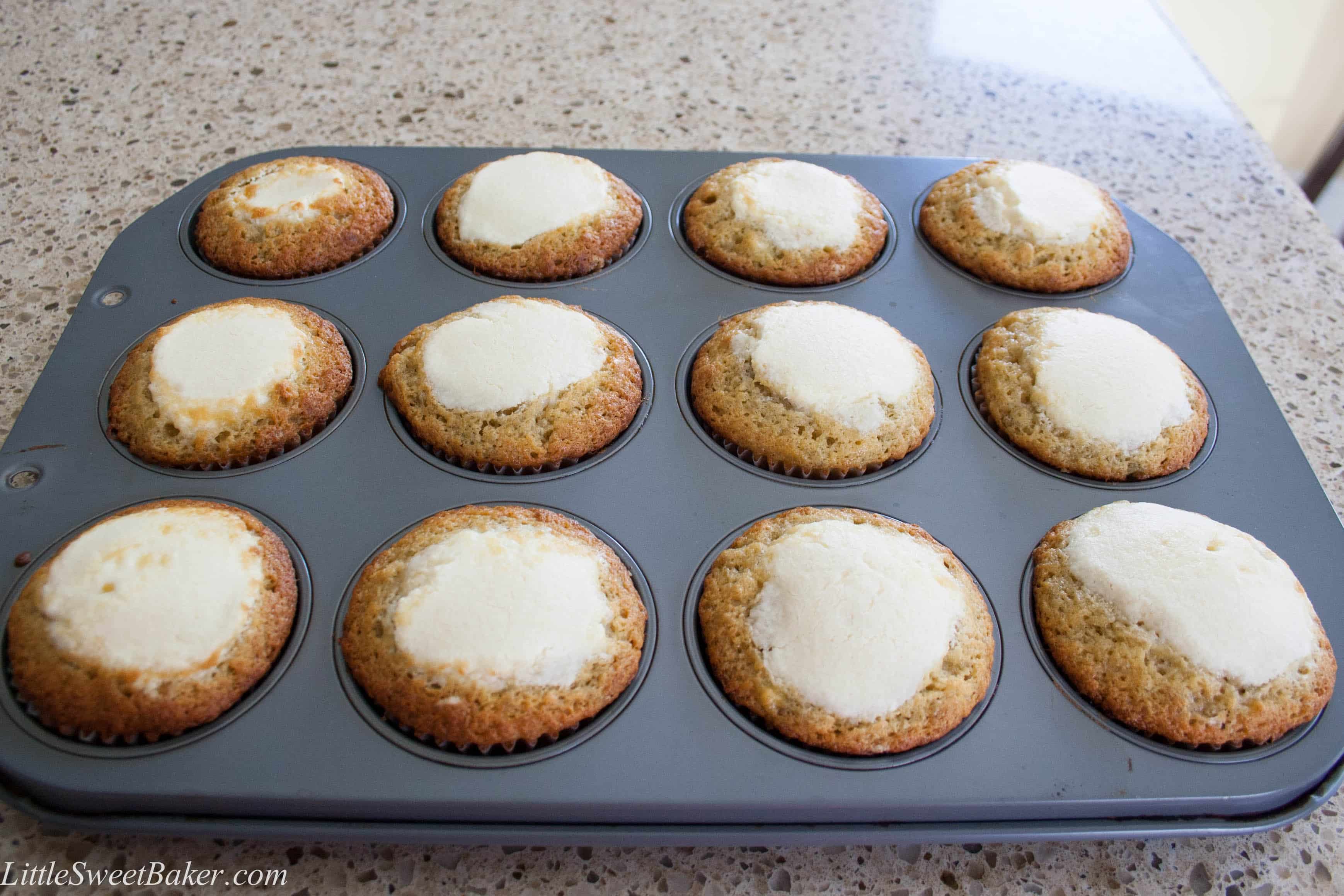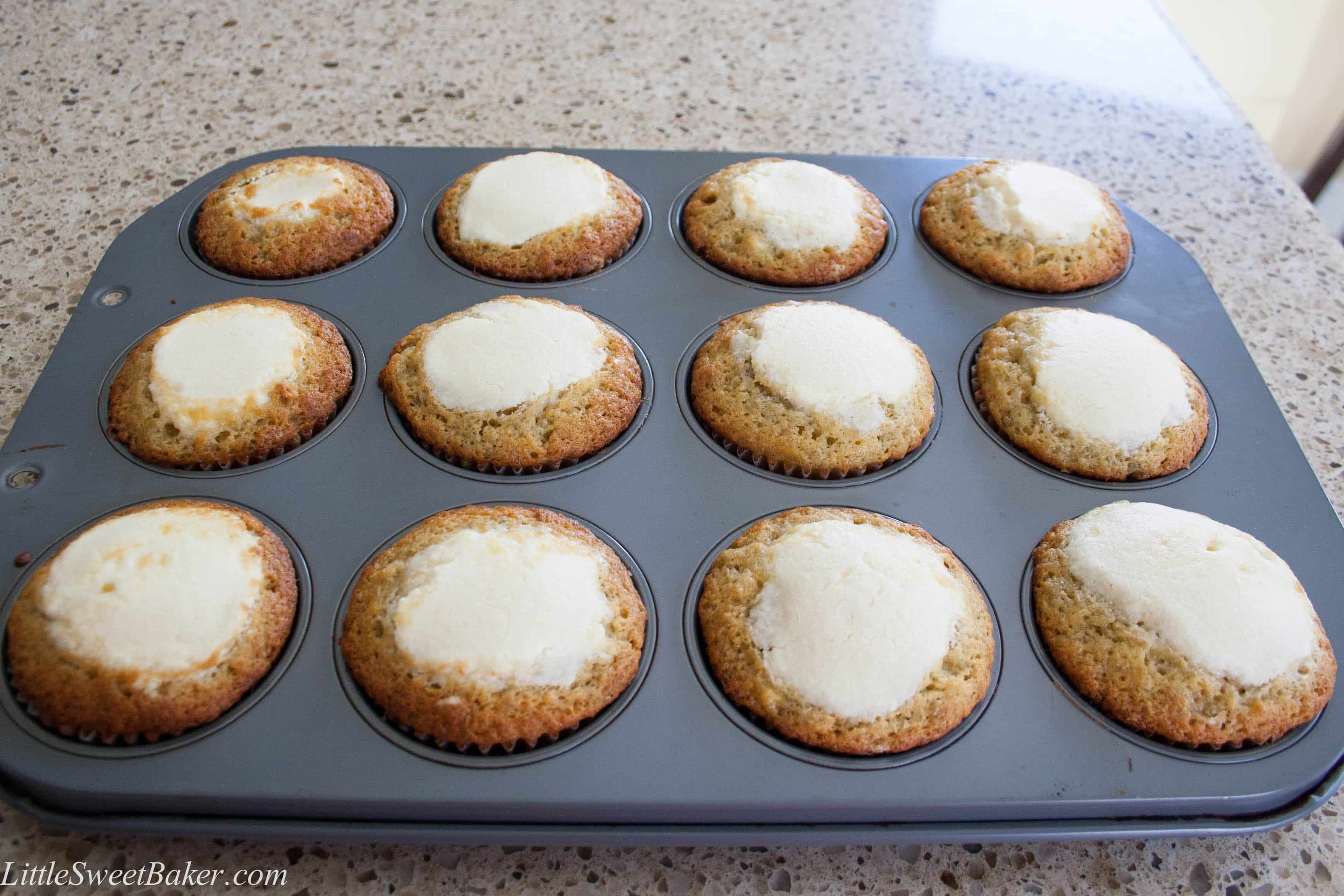 These muffins are light, airy, and deliciously moist. They are sweet, and full of banana flavor. The cream cheese mousse takes these muffins over the top, giving them a creamy, melt in your mouth taste and texture.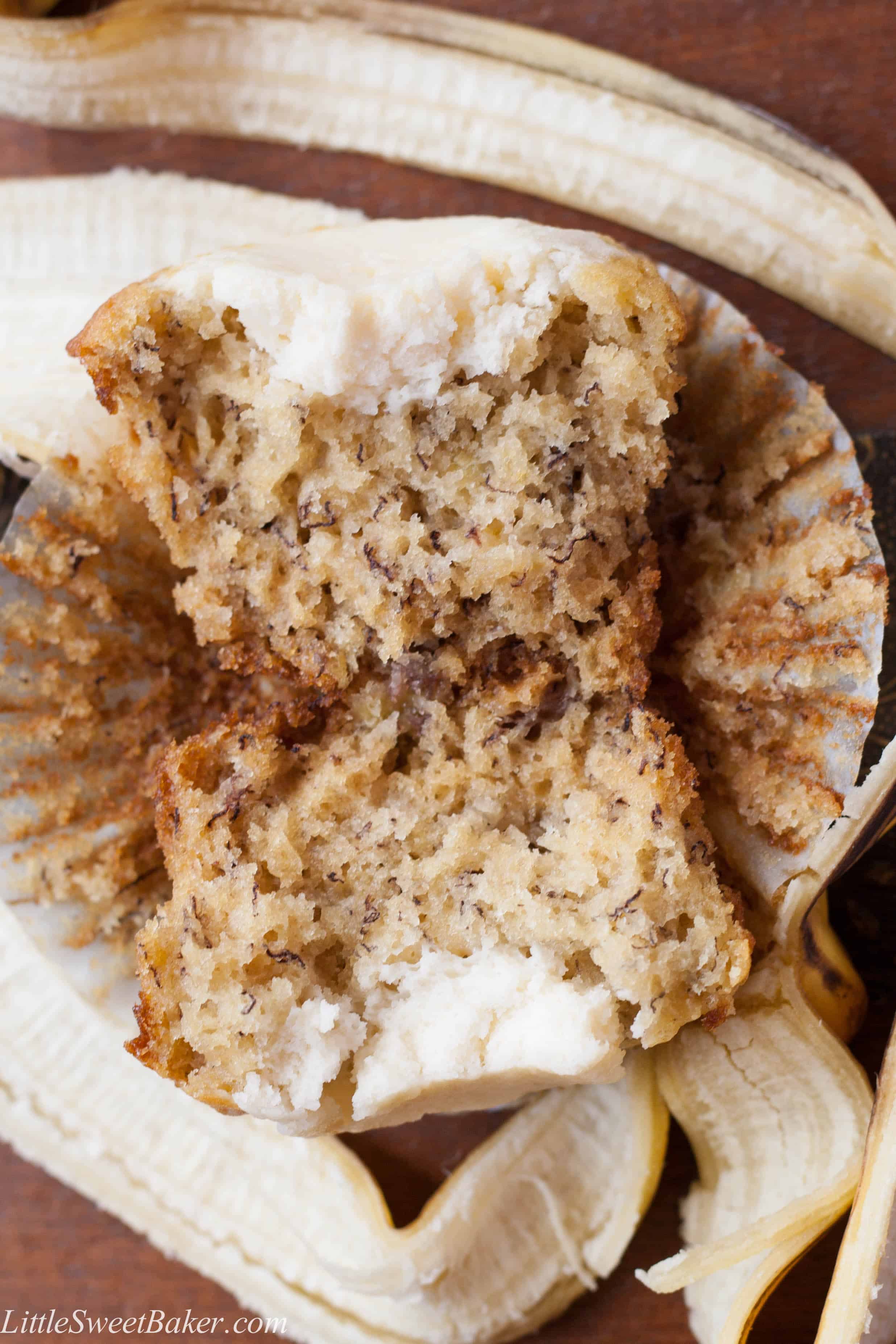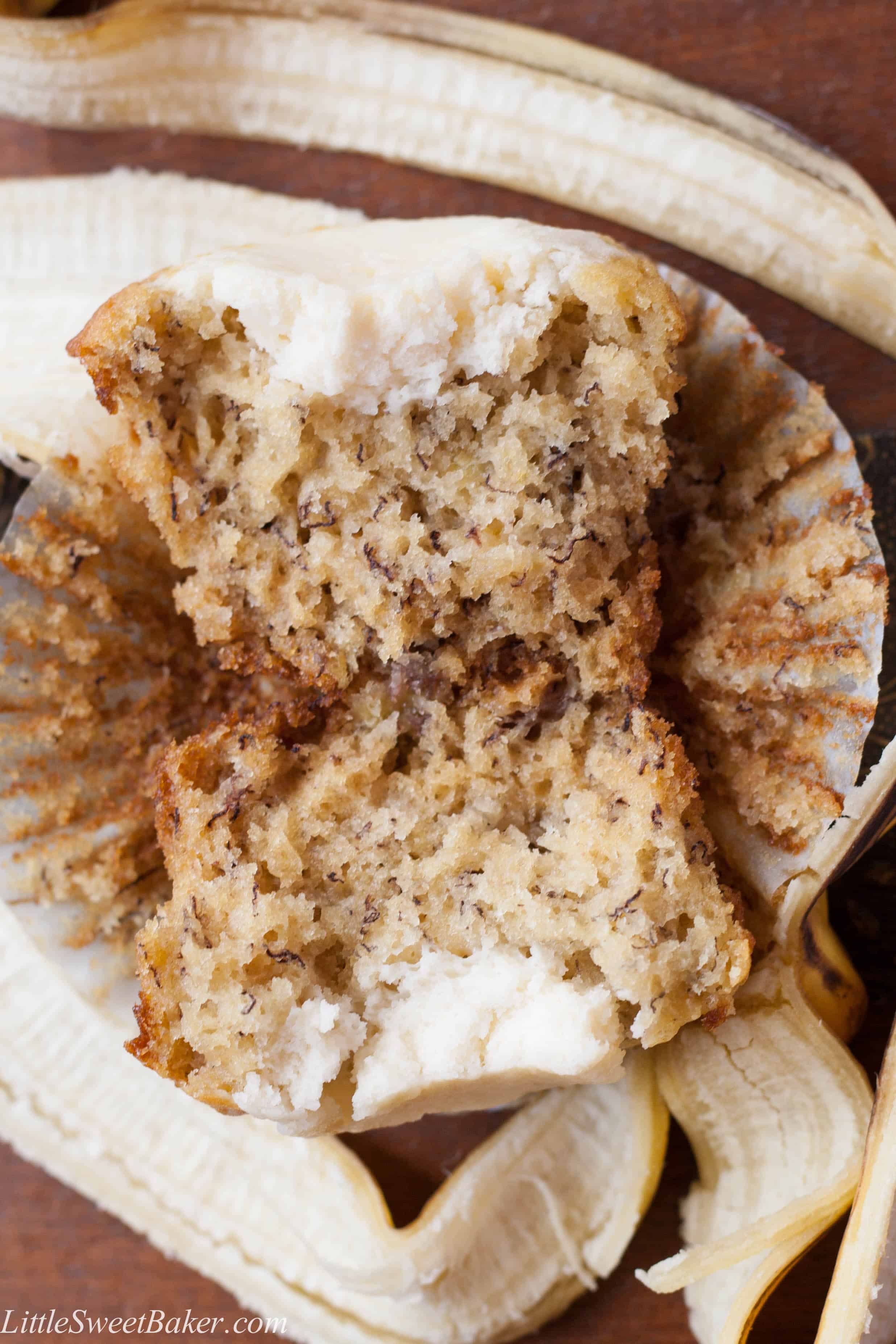 So make a batch today and let me know if they become your favorite too.
Recipe adapted from the Food Network Magazine
Print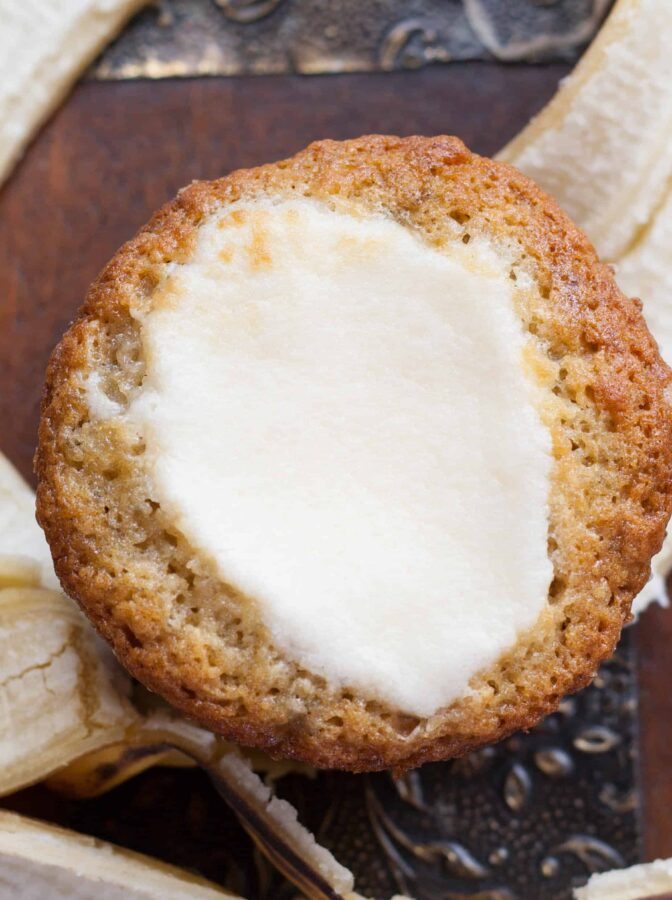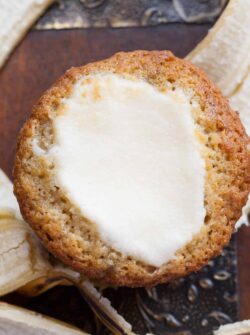 Banana Cream Cheese Muffins
Author: Lily Ernst
Prep Time: 25 min
Cook Time: 30 min
Total Time: 55 minutes
Yield: makes 16 muffins 1x
Category: breakfast, snack
Method: bake
Cuisine: American
---
Description
Deliciously moist and fluffy banana muffins with a cream cheese mousse baked on top.
---
1 & 1/2 cups plus 3 tbsp cake flour
1 & 1/2 tsp baking soda
1/2 tsp salt
1/2 cup plus 2 tbsp unsalted butter room temperature
1 cup sugar
2 tsp vanilla
3 large eggs
1 & 1/2 cups mashed bananas (about 3 large very ripe bananas)
Mousse filling ingredients
8 oz cream cheese room temperature
1 tsp vanilla
2 large egg whites (must be at room temperature)
1/2 cup sugar
---
Instructions
Using a stand mixer with the paddle attachment, mix cream cheese and vanilla until smooth. Transfer into another bowl.
Clean out the mixer. Using the whisk attachment, whip the egg whites until frothy. Gradually add in the sugar, then mix on high until stiff peaks form, about 3 minutes.
Add half of the cream cheese mixture, mix until just combined. Add the rest and mix until smooth. Transfer into a pastry bag with a large round tip and set aside. Clean out mixer.
Preheat oven to 325°F. Line 2 muffin pans with 16 paper liners. Sift flour, baking soda and salt into a bowl and set aside.
Using the paddle attachment, cream the butter, sugar and vanilla until light and fluffy. Add the eggs, one at a time. Mix in the mashed bananas.
Add half of the flour mixture, stir until moist. Add the rest and stir until just combined.
Divide the batter among the prepared muffin cups. Insert the pastry tip halfway into batter and pipe in about 1 tbsp of the filling. Bake for 25-30 minutes or until a toothpick inserted into the muffin (not the filling) comes out clean. Let cool and enjoy.
---
Notes
I tend to be light handed when filling the muffins with the mousse, so I always have about half of the cream cheese mixture left over. I simply freeze the rest in a plastic container and defrost in the fridge for the next time I make these muffins again.
Keywords: banana cream cheese muffin recipe, banana cake muffins