Mango Cheesecake (video)
This mango cheesecake is creamy and silky-smooth with a lovely tropical fruit flavor.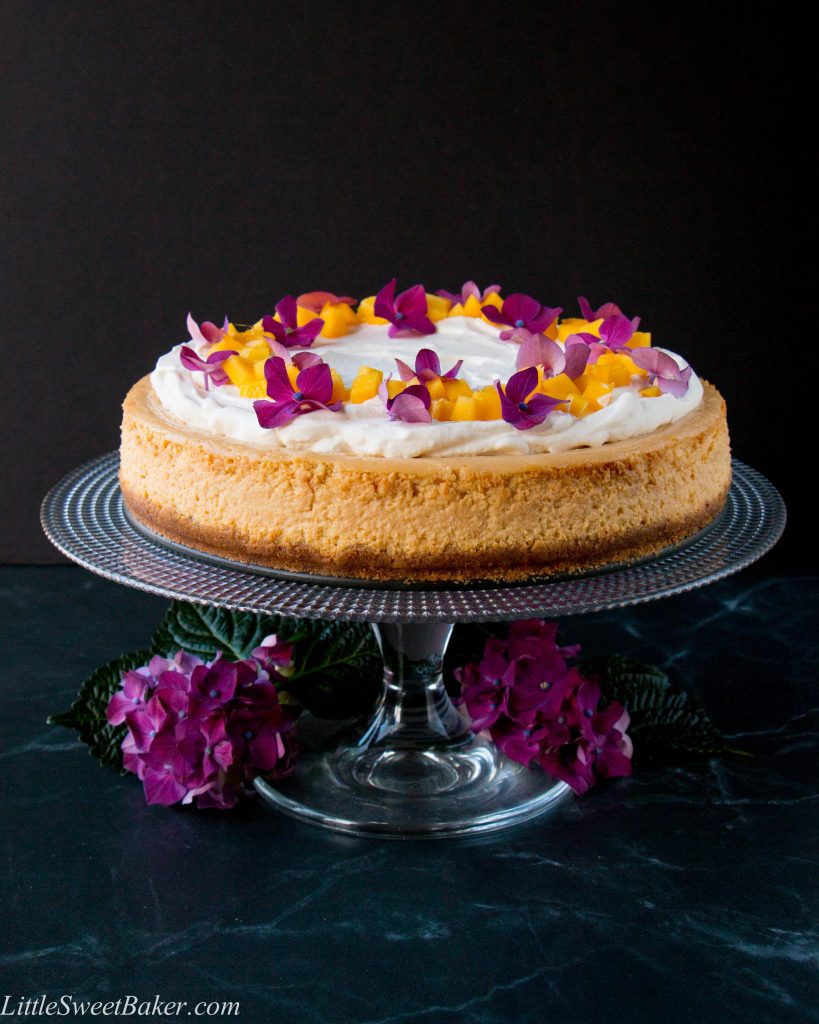 It was my birthday this week and I'm getting closer and closer to the big 4-0, yikes! I remember being twenty and thinking 40 was so old, and now I'm almost there. Where the heck did the time go? But I guess I can't complain. I've done a lot with my life. I've had many great jobs and now I'm fortunate enough to do what I love. Who would have thought I could get paid to stay at home, bake, and get fat lol. I have 2 wonderful little boys, an amazing husband, great friends and family. Yup, there is much to be grateful for in my life:)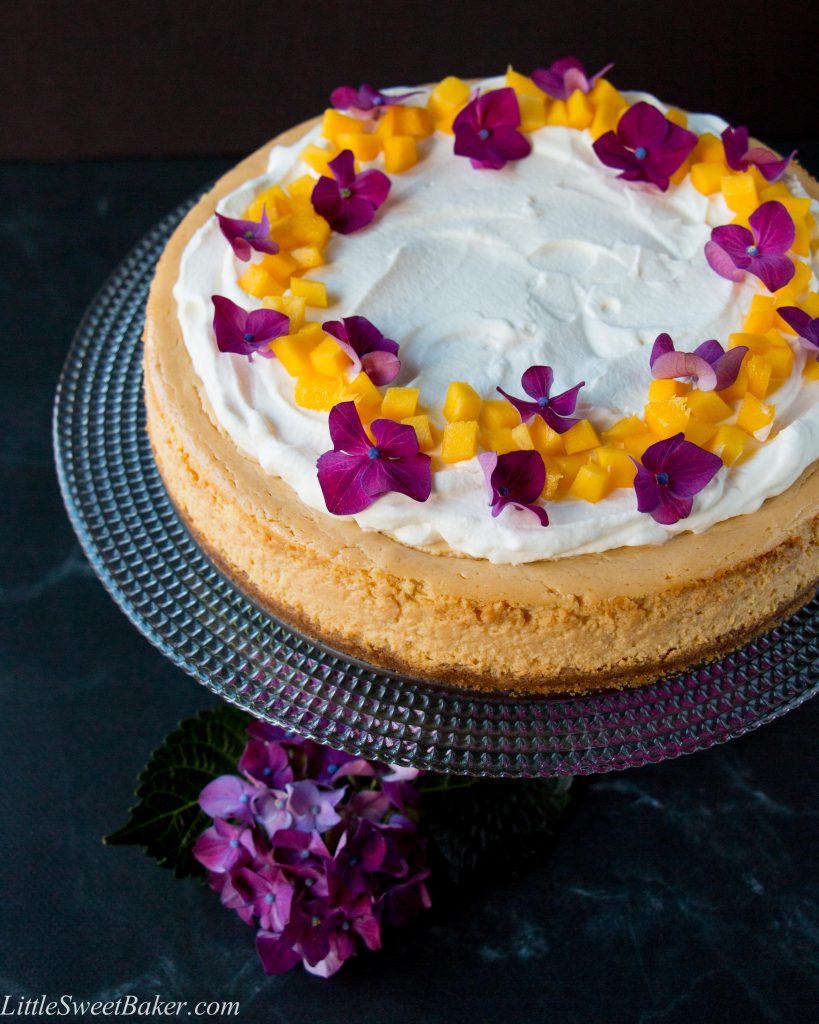 As a baker, I often end up making my own birthday cake, but that's okay. I get to treat myself to whatever I want. This year I was craving a cheesecake and I love mangoes, so I decided to combine the two.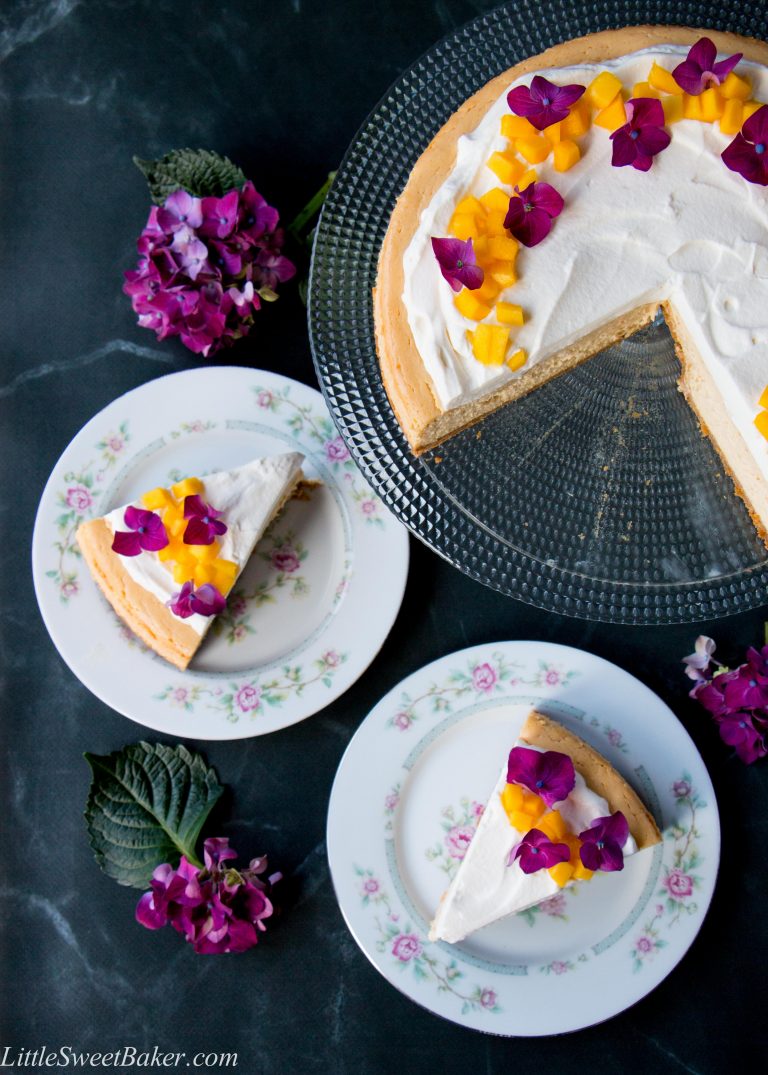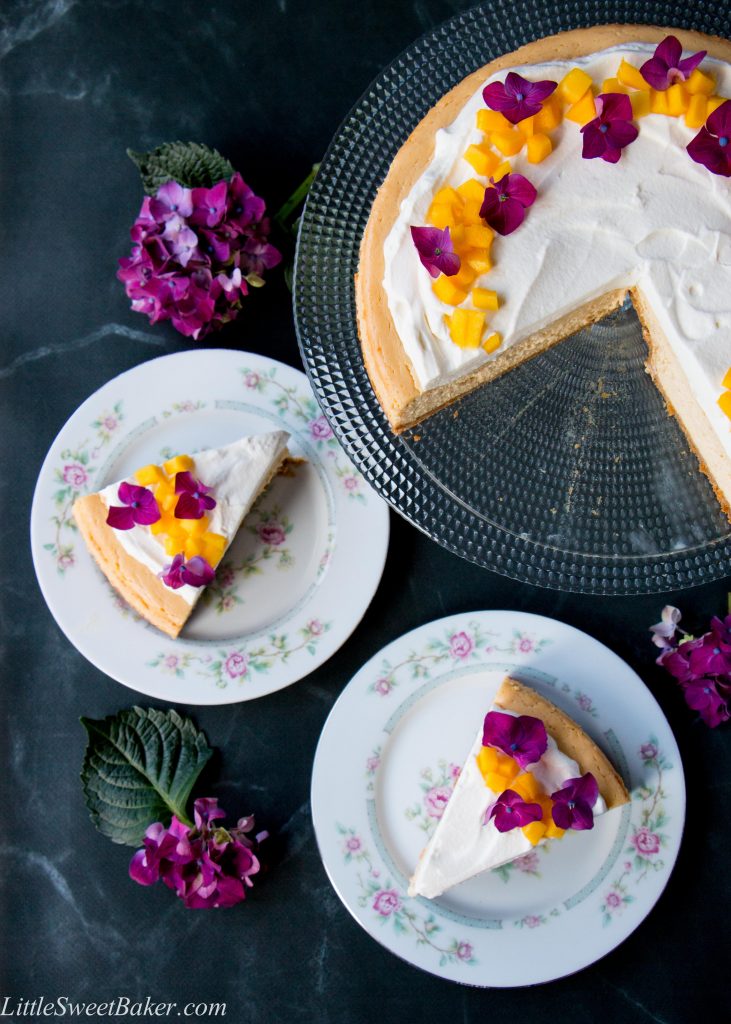 This recipe starts with a basic cheesecake made with cream cheese, sugar and eggs over a graham cracker crust. I added a cup of mango puree and a splash of vanilla, and there you have it. My birthday cake from me to me. Sounds simple, eh? Well, that's because it is. A tasty cheesecake does not have to be complicated.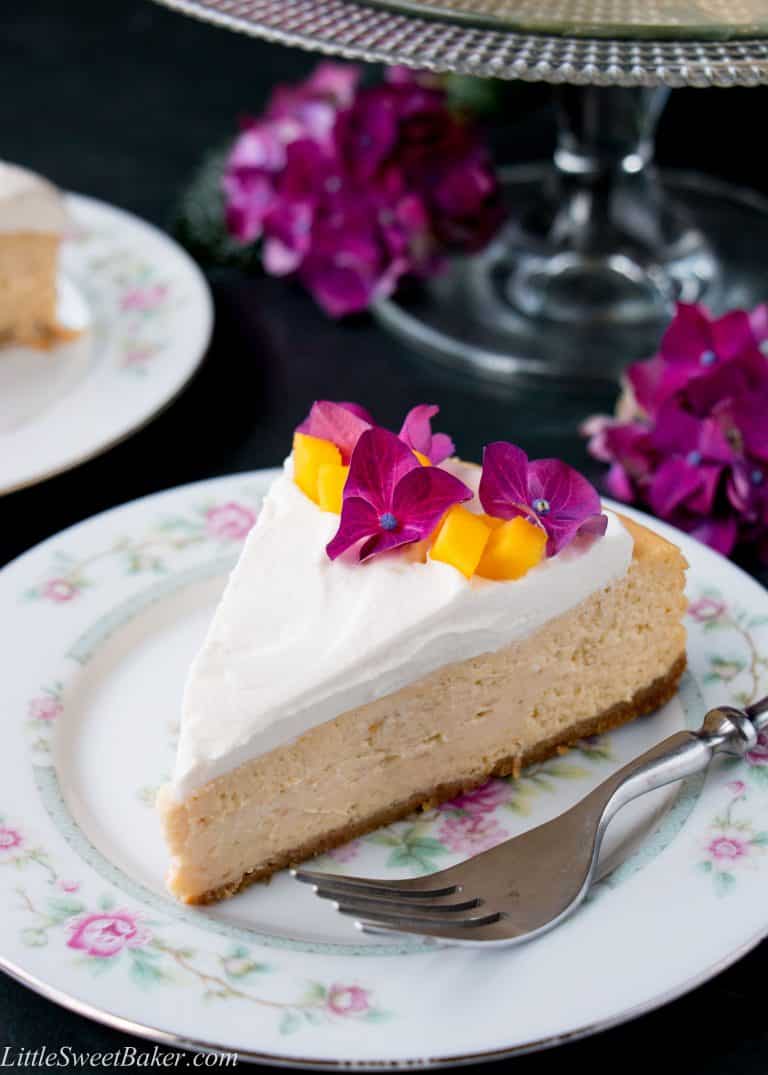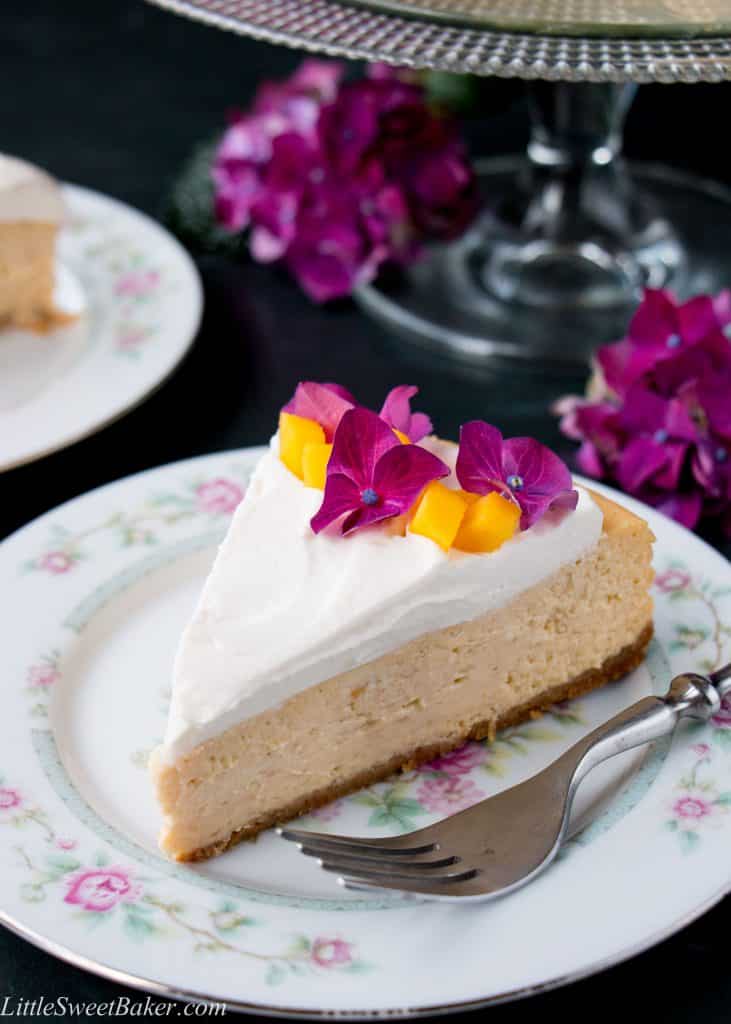 The texture of this cheesecake is extremely creamy and smooth. The taste is tangy, floral and fruity with a soft vanilla-mango flavor.

Print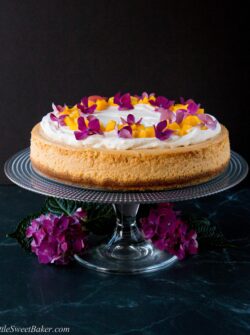 Mango Cheesecake (video)
Author: Little Sweet Baker
Prep Time: 15 min
Cook Time: 1 hour
Total Time: 1 hour 15 minutes
Yield: 8-10
Category: dessert
Method: bake
Cuisine: American
---
Description
This mango cheesecake is creamy and silky-smooth with a lovely tropical fruit flavor.
---
1&1/4 cups (145g) honey graham cracker crumbs
3 tbsp (45ml) melted butter
3–250g packages of cream cheese, softened
1 cup (200g) sugar
1/4 tsp salt
3 large eggs
1 cup (250ml) mango puree (see notes)
2 tsp (10ml) vanilla extract
Optional
1 cup (250ml) heavy cream
2 tbsp (25g) sugar
1/2 tsp vanilla
1/2 – 1 cup finely diced mangoes
---
Instructions
Preheat oven to 325F and set aside a 9″ springform pan.
Mix the cookie crumbs and butter together. Press onto the bottom of the springform pan.
Using and electric mixer, blend the cream cheese, sugar and salt until combined.
Add in the eggs, one at a time, mixing well in between. Then add in the mango puree and vanilla. Mix again until smooth. Gently pour over crust.
Place pan on top of a baking sheet to prevent any drippings from burning onto the bottom of your oven. Bake for 60-70 minutes or until the center is almost set. You want 2-3 inches of the center to still be jiggly because it will firm up as it cools.
Run a thin knife along the sides to loosen the edges from the pan. Leave the cheesecake in the pan to cool completely. Then chill in the fridge for a minimum of 2 hours or overnight.
Optional topping
Beat the heavy cream, sugar and vanilla until soft peaks form. Spread on top of cheesecake and garnish with some diced mangoes. Slice and serve.
---
Notes
I used a handheld blender to puree 1 generous cup of diced mangoes to yield 1 cup for this recipe. You can also used canned mango puree.
Keywords: mango cheesecake recipe, easy mango cheesecake
I'll be sharing this at Fiesta Friday #166 hosted by Angie, co-hosted by Mollie@Frugalhausfrau and Ginger@GingerandBread.