Toffee Apple Pecan Crumble Pie (video)
Embrace apple season with this delicious apple crumble pie. It has a thick layer of sweet toffee and crunchy pecan crumble on top of a mound of luscious apple filling.
This is a sponsored post. I had the wonderful opportunity to work with the Ontario Apple Growers to create this recipe for you. Though monetary compensation was received, all opinions are my own.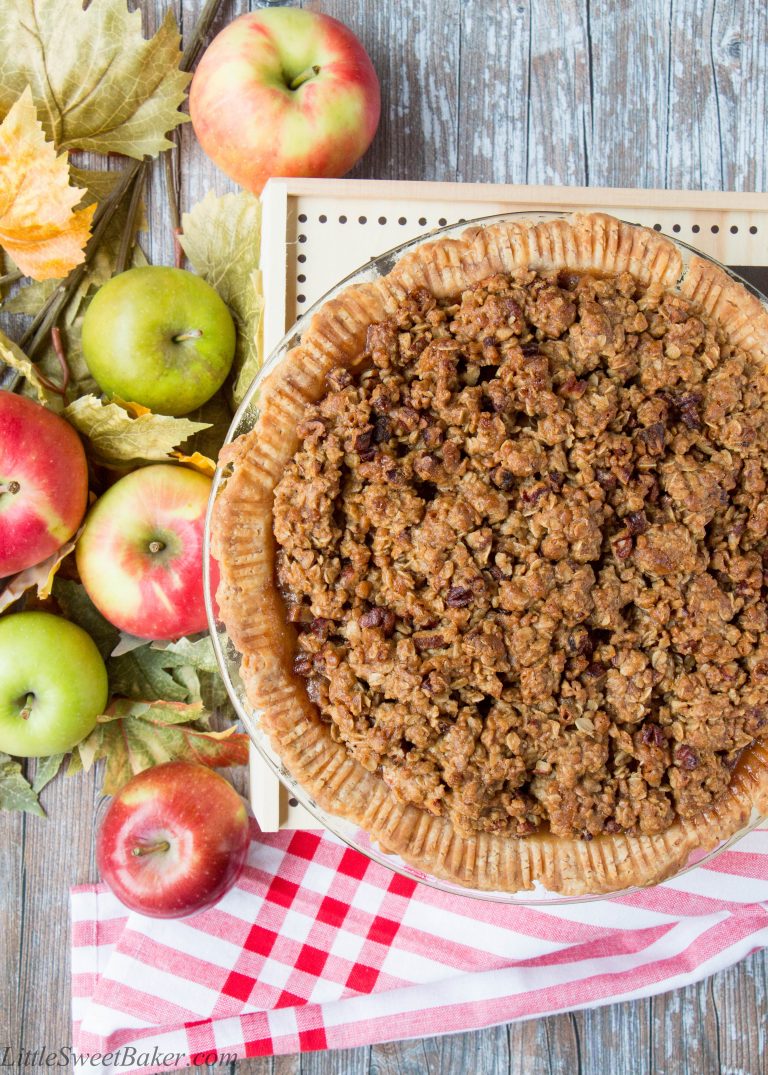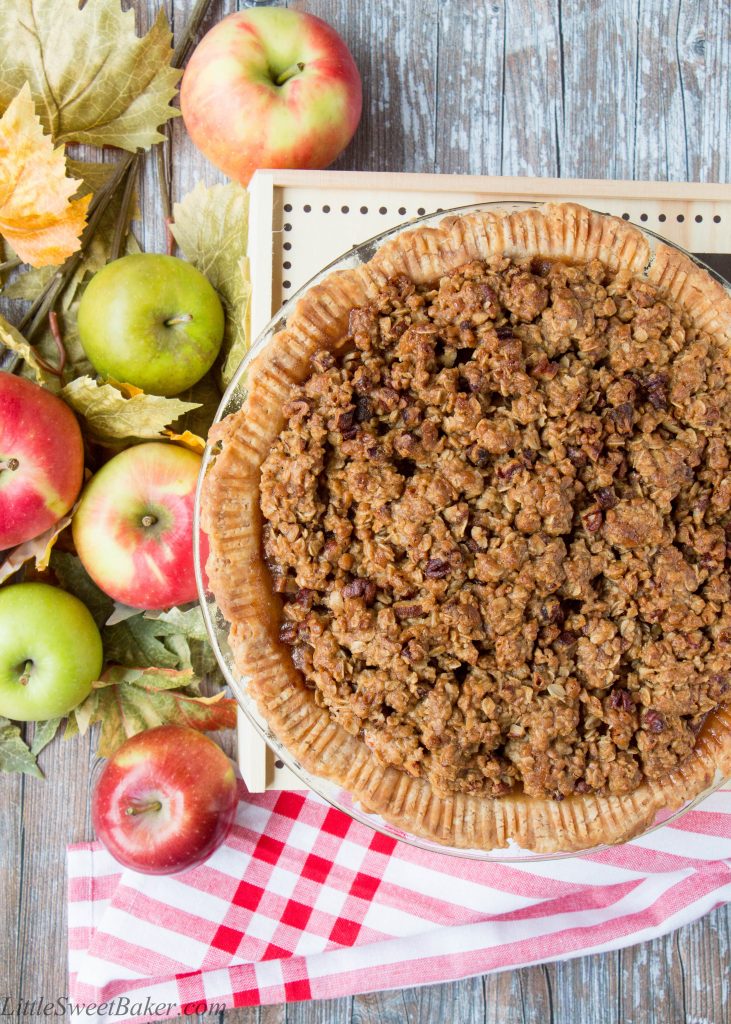 I had the wonderful opportunity to meet some fabulous fellow bloggers last weekend while touring Nature's Bounty Farm in Port Perry, Ontario. The event was hosted by Ontario Apple Growers (OAG).
This apple crumble pie is the first of three apple recipes I will be sharing with you over the next couple of months as part of my collaboration with the OAG.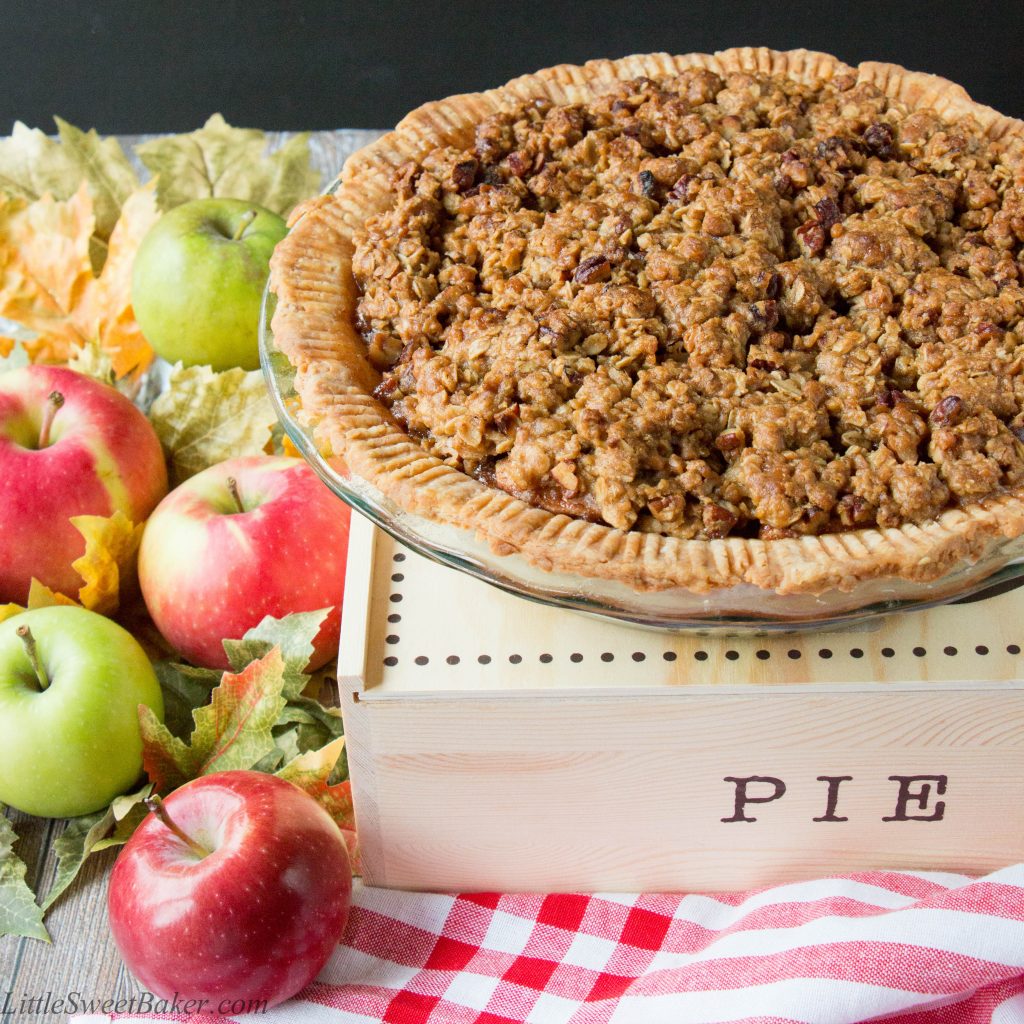 You can always find a bowl of apples in my house. Apples make for a great quick and easy healthy snack for the family, and my kids love them. Apples are available all year round, they are affordable, and have a long shelf life when stored properly.
Apples are a natural fit with baked goods. I especially love the aroma that fills the house when I bake with apples and spices. There is just something so warm and comforting associated with that scent.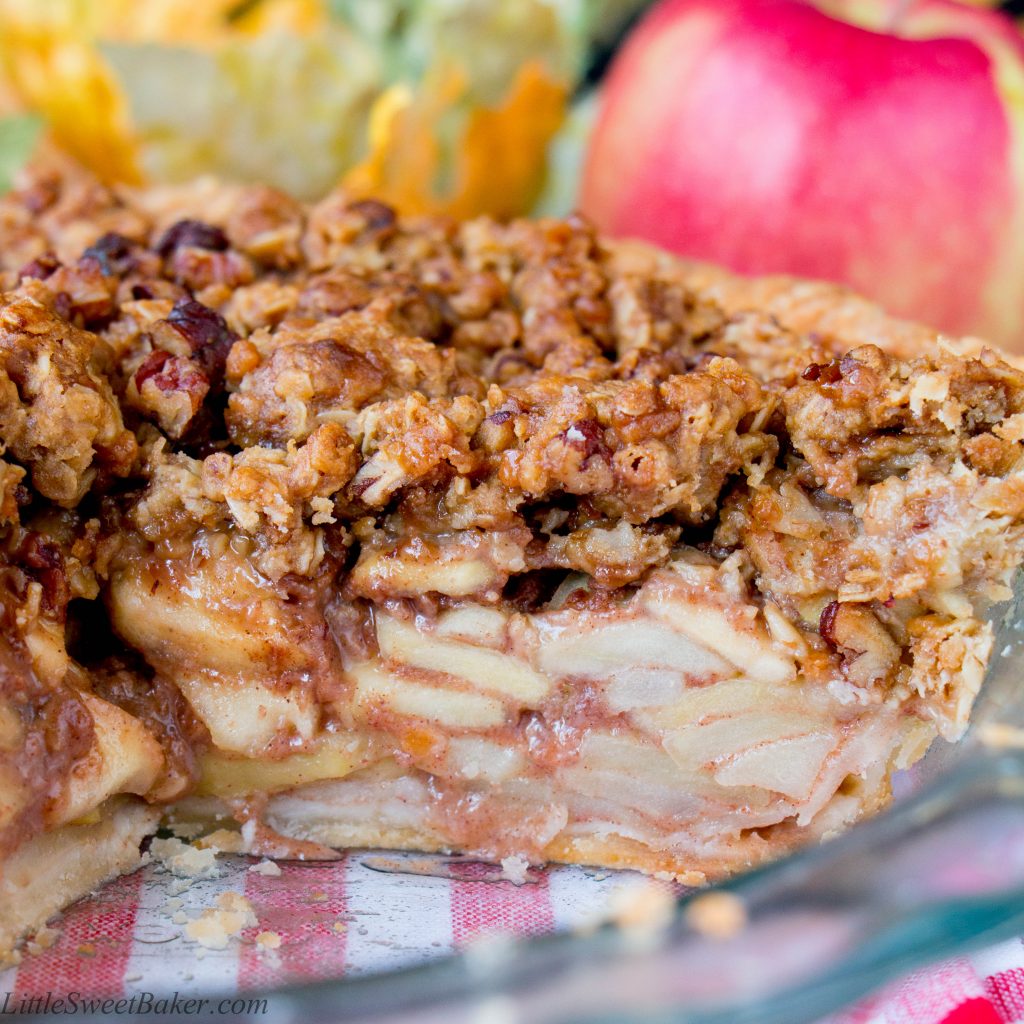 There are 10 cups of delicious apples in this recipe. I know that might seem like a lot, but once the apples cook down, that amount fills up the pie nicely. I used a few different types of apples in my pie for more depth of flavor, and I chose the tart varieties to contrast the sweetness of the toffee candy bits. Here is a very useful chart to help you select which type of apple is best for your purpose: Apple Usage Guide.
I mixed the apples with some flour for thickening, sugar for sweetness, and ground cinnamon and toffee bits for flavor. The crumble topping is made up of rolled oats, brown sugar, butter, chopped pecans, and more toffee bits for the ultimate crunch, and rich warm caramel and nutty flavors. For the crust, I used my go-to 4-ingredient flaky pie crust recipe which never fails me. It comes together in minutes, and it bakes up nice and crispy.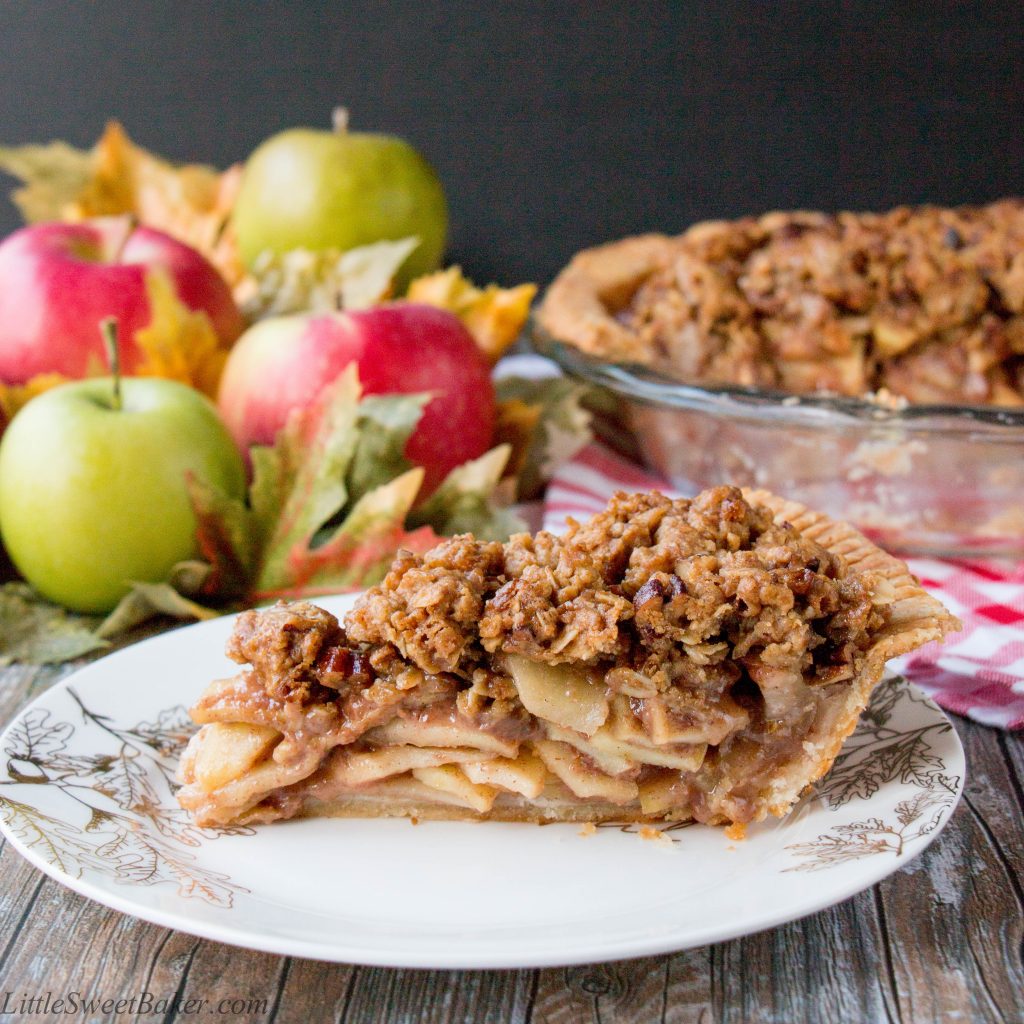 This apple crumble pie is decadent with layers upon layers of carefully selected flavors and textures. It starts with a golden-brown flaky crust. There is a thick filling of soft and tender apples. Then it finishes with a crunchy-sweet crumble topping. It's all wrapped in toasty flavors of cinnamon, butter, brown sugar and caramel.

Print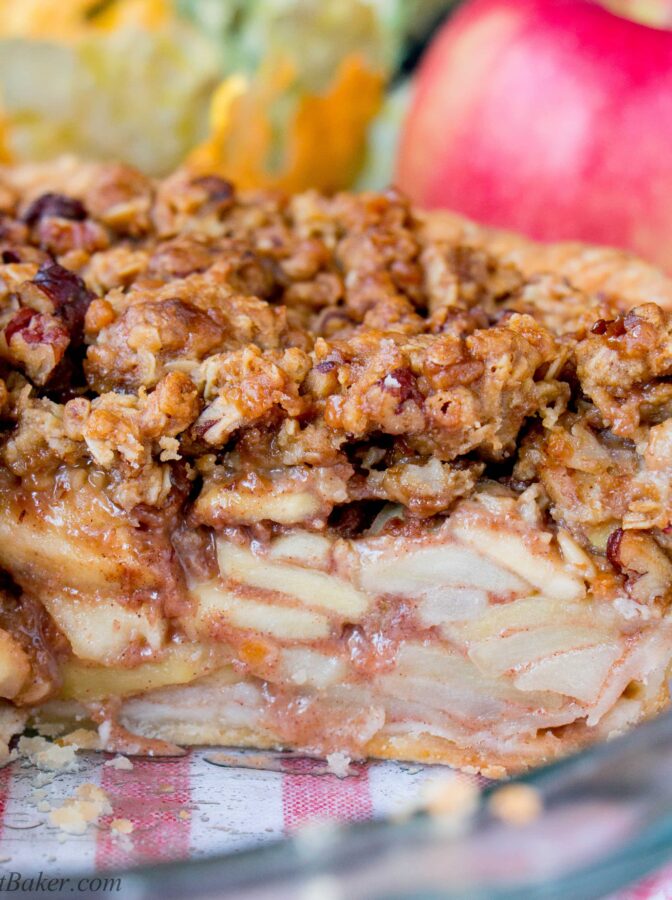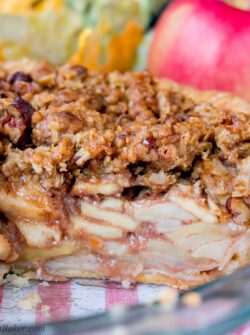 Toffee Apple Pecan Crumble Pie (video)
Author: Little Sweet Baker
Prep Time: 30 min
Cook Time: 60 min
Total Time: 1 hour 30 minutes
Yield: 8-10 1x
Category: dessert
Method: bake
Cuisine: American
---
Description
This apple crumble pie has a thick layer of sweet toffee and crunchy pecan crumble on top of a mound of luscious apple filling.
---
Crust
2 cups (250g) all-purpose flour, twice sifted
1/2 tsp (2.5g) salt
1/2 cup (125ml) vegetable oil
1/4 cup (62ml) milk
Filling
10 cups (2.5lbs) sliced apples, cut 1/4″ thick (tart variety is best)
1/2 cup (100g) sugar
1/3 cup (42g) all-purpose flour
2 tsp (5g) ground cinnamon
1/2 cup (75g) toffee candy bits
Topping
1 cup (100g) rolled oats
1/2 cup (100g) lightly packed brown sugar
1/2 cup (63g) all-purpose flour
1/2 cup (114g) unsalted butter, softened
1/2 cup (55g) chopped pecans
1/2 cup (75g) toffee candy bits
---
Instructions
Preheat oven to 375F and arrange a rack in the lower third of the oven. Set aside a 9″ pie plate.
Sift the flour twice, then whisk in the salt and create a well in the center.
Pour in the oil, then milk and stir everything together. If the dough seems too dry, add 1-2 tbsp of milk.
Once the dough starts to form, finish working it by gently kneading it on a sheet of wax paper.
Roll out between 2 sheets of wax paper. Remove the top sheet of wax paper. Use the bottom sheet to lift and flip the dough onto the pie plate. Fit the crust onto the plate and finish the edges as desired.
For the filling, mix together the sugar, flour, cinnamon and toffee bits. Then toss in the apples to coat and spoon onto prepared crust. Gently pack in apples down to avoid gaps during baking.
Mix together all the final ingredients by hand and crumble over the top of the apples.
Place the pie on top of a baking sheet and bake for 60-75 min or until the filling is bubbling. Loosely cover with foil after 45 min to prevent over browning. The baking sheet is used to prevent any of the filling that spills over from burning onto the bottom of your oven.
---
Keywords: apple crumble pie recipe, apple pecan crumble pie, apple toffee crumble pie
March 27th 2017 – As seen on Breakfast Television Toronto.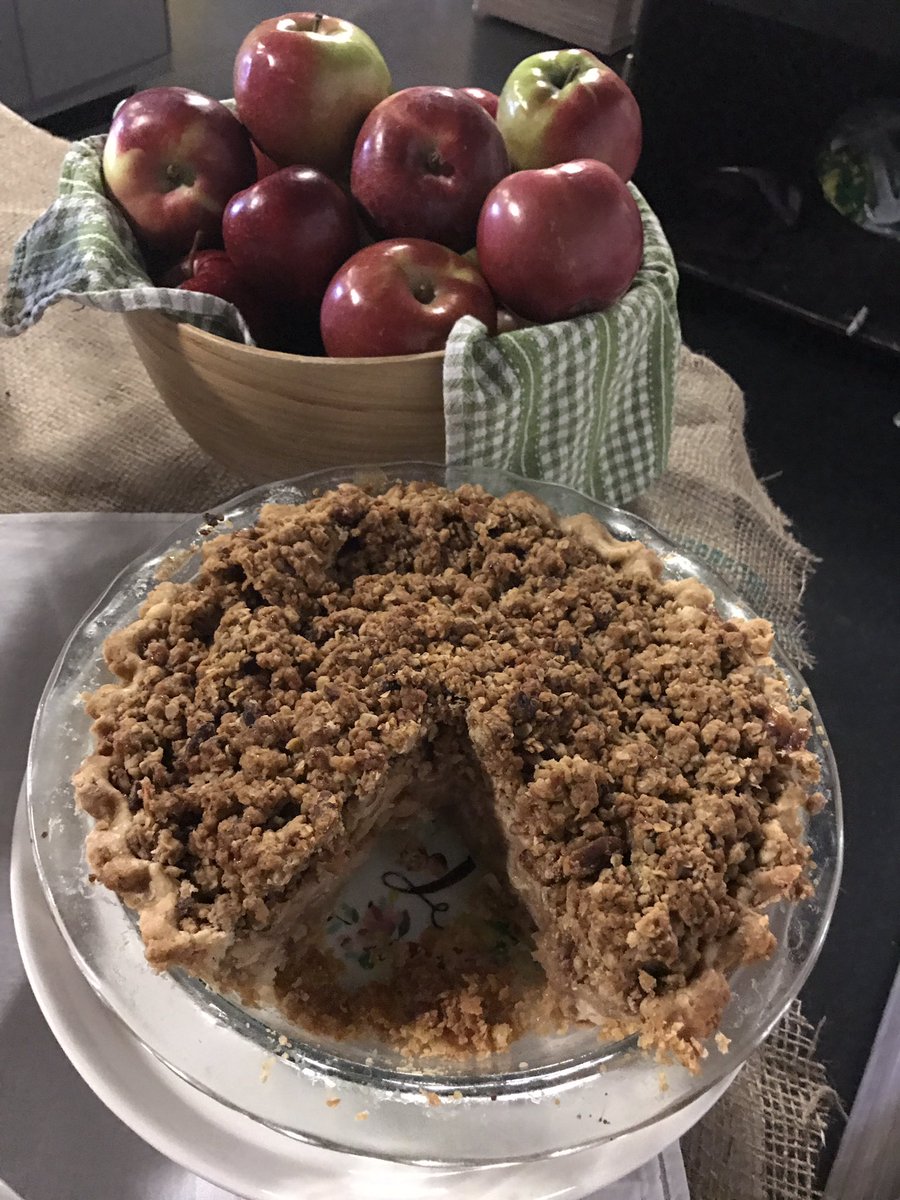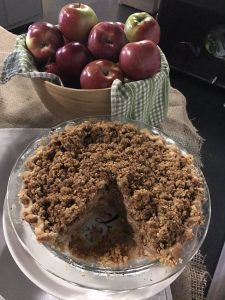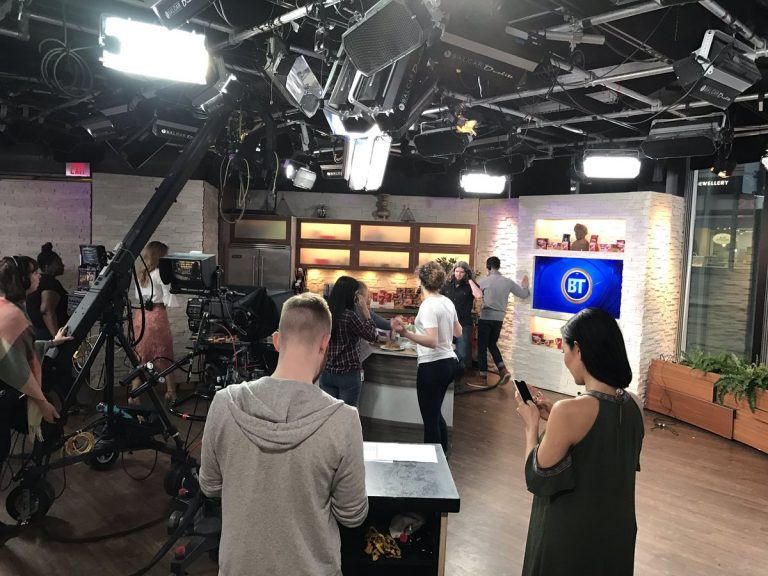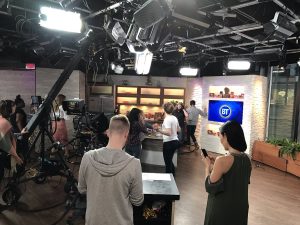 This post is sponsored by Ontario Apple Growers. However, all opinions expressed in this post are 100% my own.