Best Ever Christmas Crack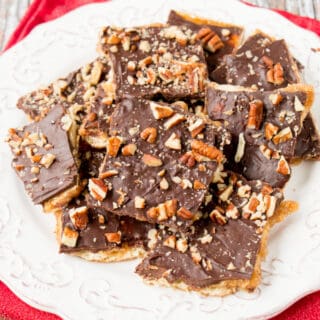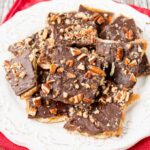 This cracker candy is crispy and chocolaty with a sweet buttery toffee finish.
Author: Lily Ernst
Prep Time:

15 min

Cook Time:

15 min

Total Time:

30 minutes

Yield:

about 40 pieces

Category:

dessert

Method:

bake

Cuisine:

American
Ingredients
1 cup

(227g) unsalted or salted butter

1 cup

(220g) packed light or dark brown sugar

40

salted saltine crackers (about

1

sleeve)

1

pkg (270g-300g) milk or semi-sweet chocolate chips
additional toppings like nuts, candy or sprinkles (optional)
Instructions
Preheat oven to 350F. Line a large baking sheet with heavy duty aluminum foil (if using regular foil, spray with non-stick cooking spray for easy removal). Spread the crackers out on the foil in a single layer and fold up the edges of the foil to box in the crackers. Set aside.
In a small saucepan, melt the butter and brown sugar over medium heat on the stovetop. Bring to a boil. Reduce heat and simmer for 5 minutes (set a timer), stirring constantly. Quickly pour over the crackers and spread to cover completely.
Bake for 5 minutes in the oven. Turn off heat. Remove from oven and immediately sprinkle the chocolate chips on top.
Let stand for 2-4 minutes until the chocolate looks shiny and is soft enough spread evenly over the toffee. If the chocolate is still not warm enough to spread after 4 minutes, place it back in the oven for a minute to help soften it.
Top with any additional toppings if desired.
Chill in the refrigerator for about 2 hours to harden. Peel away the foil and break into pieces.
Notes
Leftovers can be stored in an airtight container and stored in the fridge for up to a week. You can also freeze it for up to 3 months.
Expert tips:
Pan size – A 10×15″ jelly roll pan works best for this recipe. However, any type of baking sheet this size or larger will work. My pan is actually 11×17″ so I just fold up the edges of the foil to keep the crackers in place and prevent the toffee from spilling out onto the pan.
Lining the pan – Heavy-duty foil works best because it's easy to peel away. You can use regular foil – just lightly coat with non-stick cooking spray to make it easy to remove. You can also use parchment paper. There is no greasing required if you're using parchment paper, but just make sure to completely cover the bottom and sides of the pan.
Cooking the toffee. Once the butter and brown sugar reaches a boil, set a timer, and let it boil for 5 minutes. You want it to be a rolling boil to evaporate some of the moisture, so it becomes like caramel.
Baking the cracker candy. Bake the saltine toffee in a 350F oven for a minimum of 5 minutes or until bubbling so that the toffee reaches its second boiling point and absorbs into the crackers.
Melting the chocolate chips. As soon as you remove the tray from the oven, immediately sprinkle the chocolate chips on top. The bubbling toffee should be hot enough to melt the chocolate. Once about half the chocolate chips look shiny, you can start spreading the chocolate to cover the saltine toffee. If you have trouble with this, you can use mini chocolate chips or melt the chocolate in the microwave then spread it on top.
Keywords: Christmas crack recipe, cracker candy, candy crack, saltine toffee