One Week Apple Meal Plan
Welcome to my apple meal plan where I'll show you how to eat better, reduce waste, save time, and save money with this easy-to-follow guide!
This is a sponsored post. I had the wonderful opportunity to work with the Ontario Apple Growers to create this meal plan for you. Though monetary compensation was received, all opinions are my own.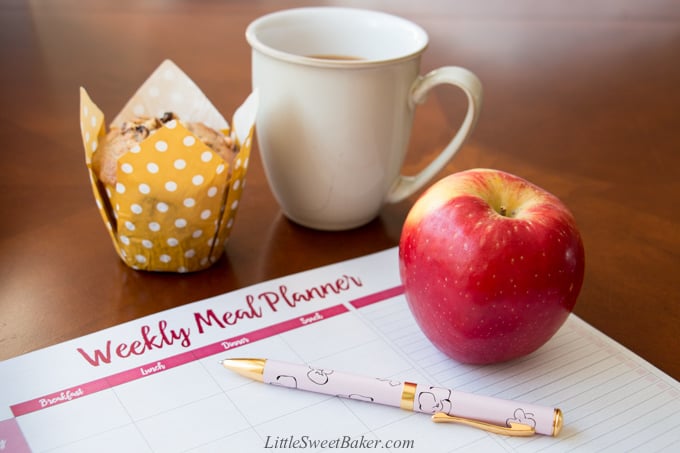 Why you should meal plan
Saves money – What I love about meal planning is that I'm only buying what I need and what I'm planning on using within the week. Having a list reduces the temptation of buying things on a whim or simply because they're on sale and not using them, which is a complete waste of money.
Saves time – Meal planning not only saves time at the grocery store, but it also saves time in the kitchen. Each week you have a game plan so there is no daily pondering of what I should make. I also believe in cooking once and eating twice. Plan to make extra for breakfast and dinner, so you have leftovers for the next day.
Reduce waste – Since you are only buying what you need and only cooking what you're going to eat, there is no waste, which is better for the environment and your pocketbook.
A healthier and well-balanced diet – Meal planning gives you an overview of what you are eating for the week so you can see if you're leaning too heavily on certain types of food or not incorporating enough fruits and veggies. You'll also tend to make healthier choices and include more variety when you prepare your meals ahead of time.
Reduce stress –  Taking the question of "what am I going to make for dinner" out of the equation after a busy day at work really helps reduce daily stress and eliminates the impulse of ordering-in and store-bought freezer meals. Again promoting better eating habits and saving money.
How this meal plan works
This meal plan is designed for a family of four. It begins on Sunday when you have a little more time to cook and simplify as the week goes on, leaving Friday night out and Saturday as a freedom day. There are meant to be dinner leftovers that can be packed for two lunches the next day. There will also be leftover breakfast for the next day as well. Each meal includes locally grown apples to showcase how easy and delicious it is to include apples at every meal. Not only are they nutritious, but also very economical. The meal plan is a collective of recipes from myself, Ontario Apple Growers, and fellow bloggers.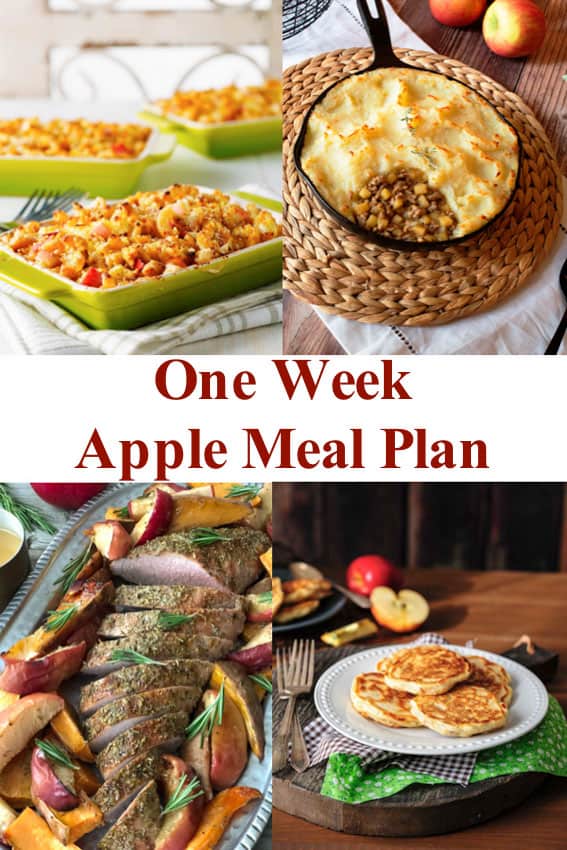 What's so great about apples
Tasty – Every bite of an apple is bursting with flavor. They are fresh, juicy and crisp. And there are so many varieties, so whether you like them sweet, tart or both, there is a perfect apple for you!
Easy to eat – You can eat them raw, baked or cooked. You can eat them out of your hand and on the go. They have a long shelf life and don't need to be refrigerated which makes them great for school lunches, road trips, and outings. Nothing beats a tasty and healthy snack to keep you going during the day!
Healthy and nutritious – Apples are high in fiber and vitamin C, and contain various antioxidants. They are also very filling and low in calories.
Tips
Eating an apple 15 minutes before meals can help you feel fuller quicker so you don't end up consuming as many calories. You can substitute half of the oil in baked goods with applesauce to make them healthier. You can also replace each whole egg with 1/4 cup applesauce in most baking recipes as well.
For more information and facts about apples, visit the Ontario Apple Growers website.
Why buy local
It supports our community – Choosing to buy local products helps to create jobs and contributes to our economic growth which benefits everyone. So every time you buy local, you make a positive impact.
It's better for the environment – Less transport means less of a carbon footprint which is better for our environment.
The food is fresher – Because the food is closer and therefore gets to you faster, it's fresher, more nutritious and tastes better.
Ontario apples are available all year long, so look for the Foodland Ontario symbol the next time you buy apples or any produce.
One Week Apple Meal Plan
Sunday
Monday
Tuesday
Wednesday
Breakfast – leftover apple carrot muffins
Lunch – leftover mac and cheese and beer bread
Dessert – Easy Apple Crisp
Thursday
Friday
For more apple recipes, visit the Ontario Apple Growers recipe page and/or download their recipe e-book with 30+ Ontario apple recipes created by Ontario food bloggers
Happy Family Day everyone and I hope you enjoy this applelicious meal plan!